Parrot with its AR Drone in 2010 set the industry standard for iOS-controlled drones. Since then the company has been striving to manufacture the best possible drones in different segments. Be it the entertaining mini-drones or the high-quality Bebop quadcopters.
The drones manufactured by Parrot are known for their cool design and their simplicity of usage. Drones are entertaining tech products which are everything except for toys. If you are still a beginner you should opt for the drones that don't require much of flying experience and are easier to use. The mini-drones from Parrot are the new generation robots that have improved the innovation. They might appear as toys but can do some serious work.
If you are wondering which Parrot drone you should buy, then this guide will get you all the details of the Parrot drones starting from the small ones that are quite cheap and also the best ones that require an expert level of flying experience to handle. You can pick whatever suits you according to your skill level and also your budget.
[table id=29 /]
Top 5 Parrot Drones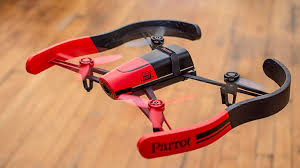 Parrot was one of the initial companies that dipped into the waters of aerial drones with the release of AR 2.0 in 2010. Since then, Parrot has come a long way forward and launched a smaller yet powerful camera focused-drone.
At less than $500, Bebop has incredible features that are mostly available on drones that are available for twice the cost. It includes live video streaming as well as GPS. It has 8 GB of internal flash memory.
If you are searching for a drone which you can easily fly, then you should pick this one. You can perform take-off and landing by pressing a single button. You can steer this drone by just tilting your phone. The best part about this drone is its camera quality that lets you record full HD videos and captures some amazing pictures
Features
   14 MP Full HD camera that comes with 180 ° field view
   Compact and Durable. Easy to carry around
   Weighs less than 400 grams
   Top Speed: 13m/s
   GPS and GLONASS
   Cruise easily at your desired pace and let the drone return automatically
   3-Axis Gimbal improves image stabilization
   Lithium-ion batteries included in the pack provide quick charging option
   Download the Free Flight Pro App to control your flying experience
   Flight Time of 11 minutes. If two batteries are used, then you get a total time of 22 minutes.
Price
The Parrot Bebop is available for $400 on Parrot's official website. However, it is available for a discounted price on Amazon. You can save almost $100 if you purchase this drone from Amazon.
Pros
Cons

   Durable Design
   Highly Portable
   Affordable Price
   Excellent Autonomous Features
   Simple Controls

   Limited Range
   Limited Battery Life
   Imprecise Tablet Controls
Conclusion
You should never judge a book by its cover or a drone by its looks. Once you fly the drone, you'll understand that this drone is among the best ones available in the market at this price range. Though you may say that it lacks a bit of precision and the range could have been better, it is still better than other drones present in the market. Its durability, simplicity, and reliable flying experience makes it worth a buy.
You can master the control within a few minutes. If you do mess up, the Bebop can take a tumble easily. Its compact size makes it easy to carry in a backpack. If you are looking for an affordable and simple drone, then Bebop is a good buy.
[asa2]B00OOR9060[/asa2]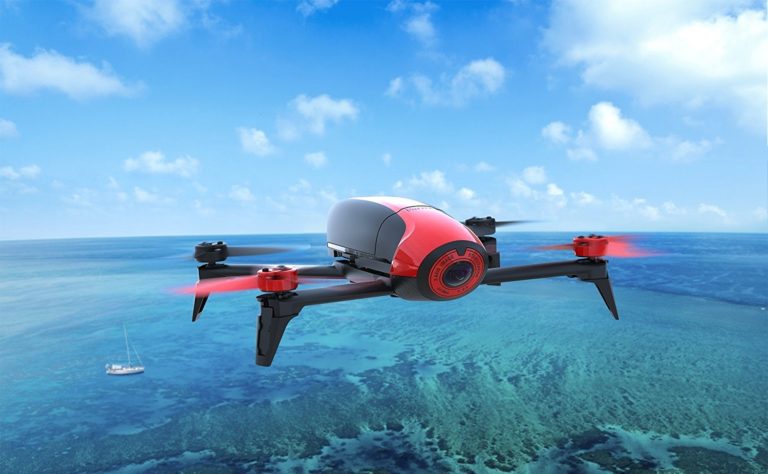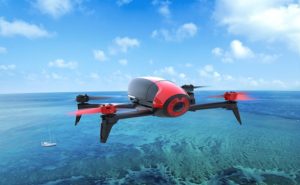 The Parrot Bebop 2 comes with 14 MP camera that provides full HD video recording. The smartphone-controlled drone is the successor to the Parrot Bebop. For judder-free footage, this drone comes with a fish-eye lens.
The best part of this drone is the optional FPV pack. It includes professional flight controller as well as headsets. The controller includes sticks and buttons. You have full control over the drone and get to see where exactly it is heading. The only drawback is that you'll have to shell out a few more bucks than what you would have liked.
The Bebop 2 provides over 20 minutes of flying experience on a single charge. It is a perfect drone if you are a beginner. The low cost, lightweight, and superior camera quality will lure you towards itself. The Bebop 2 has improved battery as compared to its predecessor.
More about Parrot Bebop 2 Drone
Features
   2700 mAh battery provides an impressive flight time of 25 minutes
   14 MP camera with a fish-eye lens that offers 1080p video quality
   Rear flash LED for improved visibility
   Weighs around 500 grams
   Range: 300 meters
   Top speed: 16.5 m/s
   GPS + GLONASS positioning
   Powerful motors make it easier to fly at higher altitudes
Price
The Bebop 2 was originally launched at a price of $550. But it is available at a discounted price on Amazon. You can get it for less than $350 on the website.
Pros
Cons

   Nimble and Easy to Fly
   Great Battery Life
   Value for money
   Stable Flight performance

   Image quality could have been better. Video becomes glitchy at long distance.
   It does not come with a storage case
   No Option of a Removable Storage Device
   Autonomous functions cost extra
Conclusion
For an entry-level drone, the Parrot Bebop 2 is quite good. If you are just dipping your feet into the waters of aerial photography, you can go ahead and purchase this drone. You don't have to buy an extra controller as you can use your smartphone to do that. If you can afford the FPV bundle, then you should definitely buy it to make your flying experience complete.
The fisheye lens is a great concept applied to a drone. It produces some amazing pictures that will leave you surprised. 20 minutes of flight time is good in this price range. If you can ignore the minor glitches of the video, and bear the additional cost of the FPV pack, you can buy this drone.
[asa2]B0179JFAYU[/asa2]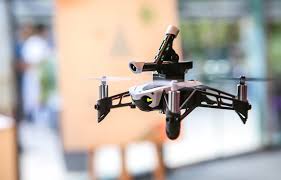 If you are looking for the most inexpensive drone on the market then look no further. The Parrot Mambo is incredibly cheap for someone buying the drone for the very first time. It is fun to fly around for a while but doesn't really do anything apart from that.
The interchangeable grabber and mini-cannon accessories make it little more than an average mini-drone. These accessories ensure that you have a great amount of fun flying this device. This lightweight, compact drone that is ready-to-fly when you unpack it.  At its given price, you can't really expect much features to be present in this drone. The 3-axis gyroscope and the accelerometer provide for a stable flying experience. The 0.3 MP VGA camera provides a decent view but don't expect to capture good quality images from it.
It is better than other mini-drones at hovering in a place. The grabber can lift up to 4 grams of weight so that you can play games like drop the paper in a cup.
Features
   Minidrone that can be flown indoors as well as outdoors
   Grabber and canon accessories
   Controller is optional. You can control this drone via your smartphone
   Weighs less than 63 grams without propeller guards
   9 minutes of flight time when charged for 30 minutes
   Max speed of 5m/s
   0.3 MP camera with 1 GB internal storage
Price
The Parrot Mambo is available at less than $80 on the market which is incredibly cheap if you want to buy a drone for the first time to get some flying experience.
Pros
Cons

   Easy to Fly
   Charging time is quite less
   Easy and simple to set up
   Accessories are fun

   Short battery life
   Image quality needs to be improved
   Short battery life
   Lifts only 4g using the grabber
   Performs poorly in light wind
Conclusion
If you are searching for a starter drone that does a bit more than just fly around, you can go for the Parrot Mambo. You can do whatever you want with the cannon and the grabber accessories that are present with it. You can give it as a Christmas present this year.
At its price range, it is quite affordable but you can always find cheaper options from its competitors.
[asa2]B071NRZ5LX[/asa2]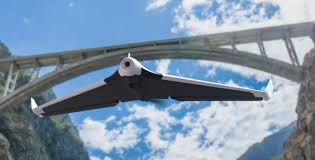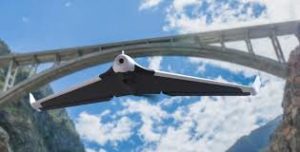 Parrot is taking a completely different approach to manufacturing drones. Leaving its competitors aside, Parrot is focusing on making its drones lightweight as compared to its competitors who are focusing on making the design compact. The Parrot Disco is quite different from the Bebop quadcopter manufactured by the same company.
The drone works with all Android devices. It is capable of creating enjoyable flight experience. Once you get your hands on it, the controls are quite easy to learn and gain experience. The drone doesn't make much noise compared to its competitors. The drone weighs only 750 grams due to the carbon tubing used in its construction.
The 14MP camera comes with wide angle lens which uses a 3-axis gimbal for better stabilization. It has an internal storage of 32 GB but there isn't any slot for microSD.
Features
   An impressive Flight time of 45 minutes due to a 2700 mAh battery life
   Orbital Standby mode
   Aerodynamic design with carbon tube construction
   Flying Range of nearly 2km
   Full HD 1080p camera
   Return Home Function present
   Top speed of 22 m/s
   Fixed-wing drone
Price
The Parrot Disco was originally priced at $1299 when it was launched. You can find it at less than $650 on third-party retail sites such as Amazon.
Pros
Cons

   Extremely lightweight (1.6 pounds)
   Minimal setup and assembly required
   Longer flight time compared to most quadcopters
   Smooth flying experience
   Durable design

   Steep learning curve
   Requires a lot of space while landing
   Can't hover or pan backward or sideways
Conclusion
The Parrot Disco is a well-built drone that flies really well. There are a few things that you must be wary of. As the Parrot Disco is a fixed-wing drone that doesn't have a landing gear, it doesn't land on surfaces that a quadcopter can. The footage looks quite cinematic owing to its constant forward motion.
Wide open grasslands and parks are the best places to fly this drone. Quadcopters can traverse deeper areas by hovering but with the Disco, you'll have to restrict yourself to flying in certain areas. Though there aren't many fixed-wing drones available in the market which makes Disco stand out.
[asa2]B01LXOJGWQ[/asa2]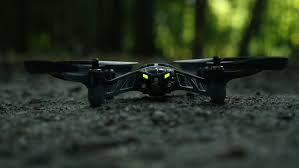 The Parrot Airborne Night is the latest mini-drone launched by the company. The simple design will make the kids fall in love with it. They can be flown outdoors provided there isn't much wind. The bumpers included to protect the rotors ensure that they won't trash the house.
The lightweight drone is incredibly agile and can fly up to 9 minutes before the battery runs out of juice. The design is quite sturdy. The built-in VGA camera will surprise you as it gives decent images for its quality. You can control the drone via your smartphone.
Features
   Bright LED light for flying at night
   Robust design that can withstand a crash
   Trick mode that allows you to do back flip, front flip
   Top speed of 2.2m/s which means they aren't built for racing
   3 control modes: Ace, Normal, Joypad
   Flight time: 9 minutes
   Battery: 550 mAh
Price
The Parrot Airborne Night was originally priced at $129. You can find it at less than $80 on third-party retail sites.
Pros
Cons

   Easy to Fly
   Easy to use touchscreen controls
   Sturdy Design
   Bright LEDs

   Low-resolution camera
   LEDs do not point downwards to enhance image quality
Conclusion
The Airborne Night is fun to fly around. You can easily control it with your phone or tablet. The VGA camera is a bit weak and the battery life isn't that impressive. The batteries take a long time to charge so you should purchase a couple of them for an uninterrupted flying experience. The mini-drone is a bit expensive as compared to others with the same features. You need not register this mini-drone with the FAA.
[asa2]B0716SCBCK[/asa2]
Final Words
You can go through the features, pros and cons of each drone and decide which one is more suitable according to your need.