One reason that the Parrot Disco FVP is expensive is because it's got such sophisticated high-tech software and hardware – that usually comes at a price. You'd expect it to be complex to fly with all that software and hardware, but it's easy enough even for beginners. Experienced pilots just find it a whole heap of fun. There are some particular features that make it really special and that are its fantastic video-capturing abilities. It's also got the FPV system that works so great. What's the FPV system you might ask? FPV means first-person-view, or video piloting. It's the method used to control the radio-controlled drone from the pilot's point of view. It basically pilots any unmanned aerial vehicle (UAVs) such as drones.
[rwp_box id="0″]
One Big Highlight
The Parrot Disco FVP comes with the FPV system which is a headset. You will put your Android or iOS phone into this headset, giving you 3D views. Your phone is connected to the control by means of a USB cable. This FPV headset will completely cover your eyes with the video streaming giving you full field-view. It's intended to let you feel like you're sitting in a virtual cockpit. Remember, the headset is for the first-person view and not for the controls. You are using the controls to fly the drone. Your headset is just for you to see the views. It's as if you are actually flying!
Well, that's the FPV, a really popular feature of the Parrot Disco FVP– but let's take a look-see at other features and specs that make up the Parrot Disco FVP.
Specs:
♦ Assisted, precise piloting
♦ Range: 1.24 miles
♦ 45-minutes battery life
♦ FVP immersive flying
♦ Expanded polypropylene body and light-weight carbon
♦ Front nose HD 1080p camera
♦ Cockpit glasses headset
♦ Hard-side/Hard plastic/EPP foam
♦ Anti-stalling autopilot
♦ 50 mph top speed
♦ Assisted controls
♦ Carbon tube construction
♦ Aerodynamically designed
Features: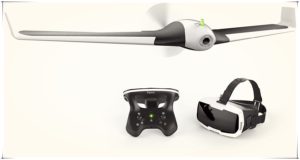 ♦ It is black and white in color
♦ Users use Parrot cockpit glasses
♦ Controller with two spring-loading joysticks
♦ Users get FreeFlight-Pro applications for smartphones
♦ Users get footage through the full HD 1080p camera
♦ Its appearance is less dramatic than many other flying drones
♦ Users fly the Parrot Disco FPV manually as well as autonomously. This will depend on preference and purpose of their flight
Pilots will take full command of the Parrot Disco FPB, because the controller is compact and lightweight. You get very precise piloting, taking off and landing just with the light touch of one single button. All you do is press the Return Home button to return safely home. But there are other buttons too, on the controller, which you will find pretty useful. Let's see what they are all about:
Left trigger and dial: This button toggles the FPV-modes. It also adjusts the camera pan.
Right trigger: This toggles your phone camera view.
Home: Push this button and your drone will automatically go back to its GPS coordinates at launching and will loiter overhead. Pressing this button also stabilizes the drone and allows it to climb to a safe height before it returns.
Take-off and landing: Pressing this button will initiate taking off or landing.  If say you are trying to land and you notice something is wrong, you can press this button. The drone will straight go into take-off mode automatically. It will ascend 50 meters and go into Loiter mode.
Programmable A and B buttons.
Taking off (launching) & Landing
Launching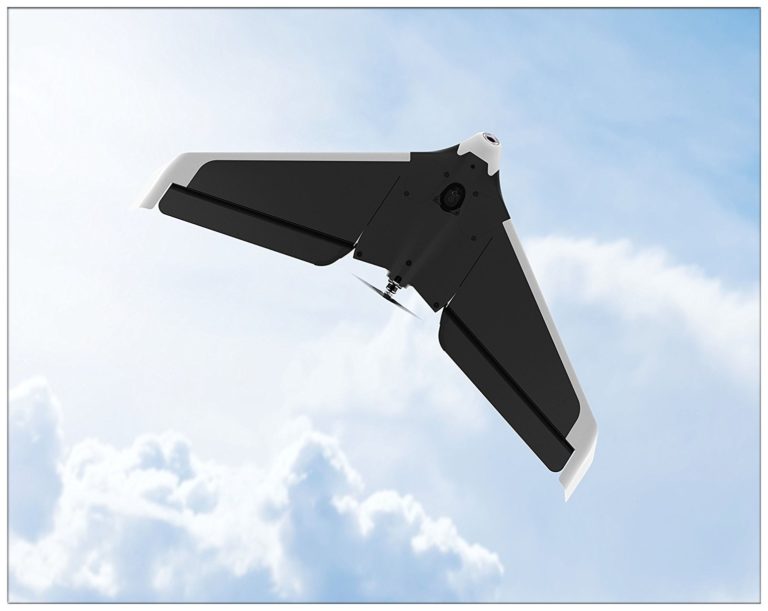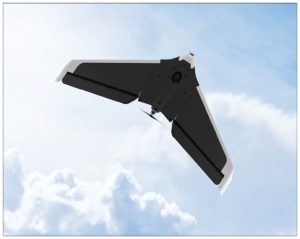 Because the Disco doesn't know how to avoid obstacles, you would have to fly it in big open areas where there are no buildings around or tall trees. Facing into the wind, you will push the take-off/landing button. Watch as your drone spins the motor, ready to go into full power like an impressive Boeing! With the power on, you toss the drone forward and into the air it goes. Once airborne, your Disco can climb up to around 50 meters flying in slow circles on autopilot, until you are ready to push other buttons for it to do your command.
Flying
Taking over from autopilot is easy because you use the control stick. The autopilot systems will temper all the commands, keeping your drone stable. As it is basically a flying wing, it spends it's time going forward, making it a good option for beginners.  If things go a bit haywire and your Disco is heading straight in your direction, there is always the Home button or the Loiter mode button!
Landing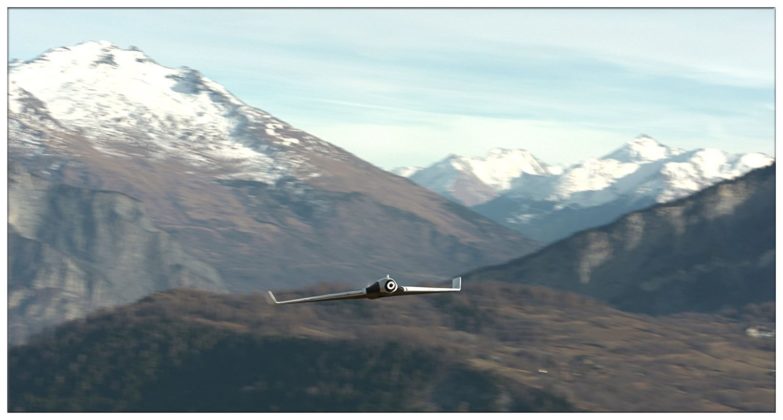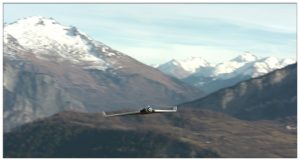 Because the Disco feels like you are areal pilot, piloting your passengers, like real aircrafts, it is the take-offs and landings which can be tricky. Landing admittedly does require some skill and your Disco needs quite a bit of forward speed to land. You will need space that is open, smooth and maybe grassy-soft, like an open field. Coming in to land, you will push your taking off/landing button. The Disco will start its descent. The slower and lower you are going before hitting the button means you will have more control over where you touch down. You will be able to roll so you can adjust the heading or pitch it up to make landing longer. One thing you won't be able to do is to increase landing speed if the drone is not coming down fast enough. If it's all going chaotic and you feel panicky about this, you can hit the taking-off/landing button again. This will cause your drone to abort. It will climb back to its 50 meter height and loiter. If you are landing properly and correctly, the hinged propeller will be neatly folded back as it lands. If it's not done correctly, the wings will break off and you will need to put them back on again. Luckily that's not such a big deal.
What about crashing?
Yes, crashes can and do happen, but fortunately they are not such a train smash. It doesn't cost bucks or time when you crash, nor stress. If the wings fell off – well, snap them back on again. Just reset the drone and get back flying.
Unforgettable Aerial Moments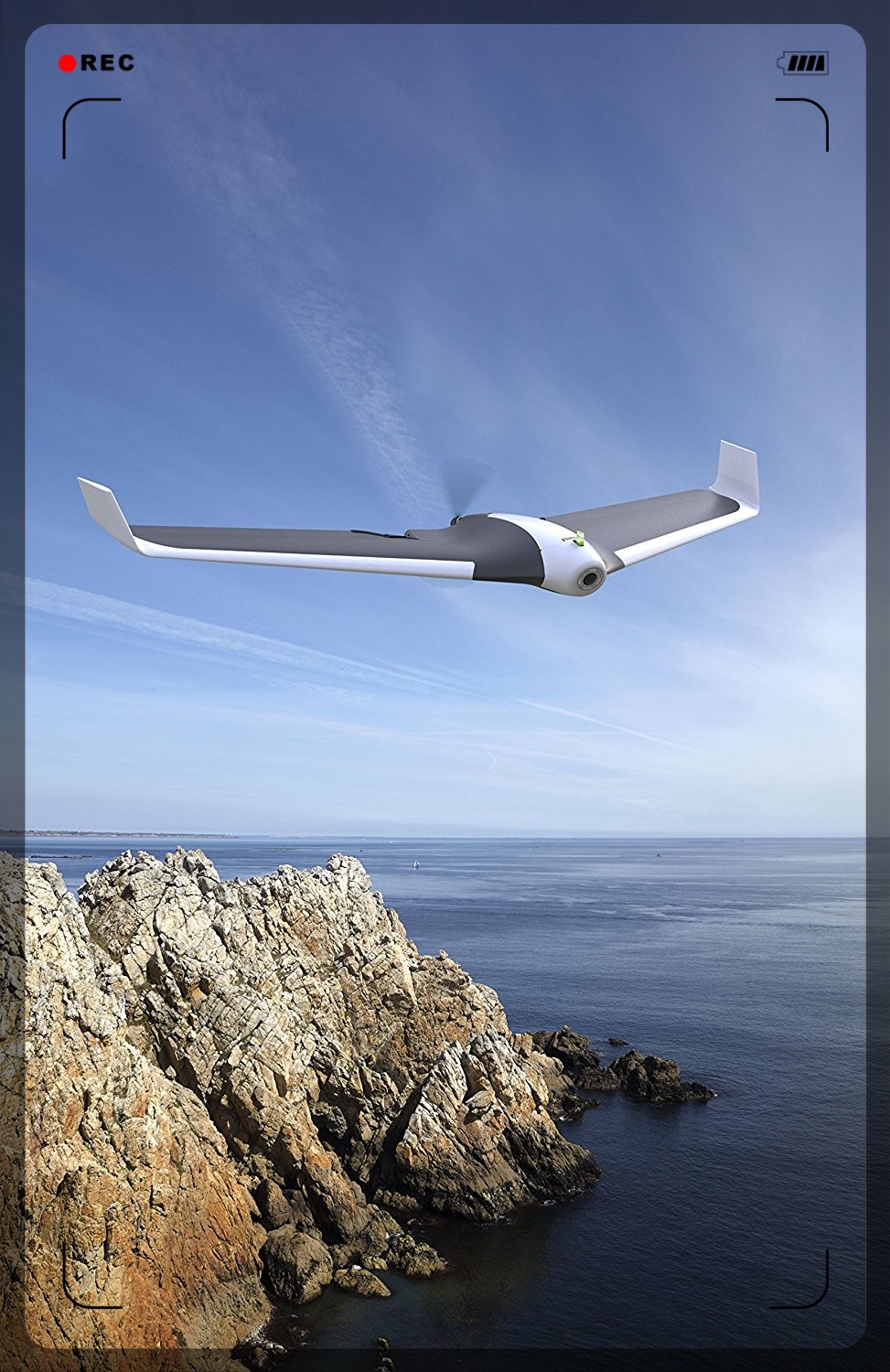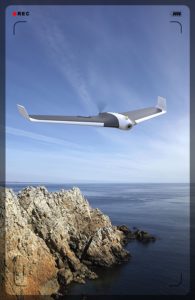 Flying your Disco means it will already be taking videos with its high quality camera of 1080p at 30 FPS. It's really all about extremely professional footage. OK, maybe not while you are doing crazy acrobatics-stuff. There are a couple of varying modes of FPV to use while flying which you can read up about. Even though the video stuff is really good, and great for fun flying and the FPV, it won't match the 4K cameras that belong on the DJI drones. Compare for example the DJI Phantom 3 Standard.
When all is said and done, there is no denying it that the Parrot Disco FVP can be pretty complicated to use for some. People will need to check out the user's manual. Also, you will need a lot of space outdoors to fly your Disco. But people generally want that in any case because they will want to cover a lot of ground whilst flying the Parrot Disco drone. It's time to check out what you are basically getting with the Parrot Disco FVP and some pros and cons will help you along the way.
More Information About DJI Phantom 3 Standard
Pros: 
It's really exciting with the FPV flight headset; the real airplane feel of piloting your own aircraft.
Ergonomic controller for comfort and ease
Easy to pilot compared to what some people expect
Can take off and land on its own
Great aerodynamic design, giving it the capacity to pull of some creative flight patterns.
Works with Android
Unique in its entertainment
Highly sophisticated auto-pilot to meet most expectations
With its FreeFlight-Pro flight-planning, the software allows you to fly completely independently
The controller (included in package) allows people to fly the Disco manually if they want to get more control over their Disco and to get and feel more of the flight experience.
If this is exactly what people want, the price is really reasonable. It is cheaper than other comparable drones on the market.
Nice and light in weight to make for easy carrying
Grows on you in ease and comfort once you get going with it
Not noisy at all
Cons:
X  Some skill required to using the FPV headset in flight
X  This drone needs to be operated in an area the size of about two football fields
X  Difficult to operate in places with many obstacles
X  The autopilot and flight controls can be difficult to figure out and the user manual doesn't really help all that much
X  A lot of drones similar to Parrot Disco have GPS's, but not the Disco. It makes it harder for people to get this drone going in the direction required.
X  The video range might not be as good as other similar devices
X  You need a good landing spot for this drone; otherwise users will find themselves in trouble if it comes to the end of its flight
X  Some people think the price is unreasonable as it does not have all the features that people usually expect in drones at its price
Is it worth it?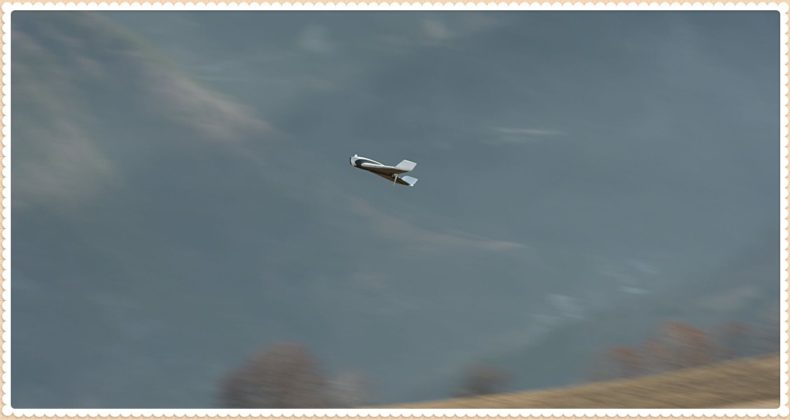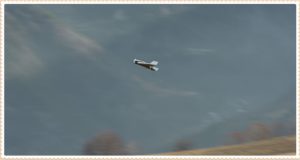 The Parrot Disco FPV is certainly about fun. You are going to have guaranteed fun with this one – particularly loving the immersive fight of the FPV headgear that is such a unique feature of this fun drone. Another unique feature is its fixed wings. There are benefits to the fixed wing and that is its fantastic speed as well as its excellent battery life compared to any other drone on the market. It goes on to combine many benefits of both flying and camera features.
Some people say it can't compete with other drones in some ways, even though it is such a successful drone. Look at what some people say in the Amazon reviews. You will have to decide for yourself.
This drone speaks for itself – it's not to be ignored
The Parrot Disco FPV is unique, it is immensely fun to fly, and it's easy to use. It is not necessary to drone on trying to convince people about this drone.  If you have considered the important factors such as your budget, your drone experience, the environment for flying and the reasons you want to buy your drone, then the Parrot Disco FPV is for you.
But one thing we won't talk about here is how addicted you are likely to become in flying drones and owning them – that's another whole article for another day!
[asa2]B01JYRII4Y[/asa2]
[asa2]B013U0F6EQ[/asa2]