DJI Spark:Sleek Compact Design and Gesture Responsive
DJI Spark is sturdy, easy to fly drone best in its class that delivers the ultimate flying experience.
Welcome to the unveiling of DJI Spark! A small drone with ultra-premium features. Whether you are an adrenaline junkie, a newbie, a hobbyist, or a drone enthusiast, this drone has you covered. With its ease of launching and flying, you will quickly be your auto-pilot and have a vibrant experience exploring the skies. What's more? You mustn't be a seasoned pilot to take cinematic imagery. So let's delve into this small, technology-packed drone.
[rwp_box id="0″]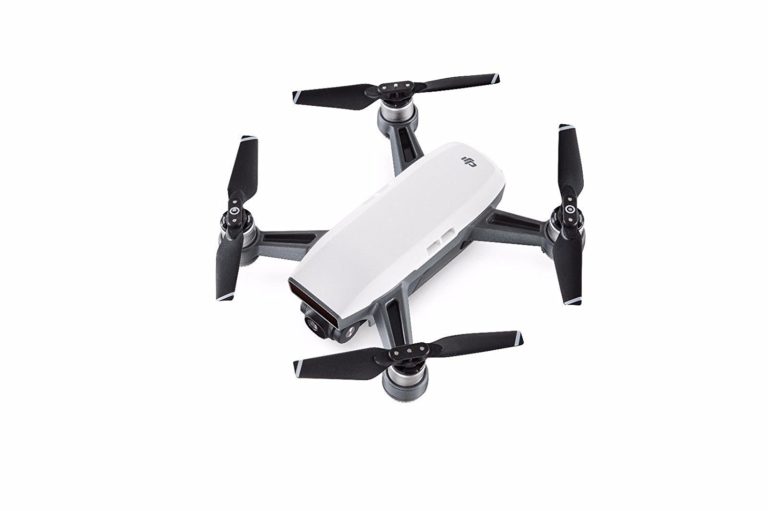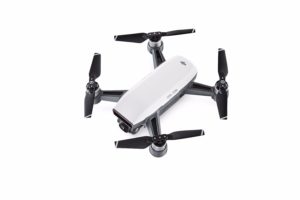 Unboxing DJI Spark
DJI Spark comes with a beautiful box and a fancy bag for its necessities. You'll find:
The drone
The documentation
Extra propellers
Propeller guards
The charger
The AC adapter
You'll have to have to make a separate order for the controller.
[asa2]B072C36ZVK[/asa2]
A ton of features for the pint-sized Spark
DJI Spark is one compact drone stuffed with features and functionalities that make it outshine other small drones. The Twinkie-sized Spark has the goodness of its bigger and more expensive siblings:
It is ultra-lightweight, only 600g.
It is robust and well-built.
Its speed is 31mph/ 50kph.
It has forward and downward 3D sensing.
It has gimbal 25mm f/ 2.6 Lens.
It has 12mp,1/2.3″ CMOS Sensor.
It has 1480 MAH LiPo 3S (3 Cell).
It has 16-minute battery life.
It shoots full HD 1920*1080 30FPS Video.
It has a 2000m range with a remote control.
Its range with WIFI is 80m in the distance and 50 in height.
DJI Spark's Functionalities
Here are the essential functions that the Spark delivers:
* Gesture Control
DJI Spark is gesture responsive. Gesture control is the most straightforward way to pilot this drone. You do not need a smartphone or a controller for this. Just double-tap the power button and it scans for your face then takes-off. It is ideal when you cannot find a suitable place to launch the drone.
* Precision landing
The Spark has an impressive landing from almost the exact spot where it took off. Despite the wind, the Spark does a great job in landing.
* Obstacle avoidance
The spark has sensors regardless of its small size. Although they typically reserve the obstacle avoidance ability for the bulkier drones, DJI did not compromise on this. These sensors detect and avoid obstacles when the drone is moving forward, and they prevent crashes.
* Two-axis Gimbal
For smooth and epic footage, the two-axis gimbal by the Spark offers stabilization support for the camera. Therefore, it eliminates jarring and shaking movements and the result of the videos and photos will for sure blow you off. This feature by DJI puts it ahead in the competition; most selfie drones only manage a single-axis mechanical stabilization.
* TapFly
If you cannot grasp the use of thumb sticks, DJI Spark offers TapFly for piloting the drone. With the TapFly mode, you just click on the screen to dictate the drone's direction. You can now capture cinematic videos without any flying skills. Although TapFly is a great relief as it is easy, it is not as precise as the controller since the drone often fails to fly through tight spaces.
* Active Track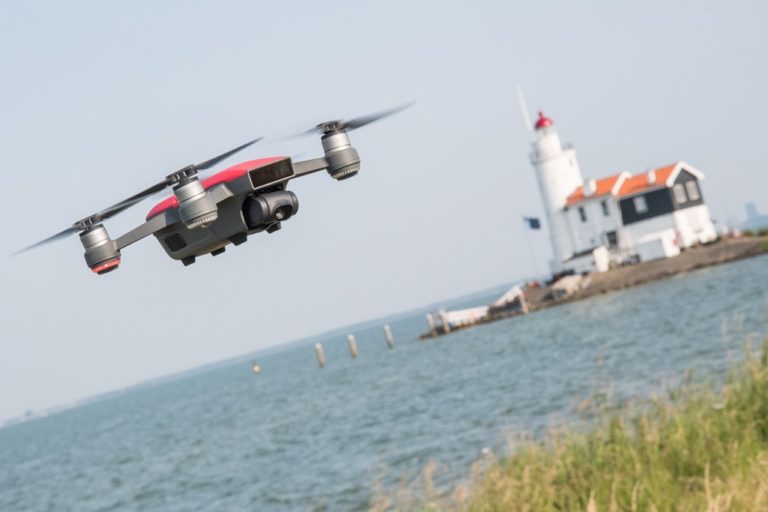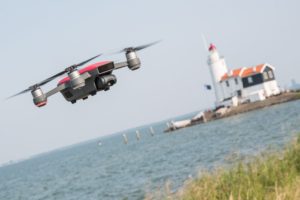 DJI Spark uses computer vision to follow a target automatically. When flying in this mode, the Spark dodges obstacles, but the pilot still has to ensure that it does not collide with objects.
* Quickshot
Quickshot is probably the piloting option that you will use more frequently. Quickshot tracks a subject by performing different maneuvers. The app offers four preprogrammed shots:
Dronie mode that makes the drone fly up and away
Circle mode that circumnavigates you at a fixed radius
Rocket mode that sends it straight up
Helix mode that moves the drone in an ever-widening circle
You can now perform these tricks with just a few clicks on your smartphone and take professional shots even if you're inexperienced.
* Record Gesture
With merely an arm movement, you can start and stop video recording with record gesture. This new addition to the Spark gives you the liberty and flexibility to capture, excellent videos with Spark's image stabilized 1080p HD camera.
* Shallow focus 
Shallow Focus is a feature by the Spark that lets you create images that have a shallow depth of field using its 3D vision technology.
* Pano modes
The Pano modes that DJI Spark offers are;
Vertical Mode: The camera takes three photos vertically, then puts them together to make a vertical panorama.
Horizontal Mode: The camera captures nine photos from a variety of angles vertically and horizontally, then combines them to make a parallel panorama.
* New photo shooting features
DJI Spark adds new photo shooting specs that optimizes the camera's capabilities. In addition to the Vertical and Horizontal Pano modes, a further 180 mode stitches 21 individual photos together to capture epic 180-degree panoramic images. The photo resolution when shooting in ActiveTrack and Gesture Modes is also enhanced to capture pictures with a resolution of 3968×2976 pixels at 12-megapixel.
How DJI Spark works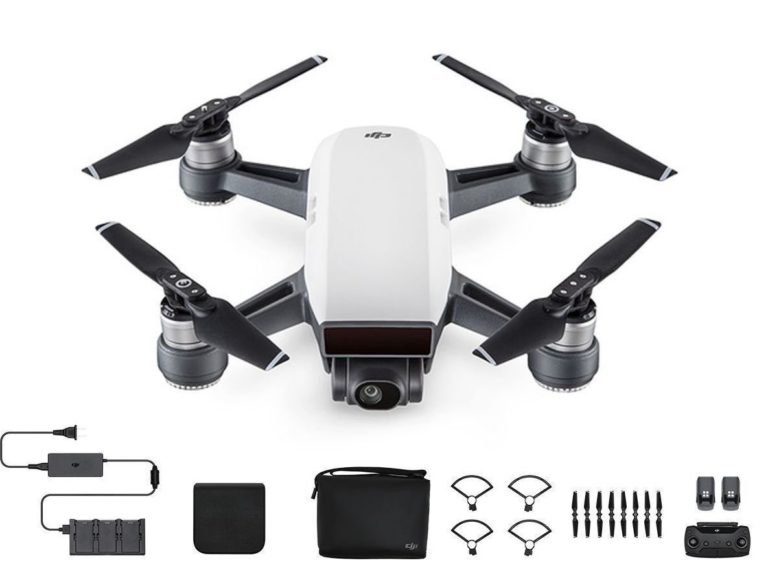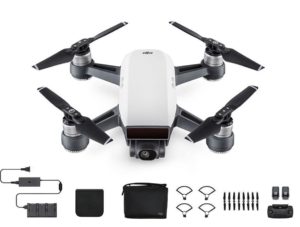 DJI Spark is one smart drone. It activates by recognizing you. It is a palm-sized drone that you can quickly launch from the palm of your hand. Want to return it home? The Spark is GPS enabled, just call it, and it will land easily on your palm.
Do you wish to take a group photo but your selfie camera is not getting it right? DJI Spark can hover precisely in place as you command it and it will capture breathtaking images. This drone comes with fantastic ways of controlling it:
With the hand/palm
With a smartphone
With a remote controller
With DJI goggles
DJI Spark takes smooth footage so that you can focus on living in the moment whether on a road trip, a hike, or a mountain biking. Moreover, you can easily edit the beautiful footage/photos it captures and share them instantly.
* Controlling DJI Spark with the hand/palm
To fly DJI Spark in palm mode;
You should turn on the drone and let it point your face.

You must then double-click the power button.
Once you follow these two steps, the front lights will turn green when it detects your face. The drone then makes a beeping sound and the propellers start rotating, and the drone takes off. Raise your palm so that the drone detects you, it then follows your movement so you can turn, push it, or move it higher or lower. If you want it to land, place your palm underneath it, and it will gently land on your palm.
Also, feel free to use the palm mode with sunglasses or a headgear as DJI Spark will still detect your face. For first-timers in the drone technology, use the propeller guards during palm take-off and landing to prevent the fast spinning propellers from slicing your skin, so be safe.
* Controlling DJI Spark with a smartphone
Easy navigation just with your thumbs.
Easy and quick Set-up for use.
By using your thumbs on the smartphone, you can now fly the drone. What's excellent about controlling the Spark with a smartphone? Its response is quick and precise to the digital controls. But first, you need to set-up the Spark that takes no more than 10 minutes if you have a charged battery and a DJI app downloaded.
Sync the smartphone with Spark's ad-hoc WIFI signal and a remote feed pops up on the drone's built-in camera. You'll find Spark's name and password in the storage box inside the storage compartment or DJI assistant 2 when you connect DJI Spark to your PC using a USB cable. You must also register your Spark with DJI and accept the terms of the DJI account; otherwise, they restrict functions like range and high speed.
* Controlling the spark with the remote controller
Go ahead and turn on the controller and the aircraft by pressing the power button once and hold. Attach your phone in the phone cradle then push the clamps to ensure the phone fits perfectly.
Locate a take-off point, and you are ready to go! Just that simple there's utterly no fuss about it. You should consider palm launching in cases where you don't find a suitable vicinity to take off.
* Controlling the Spark with DJI goggles
A touchpad for simple navigation
An adjustable and comfortable goggle
The comfort, ease of navigation, a 6hour battery run-time, and quality transmissions make the DJI goggles a must have DJI Spark accessory. The goggles consist of a headband and the goggles that you need to attach for it to be ready for use. The goggles grip well, and it provides proper ventilation so that you do not sweat. You can quickly navigate the menus with the touchpad by just moving your fingers.
A robust, colorful small drone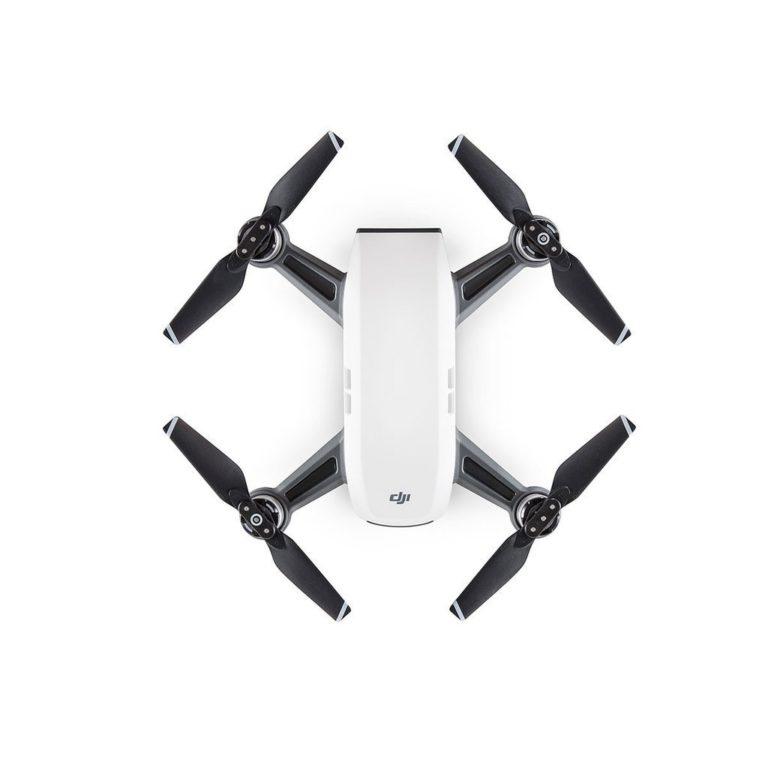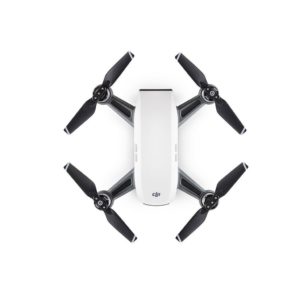 DJI has always been a game changer in the drone market, and the Spark's robust design is one of the proof. It is perhaps the most robust drone yet the company has produced. With its short arms, a hidden camera, and no legs, in the event of a crash, there's not much exposure to damage.
Although it may not survive a massive hit on a hard surface, when you're flying over grass or carpeting the little Spark can survive two-dozen feet drop with minimal damage. It is more likely that the parts that suffer damage are the props which are a cheap and quick replacement. The designers of the Spark ensured it has a top-notch build and this makes it stand out among the other drones.
For those who swear by their favorite colors, the Spark has something for everyone. DJI produced a variety of colors such as Lava Red, Sunrise Yellow, Meadow Green, Sky Blue, and Alpine white. These colors are only for the Spark model as previous models just had one color. Although the colors will not add much to your arsenal, they are an excellent personalization addition to the drones.
* An affordable and approachable drone
The Spark has packed intelligence in a camera drone at a very affordable price. The camera is quality, especially when compared to its competitors. However, it is cheap mostly because you only get the drone and nothing else.
The fact that you just get a drone is something that you should bear in mind if you think that you may end up wanting to do more than taking selfies or short-range imagery controlled with your smartphone. The $150 controller comes in handy if you're going to broaden your range and control, it is an investment that is beneficial in the long-run.
* A quality transmitter and easy control
The Spark is a little magic in your hand's palm. The easy palm control feature makes it quick to control the drone using the palm of your hand. For it to take off, just launch it at the palm of your hand. The Spark is smart enough to recognize you as the subject so to control it while flying, just wave your hands, and it will detect you. However, you should be within 10 feet distance from the Spark for it to identify your hand gestures.
* An intelligent and quick powerhouse
Do you need a more straightforward way to capture epic aerial selfies? The four modes of DJI Spark in the Quickshots feature that include the Circle mode, rocket mode, Helix mode, and the Dronie mode make this a reality.
Quickshots is similar to the Auto Shot Paths automatic maneuvers of the GoPro Karma. These styles record 10 seconds video clips and automatically trim them so that you can store them on your smartphone and do more edits.
* Alert, stable, and stuffed with intellect
The Spark does not seem to be ahead of the competition when you see it on paper. However, once you take to the skies, you'll notice that it's not merely a small drone. Instead, it is a mighty drone. Its flight performance makes it top the list of drones.
Similar to DJI's Mavic, Phantom, and Inspire drones, the Spark delivers a fantastic responsiveness. It is alert, quick and remarkably stable for a small drone. In high winds, it overcomes drift, and it holds its position.
If you stop using the control sticks while it is flying, the Spark stays in its spot waiting for you to give instructions. Commonly, smaller drones are wobbly, and they lack stability, but DJI Spark is an exception.
* Average flight time and recharge speed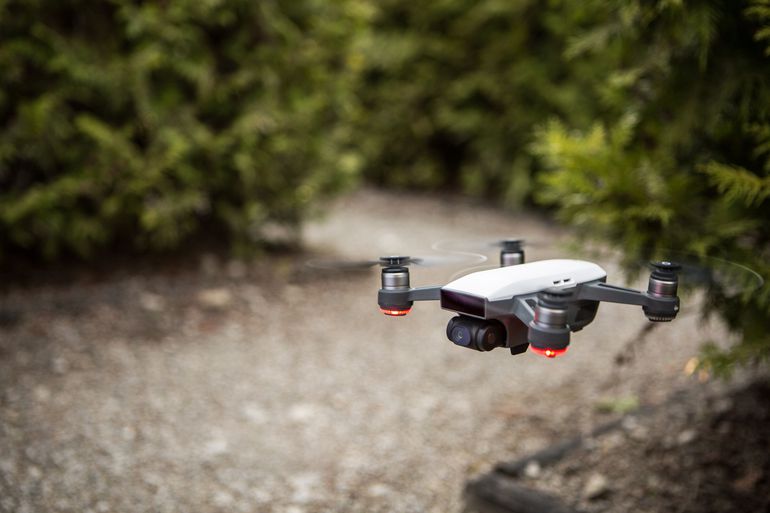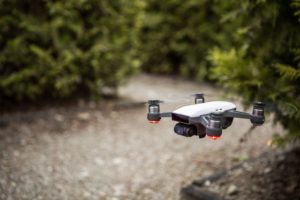 Spark's 16 minute flight time leaves the rest in the dust as compared to Spark's rivalry like the Hover camera Passport (9 minutes) and Yuneec breeze (11 minutes). During the raw flight, the Spark manages around 14 minutes 10 seconds flight time. Moreover, all these mini-drones come with two batteries. Thus, the Spark delivers about 26 minutes of flight time per outing while Breeze and Passport offer 22 and 18 respectively. DJI Spark prides itself on staying at the cutting edge of stamina.
Expect to take about 45 minutes to recharge the Spark's battery up to 100%. You should consider a wall recharge as you will not spend much time juicing up the battery. However, the time spent to recharge varies depending on how much drained your battery is.
Therefore, if you fly until the Spark does a low-power emergency landing, 45 minutes is as much time as it will take. If you land when you receive the first battery warning, you get to spend about 30-35 minutes recharging.
The Spark is the first DJI model that you can charge with a USB cable, locate a Micro-USB port and a microSD card slot at the back. It is great for traveling so that whenever you are out of power, you can use a portable power bank to top up your battery between flights. The Charging Hub can simultaneously charge three batteries. When using the Charging Hub, remove the cells from the drone and put them in the Charging Hub.
* A new way to live stream videos
If you are a budding vlogger, you can use Facebook, Weibo, or YouTube to live broadcast your drone adventures to your social media feed. However, each intense vibration and beep that the Spark makes will not go unnoticed, and live-streaming drains your smartphone's battery.
* A liberating and enjoyable way of control
The Spark is very responsive when you use your hands to command it. Anyone can pilot it, including the most primitive people. Just wave your hand left and right, and the Spark's built-in scanners detect and follow your motion. Form a square with your fingers like a cinematic director, and the Spark will take a photo.
Wave your hands, and it flies backward 15 feet, then raise your arms, and it'll fly towards you. However, at times it might take a couple attempts to be good at the gestures.
Want to maximize DJI Spark's capabilities? Here are the guidelines: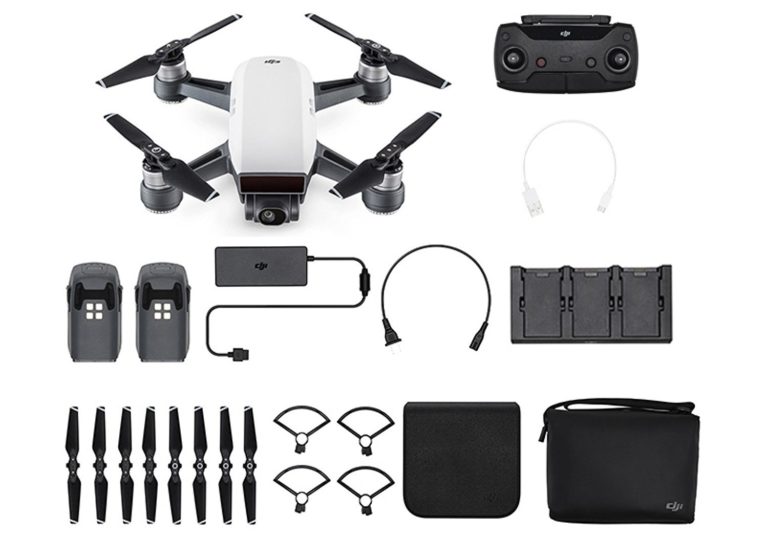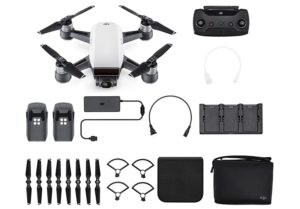 * If you are a first-timer in the drone technology, don't fly indoors
The Spark has obstacle avoidance sensors that may cause it to fly in the air and stick there without moving. Chances are the drone will fly backward and lose its orientation while you lose your control over it.
* Calibrate your compass whenever you are in a new location
You should do the calibration before you fly the drone. If you are in a new area, re-calibrate the drone especially when you experience intense magnetic interference. It will only take you 30 seconds. Magnetic interference can come from mobile devices, metals, concrete, and parking structures.
To mitigate magnetic interference, you can launch it from a flat surface such as a launch pad. You will find more instructions in the manual or the app.
* Use the remote for a more smooth and precise video
The remote offers more accurate controls and a more tangible feel of the Spark' movement and its reaction.
* Use a tablet or a large screen phone for a better view
The tablet offers a broader scenery that comes handy when composing shots. When you use a tablet, you need to get a tablet holder.
* Go through the gesture tutorials found in the app
Gesture tutorials help you understand how to use gestures to pilot the Spark which is the most comfortable means to fly it.
The pros
Ultra-lightweight
Lots of smart flight modes
Obstacle avoidance
Two-axis gimbal stabilization
Great gesture control
Quieter than other models
The cons
Does not shoot in 4K
Limited range
Conclusion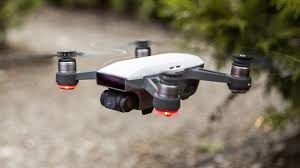 Is the Spark ideal for everyone? Perhaps not. If you're an expert cinematographer or photographer, then the Spark is not the right pick based on the quality of the footage. And if you own other versions like the DJI Mavic, the Spark may not add much value to your toolbox.
To whom does the Spark best suit? With a smooth learning curve and a $499 price tag, the Spark is the most approachable drone that has ever existed in the market. It is the best for newbies in the drone technology and a great purchase option for hobbyists who are not sure if it is for them.
With its affordable price, you get a capable camera drone that is easy to use. Despite the fact that the Spark does not shoot 4K video as some of its rivals, it is smarter, quicker with a more extended flight time and certainly the best in its class. Therefore, if you do not mind capturing footage at 1080p which can even go undetectable, then the Spark is the best fit for you.
Piloting the Spark delivers a liberating experience that gives you a glimpse into what you were missing out. Not only did the design focus on minimizing complexity, but it has also borrowed capabilities from its siblings that make it unique.
Its light-weight nature, ease of control, and safety to fly indoors and outdoors while retaining sufficient power to take epic imagery is what makes it a mighty drone. So, DJI Spark is the best drone for the average person seeking to enjoy ultra-premium features without spending much.
[asa2]B072C36ZVK[/asa2]