Drones are fragile machines and have quite a bit of flight risks associated with them. They have a knack for crashing into places. But Yuneec Q500 4k Typhoon is different; it makes piloting a drone as easy as ABC. You can enjoy the flight experience to the fullest without feeling anxious. Let the Typhoon take you to an epic journey of exploration in the open skies.
[rwp_box id="0″]
Overview
The Yuneen Typhoon Q500 4k is the newest addition to a long list of premium professional drones. It has similar attributes as the critically acclaimed DJI phantom 3. Yuneec's drones stand out from its competitors because of their approachability. If you're a photographer and you're in the mood to capture stunning 4k aerial pictures, this drone is the one for you. You will not require a longstanding drone flying experience to navigate this bad boy.
Yuneec Typhoon Q500 4k is equipped with a cutting edge stabilized 4K video camera with a proficient ground control center. It is capable of capturing 12 megapixel still shots in 1080p 120fps slow motion. Another handy feature is the steady grip camera which is integrated with a pistol grip device that lets you visualize your surroundings and perform other camera functions from the ground with the help of your Smartphone. The smartphone works as a viewfinder.
Yuneec Q500 4k Review Specs
♦ Rating: 4/5
♦ Flight Time: 20 Minutеѕ
♦ Camera Video: 4K (30FPS)
♦ Flight Speed: Uр tо 17 mрh
♦ Rаngе: 800 meters
♦ Features: Watch me, Follow me, return to home, distortion free lens
♦ Cоntrоllеr: St10 plus controller and Smartphone viewfinder
Design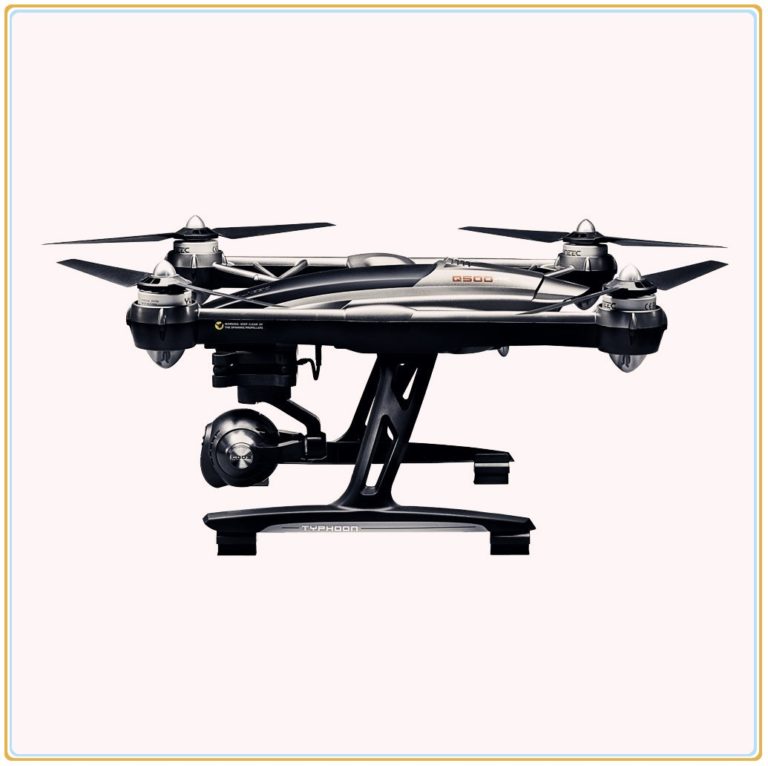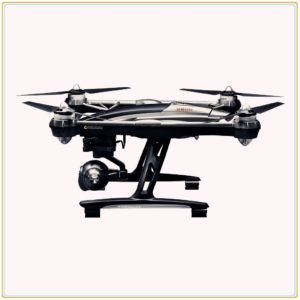 The typhoon has a sleek and austere design like any other professional drone. Yuneec has kept things pretty simple. The simplicity gives it a much cooler appearance than its rival DIJ phantom 3 which has a pretty similar appearance to its girly-looking predecessor the Phantom 2. The manufacturer has done a pretty good job at supplementing the beauty of the drone by adding visually appealing decorations that make it a crowd pleaser on the air as well as on the ground. We're aware that the Q500 has surplus additions in its design but they do not make it bulky. You can take it along on your adventures with ease. Its design is a definite winner.
Battery Life
A 5499 mAh lithium polymer type battery fuels the quadcopter for 25 minutes during flight. The flight time falls down from 25 minutes to 21 minutes if you use the camera to capture pictures while flying. The usage of watch me follow me features during flight will further reduce its in-air time and it'll only stay powered on for 20 minutes. It requires 5 hours to completely re-fuel itself.  You can charge it with an AC adapter or a USB cable depending upon availability or preference of use.
 Flight Performance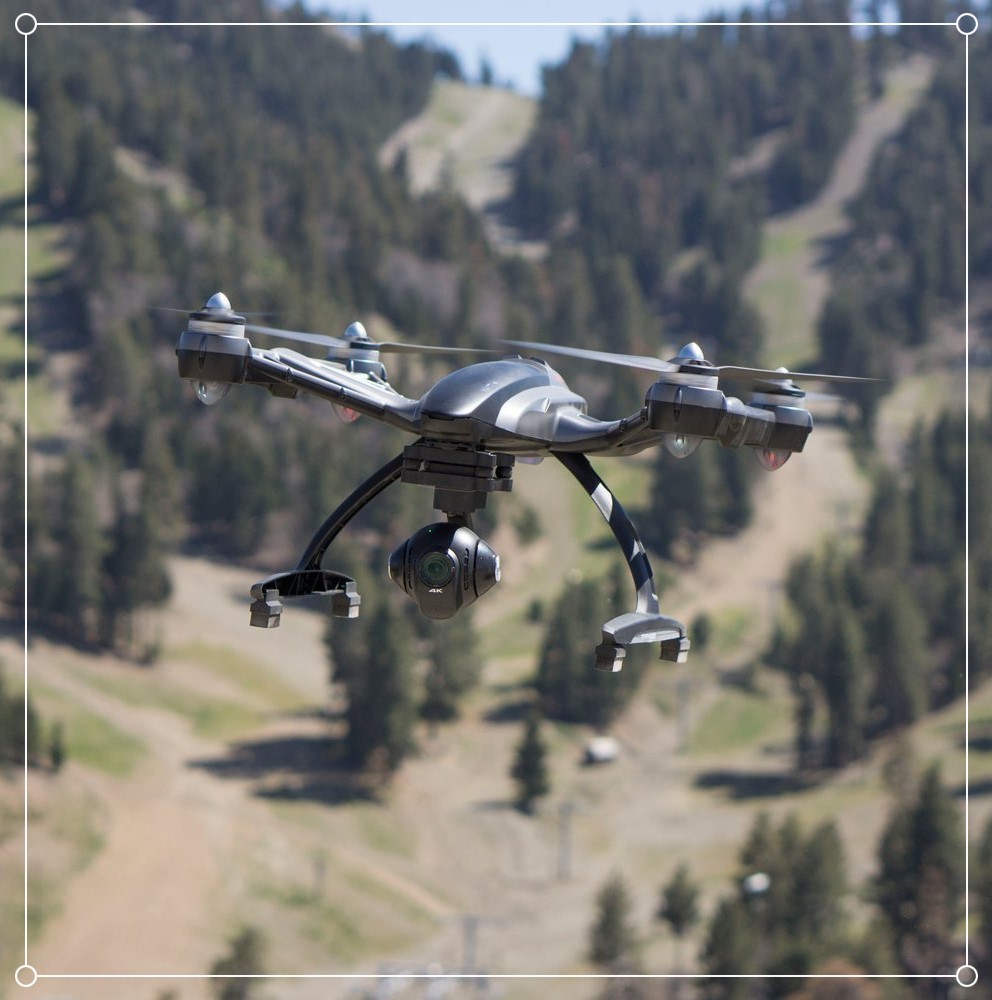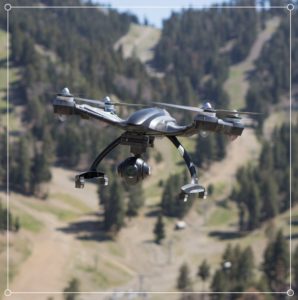 The controls on this amazing quadcopter are exceptionally easy for a novice user. It can emulate all of its rivals in flight performance. The flight experience is equally good in all available modes, whether you're flying it in normal mode or work mode. Navigating this small beast with a joystick is as easy as pie. You can adjust the camera angles of flights with zero hassle. If beginners want to improve their flying skills, there isn't a better choice on the market than the Q500. It will help them transition to drones having advanced flight requirements. There are no untoward delay times during the upward, downward or sideward movements of the drone. The maximum recorded velocity of this device is 17 mph in angle mode and 22mph in Follow me or watch me mode.
 Controller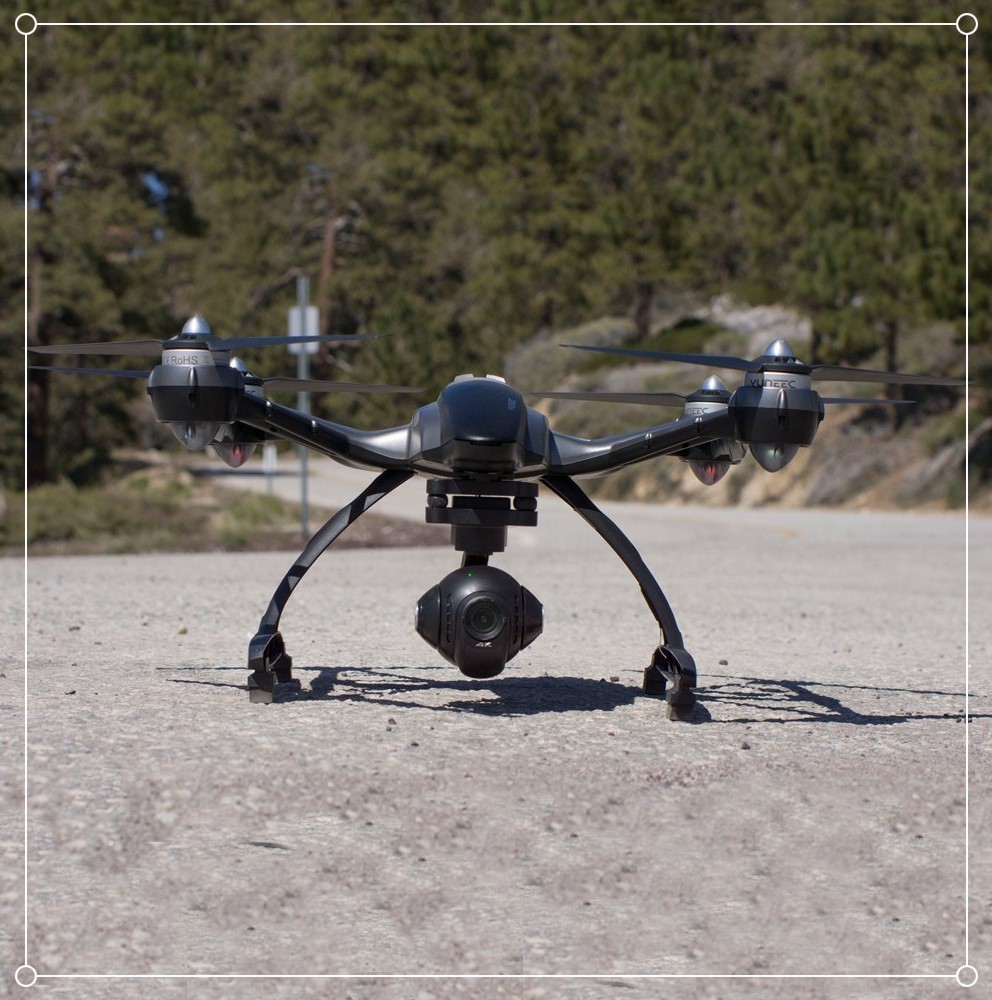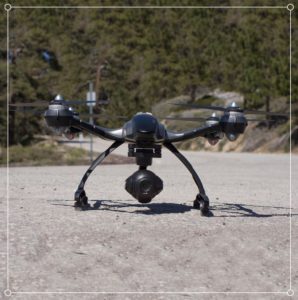 The transmitter and personal ground station merge together to form a single device that enables 10 channels functioning at 2.4 GHz. The controller makes flight navigation as easy as pie. You can adjust it at will in different flight modes. Estimates put the control range around the 800 meter mark. Home buttons are exceptionally responsive and enable the user to make fast-paced flight changes For example, if your drone is close to crashing in a tree, you can make lightning quick last ditch movements with the help of the controller to steer away from danger. This system also makes landings a breeze. If you get yourself well acquainted with your flight path and control settings, you can become king of the skies with this work of wonder.
Camera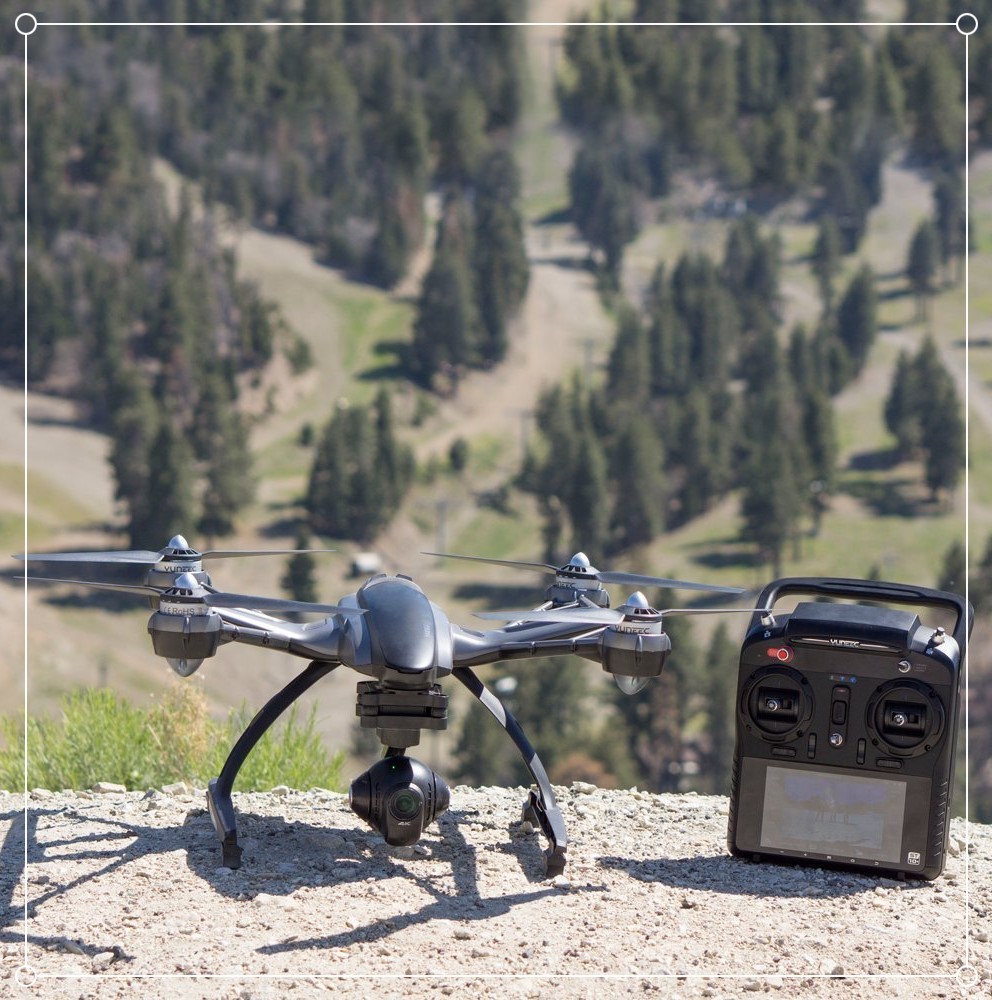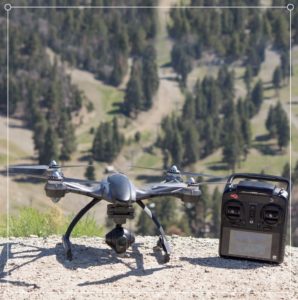 As mentioned in the brief description of the drone, the camera in this drone supports 4k video recording. No wonder the image quality is incredible.  With this cutting edge camera, you can achieve a 115 degree orientation at 30 fps frame rate which is nothing short of impressive. More so, this field of view is applicable in both 4k and 1080p resolutions. The default settings are great for novice users, and once you learn the complexities of the camera software, you can experiment different smart modes and classic flights. One of the most important features in the camera of this drone which will please users is that it can shoot videos in slow motion. This camera is tailor made to meet the exacting needs of professional videographers. The drone's state-of-the-art camera sits on 3-axis gimbal, making the video and picture capturing experience seamless. It ensures that the resultant video and image isn't wobbly or smudged.
Safety Features
Due to security flaws in the predecessors of the Typhoon, Yuneec has incorporated safety features in its new flagship drone. The drone will veer away from commercial airports and will limit its aerial flight to 400 ft. altitude.
Features
Follow Me
In the follow me mode, the typhoon follows the users movements without changing altitude and without being manually controlled. This mode comes in handy when you're riding a bike or are want to perform other functions with your hand than holding a controller.
Watch Me
The watch me mode of the Yuneec 1500 4k is pretty sick. One it is activated, it will cause the drone to move in a circular orbit at a constant height. All you have to do is move the controller to the right or left and this will initiate the orbital motion of the drone. This mode is useful when you're at a picturesque location and want to capture stunning 360 degree video footage.
Return Home
The return home features increases the functionality of the user by leaps and bounds. As soon as it is activated, it will command the drone to fly atop the controller and execute safe landing within 26 feet of it. To avoid any complications, ensure that the radius of the landing is clearly typed in.
Pros
Yuneec Typhoon Q500 YK comes at a really economical price and packs a punch with its tremendous features. The 4k video capturing system is commendable, even if it isn't fast as its rival drones. The ease with which you can switch to the 1080p slow motion mode shows that the manufacturing company developed this drone with the needs of novice videographers in mind. The autonomous modes are easy to figure out, and the St10 plus controller display is exclusivity in the drone world. Even majority of advanced drones don't possess this feature. It's what separates the typhoon from the herd. The responsiveness of this drone and the smooth handling makes it one of the best drones for navigating the open skies. Even beginners can easily get accustomed to its handles.  
Cons
Yuneec Q500 isn't as sturdy and durable as it is expected to be. It can't withstand considerable damage. The material used in its production is plastic, hence the fragility. Don't bet on it if it has a head-on collision with a tree's branches. Although, flying this machine is easy; the implications are disastrous if it crashes into something remotely solid.
A dearth of advanced object systems means you have to be extra cautious while flying this drone in crowded places. One more drawback is the poor battery life. You can't achieve much in 20 minutes and that's the maximum flight time it offers. It takes hours to recharge and that can cause the users considerable frustration.
Verdict
The Yuneec Typhoon 4k lacks many features found in high-end drones available in the market. However, it's still great for novice videographers, considering its low price tag.
The plastic material used in its production doesn't help its cause. However, there are still enough features such as the unique display screen integrated in the St 10 plus controller, stellar image quality and impressive response time and flight handling that can catch the attention of customers. I have to say that you won't get a better drone than the Yuneec Q500 4k at this price. It totally justifies its price tag in a world where drones are immensely expensive. If you're not ready to spend hefty amounts on a drone, this may be your best option for you.
[asa2]B071S1S958[/asa2]