Drones have become quite popular over the last few years, and it's no wonder! They are super fun to capture photographs and video from a distance. You can explore places in your neighborhood you didn't even know were there. Document family events, shoot film footage, and even keep an eye on the kids in the backyard – drones can do it all. There are a number of things to look for when buying a drone, and we've outlined them in the buying guide at the end of this helpful review. What's more, we've lined up the 10 best drones on the market today so you can decide which one is right for you. We've got something for everyone: beginner to pro. Whether you are just starting to have an interest in drone technology or you've been trying to build one in your garage for years, there is a drone on this list for you. We've considered many things in choosing the best drones for this list including stability, range, battery type and life, camera quality, accessories and more.
Top 10 Drones by Category
In our lineup of the 10 best drones on the market today, we're starting with the overall winner and most professional drone you can find. We'll work our way through the best drones and end with some economical options for drone users who aren't quite ready to invest the big bucks in their aerial pursuits.
[table id=12 /]
1  Best Professional Drone
In choosing the best professional drone on the market, we considered many things, including the quality of the accessories that come with this drone. For professional use, it's important that every aspect of the drone, including the accessories that make it better, is of the highest quality. We paid special attention to what makes this drone tick, and we think you'll agree that it's the best professional drone around.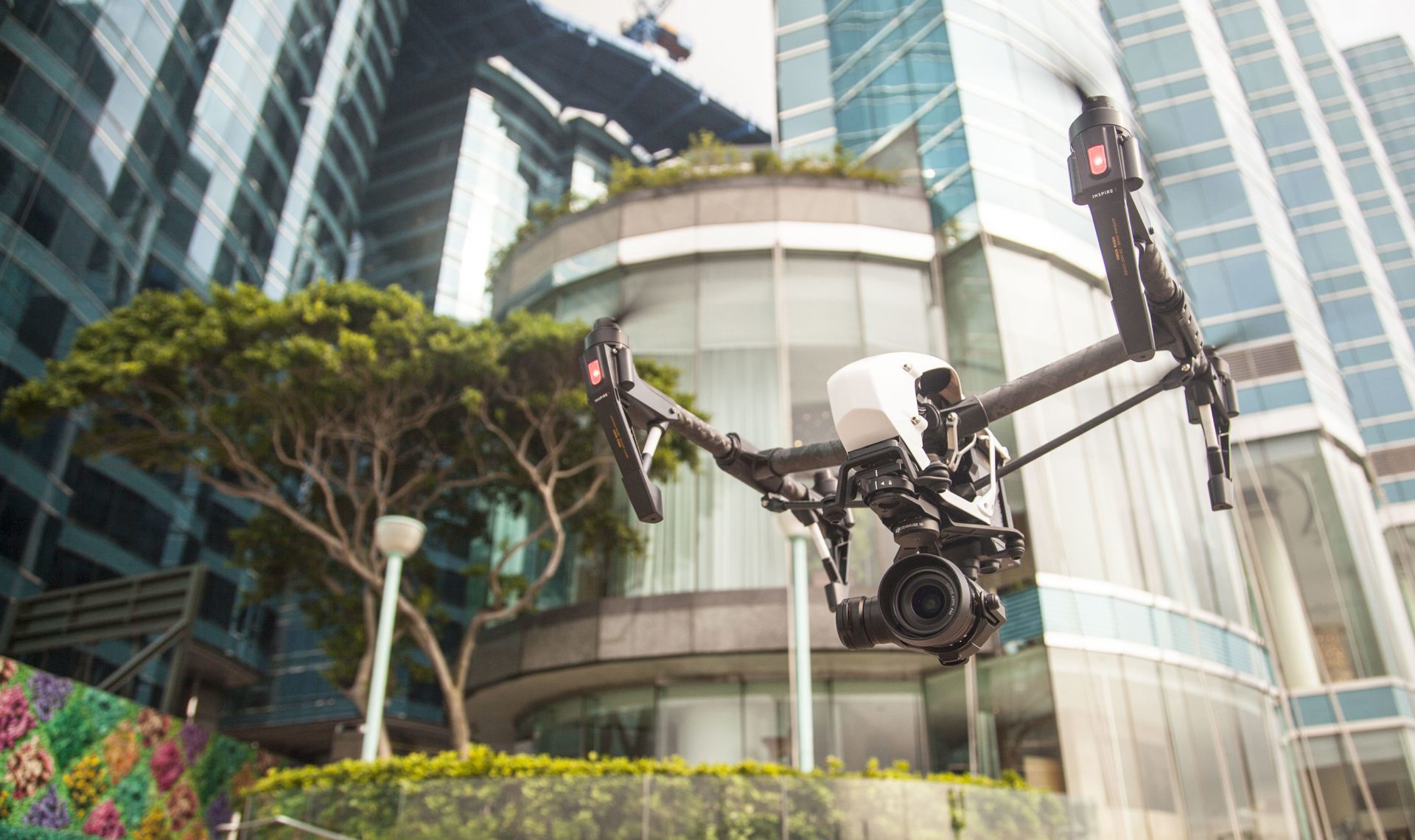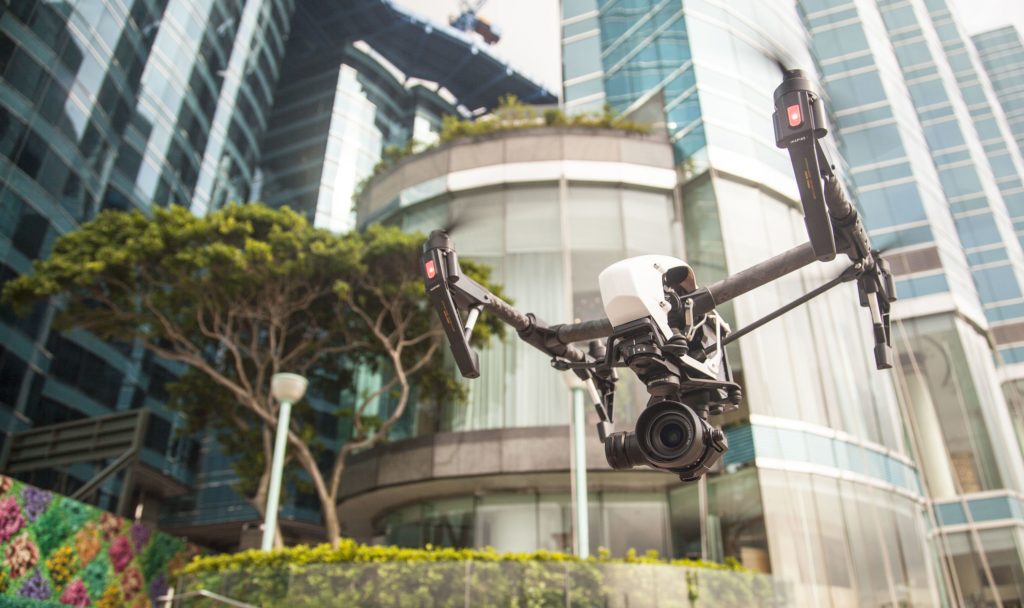 DJI is one of the leading drone manufacturers in the world. The Inspire 2 Quadcopter relies on four large propeller blades to get it off the ground and into the air. It features compatibility with cameras up to 5.2k! That's amazing imagining power. You can get this model with or without the camera bundle. There's a big difference in the price between the bundle with the camera and the bundle without the camera, but professionals know that you need to invest in a high-quality camera lens in order to make your work shine. This drone is definitely a professional's dream come true. It can capture both video and photographs, and it comes with a number of accessories that make the user's life easier. These include an SD card, USB flash drive, cleaning clothes, storage, lens, and more. Not only does this professional drone come fully equipped and ready to use out of the box,
but it looks fantastic too: something right out of a movie. It's sleek and modern and really delivers in both quality and design. The body of the drone is covered in magnesium-aluminum for strength and resistance to weather wearing. What's great about this drone is the speed it delivers: you can get this drone moving up to 50 mph in less than 4 seconds. It can reach about 60 mph at full speed. The battery life will provide you with almost 30 minutes of flight time, which means you can get a lot of pictures or video in that period of time. If you are a professional photographer or videographer, you know that shoots will often take on a start/stop/start process, and so there is plenty of time to refresh your battery between takes. The batteries included with this professional quality drone are LiPo batteries, and they are stored onboard the drone itself. With its state-of-the-art design and video capturing system, the DJI Inspire 2 is our pick for the best professional drone on the market.
What we like:
What we don't like:

Long battery life
Uses CineCore 2.0 video technology
Memory card and USB included
High-tech stabilizers
Compatible with multiple cameras
Sleek and professional design
Max speeds up to 60 mph
Reaches 50 mph in 4 seconds

Not suitable for beginners
Can be difficult to control at first
Read full review about DJI Inspire 2
[asa2]B01N5CUQOD[/asa2]
2  Runner-up for Best Professional Drone
Now that we've identified the best professional drone around let's look at our second choice for the best professional drone. It was a tight race, but the DJI just snuck passed the Yuneec Typhoon H Pro. Let's look at this drone to see why we think it's so spectacular.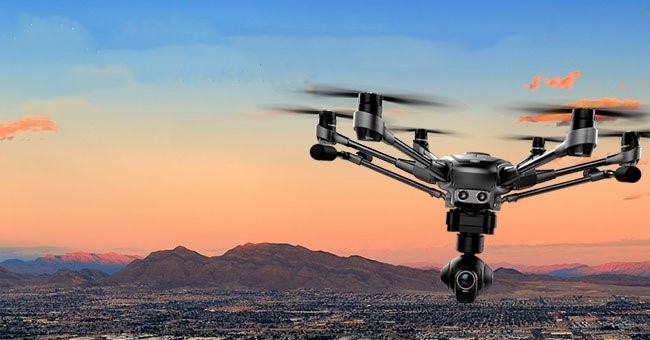 There's no assembly required for this professional series drone: it's ready right out of the box. We like it because it comes with its own remote control, so you don't need to connect the drone to your smartphone to use it. However, you can integrate it with your Android phone if you want more features and flexibility. This drone  also comes with a long list of extras like a backpack for carrying it around and storing it when not in use. This drone is easy to fly and offers GPS stabilizing flight control. What's more, you can adjust the speeds and more with 8 different flight modes, giving the user more control. It has 6 propellor blades and features collision-prevention technology. The camera is what's really special about this professional drone: it has 4K video and image quality with 12 megapixels of imaging capabilities. The gimbal prevents vibration from interfering with your video or photography efforts, and there is retractable landing gear which allows users to get a full 360-degree view from underneath the drone while in the air. There is a lot of technology packed into this professional drone. The battery lasts about 25 minutes, so not as long as the DJI, but still pretty good. It also has a one year warranty that guarantees against defects, like most warranties on the market today. This drone also comes equipped with technology that won't allow it to fly in FAA no-fly zones, so you don't have to worry about breaking any laws with your drone. This drone is excellent for professionals because of the excellent camera and stability features found on this product. Lots of options and extras make it a dream to use and carry around for video or photography shoots.
What we like:
What we don't like:

Good battery life
Comes with remote control with LCD screen
Strong and sturdy propeller blades
Retractable landing gear
12-megapixel photographs
4k video technology
360-degree view camera

Weighs 12 pounds, so it's a bit heavier than some other drones
Not suitable for beginners
Read full review about Yuneec Typhoon H
[asa2]B01AT4BKFU[/asa2]
3  Best Drone for Experienced Users
If you aren't quite a professional, but more of a serious hobbyist, then you'll want to check out our pick for the best drone for experienced users. Experienced users are people who have had drones in the past and are ready to upgrade to something a little more powerful and robust, but don't need all the fancy technology that goes into professional film or photography equipment related to drones. The DJI Mavic Pro is our pick for the best drone for someone looking for an upgraded drone experience.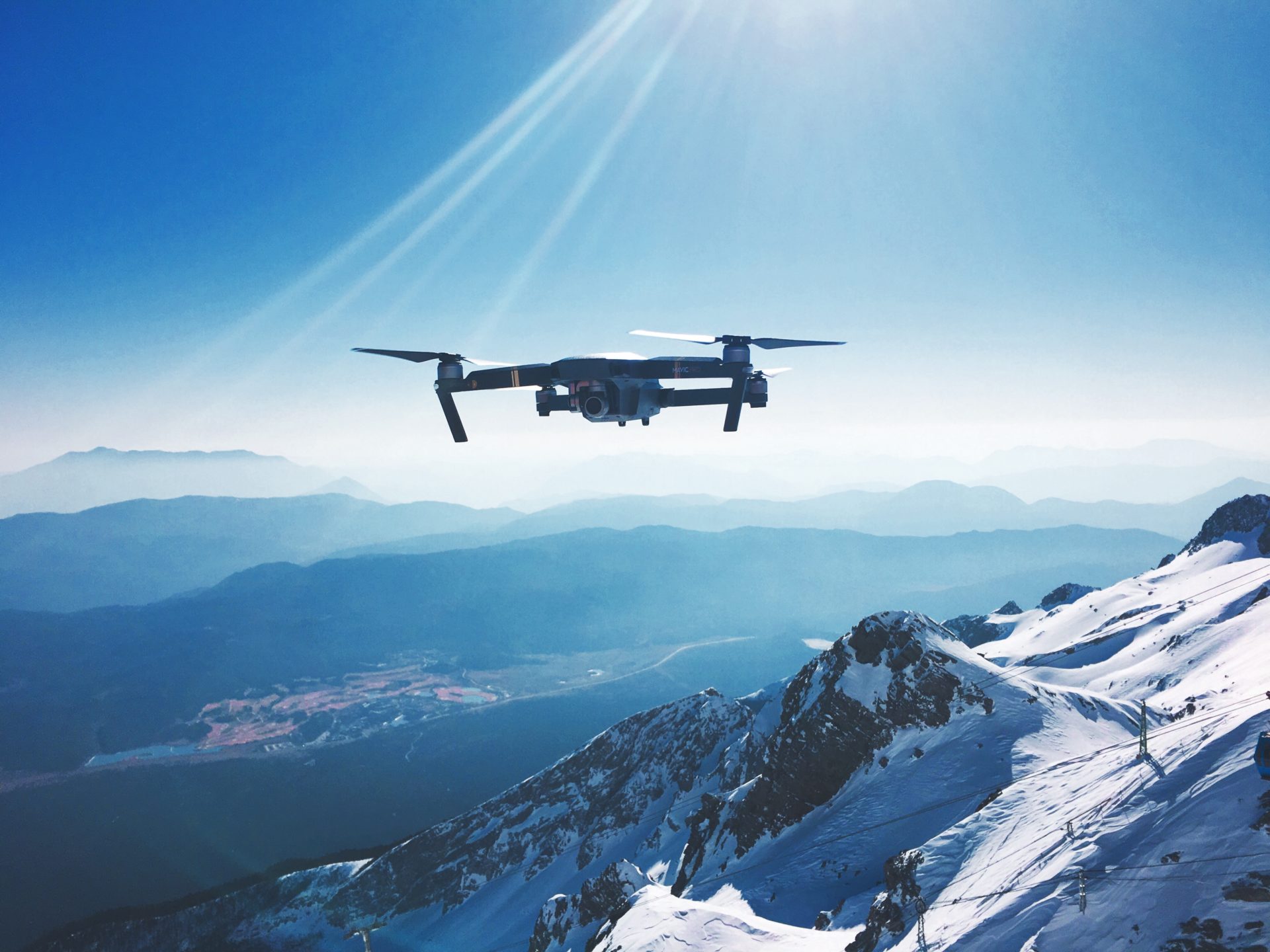 The DJI Mavic Pro is an excellent drone for someone looking to upgrade their droning experience to a more powerful machine. It is ready to go right out of the box, and it comes folded up in a small and compact size, which is great for storage when not in use. It offers a modern and sleek design and is powered by 4 propeller blades on each corner of the drone. What makes this such an upgrade from other drones is the distance you get out of this little drone: up to 4.3 miles of distance. Even some professional grade drones only go about 200 m away from the control source, so this is great for people looking to explore beyond their immediate reach. It can fly upwards of 40 mph and can stay airborne for up to 27 minutes on a full battery charge. The battery pack offers Lithium Ion technology and is rechargeable. The base model comes with just the drone, but there are bundles and packs you can get to upgrade your drone experience even more. For example, the deluxe bundle comes with a carrying case and extra propeller blades for replacement purposes. The camera uses a 3-axis mechanical gimbal to keep it steady as you fly and the video is available in up to 1080p HD. You'll get crystal clear photos with ease when you invest in the DJI Mavic Pro drone. We like it for the experienced drone user because it offers the highest camera technology, but it isn't heavy and bulky like larger, more professional drones. It's great for the hobbyist and budding professionals alike. The drone weighs less than 3 pounds when it's fully assembled with the battery pack. That's pretty impressive considering it's hauling around that amazing camera. Check it out for yourself and see if you agree with us!
What we like:
What we don't like:

Long-lasting battery
Can go over 4 miles from control source
Can reach speeds up to 40 mph
Stabilized camera
Includes charger and battery pack
Includes remote control
Great upgrade option for more experienced drone users

Base model doesn't have any extra accessories or carry case
Doesn't have the ability to add extra cameras on to it
Read full review about DJI Mavic Pro
[asa2]B01MEHSJPO[/asa2]
4  Runner-up for Best Drone for Experienced Users
When looking at the best drone for an experience drone user, it's no surprise that we gravitated toward another DJI product. These guys have really got it together when it comes to delivering a quality product for a serious drone user. Here's why we love the DJI Phantom drone as our pick for the runner-up as the best drone for experienced users.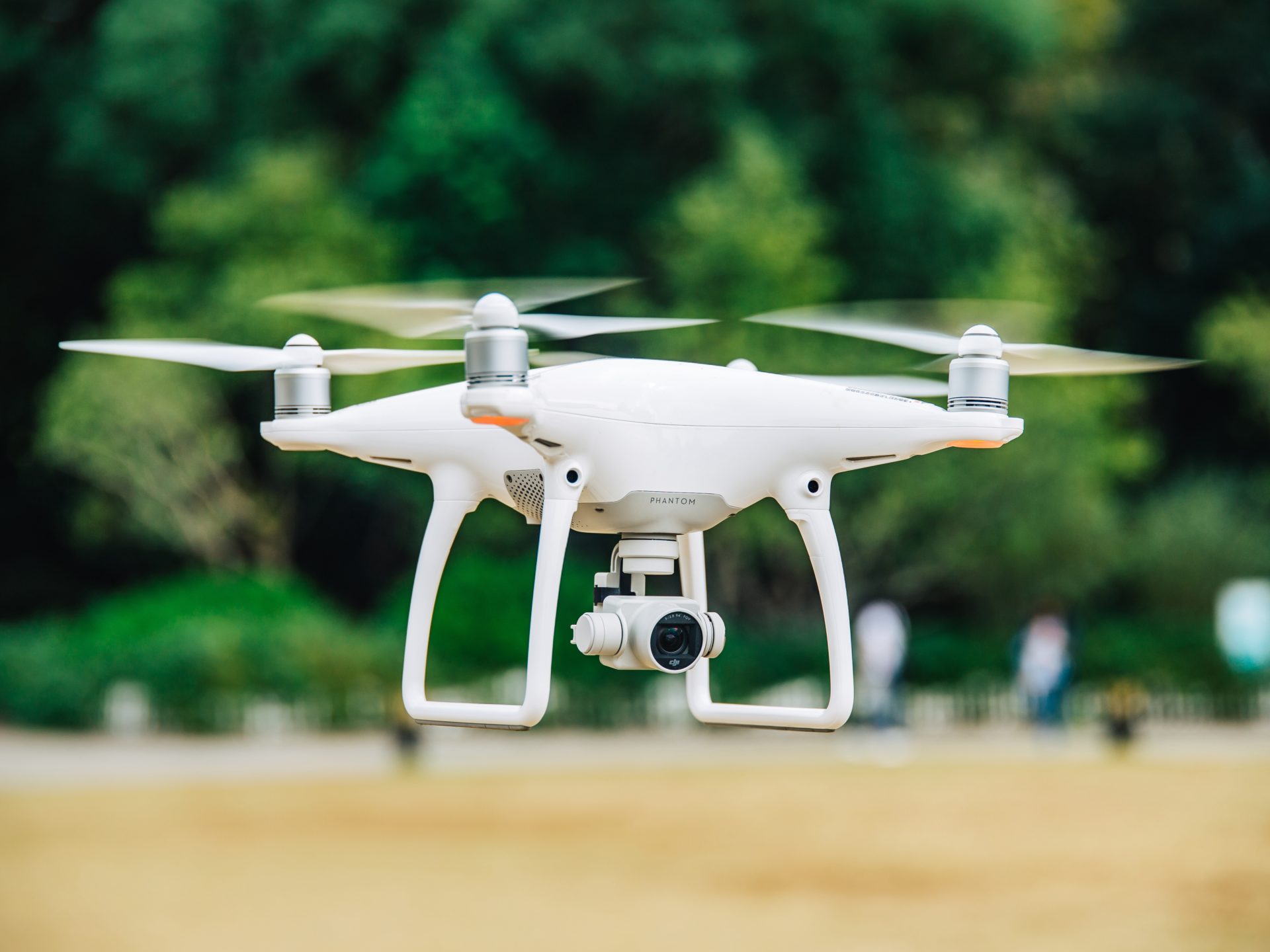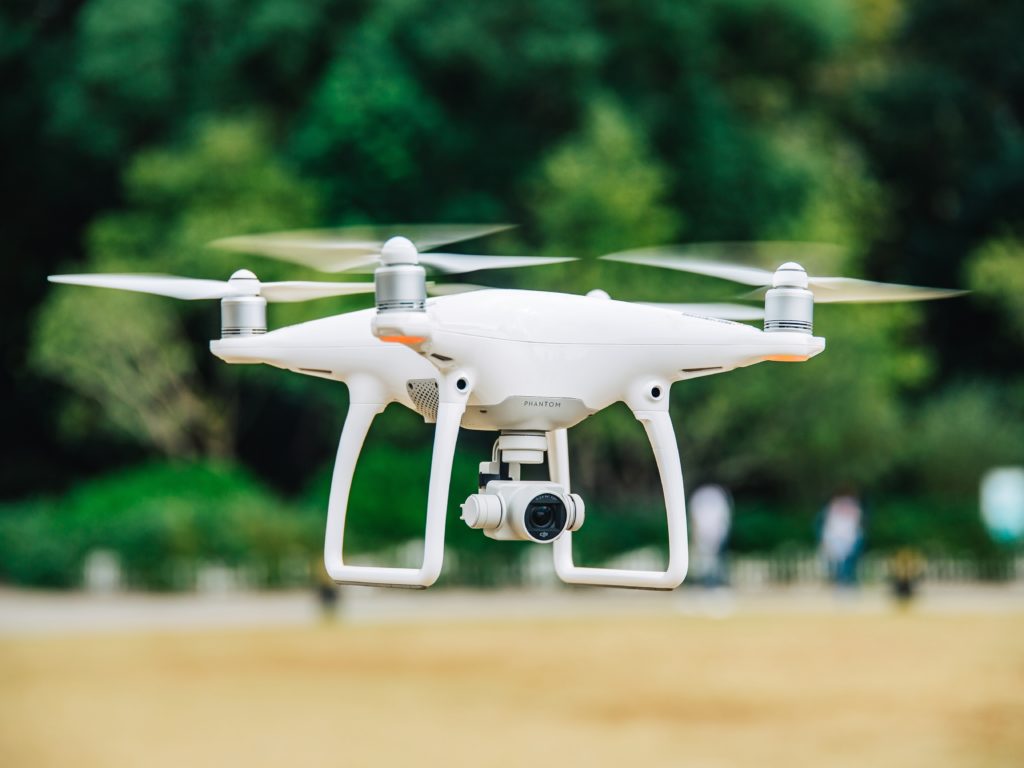 First and foremost, it is easy to fly because of the unique flight system that is used in this drone model. It offers stabilized footage using 2.7k HD video technology and up to 12 megapixels in every image. It uses gimbal stabilization technology to ensure your videos are top-notch and look great. You can stream a live feed from the camera in the drone to your mobile device in up to 720p HD quality. The drone is equipped with a GPS tracking system that lets you know where it is even when you can't see it. It can run for up to 25 minutes on a fully charged battery and features four propeller blades for mobility and stability. This drone is ideal for experienced users who are looking to upgrade their current drone models to something a little more stable that uses new technology to record videos and take still photographs. We also like this drone for experienced users because it reduces the need to have to go out and buy a bunch of new accessories to complete your new drone: it comes with many things you need to get started including the battery packs, remote control, two full sets of propellers for replacement after wear and tear, mobile device clamp to hook your smartphone up to it, and an 8GB memory card to store all of the video and pictures that are taken during flight. It even comes with a great looking carrying case so you can take your drone wherever you go, except you'll have to detach the propellers when storing it because they don't fit in the backpack carrying case that comes with the kit. The design is sleek and modern, and it really delivers on quality in a lightweight and fast drone device.
What we like:
What we didn't like:

Comes with everything you need to upgrade your current drone
High-quality camera
Solid and stable
Lithium-ion battery with long life
Stream video in real time on your smartphone using wifi
Easy to use and lightweight
Great for experienced drone users

Drone didn't fit into the backpack properly
Read full review about DJI Phantom 4 and DJI Phantom 3
[asa2]B013U0F6EQ[/asa2]
5 Best Mini Drone
When we started looking at drones, we noticed that a lot of the new drones are pretty small. While larger more professional drones need to be larger to gain a lot of speed and stability for professional shoots, mini drones are just as useful for everyday use and even some entry-level professional use. Here's our pick for the best mini drone on the market today.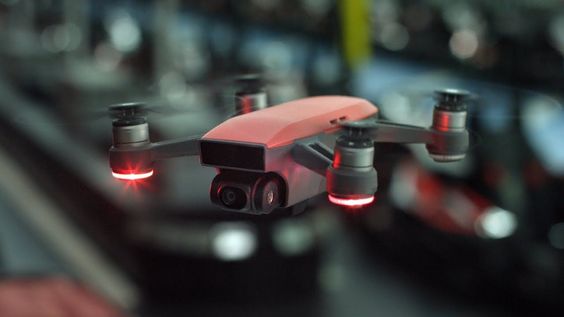 Another great product from DJI is the Spark Mini Drone. This is a small little machine that packs a lot of power and has a good deal of stability for a mini drone. It sits on a 2-axis stabilizer and eliminates the shaking that some other mini drones have. It is very reliable and works fast to get into the air. What's really interesting about this mini drone, and one of the reasons we love it so much is that you can take pictures without the use of a remote control or even smartphone device: the drone picks up on your hand signals and will take pictures at your command. It fits in the palm of your hand and makes taking off and landing a breeze. The camera that is included in this mini drone is pretty great too. The powerful lens provides up to 12 megapixels for still shots and 1080p for video capturing. This little drone will even recognize your face and follow you around. It's probably not robust enough for professional use, but given its small size it's a great option for people just getting into the hobby of droning, and it's great for a variety of outdoor use such as recording plays on a soccer field, baseball diamond and more. It's lightweight and easy to tote around with you from place to place. The battery life in this mini drone is a lithium-ion battery, and it is rechargeable. On a full charge, the drone can reach speeds of up to 28 mph for up to 12 minutes at a time. So while you won't be shooting any feature-length movies with this drone, it is still a reliable option for anyone interested in drones.
What we like:
What we don't like:

Lightweight
Up to 12 megapixels for still photos
1080p for video
Up to 28 mph speed
Rechargeable batteries
Comes with extra battery for longer use time in the field
Comes with everything you need to get started out of the box
Great for beginners or hobbyists

Shorter battery life
Video streaming not available
Read full review about DJI Spark Mini
[asa2]B07173X82D[/asa2]
6  Runner-up for Best Mini Drone
In looking at mini drones it was hard to choose between the DJI, which always offers a great product, and the Parrot, which was new to us. So we tested them both. The DJI came out ahead only slightly, so that's why it took the best mini drone for our roundup list, but the Parrot Mambo was a close second. Here's why we liked it as our runner-up for the best mini drone.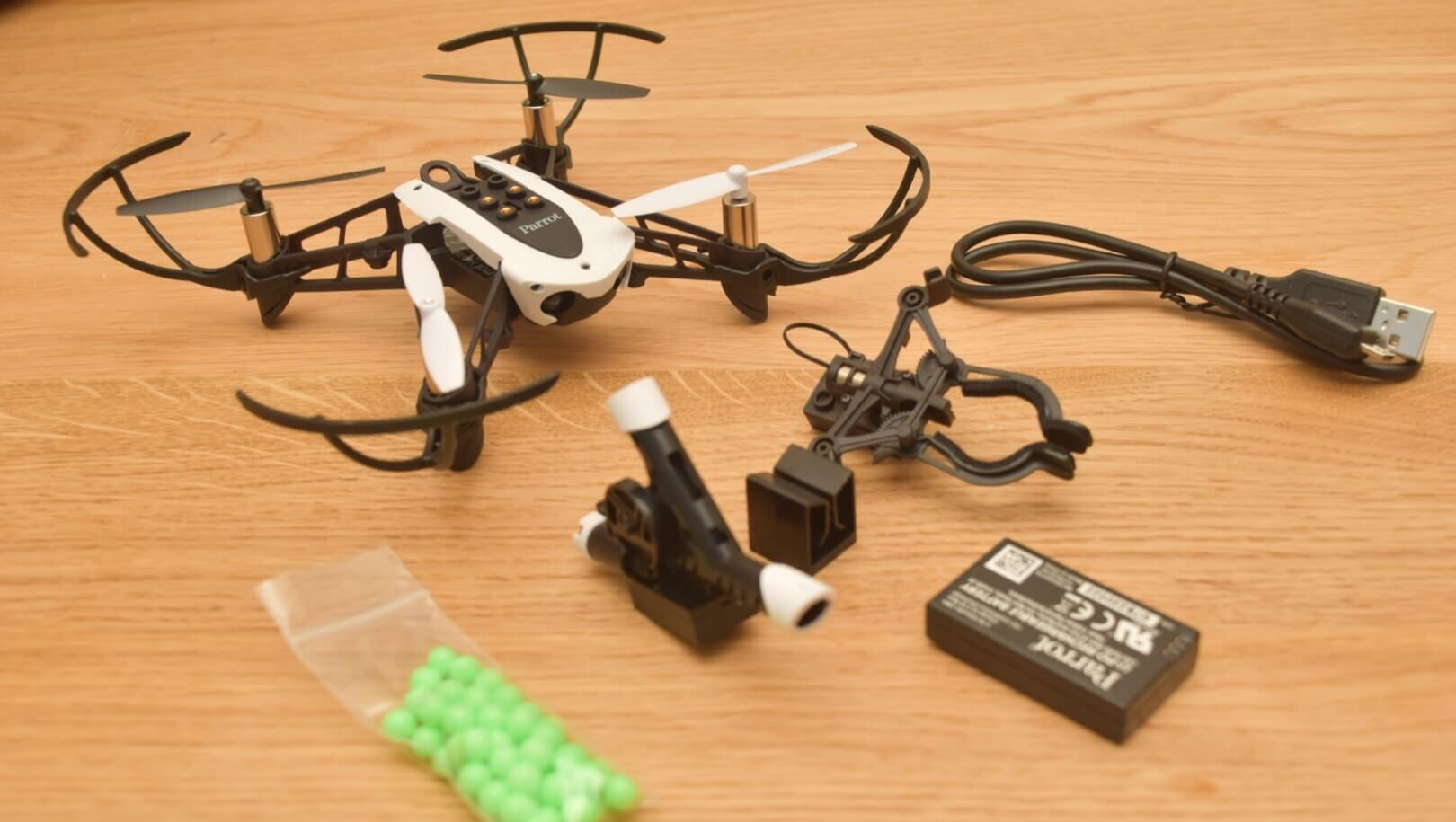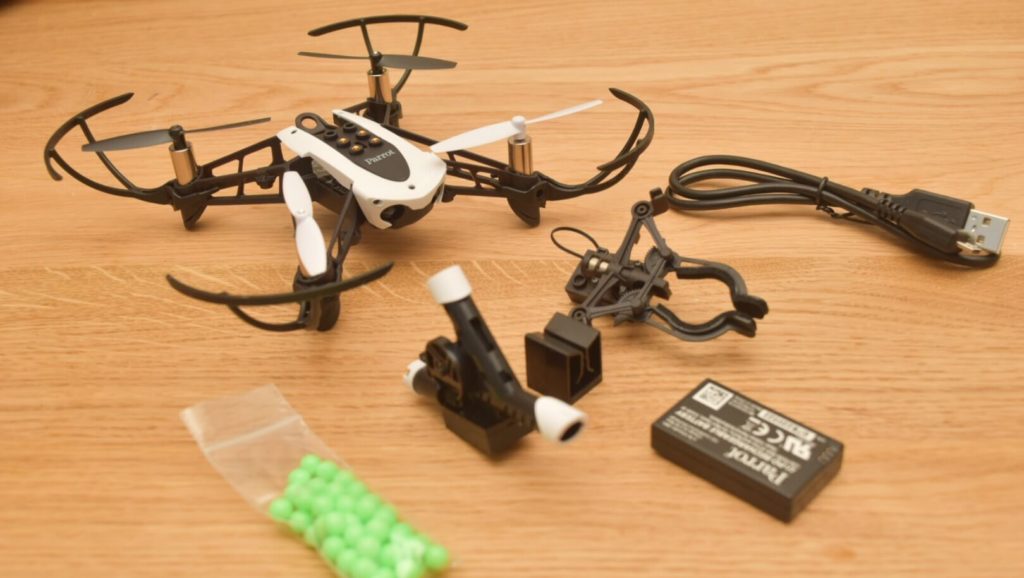 First, you should know that this mini drone doesn't come with a video camera previously installed on the unit, but it does have a basic camera. This is a drone for doing flips and tricks in the air, not necessarily taking pictures and video. It's the perfect way to learn to fly a drone, and for the price, it's a worthwhile investment to see if drones are something you would be into for a while. This does have some other cool features though, and even though we aren't looking at the quality of the camera, we like the way this little drone performs. It can do a number of tricks in the air including acrobatic flips and rolls. It also has a catch and release feature so you can pick things up and move them from one place to another. It can hold up to 4g, which isn't much, but it does provide a lot of entertainment value for children and newer drone users. It will also shoot miniature balls up to 6 ft across a room or field for more fun. You'll need a smartphone device to operate this drone because it connects via wifi to a FreeFlight Mini app that can work up to 200 feet away from the device itself. So it's good for a backyard basically. The Parrot does come with a battery pack, but you might want to invest in a secondary pack for longer use each time you pull it out to play with it. It's probably not professional quality and would be suitable for a child or novice drone user.
What we like:
What we didn't like:

Camera for taking still shots
Can do aerobatics
Fun for kids and beginners
Lightweight and sturdy
Easy to use
Uses a mobile app up to 200 feet away from the drone for lots of fun in the backyard

Battery life isn't long
Doesn't have video camera
Read full review about Parrot Mambo
[asa2]B071NRZ5LX[/asa2]
7  Best Drone for Beginners
When looking at drone options for beginners, we wanted something that had a lot of power but also offered video and camera function to introduce people to how fun drones can be. We like the Holy Stone as our best option for beginners because of its flexibility and complete starter pack combo. It feels like you are playing a video game, and that's always fun for people.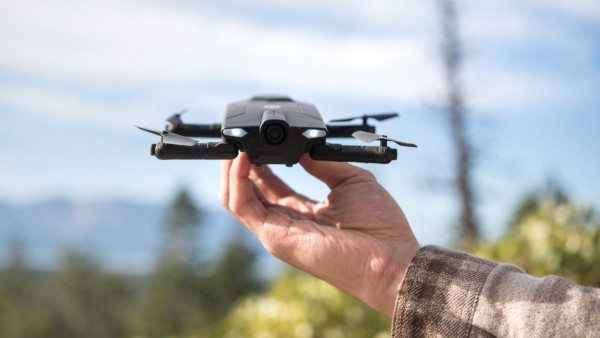 The Holy Stone HS160 drone is designed around functionality and portability. It has a foldable design that allows you to break it down to fit in the palm of your hand. When it's fully assembled and ready for the flight there's no mistaking the quality that went into building this drone. It has a 720p HD camera system that runs on wifi to connect to your mobile device. It's suitable for both Apple and Android devices, which is convenient. The remote controller has a docking station to fit your mobile device as well so you can move around with ease. The battery is a modular battery that is included, and you get an extra one, so that is always nice because it saves people money out of the gate. It is easy to charge the battery and even easier to start the drone with one-touch technology. Beginners will like how easy it is to connect their phone to the drone and start using it right away. It offers easy landing capability, so there's no need to worry that you'll break the drone as it lands. There's also a live video feed that you can tap into when you are flying your drone that will broadcast what the drone sees to your mobile device. This is fun for watching sporting events and capturing gatherings or events. This is a quadcopter design with four propeller blades that fold for secure storage. You'll like that it can be used indoors and outdoors; it's best to use it indoors in an open space away from light fixtures or other things hanging from the ceiling. This helps you to get used to using it before taking it outside. It's made of durable plastic and is very lightweight. What's more, the drone will pick up a signal from your smartphone and follow you around the area  where you are using it. The battery will last for several minutes at a time – just enough to have some fun with it and take some photos before having to charge it again. It takes a while for the battery to fully charge, up to 70 minutes in some cases, so it's a good thing that an extra battery comes with this drone. You'll be able to get about 50-70 meters between you and the drone before it starts to lose signals. It won't go very far from your smartphone because it needs the wifi technology to stay connected, but overall, we think this is a great little drone for beginners to start learning about the technology and to peak their interest for future updates.
What we like:
What we don't like:

Has camera and video streaming capability
Connects to your smartphone
Lightweight
Can travel about 70 m away from user
Good for indoor or outdoor use
Easy landing feature
Good for beginners or kids

Battery takes too long to charge
Battery doesn't last long given how long it takes to charge
[asa2]B074S2HK59[/asa2]
8  Best Toy Drone for Kids
While any of the drones on this list would be suitable for children, except of course the professional drones, we decided to include a review of the best drone for kids in case you are looking for something specially designed for children. The DoDoeleph Syma is a great option for parents who want to share their love of drones with kids and let them have their own droning fun.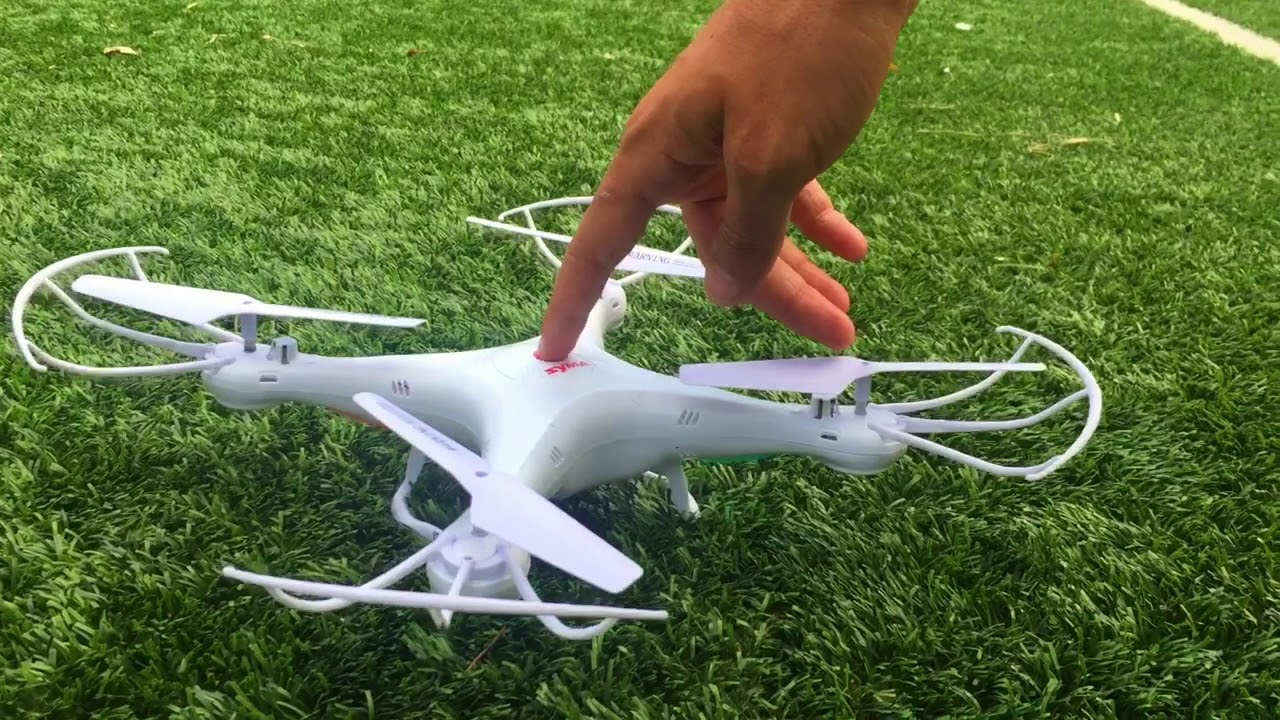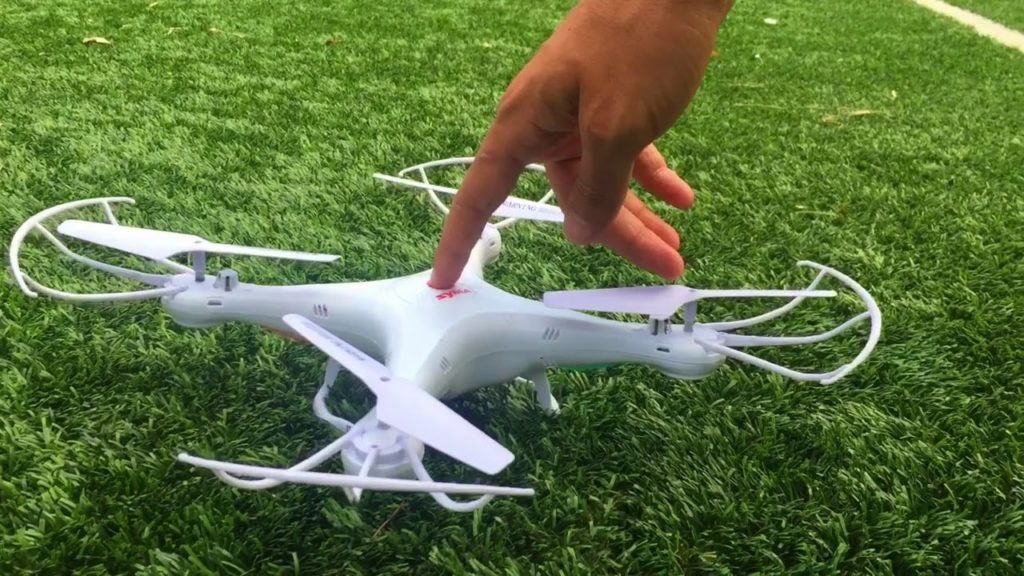 We like this drone for kids because of the flashing lights that turn on in the dark. While it is sometimes hard to use more robust drones in the dark because of the lack of lighting, this little drone has a colorful lighting system that flashes different colors, making it even more fun for kids to play with day or night. The battery system takes about an hour and a half to charge using the included USB charger, and it only runs for about 7 minutes at top speeds. So while you won't get to spend all afternoon or evening playing with the drone, your kids will love how cool it is. This drone doesn't require you to hook up a smartphone for use, so it's okay for kids to use it without damaging your phone. The remote control looks like something you might find in a radio car box from the 80s, but it gets the job done. The drone can do a number of neat tricks including a continuous rolling action for loads of entertainment and fun. It's ready to use right out of the box, so you don't need to spend any time getting it ready – your kid will appreciate that they don't need to wait for it to charge. It has 4 propeller blades that are protected by  plastic circles so that they don't get interrupted if the drone accidentally hits something or comes into contact with an object. The max flight time for this drone is about 7 minutes, and it can reach about 50 m away from the user before it stops communicating with the remote control. One thing that is important to note is that the manufacturer has suggested not using a different USB charger, even if it fits in the battery pack system because it can damage the battery. We're not sure how we feel about them yet because USBs are supposed to be, well, universal. So that might be something to consider if you are someone who loses their chargers on a regular basis. Also, there is no camera on this drone. It's for flying and doing tricks. Otherwise, this is a great entry-level drone for kids, and they'll love flying high in the sky.
What we like:
What we don't like:

Decent flying time for kids
Lightweight and portable
Easy to use remote control
Great for tricks and aerobatics
Has lights for nighttime use and orientation

Battery charging could be an issue if you lose the charger cable
Doesn't have any camera system
Takes really long for the battery to charge
[asa2]B01HGB61YO[/asa2]
9  Best Smartphone-based Drone
While some drones have their own remote controls, other drones rely on technology we already own to make them work; namely, smartphones. Of course, smartphones can make drones fly: they can literally do everything. See why we like the Force1 drone for our pick of the best smartphone-based drone on the market.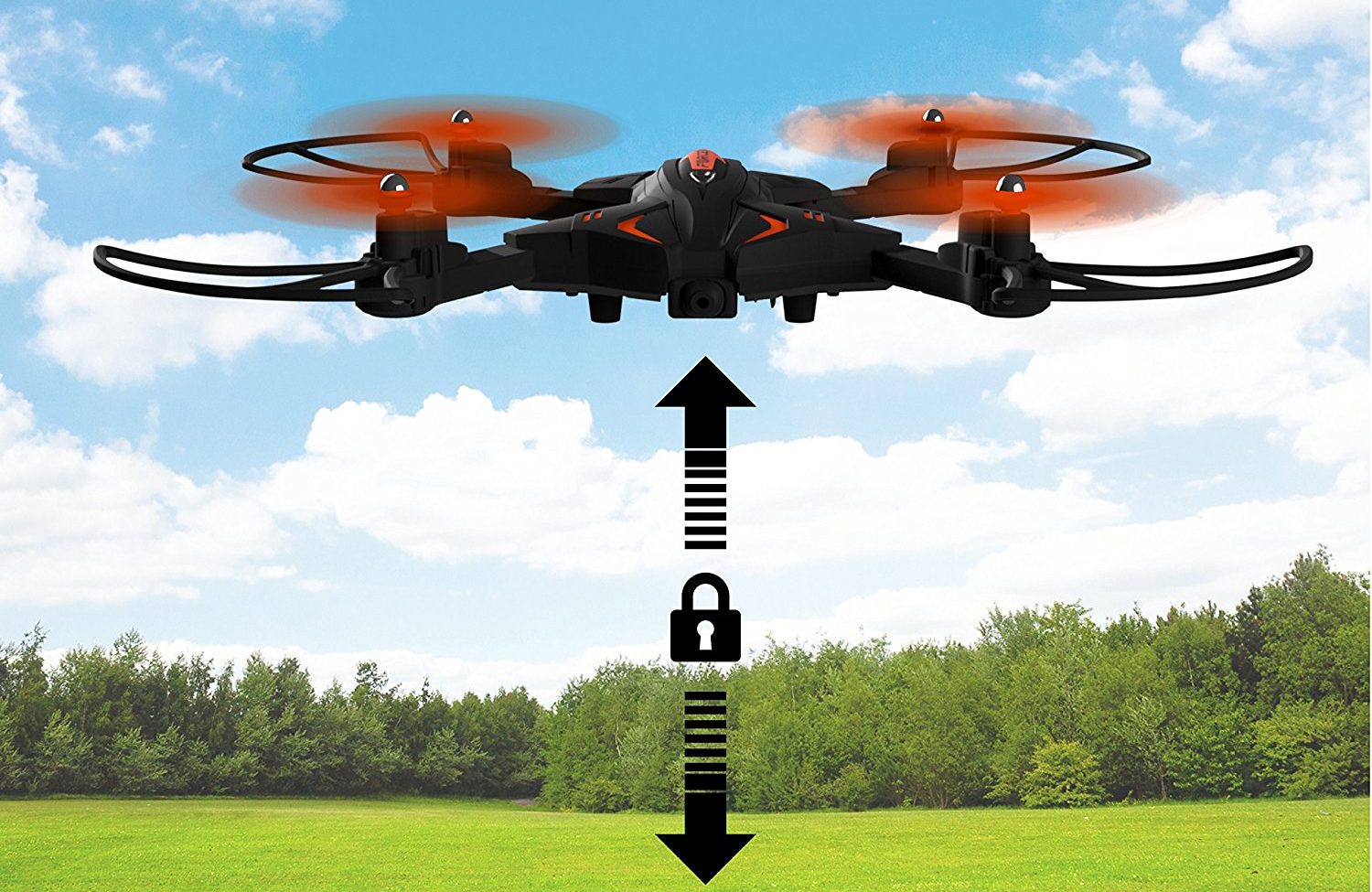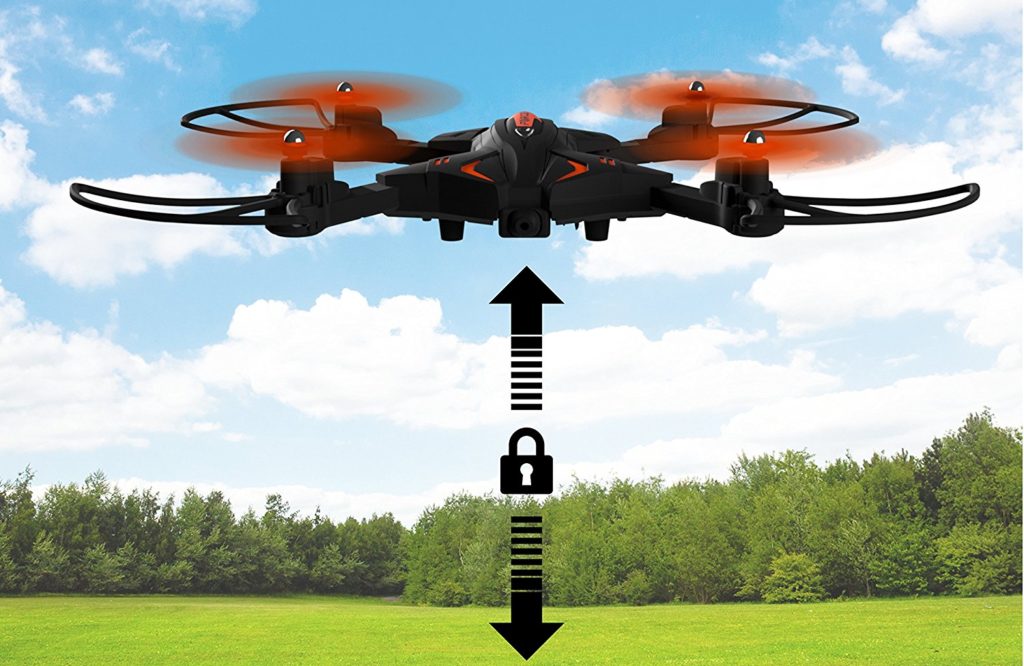 We like the Force1 drone because it easily folds up to become compact and can be stored anywhere. It has a live camera feed that connects to your smartphone device so you can watch live video streaming on your phone. It takes pictures at 720p, and the video will offer the same pixel amount. This is a 6-axis gyro balanced drone which means it can take off easily and land without damage. It will even do some aerobatics, which is fun considering it has a camera previously installed, whereas some of the other trick drones don't have that feature. It has an altitude hold function, and the remote control that holds the smartphone looks like a real gamer's controller so even kids will love this one. You can fold the camera into the body of the drone when it's not in use to protect it from damage during transport or while it is being stored. We like the black and bold red design on the four propeller blades and think this is a great drone for smartphone users. While it's not professional by any means, and it certainly wouldn't even be
suitable for an experienced drone user, it is a great option for entry level drone users, or someone looking for a fun and easy way to start their droning adventures. The colors and the gamer pad looking remote control makes us think this is geared toward kids, but anyone could easily use this without trouble. You'll get 2 batteries with this kit, as well as USB charging cable to recharge the batteries. If you use one battery, you can fly for about 10 minutes, but if you install the secondary battery, you can get up to 30 minutes of flying time! Of course, doing tricks and using the camera will drain the battery faster but otherwise, it's pretty impressive to have a flight time of almost 30 minutes, especially for a beginner drone.
What we like:
What we didn't like:

Smartphone compatible
2 battery packs for more fly time
Lasts up to 30 minutes in some cases
Lightweight and portable
Easy to use
Works with Android or Apple devices
Great for tricks and acrobatics

Not suitable for professionals
[asa2]B0743MJYVL[/asa2]
10  Runner-up for Best Smartphone-based Drone
Because we like to provide our audience with options, we've also done some research about an alternative option for the best smartphone-based drone, and it happens to also be from Holy Stone. These drones are pretty impressive, and they offer lots of features for entry-level or beginner drone users to take advantage of to perfect their drone flying skills and acrobatics. Here's why we love the Holy Stone X400C Quadcopter Drone as our runner-up for the best smartphone-based drone.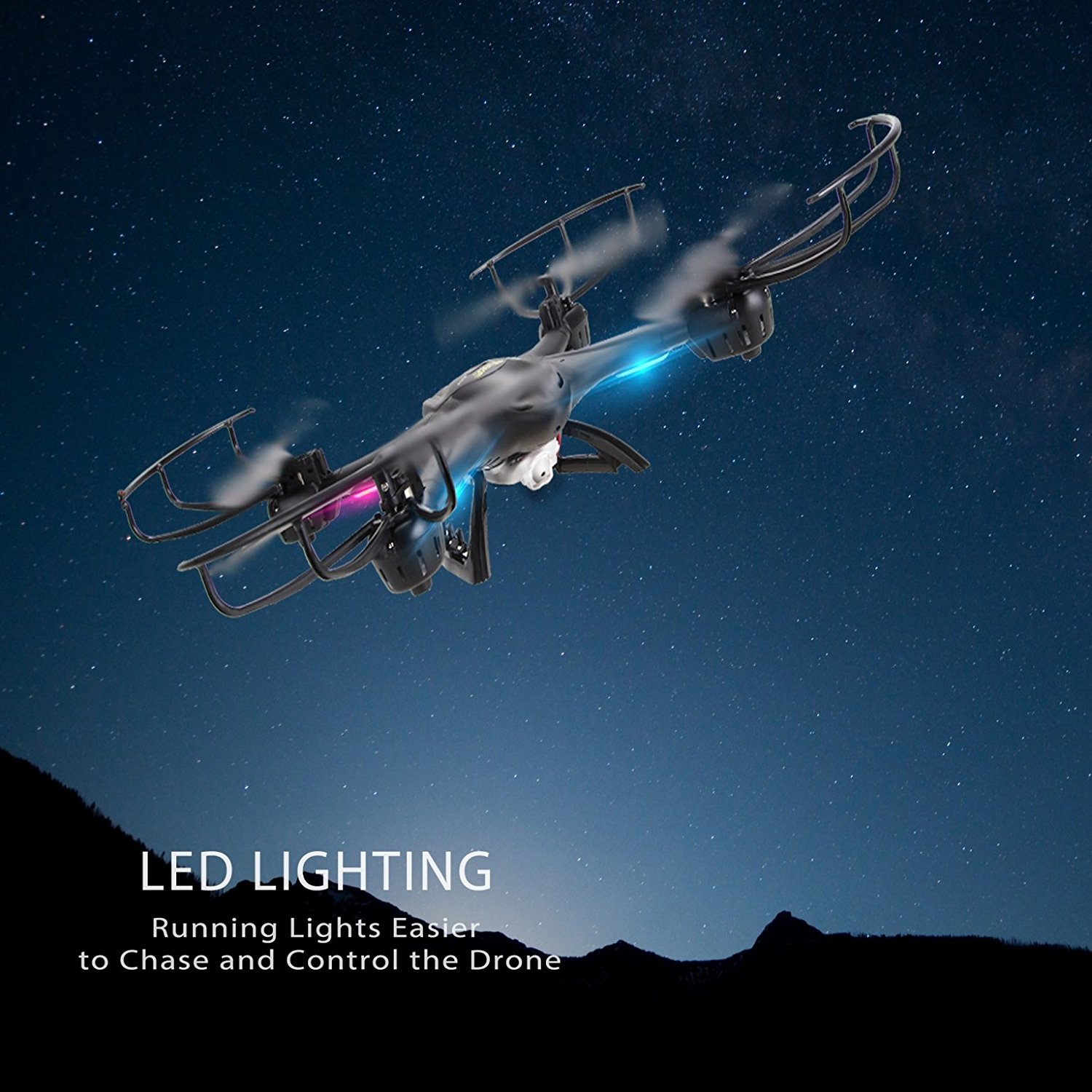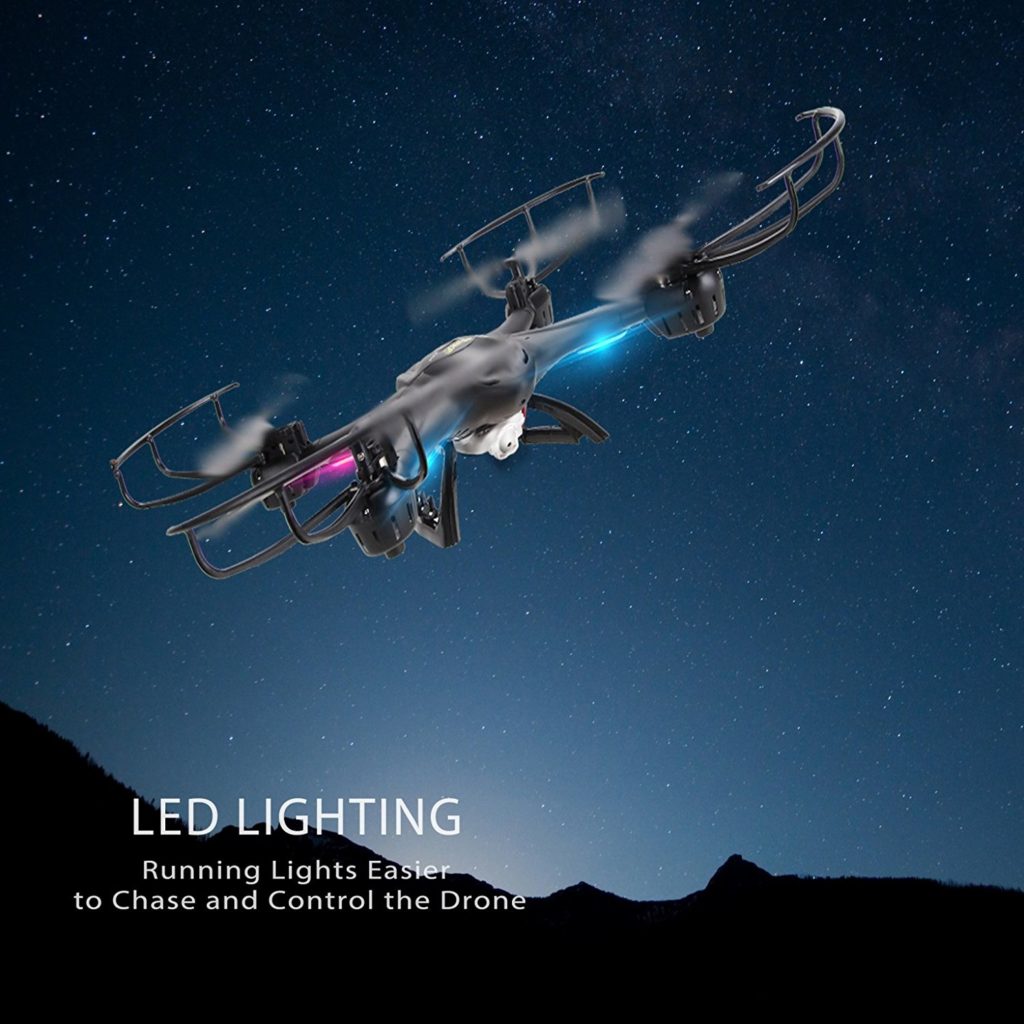 Similar to the previous drone model from Holy Stone, this model offers real-time transmission of video and pictures from the drone right to your smartphone. It has a unique "headless" orientation, so there's no right or wrong way to fly this thing. It can do a number of fun tricks including barrel rolls and continuous rolling effects. It's supported by a similar 6-axis system and works by connecting to your smartphone through wifi technology. If you happen to lose sight of the drone while flying it, you can hit the one-key return button, and the drone will return to the proximity of the smartphone's signal. That's pretty handy, especially if children are flying the drone for the first time. The camera offers HD aerial photo and video capture, and you can see it on your smartphone. The battery will last about 8 minutes for flying time, and it takes just over an hour to charge the battery fully for another use. This drone does not require FAA registration in the United States, which is useful to know when buying a drone. You can get this drone to fly about 100m away from you before you need to call it back into the vicinity you are in. so whether you are just starting out, or if you want to use your smartphone as your camera for a while before investing in a capture and record style drone, this is an excellent option for you.
Why we like it:
Why we don't like it:

Easy to use
Decent battery life
Acrobatic capabilities
Stream live video feeds right to your smartphone
Doesn't require FAA registration
Comes with goggles
Great for beginners and kids

Camera quality is not great from all angles
Doesn't have lights for night use
Read full review about Holy Stone X400C
[asa2]B0157J6Y2Q[/asa2]
Buying Guide
When it comes to choosing the best drone for your needs, different products will give you different results. Like many products on the market today, the range is quite diverse when it comes to drone choices. There are multiple options for entry-level drones, but when it comes to buying "cheap," you usually get "cheap." that being said, there are a number of things that you can look for that will provide you with some solid intel about whether or not the drone you are buying is going to deliver what you need. Let's look at a few categories of consideration to help you choose the best drone for your needs.
How Will You Use it?
One of the very first questions you need to ask yourself is why do you want a drone and how do you intend to use it? If your intention is to fly it around your backyard and take pictures of your house, kids playing or whatever, you probably don't need a robust drone model that will cost you hundreds of dollars. If however, you are at all serious about photography or videography, then it's best to invest in a better-than-entry-level drone because you will get the most use and return on your investment out of it. Professional drone users will likely use it for documentation, photography, videography and more. They'll require more features and drones that have the ability to add on extras to make their visual products work harder and go farther.
Cameras
Not all drones are created equal, as you might have guessed. One thing that you should know is that not all drones come with a camera. That's right: you might have to spend more money to buy yourself a camera. If you already have a camera like a GoPro, or if you are planning on using your smartphone as your camera device, you'll need to ensure you get a drone that offers compatibility with your camera device. If this is the route you are taking, opt for a drone that is compatible with several camera devices because as you get more into using the drone, your interests will likely change and you'll want a better camera as time goes on. If you opt for a drone that does come with its own camera, first know that you will be paying more money upfront, but your drone will be ready to use out of the box. Second, you should pay attention to the quality of the camera. You'll be able to check and compare specs as you shop, including aspect ratio, lens type, video or picture capture resolution, megapixels and more.
Stability
Another critical aspect to consider when buying a drone is how well it will hold up in higher winds. A simple solution and a more economical one is not to use your drone during higher winds, but if you plan to use it on a regular basis, despite the weather, then you'll need to make sure it has a good level of stability. You can check this by determining the kind of stabilizers that are on the drone. Some models will use gimbal stabilizers while others might have technology-based optical sensors for maintaining stability.
Range
If you are buying a drone for personal use and don't plan on going far beyond your own neighborhood, you can probably get away with a more economical model which wouldn't offer a large range of operation. Some more professional models or even intermediate models provide more extended range up to several miles at a time. This allows you to freely move about your area, or an area near you, without actually having to leave the comfort of your own home.
Lightweight
While the weight of the drone in the air isn't that important – it will fly – it is essential to consider when lugging around the drone from location to location or for storage purposes. If you are carrying a heavy drone and a bunch of equipment, you might be less likely to get a lot of enjoyment and use out of your drone. However, if you buy a lightweight drone, not only will it fly better, it will be easier to get around from place to place.
Remote Controls
Every drone comes with some kind of remote control. Some are powered by mobile phone apps that since through Bluetooth technology to your smartphone, while others come with their own military-grade GPS system remotes. Depending on the make and model of your drone, you might get either of these or some version in between. The most basic models will offer control over height, speed, distance, and stability. Others will allow you to zoom in or out and control the camera or video camera with ease.
Easy to Use
You might think that all it takes to operate a drone is some batteries and a remote control, but you will soon find out that making a drone fly takes a lot of skill. It is difficult to avoid hitting trees and power lines when you are first starting out. It is advisable to learn to use your drone in a wide-open space, such as a public park or even a baseball field that is not being used. Learning to operate a drone can take some getting used to, so it's best to practice flying it before you spend time configuring your camera or shooting any kind of film. Being able to move your drone in a proper manner will mean the difference between a great shot and a shaky shot.
Some Assembly Required
Not all drones come fully assembled and ready to use. RTF or "ready to fly" refers to the drones that are ready to use right out of the box. You can start flying them right away. Others will require some additional assembly, and some might even require that you buy special parts of add-ons in order to complete the assembly of the drone. When you buy your drone, be sure to check that you don't need to purchase additional parts in order to make it work.
Power Source
If you plan to use your drone for any length of time, you'll need to make sure it has a long-life battery pack. Some drones use standard alkaline batteries while others have special built-in rechargeable battery packs. Some have stands to charge them in when not in use, and some use conventional Ac/Dc power to recharge the battery packs. Economy models tend to run on alkaline batteries, so that is something to consider when choosing a drone that is right for you. How much money will you spend on batteries over the life of your drone? It might better to upgrade to model with a rechargeable battery pack right from the very start of your drone adventures.
Extras and Add-ons
Some drones will offer additional configurations or add-ons that allow you to get more out of your drone experience. Some might have spots for two or more cameras have the ability to connect to your smartphone, or even attach to shoulder straps to take along on a hike through the mountains so you can release it at the top! There are lots of options when it comes to carrying cases, storage boxes, power sources, and more. Whatever drone you decide is right for you, check out what extras you can get to get the most use and benefit from your drone.
Conclusion
So when you are ready to start capturing video and images with drones, or if you are just looking to do a few aerial tricks as a hobby on the weekend, there's sure to be a drone on this list that is right for you. And don't forget about the kids. We've lined up the most professional drones to the most basic drones to make sure no one gets left out of this fun and exciting hobby. Happy shopping.
https://www.youtube.com/watch?v=HuxMUhx-nW4