[table id=49 /]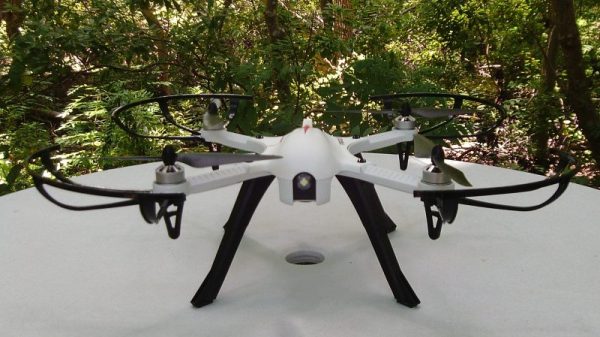 The Force1 F100 GoPro-Compatible Quadcopter is a specially built drone which has the elements on the highest-end technology. This drone is very easy when it comes to operation. Apart from the durability of the drone it can be said that it is equipped with elements that can encourage even first time flyers to enjoy their time with it. Owing to the fact that it does not require users to assemble it on their own, it encourages users to love the drone since it is built to make like easier with this Quadcopter. We must state that this drone is not the best when it comes to high-end professional use; however, it is fast and stable in the air. Impressively, the force1 drone comes with a strong battery which makes it very more possible to have a great deal of high quality photograph and video recording which promises a reasonable duration.
The drone does not actually come with its own inbuilt camera, however, considering the fact that there is a need to have it in place, there is an action mount specially designed for use with either the GoPro Hero 3 or 4. This attached camera gives room for users to have a clearer picture than an inbuilt digital output. It is very easy to set up moreover. Once you set it up, it streams FPV video in high definition straight to your iPhone or Android device with minimal additional setup.
It comes with a Low Battery Alarm for safety purposes
It works through a 2.4GHz transmission frequency with 4 channels
The drone is equipped with powerful brushless motors which provide a quiet, long flight which cannor be overtaken by just a slight breeze.
Includes High and Low speed modes that are ideal for high-quality, clear images and videos
Allow users to perform 360° stunts and tricks in the air while being stable enough to avoid doing a nose dive into the ground
It has a 6-axis gyro for ultimate stability
Android and iOS wireless HD streaming through a mounted GoPro Hero 3 or Hero 4
Flight time: Flight time of up to 15 minutes
Camera sensors: Compatible with GoPro Hero 3 and Hero 4 mounted cameras for aerial photography and video
Size: It has a total size of 15.6"x13.8"x6.5"
Weight: Weighs 3.1 pounds
Battery: 1800mAh LiPo battery
Transmitter: transmission range of up to 300m
Pros
Cons

It uses a manual stick mode functionality which makes the drone incredibly responsive even in the High speed mode
The drone comes with an extra battery which doubles the out-of-the-box flight time to an impressive 30 minutes (24 with the camera mounted)

The drone does not have an inbuilt camera; it therefore result to purchasing one differently.
The mount built with cannot be adjusted
It has troubleshooting issues.
Conclusion
The Force1 F100 GoPro-Compatible Quadcopter equals a high tech which is magnificent in nature; it is very active and capable of meeting the taste of any users that has a special interest in drones flying.
[asa2]B06XYJDXQY[/asa2]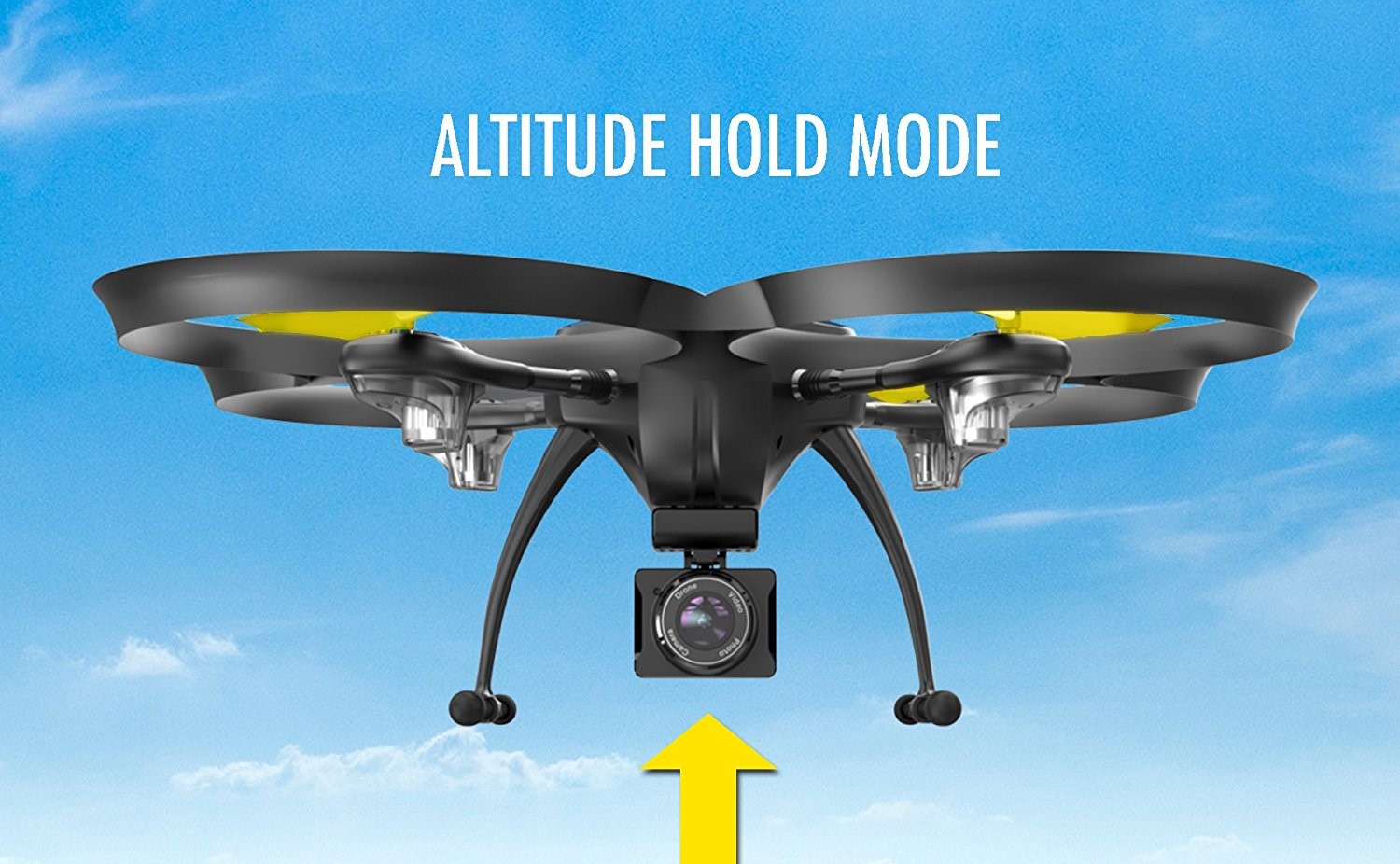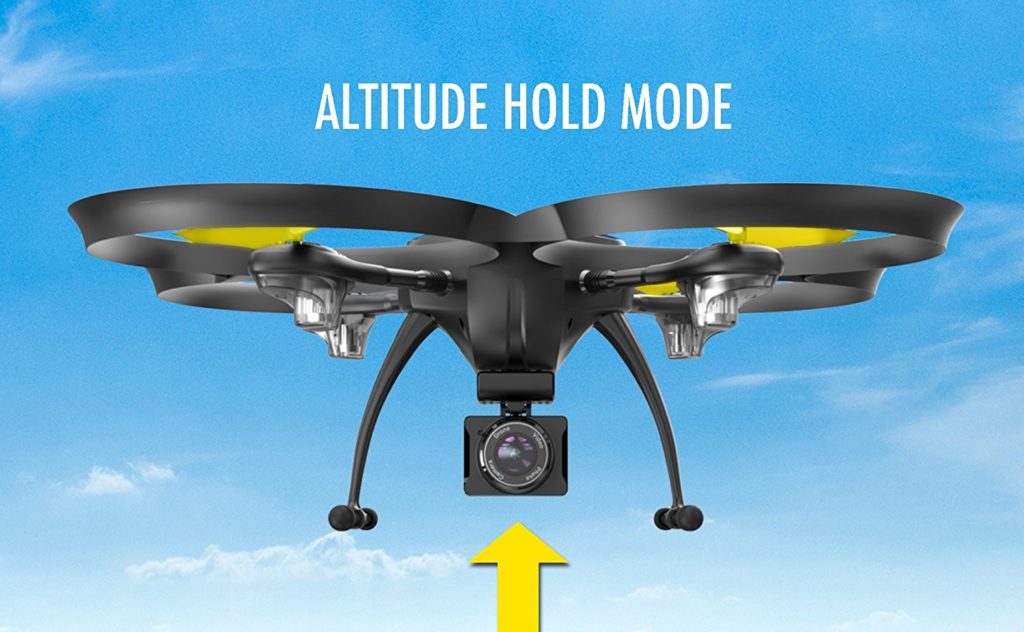 The Altair Aerial AA818 Plus Hornet is a drone which is built with an easy access to controlling. The drone is interestingly durable and it has perfect features which give users an indefinite rest of mind while purchasing. In order to make the drone easy to use, there are several features that are considered while building the drone, these include:
The Headless Mode: the headless mode makes it much more intuitive to control.
The Altitude Hold Mode: This which keeps it steady in the air.
The multiple speed settings for different levels of user experience
The-touch take-off and landing, and the ability to control it either from a mobile device or from a videogame-style controller.
The drone is perfect for beginners when it comes to training with it because of the two batteries that is included in the box. The shape of the drone is very pleasing to users most especially when trying to practice some aerial photography
The drone has Ease-of-use features which include Headless Mode, Altitude Hold Mode, three speed settings, one-touch take-off and landing
The drone comes with a Low Battery Alarm for safety purposes
It has a 6-axis gyro for ultimate stability
There is Android and iOS wireless FPV streaming
Flight time: Flight time of up to 15 minutes per battery
Flight range: 150 meters
Camera sensors: Built-in 720p HD camera
Battery: 1800mAh LiPo battery
Pros
Cons

The drone is built to sustain fifteen minutes flight when fully charged.
It has two batteries included in the box
Long range (150 meters!)
High quality 720p camera

It does not have the ability to function properly in the wind.
Conclusion
Considering the fact that the drone is perfectly built, it is mostly sought after by professionals and beginners for proper enjoyment during its engagement. The inbuilt camera is also another factor that should prompt users to consider the Altair Aerial AA818 Plus Hornet drone.
[asa2]B075RFWDN7[/asa2]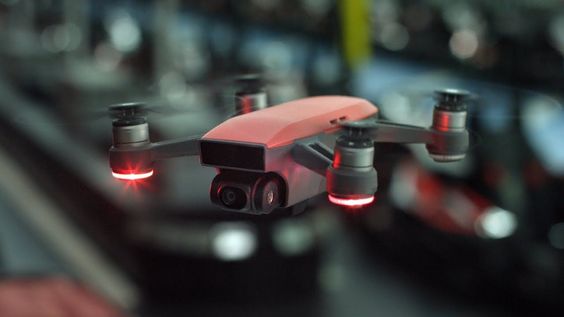 The first thing to be noted is that the spark drone is not a partial drone, instead, it is great for every drone lovers. Considering the fact that the spark drone is specially built, it has a unique camera that produces brilliant colors and also more advanced algorithms. The DJI Spark Portable Mini Drone is endowed with a longer range and also a forward obstacle avoidance system. The forward obstacle avoidance system is helpful for people who are new to the usage of drones because it makes it simpler to operate. This drone can move from the ground up to the air in very a shorter duration, probably less than a minute. The drone serves as a neutral ground between every drone handlers; the beginners and the advanced pilots.
The drone is available in different colors which count to 5.
it is built to features Quick Launch, Face Aware, UltraSmooth technology, Object Avoidance, Return to Home, Dynamic Home Point/Home Point, Auto Exposure Bracketing, Timed Shot, Shallow Focus.
It include a 12 MP camera with 1080p video resolution at 30 FPS and a live video feed
It uses a WiFi connection through the DJI GO 4 app
When in sports mode, it is capable of reaching speeds of up to 31 mph
It has 2-axis mechanical gimbal
Flight time: 16 minutes
Flight range: 300 feet
Camera sensors: 12 MP cameras
Pros
Cons

The drone is big enough to double the range of the Phantom 3
Despite the high-end features, it is very easy to use.
It is portable and easy to fly.
Newer camera
Forward obstacle avoidance 

It has a shorter flight time.
It has limited range of video options.
Its size makes it slower and less stable, which might make some videos blurry. 
Conclusion
DJI Spark Portable Mini Drone reveals the strength of the spark product which is uniquely configured to meet standards and expectations.
[asa2]B07262FKYC[/asa2]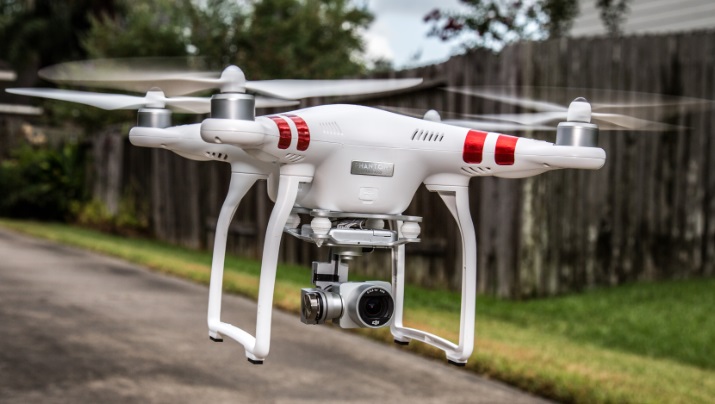 The DJI Phantom 3 standard is an impressive drone that is endowed with quality product which is evident from a noticeable difference in its performance. This special drone has an outstanding range which is calculated to be 1 km maximum. It is quite rare to have any other drone of this category to come close to the range in which the DJI Phantom operates. As for the camera, the quality is very standard most especially with the option to upgrade to 4K. The battery of this drone is very strong and its timing is between twenty-three minutes to twenty-five minutes. This battery strength is definitely beyond every other drone of the above noted drones.
The drone is built readily for its flight.
It is built to View live image streamed to users phone using the DJI go app
It has a simple GPS module
Excellent Follow-me feature
Intelligent battery
Flight time: 25 minutes
Flight range: close to the 1 Km
Camera sensors: 2.7 K/30 fps video recording capability
Pros
Cons

It is one of the best drones
Wonderful camera and video recording capability
Beautiful controls and companion app
Balances usage between beginners and professionals

A little expensive
The service is somehow poor
The battery life isn't dependable.
Conclusion
The DJI Phantom 3 standard is generally wonderful and well produced. Apart from the battery incapacity level which is general to almost all drones, DJI Phantom is brilliant in features and standard. It is best for people who have passion for piloting a drone.
 [asa2]B013U0F6EQ[/asa2]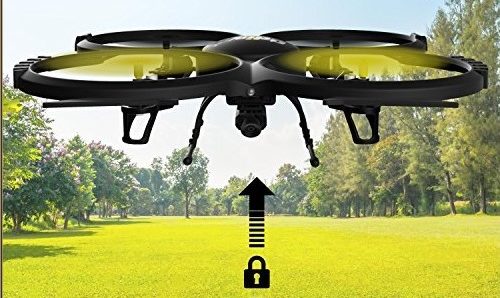 This will be the first drone in discourse that will come with a VR headset and power bank to supply extra power to the machine. The structure of this drone is very beautiful, simple enough and decent. In order to complement this, the drone has an altitude Hold which is paired with some of the features that are not usually present in many of the drones that are seen in this category such as Custom Route Mode. 
It is built in a ready-to-fly mode.
It has the ability to stream real-time video to a smartphone
2MP 720p photos and video recording capability
It comes with a bonus VR headset
Flight time: 9 minutes of flight time
Flight range: 120m of range
Camera sensors: 2MP 720p photos and video recording capability
Pros
Cons

Comes with 2 LiPo batteries for double the flight time
Has Altitude Hold, Custom Route Mode, and Headless Mode
HD camera with 1280p x 720p at 30 fps
One Button Take Off and Landing
Lightweight, easily maneuverable design
Perfect for beginners

Issues with going out of range on its own.
Problems reported with one motor not working
Conclusion
The Force1 Udi U818a Wifi FPV drone is generally good in structure and attributes. Also, the price is very good and with this, it makes it easier for users to purchase and at the same time enjoy the features that go beyond their money.
[asa2]B01KYLA1KI[/asa2]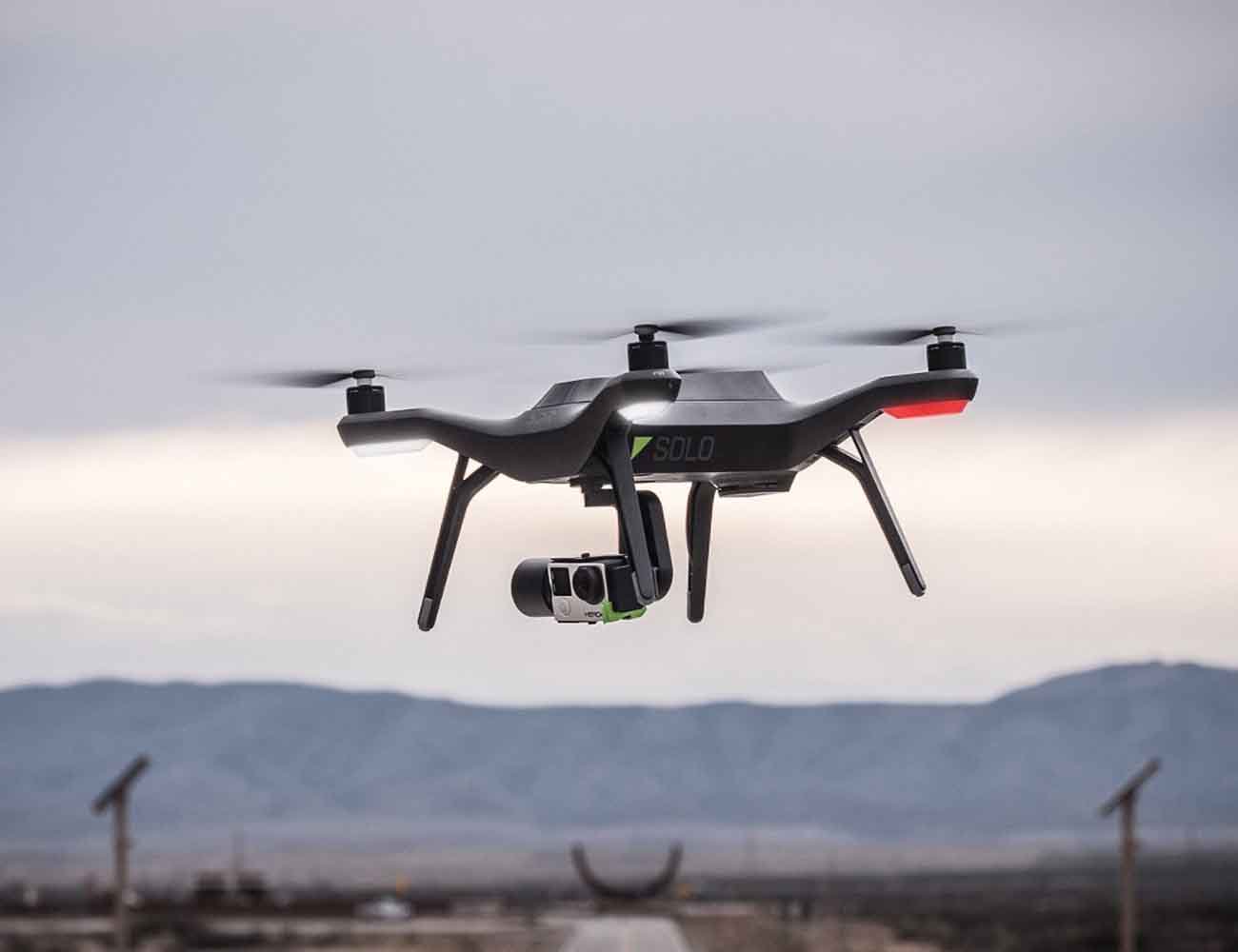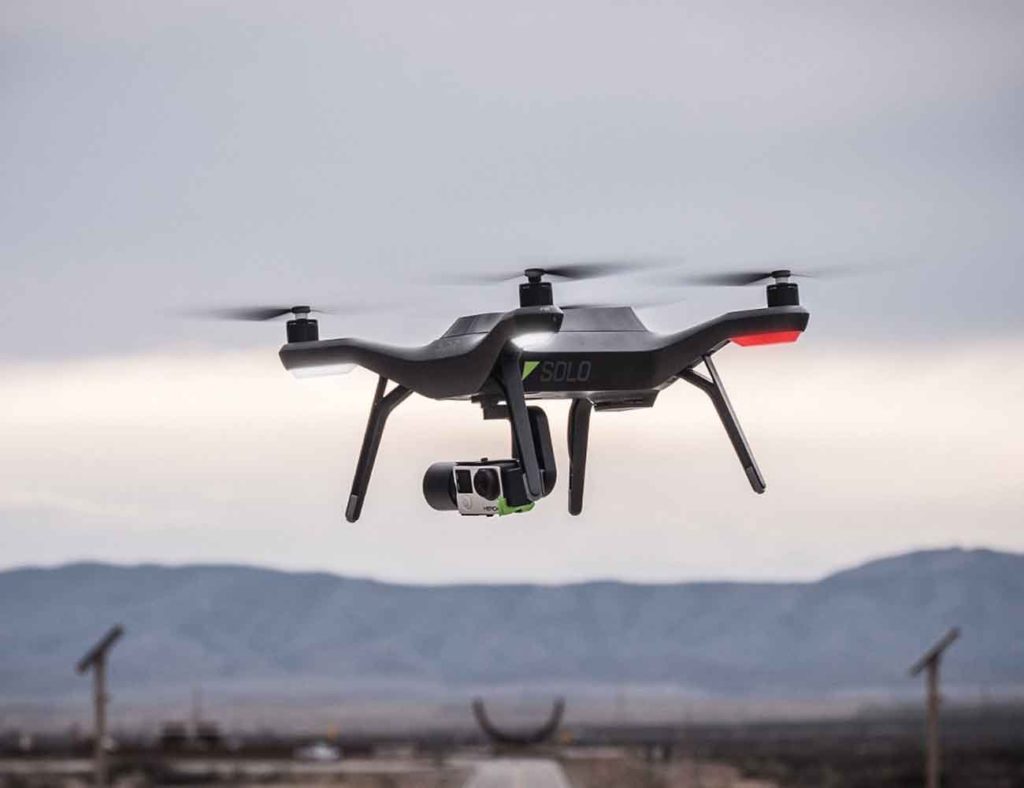 The 3DR Solo Drone is specially known for its gaming style controls. The gaming control gives users the feeling of playing a video game when the Quadcopter is being handled. With this beautiful output, it is possible for users to get used to it even if it's with the beginners. The other features are pretty ominous when it is being compared with the other drones that are in market. The camera in the drone is sensitively adjustable. When driving the drone, users can pause flight in the mid-air and an HDMI port in the controller which can be used to stream the video on virtually any screen.
More about 3DR Solo Quadcopter Drone
Ready-to-fly
Streams video to smartphone
40 mph speed
GPS navigation
No inbuilt camera
Gimbal camera support
Follow me feature
Flight time: 18 minutes flight time
Flight range: 700m range
Camera sensors: HD camera
Pros
Cons

The drone is not too expensive.
Since there is no in inbuilt camera, the drone allows users to customize their camera the way they want.
It has a very cool gaming-style controller
It is a smart drone
It has a smart Shot capability

 Users are left to spend extra money in purchasing camera
The drone has availability issue
Customer service issue that seems to be associated with literally every drone on Amazon
Some technical glitches reported by a few customers 
Conclusion
Even though this drone does not come with an inbuilt camera it still gives users a sense of satisfaction because of the quality output the drone posses when cameras are attached. Also, it makes a better drone at gaming aspect.
[asa2]B071Z7PXXF[/asa2]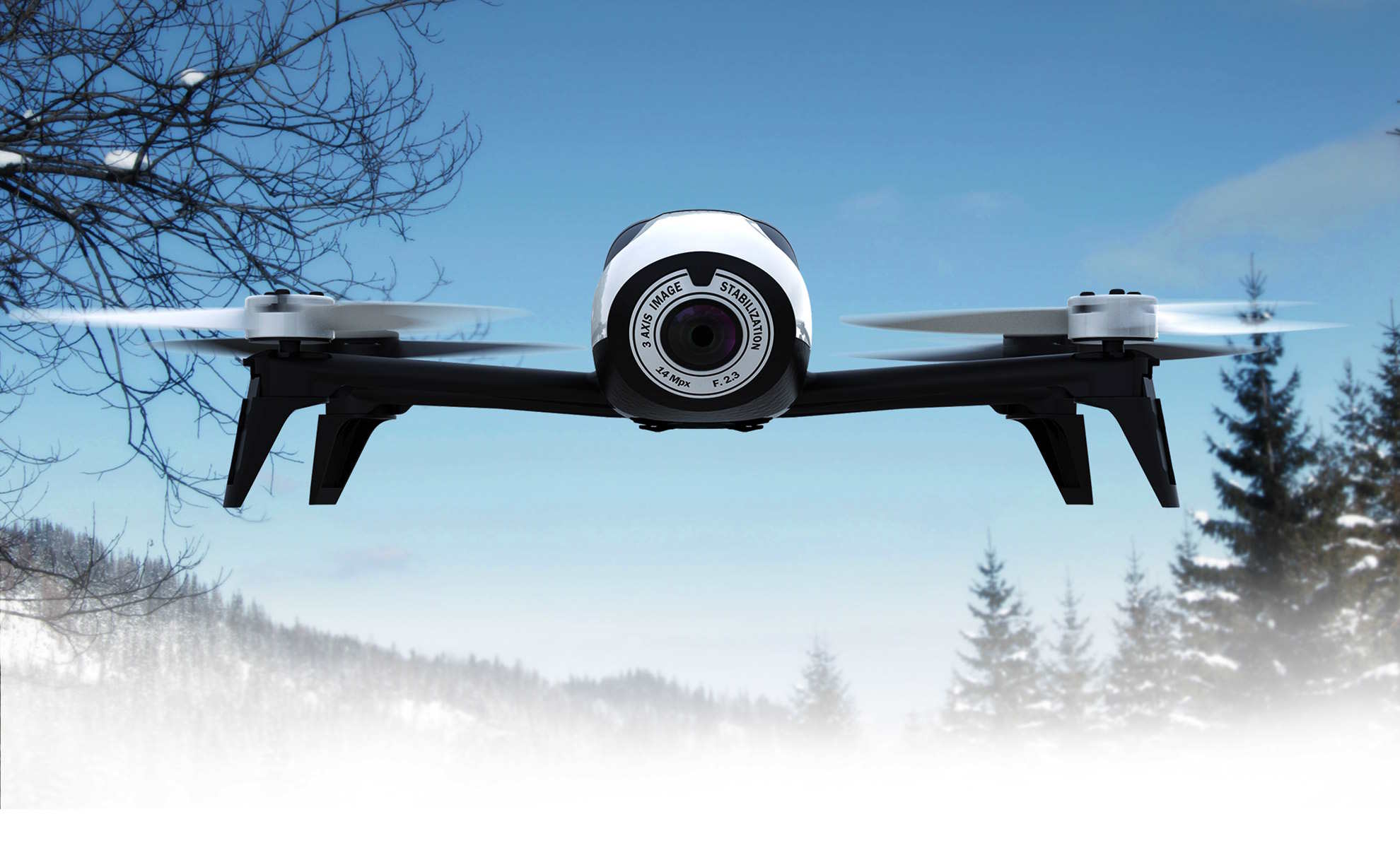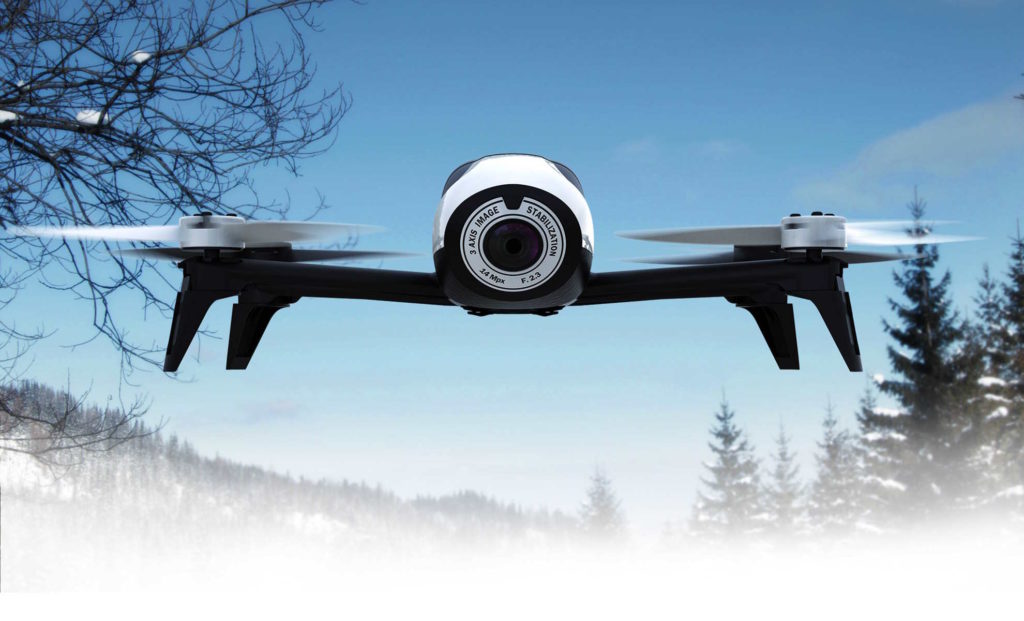 Taking it from the review of people that have purchased and engaged the Parrot Bebop 2 drone, we can say that this drone is a very good one. Owing to the fact that the drone is strongly built, it makes it function very well. The Parrot Bebop 2 has amazingly strong motors that allows the drone to fly higher altitudes with utmost easiness. The main feature of this drone is its range. Considering the flight timing as well, we can conclude that this drone is built in order to impress users and make them enjoy the best out of many other drones. The Parrot drone is designed with a bright LED light in the rear. This light allowed much more improved visibility.
More about Parrot Bebop 2 Drone
It is a ready-to-fly drone
It streams real-time video to a smartphone companion app
It has 4 MP 1080p video recording capability
1 Km RC radius, probably even more but video streaming deteriorates after an initial range
3-axis digital stabilization capability that offers a fixed angle of view which is revolutionary for a drone so you don't lose its orientation
The drone is being controlled with the help of smartphone or the sky controller
Flight time: Up to 25 minutes of flying time
Pros
Cons

Best range with the Sky controller
Great for beginners
Stunning camera that is one of the best in this range
Highest battery timings in drone under $500
Fish-eye lens for better navigation

No sky controller remote and that is very expensive
Controls don't work well with smartphone app or other controllers so price has to be jacked
Near the upper limit of price range
Wi-Fi signal tends to drop 
Conclusion
Out of the many drones that is categorized with the drones under 500, the Parrot Bebop drone is pretty impressive with it beautiful features and handling techniques. It is strongly built and therefore encourages users to fly it with more confidence.
[asa2]B01K4U4O9S[/asa2]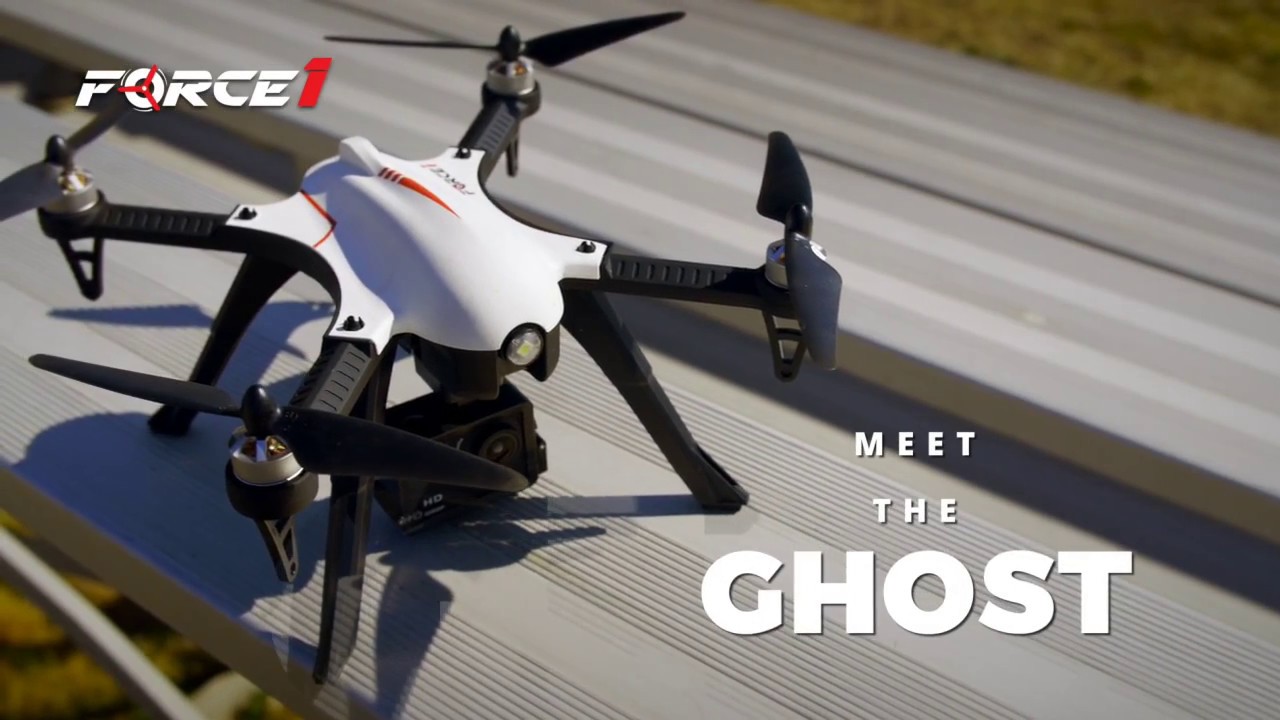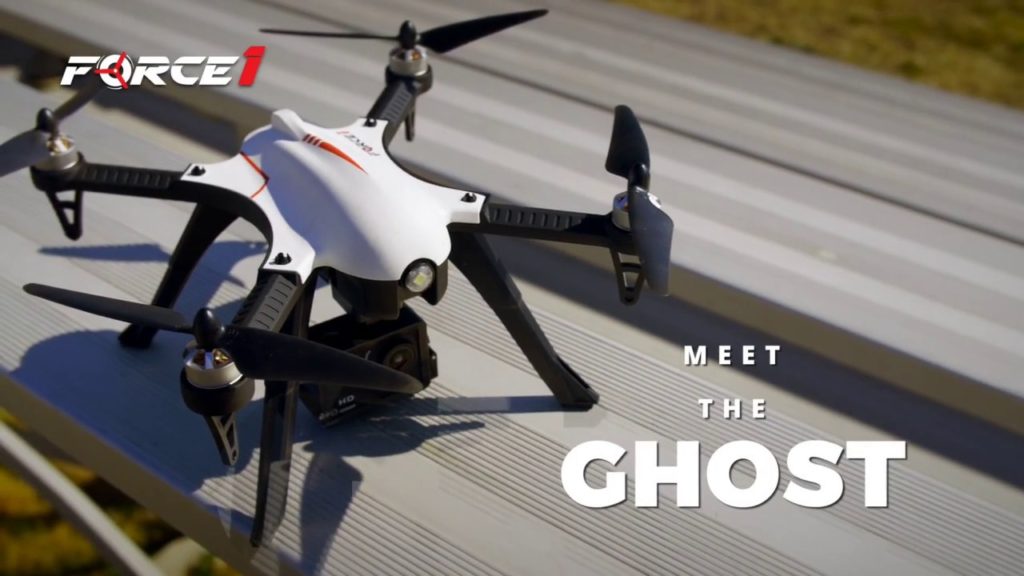 This Quadcopter is one of the drones that is categorized under standard drones. This reason for this is because the Force1 F100 Ghost GoPro-Compatible Quadcopter is capable of a GoPro. The drone is an ideal GoPro-compatible drone for people who are interested in aerial photography and videos. It is quite uncommon to have a clear audio recording with many drones, however, on the part of this special drone, audios and images are both clear even when the control settings are set to high.
Ready-to-fly
Compatible with GoPro Hero 3 and Hero 4 mounted cameras
Powerful brushless motors for better control
Flight time: Up to 15 minutes of flight time
Flight range: 300m distance range
Pros
Cons

The drone comes with a bonus battery to double user's flight time
It has High and Low speed modes ideal for photos and videos
Performs 360° stunts and flips

It does not come with any distinctive or useful features
Not very durable
Controller's start sequence can be iffy 
Conclusion
This drone among other stands out based on the fact that it is capable of incorporating a GoPro. Users in most cases prefer flying this type of drone and many of they end up recommending it to many others.
[asa2]B06XYJDXQY[/asa2]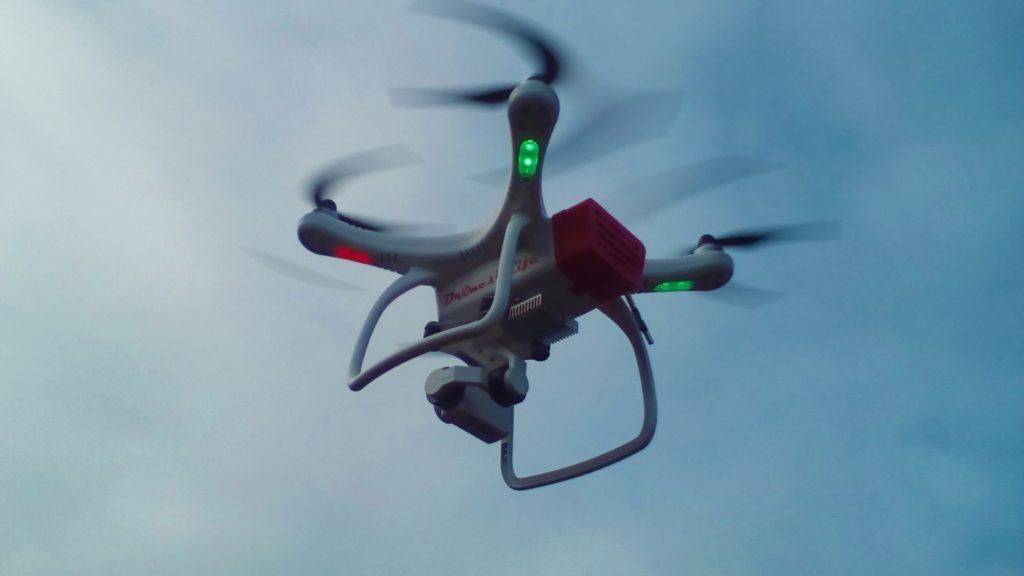 The UPair One Drone is a mid-range drone. It a cool drone with a noticeable bright and huge LED screen controller. The drone is almost like a portable console and it feels really good when handled. The Upair drone is friendly in nature and motivate users in getting attached to it. In order to satisfy lovers of Upair One drone, the machine is being packaged with more than eleven items which makes the drone look more amazing and intimidating. Also, we must note that unlike many other drones, the battery that comes with the Upair One drone is bigger. With this, the flight time per charge is not at all impressive with a maximum of eighteen minutes time being touted by the supplier which likely mean around fifteen minutes when it comes to the aspect of practice. The drone is built in a U-shape, therefore, the shape it has forms its fuselage which is therefore maximized to link to better video shooting capability and GPS features.
The Upair drone is built in as a ready-to-fly drone
It has gimbal and camera included
There is an inclusion of FPV monitor
PVC composite construction
One-click return feature
Flight time: Up to 18 minutes of flight time
Flight range: 800m (2624 feet) maximum flying range
Camera sensors: Max live video transmission is 500 meters or 1640 feet
Pros
Cons

The drone comes packed with accessories that include several items many other manufacturers charge extra
It has a great remote control with nice LED display
FPV capability
Battery overcharging avoidable

No-auto return feature so it can easily fall dead to the ground
Camera's performance is a big question mark and you cannot change it or tinker with it
Battery timing really average
Battery cycles are a suspect
[asa2]B075J9P1Q2[/asa2]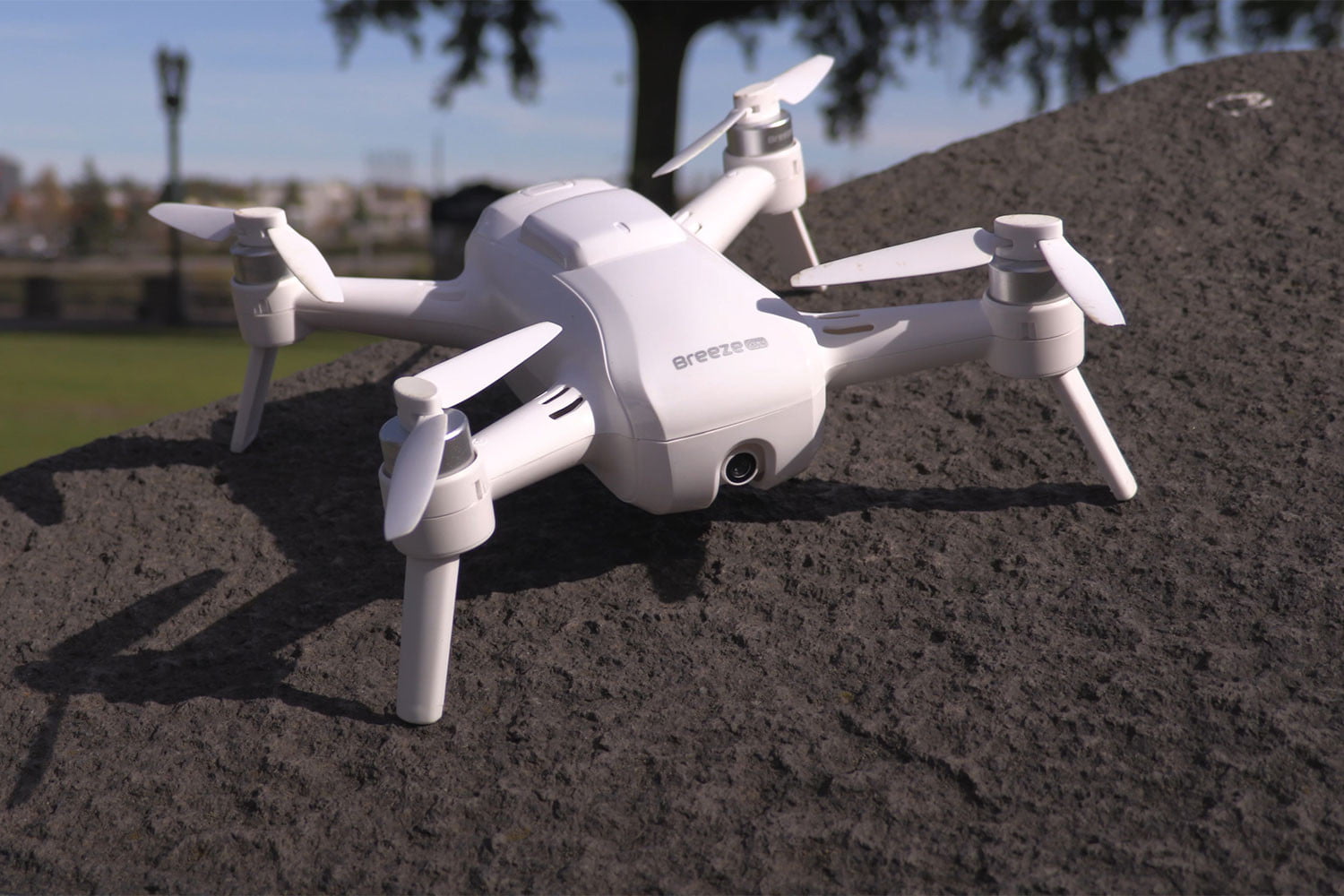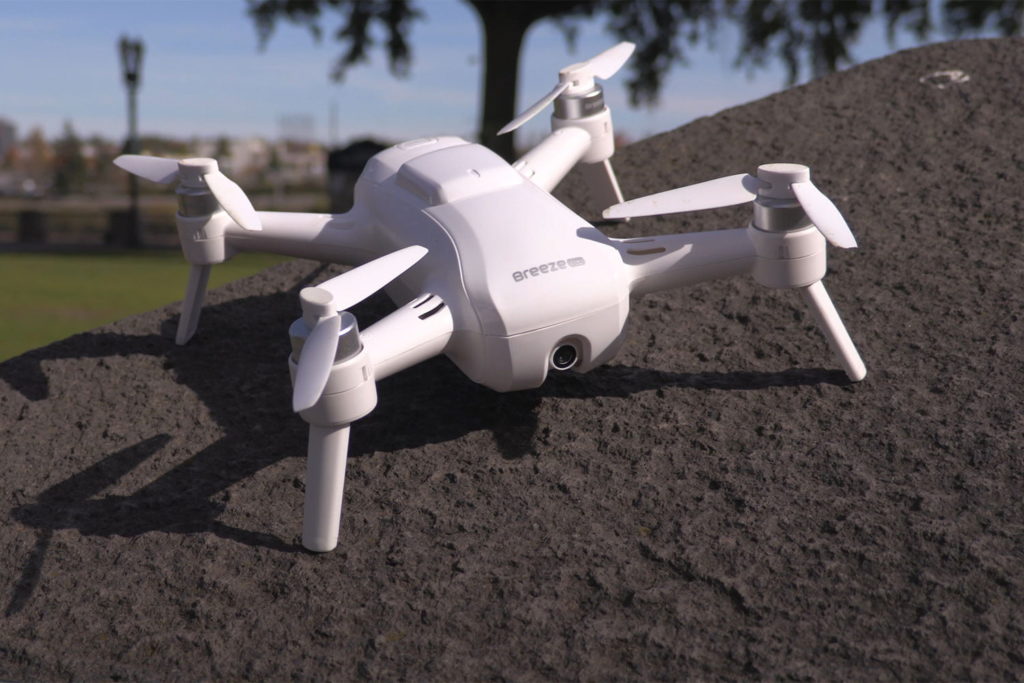 The Yuneec Breeze is a type of drone which is specially built to encourage the selfie game. With this put in place, the drone earned the name "the flying camera". It however has a whole lot of outstanding built ups that singles this drone out among many other drones. The drone is designed for the best video experience however because it has a stunning 13 MP 4K video recording capability which is smart enough to shoot incredible videos and also capture beautiful pictures. For the sake of direct and quality output the drone has been endowed with a special focus for the media capture process. Also, the drone comes with a wonderful indoor positioning system which hinders it from crashing into the ceiling or any nearby objects whenever the drone is used to film or capture still images.
Ready-to-fly RC drone
4K stunning camera performance
Automated flying modes
Streams video through
Controlled via smartphone app but you can also check out the new controller but that will cost you a little extra
Connects through Wi-Fi
Flight time: 12 minutes flying time
Camera sensors: 12 MP cameras
Pros
Cons

Stunning camera experience
Well-designed automated features
Incredibly lightweight so you can hold it around with ease
Indoor positioning system makes it a good choice for indoor photography and flying experience
$375 for a great video drone

Poor battery timing which is literally half than its competitors that are not classified as video drones
No controller and has to be controlled via smartphone
Connectivity issues reported by many customers
App updates have been an issue with some causing the drone to malfunction
Conclusion
This drone is beautifully made for both beginners and experts. It is targeting at easing the stress on drone pilots and also to serve other several purposes, most especially its indoor attributes
[asa2]B01LANE77M[/asa2]
— Read more about Best Drones Under $50
— Read more about Best Drones Under $100
— Read more about Best Drones Under $200
— Read more about Best Drones Under $300
— Read more about Best Drones Under $1000