Introduction
One of the primary goals of a professional photographer is to capture unique images that have never been seen before. Until recently, this could only be accomplished by the photographer putting themselves into various situations that at times could be dangerous. The range was limited by the ability of the photographer to find an unusual, yet reachable vantage point. Utilizing this view, combined with the use of powerful camera lenses or technology such as wearable cameras, gave the photographer the best opportunity to create stunning photos.
The introduction of drones into the photographic arsenal has shattered the limits previously faced by photographers. Drone technology allows even the most safety-minded photographer to obtain incredible shots that were previously impossible to attain without risking life and limb. Many shots that can now be captured by a single photographer with a drone could not be captured in the past without utilizing a team of support personnel. Previously, the team would require the use of an aircraft to get the overhead views that are now easily achieved by using a drone. The hovering capability of a drone opens up possibilities that even photography support teams could not duplicate.
Drone photography opens a world of creative options that you may not have considered possible as an individual photographer. This article is intended to assist the professional photographer in choosing the right drone to expand the potential of your business. We will take a look at features available in drones that can be purchased by the private sector and attempt to help you make the right choice.
Some of The Best Drones For Professional Photographers
We will look at the previously discussed factors as well as overall performance and price as we look at some of the best drones for the professional photographer.
[table id=10 /]
Let's get started!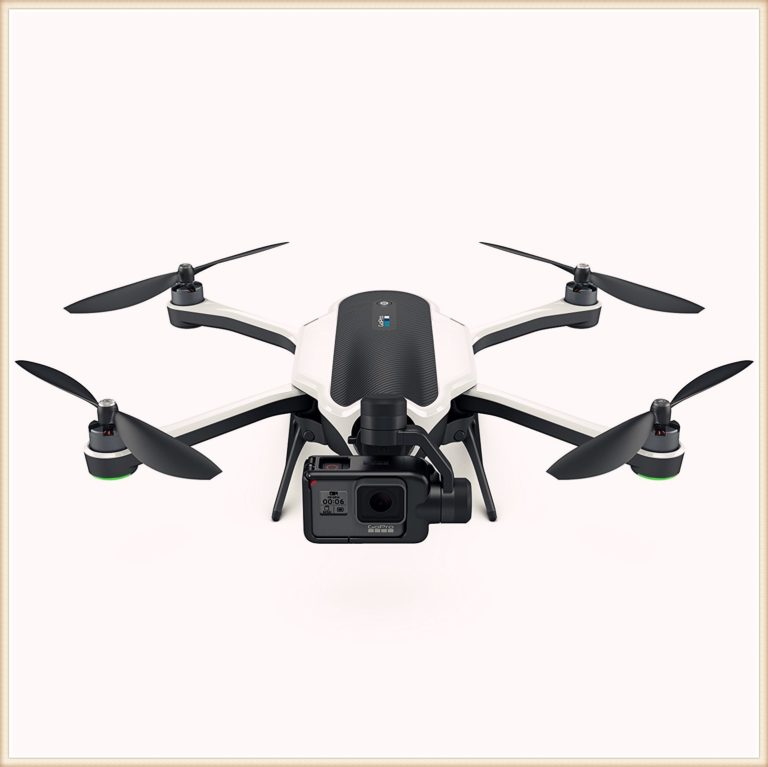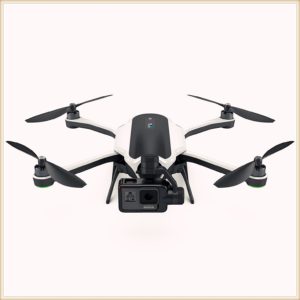 As a leading force in mobile photography, it was only logical that GoPro would make a drone. The Karma is a drone specifically designed to be used with a GoPro camera. It runs on rechargeable batteries and is easy to get up and to fly. Models are available for those who already own a GoPro or those who want to purchase a complete package of drone and camera. A full package will cost around $1,100.
The Karma is a quadcopter with the distinguishing feature of having its camera mounted on the copter's nose rather than hanging under the fuselage. The camera and gimbal detach from the drone affording additional photographic flexibility as a handheld device. Its controls system features an independent 5-inch touchscreen that eliminates the need to pair it with your smartphone.
This drone is constructed primarily of light-weight, plastic materials but still holds up to minor ground scuffles and crashes. Total weight is listed at 4.3 pounds. It is somewhat limited in its ability to fly autonomously with only four modes to choose from and can have difficulty hovering steadily as it lacks ultrasonic sensors. It boasts of a range of up to 1 kilometer from the controller.
What we like:
♥ Controls and ease of use
♥ Flexibility of design allows for aerial or handheld use
♥ Pricing options – you can buy just what you need to get a GoPro airborne
♥ Portability
♥ Camera – GoPro quality
♥ Nice backpack carrying case
♥ Range
What we don't like: 
♦ No collision detection
♦ Short battery life 15-20 mins
♦ Limited autonomous flight options
More information about GoPro Karma.
[asa2]B075CQHM3M[/asa2]
Top drone manufacturer DJI also offers a drone that can work in conjunction with a GoPro camera. It comes ready to fly with minimal setup but does require the user guide to be mastered before attempting flight. Once you have accomplished this task, the drone will provide stable flight and smooth video.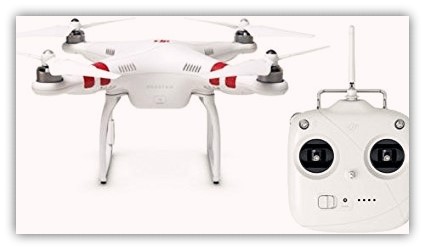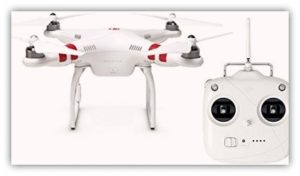 Some impressive features of the Phantom 2 are its auto return to home and landing function, self-tightening propellers and customized gimbal support for both 2D and 3D stability. Advanced power management leads to a battery life of 25  minutes for extended air time.
The drone's remote control includes a gimbal control dial, built in rechargeable LiPo battery and throttle locking feature. It enables control of the craft from up to 1000 meters away. This drone weighs about 2.5 pounds and will set you back around $400.
What we like:                                                What we don't like:
♥ Battery life
♥ For use with a GoPro
♥ Price point
♥ Lightweight
♦ Limited range
♦ Reports of software glitches
♦ Not recommended for novice pilots
♥ Auto return/land
More information about DJI Phantom 2.
[asa2]B00P1QC43E[/asa2]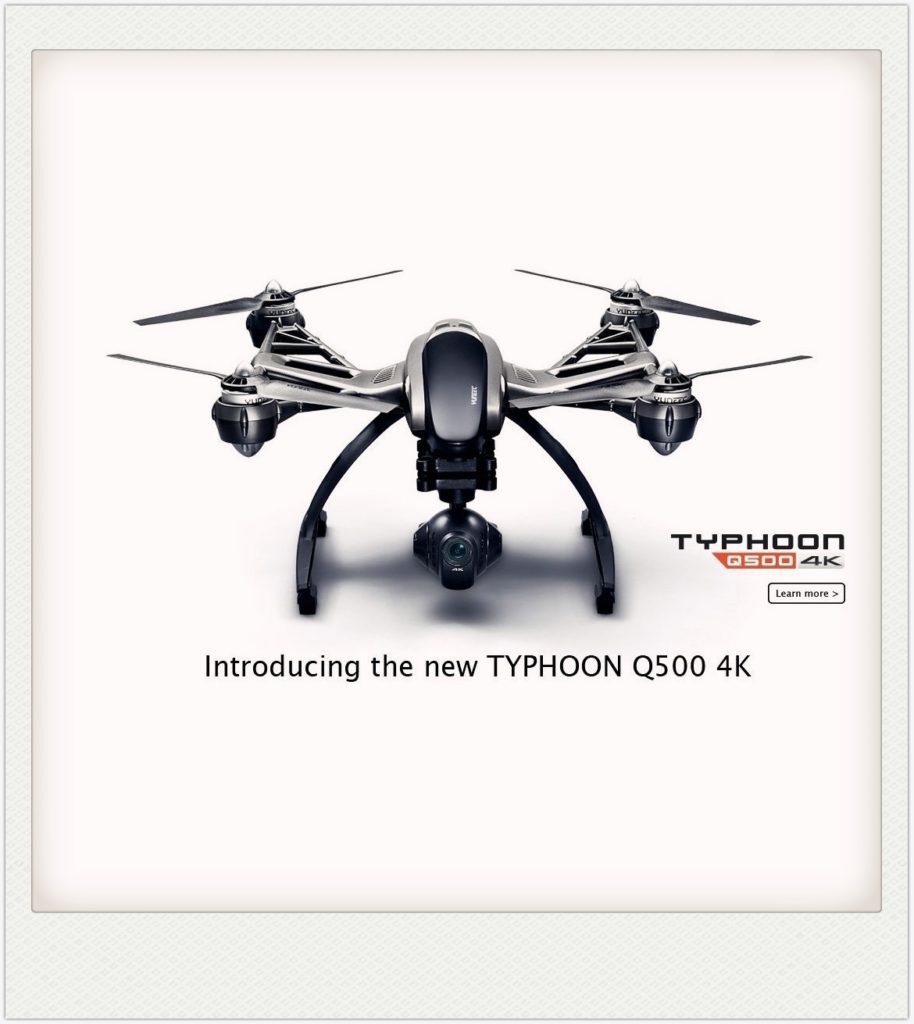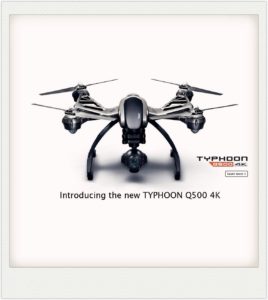 Yuneec is a major Chinese aircraft manufacturer. In the Q500 Typhoon, they have produced a quality drone with a built-in camera and a host of features at a reasonable price point. For under $800 you get a ready to fly drone with a 4K/1080p camera, a 3-axis gimbal and a 2.4 GHz transmitter with a separate 5.8 GHz live video streaming channel.
The controller combines joystick controls with an Android-powered 5.5-inch touchscreen which also enables you to view a live video feed. Photos and higher resolution video are stored on the 64 GB microSD card. If you so desire you can also control your drone with a free app that will work on your mobile device. A nice touch is the superimposed directional marker on the touch screen indicates which direction you need to fly to return home.
It is powered by rechargeable batteries, and two are included with the unit, each allowing 20 minutes of flight time. The drone utilizes safe mode technology to avoid crashing into the operator and offers three operating modes to assist in flying safely while gaining experience with the craft. Its range is listed at 800 meters, and the drone has an auto-return home feature for easy retrieval. It is constructed sturdily and weighs in at a little under 4 pounds including the battery.
What we like:                                                 What we don't like:
♥ Excellent value
♥ Safe mode to train new operators
♥ Ready to fly
♥ Auto return home if signal is lost
♥ Controlled by any Apple or Android device
♦ Camera may not be up to some professionals standards
♦ Range may be inadequate for some applications
♦ Battery life
More information about Yuneec Q500 4K Typhoon.
[asa2]B071S1S958[/asa2]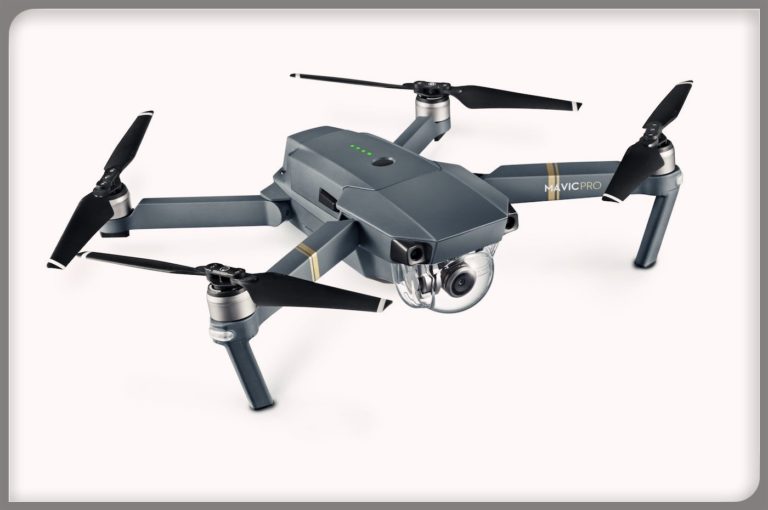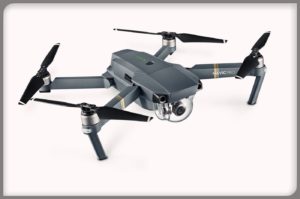 The Mavic by DJI packs an incredible amount of features into a relatively small package. This drone weighs a little over 1.5 pounds and can fold up for pocket storage in about 10 seconds. Its non-removable camera shoots 4k video and captures images in 12.7 MP. A 3-axis gimbal supports the camera which has different modes such as burst and interval shooting for unique photographic effects. This product is an excellent choice for professional photographers who are ready to explore the world or aerial photography.
The battery life can run from 20 to 27 minutes depending on flying speed. Command of the drone is accomplished either with a mobile device or the included R/C controller. Using the controller gives you a maximum range of up to 7 km with an unobstructed signal. The controller is also designed to facilitate smooth flying for both experienced and new pilots with a tap to go feature.
Other features that make this a quality drone are its obstacle detection sensors which come in redundant pairs to guard against failure. The sensors, combined with a vision system and satellite tracking lets you fly and land with precision. With a price tag of a little under a thousand dollars, this is an excellent midrange choice for drone photography.
What we like:
♥ Works with DJI goggles for instant feedback
♥ Easy to fly
♥ Very portable
♥ Autonomous flight modes
♥ High-quality camera
♥ Range
What we don't like:
♦ Camera cannot be removed or upgraded
♦ Significantly reduced range (80 m) using phone control
More information about DJI Mavic Pro. 
[asa2]B01MEHSJPO[/asa2]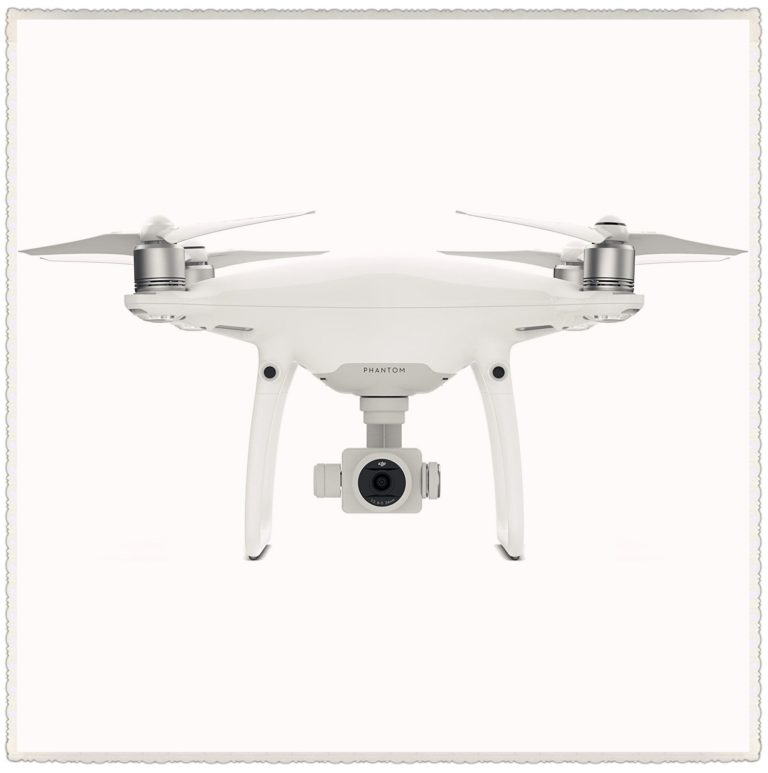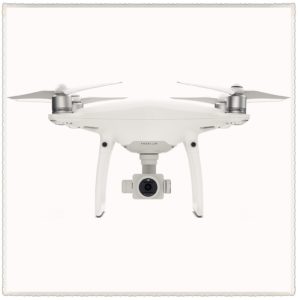 The Phantom 4 Pro build on its predecessor the Phantom 3 to deliver a drone capable of high-quality aerial photography and cinematography. It is ready to fly and shoot right out of the box and features a camera capable of 4K video and 20 megapixel still photos. It can operate up to 4.3 miles away from the controller, and battery life has been extended to about 28 minutes.
The Phantom 4 is easy to fly and includes an optical sensor unit that allows the drone to detect and avoid obstacles while in flight automatically. Many camera modes make obtaining professional quality video easy. The Active Track feature lets you tap on any object in the controller's video display and have your drone follow it. You can also draw your flight plan on the controller's screen to set up just the shot you want.
This feature-rich camera drone will cost you around 1500 dollars and with options such as a carrying case, and a spare battery can get up to 2000 dollars. The unit weighs around 3 pounds and can be flown indoors without GPS. A very highly recommended drone for aerial photography.
What we like:
♥ Video display on any tablet or phone
♥ Excellent obstacle detection and avoidance
♥ Multiple camera modes
♥ Range
♥ Active track feature
♥ Camera quality
What we don't like:
♦ Some users report charger issues
♦ Controller cannot run 3rd party apps
More information about DJI Phantom 4 Pro.
[asa2]B01N639RIJ[/asa2]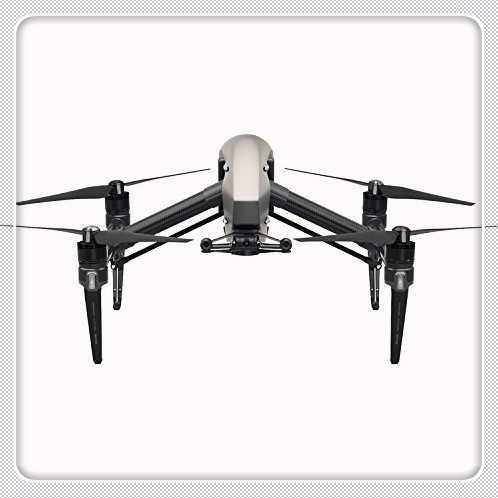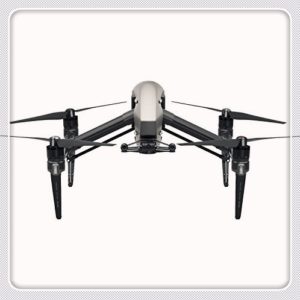 The Inspire 2 is a full-featured, professional filming drone. It integrates an HD video transmission system, 4K camera and 360-degree rotating gimbal in a unit that is easily controlled by an app. Battery life is up to 27 minutes for extended air time. It is constructed of a magnesium aluminum composite shell and carbon fiber arms for durability. This drone weighs around 7.5 pounds and costs close to $3,000. It is designed for professional photographers and moviemakers.
You can broadcast to a TV directly from the Inspire using its dedicated transmission signal. Its Lightbridge technology enables obstruction free control for up to 4.3 miles and can be operated with a master-slave controller configuration for dual input.
The Inspire's obstacle detection system is top-notch with forward, downward and upward facing sensors to protect your investment in all directions. Intelligent flight mode are available including ActiveTrack and TapFly to help you get challenging shots. A smart return to home mode brings your drone back by retracing its flight path if the signal fails.
What we like:
♥ Range
♥ Camera quality
♥ Obstacle detection
♥ Autonomous flight modes
♥ Broadcast capability
What we don't like:     
♦ Expensive
More information about DJI Inspire 2.
[asa2]B01N5CUQOD[/asa2]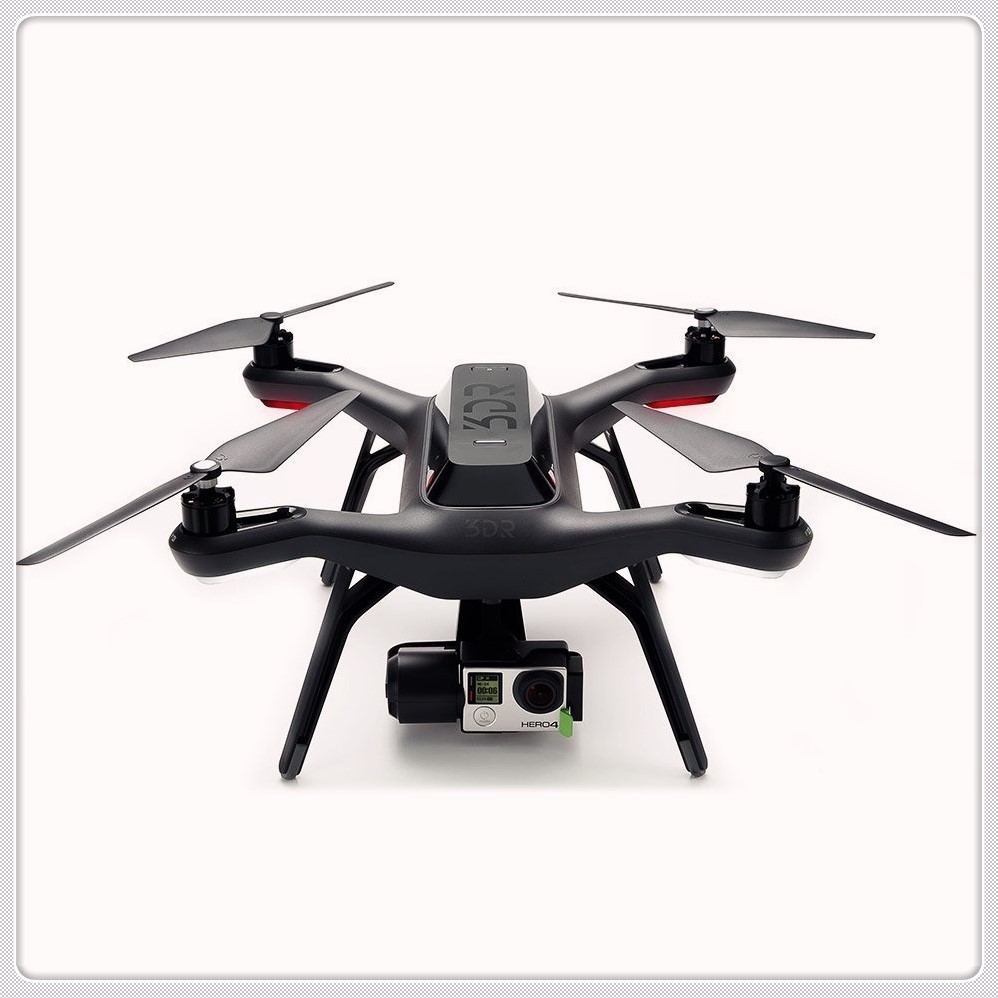 Here is another drone that does not have a built-in camera but rather a custom integrated frame designed to hold a GoPro. Flight control is a breeze with both many automated flight modes and the ability for experienced pilots to manually control the craft.
It is incredibly durable and built to withstand hard landings without damage to the drone or camera. Performance features a battery life of 20 minutes and a range of 0.5 miles. This drone is designed to use autonomous flight modes to almost fly itself and let you concentrate on getting the shots you need.
This is a great drone for use with your GoPro. It weighs almost 4 pounds and will set you back around $600.
What we like:
♥ The manufacturer will replace camera and drone if damaged by mechanical failure
♥ Ability to upgrade your camera over time
♥ Autonomous flight modes for easy use
♥ Controller with video game feel
♥ Open source SDK allows for 3rd party apps
What we don't like:
♦ Limited range
♦ GPS connectivity can be choppy
More information about 3DR Solo Quadcopter.
[asa2]B01C7HJ554[/asa2]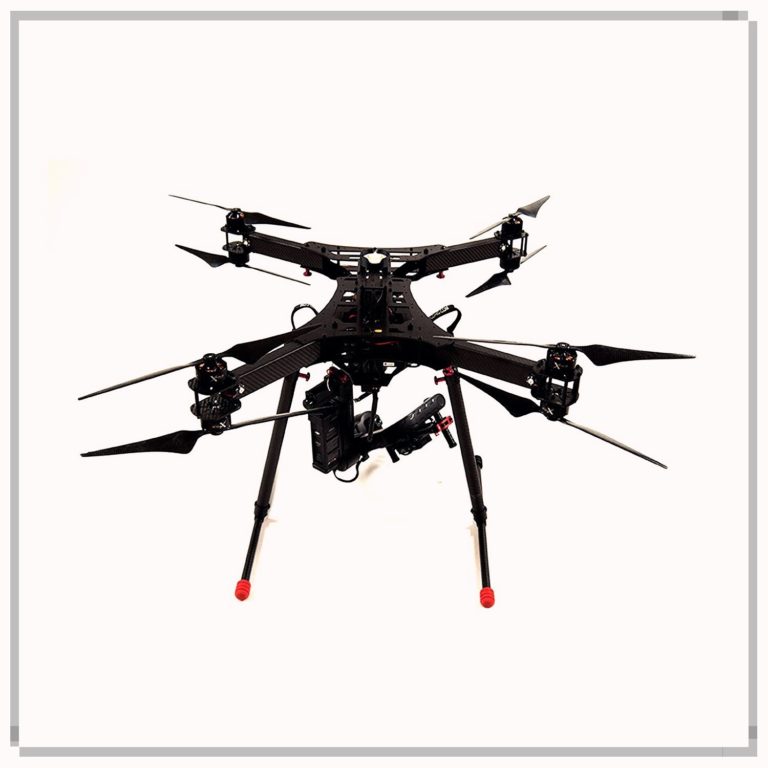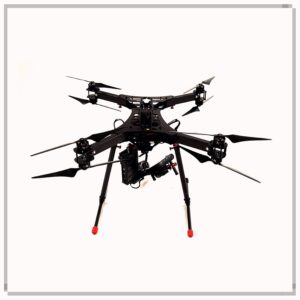 This is an expensive drone designed strictly for commercial and professional use. It can carry up to a 33-pound payload and is meant to be used with DSLR or FLIR cameras. It is compatible with all commercial grade flight controllers and features full HD live downlink.
This unit costs over $11,000 but delivers a platform that maintains maximum stability and can be configured with more motors and props if you need even greater carrying capacity.
What we like:                                                  What we don't like:
♥ Flexibility to carry many different payloads
♥ Stable operation
♦ Very expensive
[asa2]B01MUE2SBE[/asa2]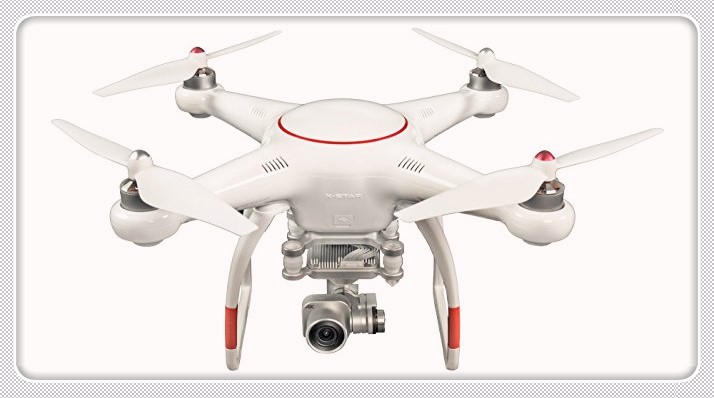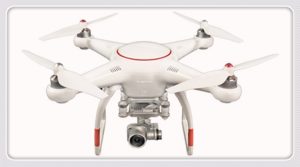 Featuring a 12 MP camera and 4K ultra HD video this moderately priced drone from Autel is suitable for the professional photographer. Battery life is listed at 25 minutes, and it has a large 64 GB storage capacity. The camera and gimbal are removable to allow for future enhancements.
The controller is designed to hold your smartphone or tablet to enable live video viewing and gives the user easy access to flight assist modes. There is a beginner mode that limits the distance your drone can go that can be helpful for new pilots.
This drone is ready to fly out of the box and has a range of 1.2 miles. It boasts of extremely stable flight at all altitudes using dual GPS and GLONASS navigation. It weighs 3.2 pounds and costs around 750 dollars.
What we like:                                                 What we don't like:
♥ 64 GB storage capacity
♥ Reasonably priced
♥ Autonomous flight modes
♦ Reported firmware issues
♦ Possible interference problems related to poor antennae
More information about Autel Robotics X-Star Premium Drone.
[asa2]B01B1H82LY[/asa2]
Drone Features You Need to Consider
Naturally, not all drones are created with the same user in mind. They are available in a wide variety of prices and feature packages. Simple units that are little more than toys can cost less than one hundred dollars. You can also spend several thousand dollars on top of the line drones. Quality considerations need to be addressed for the user intending to use their drone in a professional capacity. You certainly don't want to blow an assignment due to your use of an inferior unit.
Various features need to be examined when purchasing a drone for use by a professional photographer. Based on the usage you plan for your drone, different features may be more or less important to you. Let's take a look at some of the features that you need to consider when making your decision to purchase a drone for photography.
Camera
As a professional photographer, one of the most important features you will be examining is the quality and performance of the drone's camera. The first choice you will be faced with is whether to use a separate camera such as a GoPro or your smartphone to capture your images and video. This may reduce the price you will pay for your drone but does introduce issues such as compatibility between the drone and camera system.
Many drones are manufactured with a high-quality camera system integrated into its design. These will be more expensive but deliver a stand-alone machine that can deliver the performance you are striving to attain. Component compatibility between the drone and camera is not a concern with these kinds of drones. We will look closely at the camera specifications, quality, and features offered as we review your options.
Power Source
Depending on how you intend to use your drone, the power source employed can be a critical factor in your purchasing decision. Some drones run on simple alkaline batteries. This implies the need to replenish your battery supply and always have spares on hand and adds cost to running your drone. It does give you some flexibility in that you do not need any power source available on site to recharge your batteries.
Conversely, many drones are powered by rechargeable batteries or removable and replaceable battery packs. These drones may have a higher initial cost but over time will prove economical by eliminating the need to purchase batteries constantly. The length of time you plan to be airborne will help you decide which is better for you so give this some thought before you make your choice.
Operational Range
Another critical factor that needs to go into your decision to purchase a particular drone model is its range of operation. This can vary from a couple of hundred yards to long-range drones that can be controlled from a distance of several miles. This can significantly affect your ability to use your drone in the way you desire. You can't make that great video you planned following a deer herd migration if you can only fly 200 yards from your location. Take care to carefully consider this factor as making the wrong choice can lead to frustrating photography and videography sessions.
In-Flight Stability
This factor can be crucial in producing high-quality video presentations. Wind will naturally have an impact on your video quality, and a shaky platform will translate to inferior videos. The type of stabilizers your drone uses may determine if you can even shoot in windy conditions. Higher-end models will allow for stable operation, possibly with the use of an optically-based stability system.
Remote Control System
Some drones are controlled by apps that can live on your smartphone or tablet. Other models come with their own GPS powered remote control system. In both cases, functionality such as the ability to control or zoom your camera may or may not be included. Again, based on your planned usage, these options may be a determining factor in your purchasing decision.
Physical Characteristics
Depending on how and where you will primarily be using your drone, factors such as the unit's size, weight, and durability may be a concern for the buyer. Smaller, lighter drones can be easier to use for an individual photographer. There may be a tradeoff between size and features, so you will have to decide which is more important for your needs. Durability is also a variable to be considered when selecting a drone. Lighter weight can be achieved through the use of plastics, but the end product may not be as durable as a drone made out of aluminum or composite materials. Additionally, large drones are more prone to damage if crashed out landed improperly, and this will be an issue for the novice drone operator.
Ease of Use
Finally, ease of use should be a consideration when choosing your drone. Some drones are ready to fly right out of the box. Other may require assembly or additional parts that are not included in the base package. Another consideration is the user-friendliness of the remote control system. This can be especially important for photographers just venturing into the world of unmanned aerial vehicles. It is challenging enough to learn how to fly correctly; you don't want to complicate it with a counterintuitive navigation system.
Conclusion
All of these drones will do a capable job of taking photos and videos. If you already own a GoPro and don't need a built-in camera, you will do well with the 3DR Solo Quadcopter. For the complete package of drone and camera, the Inspire 2 is the best out there. For those looking for a little more economical choice, the Mavic Pro is a good choice. Start your decision-making process by forming a plan on your usage requirements as in some cases you may not need the extended range of some of the more expensive choices. Good luck with your drone and your photography.