This guide covers the current best-selling racing drones and explains all you wanted to know to choose the right one for you. Whether you are a first-time drone racer or you just want to update yourself on drone racing, you are reading the right material. Let's start by defining a racing drone.
A racing drone is a small unmanned aerial vehicle that is specially designed to compete in first person view racing leagues or local meet-ups. These drones are different from camera drones such as Mavic Air or Phantom 4 Pro Platinum which fly slowly and low in order to take high-quality footages. Racing drone cameras don't do that.
Drone racing is a type of motorsport that started back in 2014 in Australia whereby pilots compete in a racing circuit. Today, this activity is a global hobby and a lot of people are turning into millionaires after winning.
First person view (FPV) is fundamental to drone racing. It is also known as Remote Person View (RPV) which is one of the flight modes where the pilot controls the drone from his point of view courtesy of video piloting accessories.
There is a great potential for racing drones to grow further and a recent study has estimated that by the year 2020, the industry will hit 4 billion dollars. If you are reading this article, it means you are an FPV drone racing enthusiast and you need the right information to help you pick a fast quadcopter you can use in a drone racing league. Congrats for landing on the best guide.
[table id=21 /]
The leading racing drones on sale 2018
If all you are looking for is FPV drone speed, we have gathered 10 of the fastest racing drones for you from custom record breakers to RTF racers. Compare these drones as you read on their feature, pros, and cons. Enjoy drone racing!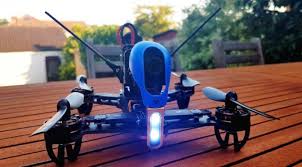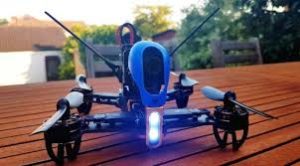 This is one of the professional racing drones on the market; a furious mini-drone with a highly innovative design with a carbon body. It is propelled by 4 2500kv motors (size 28). The four motors, in conjunction with the powerful batteries, give the drone an incredibly high speed. The flight system of Walkera F210 enables the pilot to make 3D rolls and flips.
Features
Weighs 0.9 pounds
14V 1300mAh Li-Po 4S battery
9-minute flight time
700TVL FPV HD camera (night vision)
800m operating range
LED lights
Price
Given the durable nature of the drone plus the amazing transmission qualities, we can say it is fairly priced. It costs around $329.
The upside
The downside

Amazing night vision camera
Stable transmission capabilities
Powerful motors for impeccable speed
Verdict
The bulky appearance of Walkera F210 should not mislead you. It is one of those drones you can never contact with.
[asa2]B01BBHYZEW[/asa2]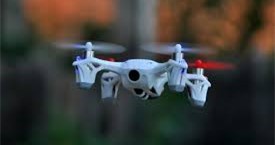 A ready-to-fly drone is what Hubsan H107D X4 is. It comes with 6-axis flight control system which ensures that your mini-drone remains stable amidst strong wind. You can fly the 4X without necessarily seeing it thanks to the 4.3" LCD monitor.
Features
01 pounds
4V 380mAh Li-Po battery
7-minute flight time
8GHz controller frequency
3MP 480p camera
100m operating range
LED lights
Price
The Hubsan mini-drone falls under the category of drones less than $100.
The upside
The downside

Great value for money
LCD monitor minimizes the overall cost
Comes with USB charger

It is a microdrone for beginners only
Low battery life
It has a shorter range
Verdict
This RTF drone is one of the best beginner drones for racing on the market. Choose it if all you need is a racing drone to test your skills. The cool design will amaze you and the durable frame is strong enough to cope with minor crashes.
[asa2]B00WRYG3NA[/asa2]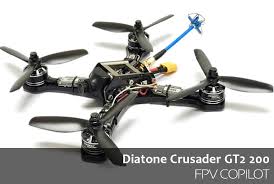 The drone combines high performance, simple set-up, and great flight dynamics. The RTF Diatone boasts a maximum speed of 99mph. it is a hybrid racing drone you can use with a GoPro camera to shoot high-speed footages in 1080 resolution.
Features
554g total weight
1661g per motor thrust
X-shaped Carbon fiber frame (5mm arms)
HS1177 600TVL FPV camera
Cloverleaf antennae
2306 2450KV motors
F3 flight controller
FPV goggles
Price
It comes at $260, making it a competitive FPV racing drone on the market.
The upside
The downside

Fantastic design
Easy component access thanks to the top cover that can flip up
Facilitates easy installation with the all-encompassing FC and PDB
Lightweight motors that don't compromise on strength
Low CoG for GoPro

The manufacturer doesn't provide spare components
There is no USB port hence the need for separate cables
Lack LED orientation
Verdict
The Diatone Crusader provides great components which are not easy to come by in drones of the similar price range. A combination of simple set-up, great flight dynamics, high performance, and affordable price makes it one of the best drones for racing.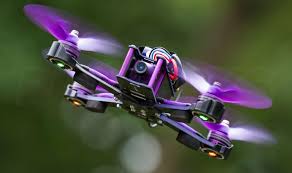 If you have just begun your drone racing hobby, you can avoid the hustles that accompany newbies by picking the RTF Eachine wizard X220. It comes with all specs and features of cutting-edge racing drones without extra costs.
Features
GPS compatibility
LED lights
RTF drone
1V 1300mAh Li-Po 3s battery
480p camera
1000m operating range
Return to Home function
Bind and Fly (BNF)
8GHz controller frequency
9 pounds
14 minute flight time
Mushroom antennae
Price
Eachine Wizard is one of the highest-speed racing drones that come at a lower price. With $290, the carbon fiber frame Wizard 220 is worth a steal.
The upside
Downside

Easy to fly
Highly responsive to spins and flips
Easy visibility at night thanks to the LEDs on the propellers

No battery voltage monitor so you cannot tell when the charge drops
Verdict
This budget racing drone is perfect for anyone interested in racing but with limited time and abilities to custom-make their own quadcopters.
[asa2]B075455RBR[/asa2]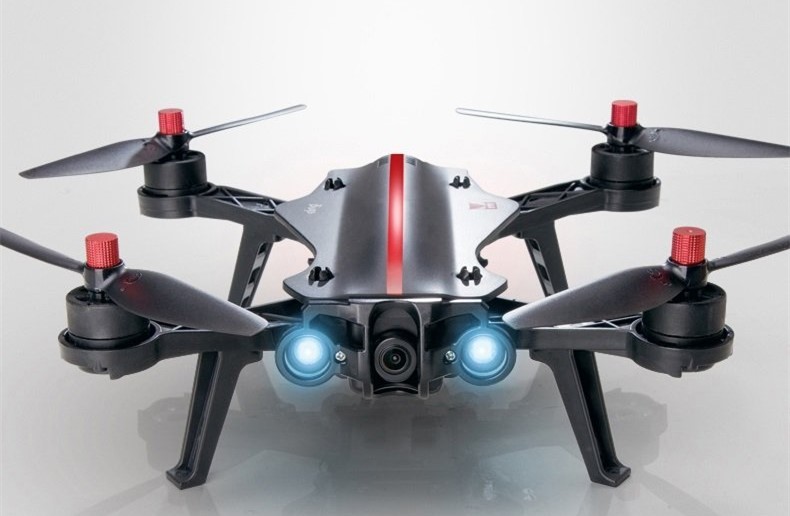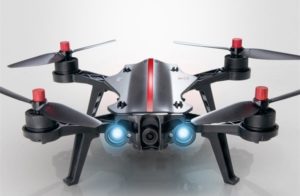 You won't find an efficient racing drone in the market as the MJX. The powerful drone comes with a high-quality camera plus WiFi connectivity for FPV. What more could you ask than a complete thrill during a drone race? Manually, you can adjust the 720p camera through the 5.8G analog signal. In addition, you get to reminisce each moment with the record feature of the drone as long as you have a memory card.
Features
Up to 12 minutes flight time
Independent electronic speed control
RTF feature
Recording system- MicroSD slot
Wi-Fi enabled camera
Price
$280 will get you this high-speed racer.
The upside
Downside

Easy to use
Maintains a top speed throughout the race
Very convenient as far as battery quality goes
For both beginners and pros

The memory card is not provided by the manufacturer
Verdict
With MJX racing drone, anything is possible from brave races to the ceaseless fun. Consider this drone if you need easy control and have got no time or experience to assemble a new drone. With independent control features of the drone, you can tell the condition of the drone any time you want.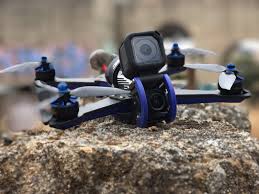 This excellent drone of the Vortex comes with custom-infused plastic design and a twill-weave carbon fiber. It is easy to navigate even in tighter spaces. Check some of its best features below.
Features
Titanium hardware
Weighs 415 grams with no battery and camera
Full-graphic  OSD
2204-2300kV V-Spec motors
Anti-slip map
40-channel 5.8 GHz video
LED for rear end orientation
Protective side plates
Spare propellers
Price
ImmersonRC Vortex is one of the top drones with value for money.
The upside
Downside

A good combination of weight and size from a reputable manufacturer
Big enough for serious grunt without weighing the pilot down
Excellent speed and control from 2300kV motors
Less likely to suffer crashes due to the light design
Conformally coated electronics
Easy to connect with just any receiver

No other spare components except the propellers
Verdict
For both freestyle and professional racing and, the Mojo doesn't shirk any duty in the slightest. With the user-friendly interface and impressive specs, the drone is a surefire competitor.
[asa2]B076QJLSPR[/asa2]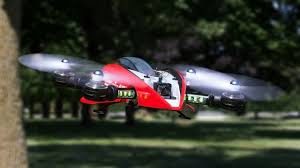 This drone is designed to provide an extra edge in drone racing competition. With 4 brushless motors (2300kV), you can expect quick acceleration and swift forward propulsion. For added robustness, the RTF Blade Match drone features aluminum and carbon fiber components.
Features
1 pounds
1V 1350mAh Li-Po 3S battery
8GHz controller frequency
10 minute flight time
SAFE technology
LED lights
Ultra micro FPV camera
Price
It is one of the best-looking drones with amazing features. It costs on average $199.99.
The upside
Downside

The SAFE technology simplifies FPV racing
Self-tightening and easy to mount propellers
Durable frame
Wonderful operating range

No battery charger
No FPV headset which is quite expensive
Verdict
What you will love the most about Blade Mach is the excellent aerodynamics in addition to the LED illumination that will make sure you are always on top of its orientation.
[asa2]B00VX3CIOE[/asa2]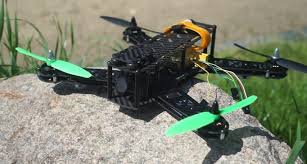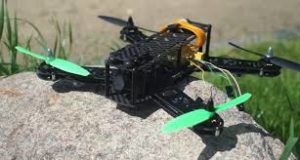 Do you have the necessary skills to assemble an out-of-the-box drone that comes at an affordable price? Arris FPV mini-drone could be what you need.
Features
Weighs 0.9 pounds
10 minute flight time
Flight planning
700TVL camera
LED Lights
GPS compatibility
1V 2200mAh Li-Po 3S battery
1000m operating range
Four 2300KV brushless motors
FPV Transmitter Antenna.
Price
Arris FPV mini drone s one of the best copters for racers available at realistic price ranges.
The upside
Downside

Affordable
Durable design
Standard connections
The 700TVL camera guarantees zero latency

Doesn't come as a complete drone
It is not a ready-to-fly
Verdict
This is not an RTF drone so you need to have drone-assembling skills. You also have to buy your own camera, remote control system, and batteries. It is the best drone for anyone looking for greater speeds.
[asa2]B01M9F8LE6[/asa2]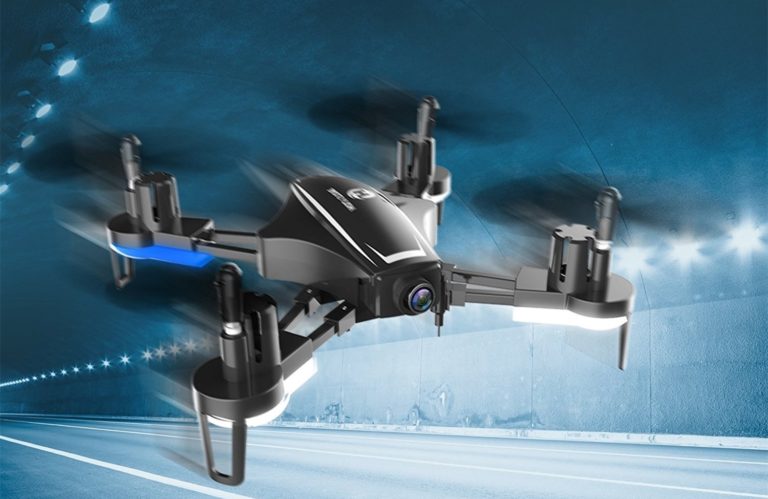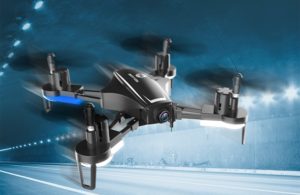 This is an RC and FPV drone that is truly built for speed, thanks to its powerful motors. Equipped with 720P HD Camera (120⁰ wide-angle), it can take quality videos as it flies at 45km/h. It comes with a real-time transmitter plus a bonus battery. A combination of 2.4GHz radio transmission frequency and 5.8GHz analog signal brings the most fluent video transmission by Holy Stone 230, which you can watch on the LCD screen.
 Features
45km/h maximum speed
Headless mode
8GHz Analog Signal
4GHz operating frequency
120° wide angle, 720P camera
3D flip
Price
At $159.99, you get a chance to win a drone racing competition with the Holy Stone HS230.
The upside
Downside

No need to worry about the direction of flight
Powerful 3D rolls
Bonus batteries
Excellent speed
Quick and flawless transmission of live videos
Verdict
You can count on the HS230 for speed, not to mention the value for money. This brand has been known for impressive automotive.
[asa2]B0773MCWYT[/asa2]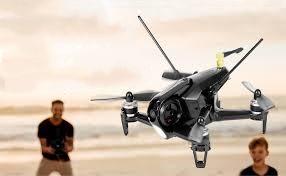 A drone designed to fly high gives you a greater edge when competing in a race. This Swag Drone is lightweight and highly streamlined to ensure high speed. With the quality LiPo batteries of this drone and extended flight time, you get sufficient time to do acrobatic loops and tricks in the air. For safe handling and use, switch on the motor lock. If you are a pro pilot, you may customize it through the CleanFlight function.
Features
RTF
700TVL HD camera
High-speed 5.8GHz
500 meters operation range
Real-time video transmission through 8 channels
Emergency features- switch and failsafe
Price
The current cost on Amazon is $174.99
The upside
Downside

Stunning aerial vies with 110 degrees FOV camera
It can be flown by any pilot, from beginners to pros
A ready to fly drone that doesn't require assembling
No delay in video transmission
The durable carbon fiber frame can withstand most crashes

The crash pack is not provided
Verdict
Whether you need a high-speed FPV drone or a beautiful quadcopter to show off to your buddies, this 150-UP racing drone has all you need. You will also be thrilled by the LED light for greater night vision.
[asa2]B074MFRNN5[/asa2]
What are the most important aspects of a racing drone?
With drone racing becoming an increasingly exciting hobby in the world, drone enthusiasts are constantly seeking the important factors to consider when choosing racing drones. Here is a quick overview.
Of all the things that matter when picking a racing drone, speed stands as the flashiest. The ultimate desire of a racer is to fast fly and win. If you have ever bought a drone before, you must have asked yourself how fast you can get the drone flying. Factory made drones have speeds ranging from 100-150km/h. but most racing drones are custom built to break speed records. There are certain components of a drone that contribute to fast-flying namely the motors, the frame, propellers, battery, and weight. We will look at each one of them right here.
The batteries contribute to the overall weight of a drone and so they affect the speed directly. Batteries also determine the type of motor your drone requires since they set up the threshold of motor power. It goes without saying that quality batteries provide longer flights. The best batteries have higher power retention as well as higher charging rates.
They are available in different sizes and are the most delicate parts of a racing drone. Propellers' size depends on the weight of the drone as well as the frame. A good set of propellers can enhance the speed of a drone tremendously if combined with effective rotors. They can even maximize battery use.
These are the sources of thrust which is required by a drone for it to move forward. The overall thrust of motors must double the total weight of a drone. Sometimes, unconditional thrust doesn't produce optimal results as it complicates the maneuverability of the drone, say, a combination of powerful motors and lightweight frame.
The material of the frame dictates the weight of the drone which is a critical aspect of speed. Frames built-in lightweight materials like plastic, aluminum, and injection-molded polycarbonates contribute to the high speed that's just needed for racing. The best frames have a good balance between lightness and durability while others are designed with add-ons which significantly reduce the overall weight.
As previously stated, the idea of purchasing a powerful racing drone is to emerge on top in a competition. Bearing this in mind, then you must understand how important weight is when it comes to speed. Before picking a drone, check the weight first and stability levels to leverage on high speed.
It is important that you get a clear view during a fast flight and that's why a quality camera is quintessential. Basically, a racing drone camera must have about 700-800tvl resolution for better image quality.
You can choose between monitors and goggles once you've found a good FPV drone camera. The display is where your camera feeds are received. For cheaper options, choose LCD monitor over goggles. The video transmission of LCD monitors is good but it is not as exciting as the goggles which are of course more expensive. Goggles provide quality feeds and have minimal distractions thereby offering the exact thrill a drone racer needs. They are ideal for professional racers.
Now you can save your time searching for the right racing drone with these factors in mind. May you find the perfect racing drone that will help you hit the finish line first!
FAQS about drone racing
Is a license necessary to participate in drone racing?
To race a drone, you don't require the FCC license. The racing drones on the market have been scrutinized and certified to make sure that they don't disrupt other radio transmissions. But if you have to modify your drone, you might interfere with the existing license and so you will need to obtain a new license. But there is nothing to worry about since FCC license is not hard to obtain and it comes with value-added benefits.
Which are the best drone competitions?
Every day, dozens of drone racing leagues pop up across the globe and every league provides different rules with regards to the type of drone, piloting techniques, and racing environment. Apart from the racing leagues, there are numerous local FPV meet-ups and related events you can check online. Most of the local racing events are open-specs that accept any kind of aircraft. The main idea is to have fun and interact with fellow drone hobbyists. However, you need to be a citizen of the hosting country for you to participate in most racing championships.



Indoor or outdoor racing: which is better?
Most drone racing events happen indoors to avoid the inconvenience of weather elements. Indoor racing provides a fair platform where pilots compete purely on equipment design and skills. However, local meet-ups can be arranged on suitable outdoor courses.
Multi-rotor vs. RC drone: which s easier?
Remote control (RC) aircraft were popular when drone racing had just started. But their popularity has diminished since the evolution of multi-rotor drones. Multi-rotor aircraft is more stable, agile, and less complicated than RC quadcopter. They feature exciting capabilities e.g. 360-degree rotation, good obstacle avoidance, higher speeds, back and forth flights, and can be flown in tight spaces.
Final Word
Top racing drones are custom-built and not simply bought. If you examine closely our top ten picks, every winning drone is modified with new gear to give the owner a competitive edge. Modifications are vital in this age of rapid technological advancement. If you are serious about competing in drone racing leagues, consider buying an aircraft kit with extra RC controller, flight controller, and other FPV gear. Keep modifying your drone till you obtain the best results. If you have just started racing, get a cheap RTF mini drone to gain experience. A starter FPV quadcopter is ideal for learning and you won't need to spend too much or incur a heavy loss in case of a crash. It is always good to learn on cheap platforms.