[vc_row][vc_column][vc_column_text]
Agricultural Drones | Their Role in Agricultural Purposes
[/vc_column_text][/vc_column][/vc_row][vc_row el_class="td-ss-row"][vc_column width="2/3″][vc_column_text]Drones are also known as unmanned aerial vehicles. This means that they are usually controlled by a remote device. Quite interestingly, drones have been in commercial use as early as the 1980s. However, nowadays, with the advent of technology and gadgets, drones are increasingly being used for a variety of purposes. They are also used for agricultural purposes like harvesting and seed sowing. In other words, with the use of drones, agriculture can be modernized to new extents. The agricultural drones are widely used in the process of protecting crops from pests and other types of disorders.
Agricultural Drones Solutions
 From automated planting to crop management and real-time monitoring, drones have an important role to play in the future of farming. These are the most popular drones being used for agriculture:

DJI Smarter Farming Package
DJI Matrice 600 (M600)
DJI Agras MG1
Parrot BlueGrass
Parrot Dsico-Pro AG
Parrot Sensefly – AG 360
Yuneec H520
It is also a well-observed fact that a majority of drones that are deployed for agricultural purposes have digital imaging capabilities as well as advanced sensors. These onboard sensors play a crucial role in making sure that they can transmit the right type of information to the farmers. In simpler words, the agricultural drones let the farmers see their crop field straight from the sky. It is also important to note that the agriculture drones can also be used in recording various stages of a particular crop. This is especially important in the case of agricultural students. Here is the list of agriculture drone buyer's guide which would help you to lay your hands on a viable drone.
Top 3 Drones in Agricultural Use
1  RJX Agricultural Sprayer Drone with GPS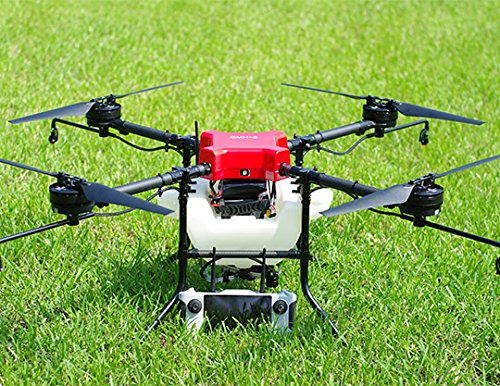 You would just be fascinated by seeing this Agricultural Drone Technology. It is one of the most sought-after products in the market. It is so because it is able to monitor and record the growth of crops during the time of harvest. If a drone has all the required equipment for aerial survey and data recording, then that drone is indeed a farmer's friend. Quite interestingly, the Agricultural Drone Technology also takes center stage during its operations. If you are on the lookout for a drone that can suit all the requirements as mentioned above, then this drone is one of the ideal one for you.
This aerial device is also known by the name of Future of Farm Drones. It is so because the full range of sensors indeed makes it one of the most viable farming drones out there in the market. It has a rugged chassis which can quickly absorb the shock of rough landings. The overall ergonomics of this drone is quite phenomenal. It has a motor wheelbase of 1200 mm and its empty weight is only 10 kilograms. Interestingly, the maximum takeoff load capacity of this drone is 23 kilograms. It comes with a 16000 MAh battery and has a maximum flight time of around 1 hour which is quite phenomenal. It is one of those drones that are exclusively used for Cropdusting/Spraying. It is also one of those drones that can be used for Mapping/Surveying.
The Lithium Polymer battery is quite efficient and unlike other drones you do not have to change it often. Hence, it would save you a lot of money. Moreover, it is one of those drones that do not require much maintenance. The battery has a weight of approximately 3 kilograms. It has a wide span rotor which is evident from the fact that the diameter is around 750 mm. If you have a large farm and are worried about the quality of the crops in the harvesting season, then you can use this drone to spray pesticides and insecticides. This would guarantee that your crops are always in top-notch condition and your harvest is always good.
Features:
It has an empty weight of 10 kilograms
It has a Lithium polymer battery that has a capacity of 16000 mAh
The battery weight is 3 kilograms
The payload capacity is approximately 10 kilograms
Price:
The price of this drone has been kept at a competitive level. It is so because it has various types of onboard sensors that can relay accurate information to the farmers.
Pros
Cons

It has the ability to record videos in 4K resolution
It has accurate sensor information control
It can relay the precise information to the farmers on the ground

It does not have a sturdy construction
It lacks features of the rough landing
Conclusion
This drone can significantly improve your agricultural produce and their condition. It can also provide real-time information on the state of pests that are invading your fields. All in all, it is a drone that can satiate your requirements for an agricultural drone.
[asa2]B0753DH2GD[/asa2]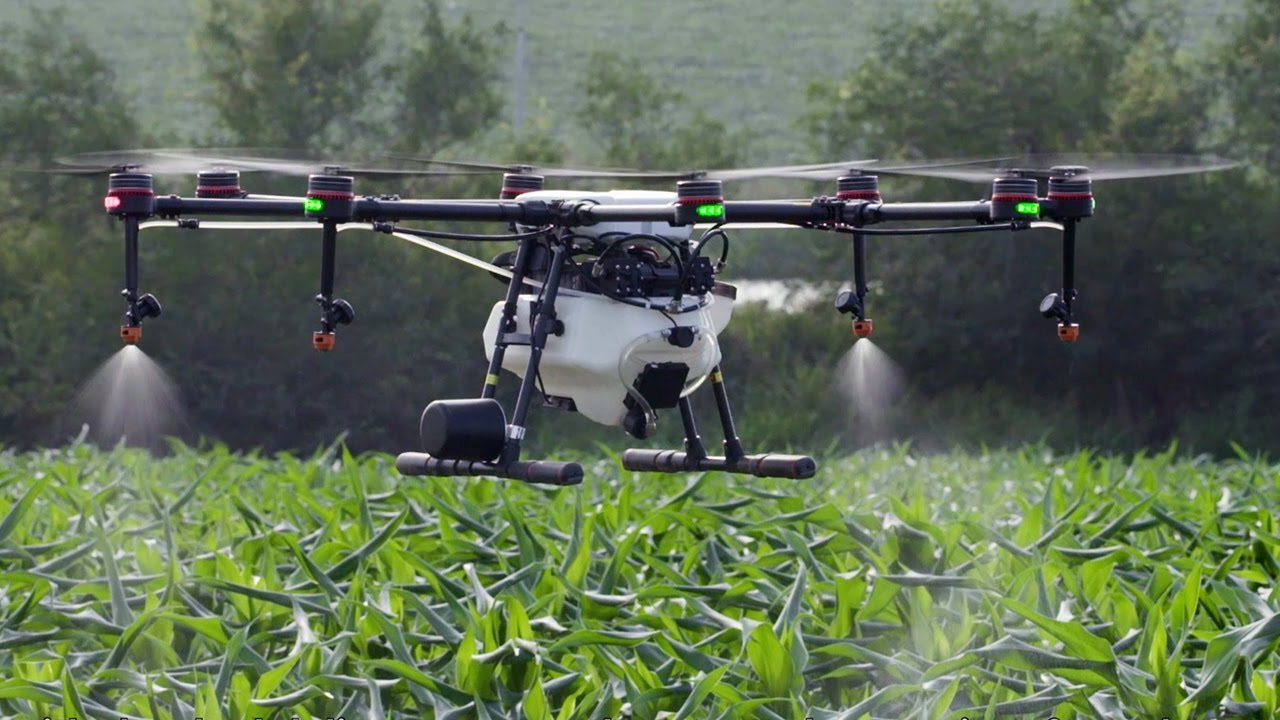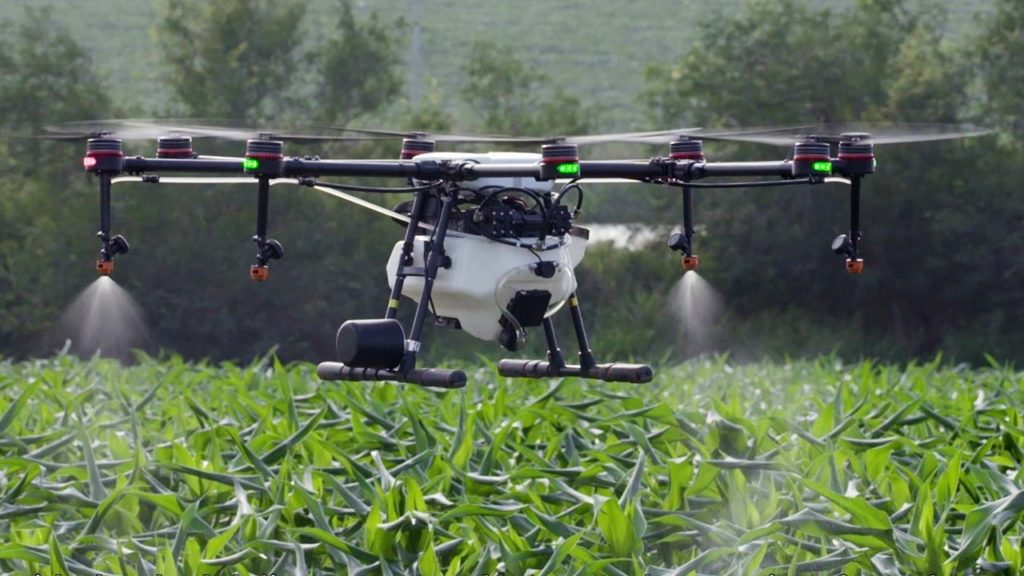 If you are on the lookout to buy the Best Fixed Wing Ag Drones, then this drone can significantly satiate your needs. Apart from having a rock-solid chassis and a well-built body, the wingspan of this drone sets it apart. It has a long wingspan that can take into account all the aspects of aerodynamics. It comes with RGB and NIR cameras so that it can feed real-time data to the operators during days as well as nights. It also comes in a military grade case that can work wonders in case of rugged terrains. In other words, it is one of the most practical drones meant for agriculture out there.
Another vital reason behind buying this drone lies in the fact that t has a standard takeoff weight of around 23 kilograms. It also comes with a cooling fan so that the motor never gets too hot while it is midair. It has a maximum power consumption of around 6500 Watts. On the other side, it comes with a self-propeller system so that all your needs related to spraying of insecticides and pesticides can be met. It is also that kind of a drone with the help of which you can record the harvesting process of your crops. On the other hand, if you own a farm for scientific purposes, then also you can use this drone to record the growth of the plants.
So, you do not need any hi-tech computers to control this type of drone. You need a simple computer with the help of which you can control the drone. It is also a full composite drone. It would also provide you with readily available data services.
It is also that kind of a drone that comes with an advanced autopilot mode. It allows the drone to fly on its own. The user can draw a polygon to devise the path of the flight. It has onboard planning software that can take care of the drawn route. It can seamlessly integrate cloud data services. So, if a farmer has an account on a cloud, it can efficiently transmit the gathered data onto a cloud.
Features:
It has a weight of 20 pounds
It has an inner thrust of 6 kg per rotor
It has a maximum operating speed of 8 meters per second
It has a hovering power consumption of 3500 Watts
Price:
By keeping in mind the facets as mentioned above of this drone, the price has been set in a competitive mark. It is neither too costly nor too moderately priced. This makes it an affordable drone for farmers who have mid-sized farms.
Conclusion:
It is one of those drones that are made with the bulletproof material. Hence, it is quite strong and can also easily monitor the growth of the crops in the farm. Moreover, with its dual camera setup, it would provide you with all kinds of information in rich picture form.
Pros:
It uses dual cameras along with a proprietary algorithm in its flight path
It produces high-definition visible maps that are great for crop monitoring
It also has the feature of 3D mapping
Cons:
It has no shock-absorbing landing gears
It can commit mistakes in the opening of cameras during recording
[asa2]B074JFRG6T[/asa2]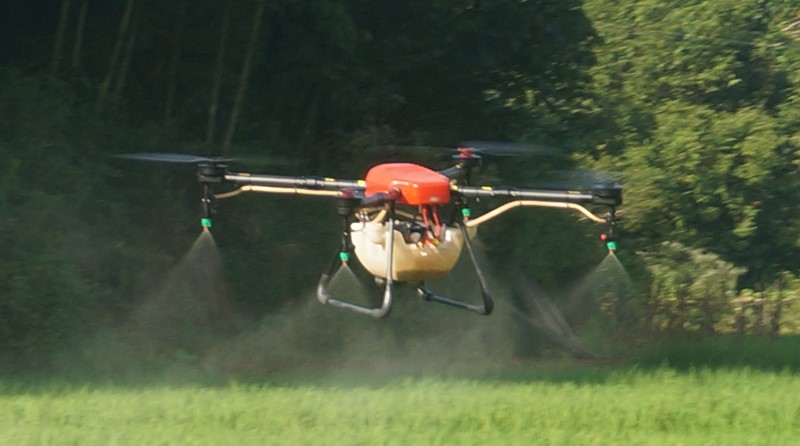 This agricultural drone is also known by the name of X4 drone. Interestingly, this drone is readily available with a variety of Ag Drone Service Providers. It is also a proven and popular choice among various drone service facilitators. When you need an accurate data fact sheet in front of you and that too in quick time, you need to take into account this drone. In many ways, it is a fantastic drone as it has the ability to integrate a lot of sensors.
If you are on the lookout for a drone which is quite easy to fly, then opt for this drone. It is that kind of a drone which is quite easy to operate and comes with the advanced spectrum sensors. This drone also integrates flight management and flight planning to provide you with accurate forms of data in any types of weather. Another highlighting feature of this drone lies in the fact that it can cover 500 acres in a single charge. So, if you have a large farm and you want to monitor it on a frequent basis, this drone would come handy. However, you have to upload the boundaries of your field so that it can fetch you accurate data results.
Features:
It has a standard takeoff weight of 24 kilograms
It comprises of a maximum power consumption of 6400 Watts
It can also take up autonomous flights
It has a viable remote control
Price:
By seeing the qualities of the drone, you must be sure that it is quite expensive. However, it is priced at a competitive tag and is meant for large-scale farms.
Pros
Cons

It uses various kinds of software to create vegetation index maps
It can survey over a large piece of land
It comes with efficient batteries

It cannot integrate data into a cloud
Flight planning is a bit complex with this drone
Conclusion:
It is one of those drones which are one of the best for agricultural practice. Always make sure that you know how to fly this drone.
[asa2]B074J38W3S[/asa2]
Advantages of using agricultural drones
Product exploring: Using drones is a significantly snappier, more straightforward method for exploring harvests to discover anomalies and issues with the goal that you can diminish fluctuation and take care of issues speedier.
Soil mapping: Identify trim variety and harm over a whole field in a matter of hours.
Water system improvement: Drone symbolism distinguishes abnormalities in water system in light of the vegetative cover and different pointers that you can just observe from overhead, so you can make changes and accomplish water system consistency.
Waste repair: Fix seepage issues with the goal that water is steady over the harvest.
Yield advancement: Make the correct harvest alterations quicker with moment information and itemized mapping.
Yield projections: Make precise projections in view of definite, high-determination mapping.
Nitrogen application: More effortlessly observe nitrogen inadequacies in your harvests.
Development/Stand tally: Determine on the off chance that you have to replant in any zones.
Gear breakdown recognition: Catch hardware issues that outcome in uneven seeding, pesticides dissemination or replanting or holes in plants.
Bug issues: Determine if any regions are having nuisance issues, and evaluate the adequacy of vermin control procedures.
Quantifiable profit
Today, cultivators around the globe are finding that an automaton gives a speedy method to recognize issues in their fields. An extensive specialist co-op reports they have flown in excess of 40 distinct products crosswise over at least 30 nations. Their clients are getting in the area of $15/section of land ROI. For high-esteem trims that are inclined to ailments, for example, potatoes, citrus, almonds, and bananas, the money related advantage could be fundamentally higher.
In the meantime, the GPS outline furnishes ranchers with a more exact perspective of their property, and consequently, a more compelling and boosted capacity to arrange for where yields ought to be planted. Conveying overwhelming things, for example, compost or pesticides ordinarily expects somebody to work a vehicle and lift said things physically, or if nothing else, by working substantial apparatus. With UAVs, in any case, this is done at a diminished cost with self-ruling organization.
How can drones help in the agricultural process ?
Drone innovation has been around for quite a long time, taking to the skies to catch motion picture arrangements, gather logical information and scout an area. In any case, there's another industry where rambles are extremely starting to take off: cultivating.
Despite the fact that drone innovation is as yet changing generation to expand convenience and lower costs, these machines as of now can possibly go far towards enhancing agriculturists' primary concerns – and the earth. Here are three key advantages of drone use in horticulture:
One of the significant advantages of drones is their capacity to scout cultivate fields both rapidly and effectively. As opposed to having cultivators assess fields physically by walking or by tractor; this innovation enables agriculturists to increase prompt learning about the status of their fields in shorter timeframes. This data can be assembled at whatever point and wherever it is required, limiting the reaction time required tending to issues and looking after yields.
Enhancing crop wellbeing and productivity
New drone innovation is exceptionally compelling at gathering information to enable ranchers to enhance trim wellbeing. Furnished with sensors, rambles flying over a field can gather plant tallness estimations by social event run data from the plant shelter and the ground underneath. By estimating close infrared wavelengths through a multispectral sensor, drones can likewise make vegetation file pictures, demonstrating which plants are solid and retaining most extreme daylight.
Drones additionally make satellite maps that can enable agriculturists to settle on choices about manure – a noteworthy worry of ranchers, as compost speaks to up to 50 percent of info costs. By utilizing cutting edge sensors to retain close infrared wavelengths, rambles make maps that can demonstrate where phosphorous and nitrogen may be required – or where there is an abundance of supplements. Along these lines, more supplements are being connected where they are required most, as more compost is consumed by plants when it is connected decisively. This level of detail can enable ranchers to expand generation and efficiencies that prompt higher yields.
Water productivity and other ecological advantages
Thermal cameras can identify cooler, very much watered field districts and in addition dry hot patches. Agriculturists can utilize this information to modify field water system and abstain from squandering overabundance water. This capacity to build water improvement is especially important in dry spell-stricken regions, for example, California.
What's more, by expanding water and manure proficiency, ramble innovation likewise decreases abundance compost that keeps running off into adjacent waterways and streams. Less spillover diminishes the algal blossoms and no man's lands in our water frameworks.
Utilizing drones to help with cultivating appears like a characteristic blending of drone and cultivating innovation. For some littler, free agriculturists depend on basic drone, a Phantom 4 who can see the advantages of having a not that entire conventional instrument to get the most out of their harvests. The Phantom 4 gives the elevated view that numerous agriculturists require.
As cultivating turns out to be more mind boggling and environmental change turns out to be a greater amount of an impact, agriculturists may look to innovation in more inventive ways. Without a doubt innovation and information can give knowledge into the Cranberry Industry and at last its survival. The cranberry business isn't the main business that depends on drones or innovation and information.
Innovation and Data-Pesticides for Farms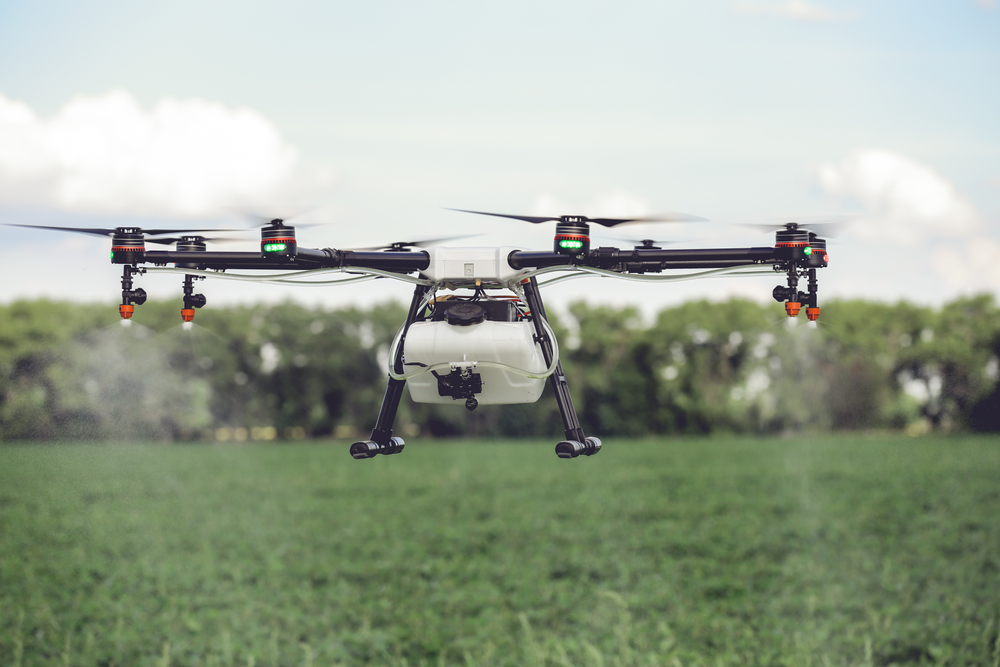 In Japan, rambles are joined to help appropriate pesticides for its organic product plantations and additionally rice paddies. The immense part of utilizing rambles is for its entrance to zones that ordinary sprayers would not have the capacity to reach. The advancements for rambles need to adapt to present circumstances. What has helped is innovation utilization has developed has continued speedier than a past circumstances from the 1970's when advancements of cultivating multiplied the quantity of oat grains. By and by, innovation and information assumes a vital part in trim administration.
The measure of innovation and information data can be critical to gather any insufficiencies and see where their fields are gainful. A great part of the data is likewise useful through GPS arranges. Notwithstanding, such innovation can require some serious energy by ranchers to acknowledge.
Ag drones are credited to dairy cattle cultivating by frightening away natural life, fending off criminals and also keep track where the cows are found. The GPS following would be basic and additionally furnish the drones with preplanned flight. The final product is that Technology and Data can furnish the agriculturist with continuous data. Maybe, innovation and information will be a solid resource for ranchers all over.
Which is the best drone to buy?
From the above list, it is quite evident that the RJX Agricultural Sprayer Drone with GPS is the ideal one which you should employ in an agricultural farm. This is because it has the ability to spray pesticides as well as insecticides which would make sure that all your crops are safe. Moreover, as it has a GPS system along with a camera, you can now easily track the growth of your crops. You can also keep away the intruders with the help of this drone. In short, this drone is also competitively prices and this is the reason that you should always opt for it. It also has a good flight time and can remain air-born for a significant amount of time. It can also operate in a variety of weather conditions which would provide you with a lot of options. In short, this is one one of the best agricultural drone you should buy.
Things to consider while buying drones
Here is the list of things that one needs to consider while buying drones
Its adaptability: A drone must be able to adapt to any kind of weather condition
Its landing gears: Always buy Ag drones that come with proper landing gears
Its build quality: The built quality of a drone by Ag Drone Service Providers is quite vital as it has to land in fields that may have rough surfaces. Hence, a drone has to be solidly made.
Frequently Asked Questions:
Are the remote controls supplied with the agricultural drones?
Yes, you would get the remote control, in the package of the drone itself.    
Do I have to take special permission of authorities?
There are specific rules on agricultural drones operation. However, these rules vary from state to state.
[/vc_column_text][/vc_column][vc_column width="1/3″][vc_wp_search][vc_single_image image="4054″ img_size="full"][/vc_column][/vc_row][vc_row][vc_column][vc_column_text]
[/vc_column_text][/vc_column][/vc_row][vc_row][vc_column][vc_column_text]
[/vc_column_text][/vc_column][/vc_row][vc_row][vc_column][vc_column_text]
[/vc_column_text][/vc_column][/vc_row]