[rwp_box id="0″]
If you are a filmmaker and are looking for new ways to capture professional cinema grade aerial shots, DJI Matrice 600 (M600) could be the next unmanned aerial vehicle (UAV) on your radar. Unlike other drones, M600 is a hexacopter specially made for filmmakers and related industry professionals who are looking to shot the next cinematic magnum opus. While M600's size is quite large than the traditional drones, it is designed to be just easy and ready to fly.
The drone is designed with six rotors for extra stability and redundancy. On the other hand, for extra safety in the air and flight time, M600 comes with six batteries giving 35 minutes of flight time. Moreover, it is compatible with entire Zenmuse line of cameras and features advanced Lightbridge 2 video-transmission technology that produces HD live-streaming up to the distance of 5 kilometers, and with a heavier payload like Ronin-MX, the hexacopter boast an approximate flight time of 16 minutes.
DJI Matrice 600 (M600) hexacopter can carry a payload of up to 13 pounds and is well-suited with all Zenmuse line of gimbals as well. In addition, the drone is embedded with the A3 flight control system which can be upgraded to A3 Pro flight control system according to the usage. The drone is designed to be fully customizable and features functionalities of the latest technologies. M600 is a powerful drone and is meant for filmmaking purpose only and if you are considering buying this product, let us assure you that when it comes to shooting footage, it is worthy of the big screen.
DJI Matrice 600 (M600) Product Review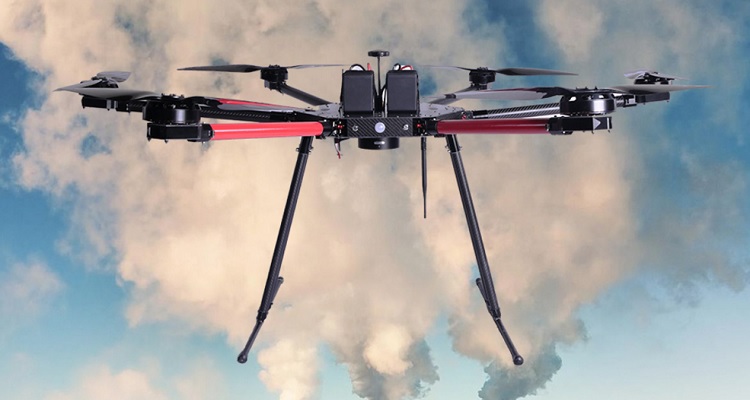 In this post, we will go through a detailed product review of M600 hexacopter and will provide the complete insight of the drone including the design and performance.
Specifications
DJI 2170 propellers
New Powerful DJI 6010 motors
Max Pitch Angle: 25 degrees
4GHz Lightbridge Video Transmission
Recommend Camera: Zenmuse X3, X5, XT, Z5 series
Range: up to 16404 feet (5000 meters)
Maximum Speed: 44.74 mph (20 m/s)
Flight Ceiling: 8202 feet (2500 meters)
Maximum Ascent: 11.18 mph (5 m/s)
Battery: 4500 mAh 2S Li-Po
Flight Time: up to 35 minutes
Payload Capacity: 13 pounds (6000 grams)
Weight: 21.2 pounds (9600 grams)
Diagonal Wheelbase: 44.6 inches (1133 mm)
Dimensions: 65.7 x 59.8 x 29.9 inches (1668 mm x 1518 mm x 759 mm)
Pros
Cons

Super flexible design
Suitable for many commercial applications
Stream-quality live HD content
Great flight time
Amazing range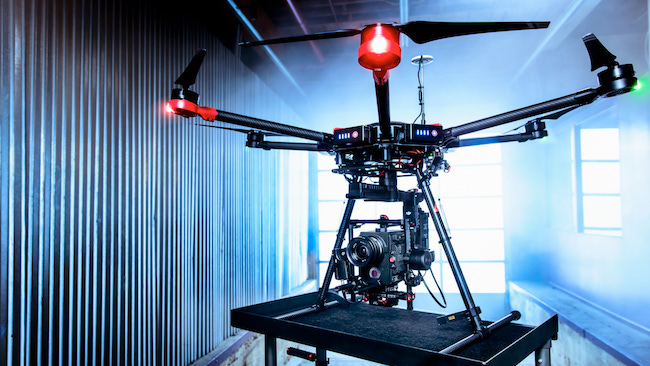 What's inside the box?
A Center Frame with Lightbridge Air System and A3 flight control system
Two Landing Gear Legs
Two Landing Skids
Six Frame Arms with propeller holders
One Right Retractable Module
One Left Retractable Module
Two Retractable Module Brackets
Two Retractable Module Mounting Rods
Six Flight Batteries (TB47S)
Battery Stickers
Two Battery Chargers
Two Power Cables
Two Charging Hubs
A DJI Hex Charger
Double-sided Tape
One Remote Controller
Two Springs
One Micro USB Cable
A GPS-Compass Pro
A GPS Mount
Stoppers
Six Knobs with Gasket
Screws
A Travel Case
Matrice 600 Design and Performance: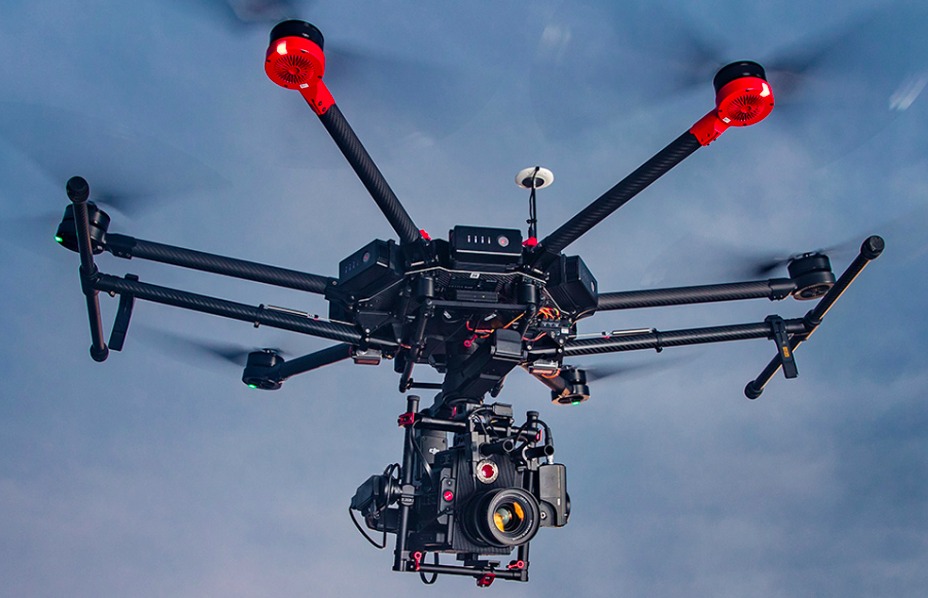 When we are talking about drones with easy maintenance and maximum toughness, M600 hexacopter fits the profile. Ready to assemble and be used in minutes, this drone features a lightweight aluminum body, foldable carbon fiber forearms and manually retracting landing legs. The best thing about the retractable landing legs is that the drone's thighs won't appear in the video footage. On the other hand, the foldable carbon fiber forearms provides an extra portability and stability to the drone when it's flying. The propellers of M600 are also made from carbon fiber that makes them extra rigid.
The designers have provided the drone with six rotors to give extra redundancy and balance. The drone also packs six intelligent flight batteries for protracted flight time and further safety in the air.
With the Zenmuse line of cameras like X5 or XT, the drone boasts an airtime travel of 35 minutes and if it is carrying a heavier payload like the Ronin-MX, the airtime reduces to 16 minutes.
M600 can haul a payload as high as 13 pounds and can easily work with challenging DJI Zenmuse line of gimbals and camcorders. Moreover, the drone includes an A3 air travel control system which can be further upgraded to A3 Pro air travel controller. The drone is designed in a way that it is completely customizable and uses the latest solutions and technologies. M600 is a robust system that allows shooting video footage worth the big screen.
The main reason why this drone is availed by the professional filmmakers is due to its limitless customization options. That is, most the DJIs type of camcorders and gimbals are emphasized by M600 system thereby giving the users the freedom to customize the drone as per their exact requirements.
Even with its big size, M600 cruises through the environment and is very continuous yet responsive. The maximum speed of M600 is 44.74 miles per hour and the drone can climb at the maximum altitude of 2500 meters above sea level. Last on the performance front, Matrice 600 has the maximum descent time of 3 miles per hour and the maximum ascent time of 5 miles per hour.
Matrice 600 Controller: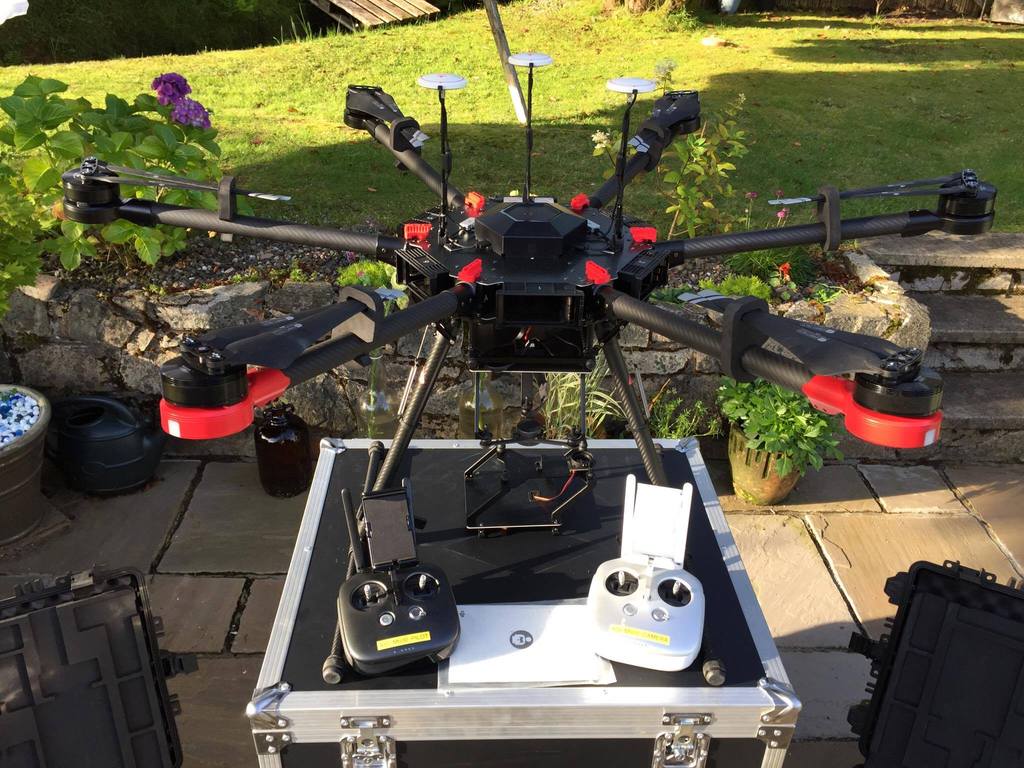 When you operate M600 for the first time, you will experience stability and complete control over the drone. The drone is designed in a user-friendly manner and with its Lightbridge 2 and A3 airfare controller system makes it easy to operate and handle. The Lightbridge 2 system can live stream 1080p footage from up to the distance of 5 kilometers. Moreover, it helps dual operator setups and dual video insights – one for camera control and one for air travel.
The A3 airfare controller, on the other hand, has an inbuilt failsafe action for poor signal, propulsion inability, and even low vitality as high as three motors. Matrice 600 is designed in a way that in case of propulsion inability, M600 yaws constantly and the A3 airfare controller system switches to Home-lock in order to get the drone properly in case of an emergency situation.
The operators are also given the choice of upgrading the A3 Controller System to A3 Pro Controller if required. All they have to do is adding 2 additional GPS units and IMUs for triple redundancy and more accuracy.
In addition, you can also purchase the D-RTK GNSS system for your drone to increase the level of position accuracy, reliability and make it tolerate interference surrounding from objects like metals.
Matrice 600 hexacopter drone also supports DJI Go Software and DJI Assistant 2 and the phone app gives the operators an integral trip simulator, transmitting strength, redundancy status, electric battery level position, and HD view, and even more. Using the simplified Lightbridge 2 Universal remote controller and the software, flying huge and heavy lifting UAV hasn't been easier.
The operators can also control the camera options such as the aperture, ISO focus, and shutter acceleration. The DJI Assistant 2 makes the configuration and posts an easy task and also offers an in-built airline flight simulator. The manufacturers have also included the new Ground Stop Station app for conducting collaborative jobs involving two or more Matrice 600 hexacopters.
M600 has a long-range customizable controller that has the operating range up to 5 kilometers. The controller comes with adjustable controls and video outputs and uses a rechargeable battery. In addition, it comes with a holder so that it can be easily connected to the mobile device.
Matrice 600 Battery: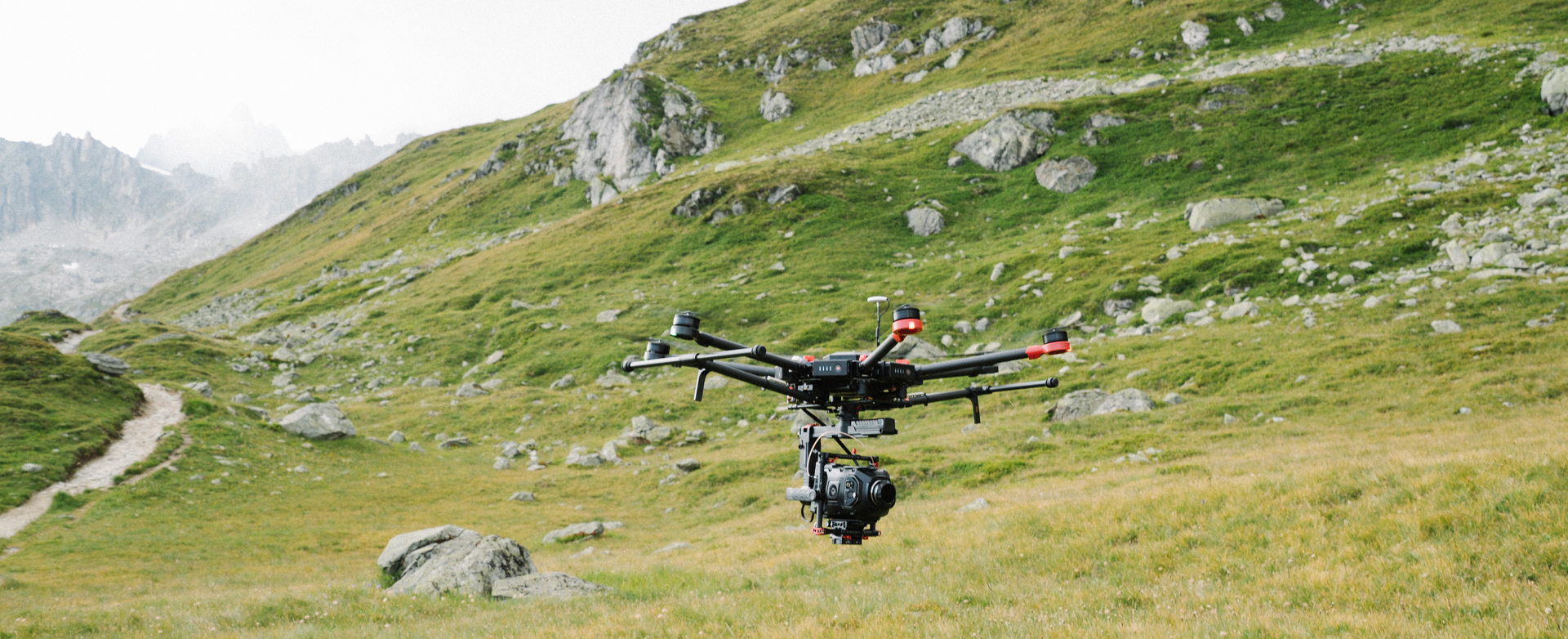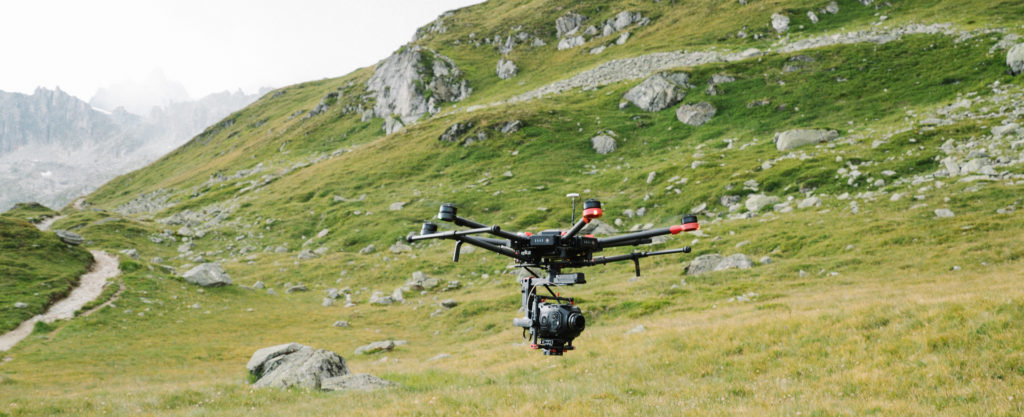 Power supply remains the biggest disappointment of electric UAVs and unless the manufacturers invent the battery technology with extensively higher energy densities, it is not going to improve quite soon. So you cannot expect M600 to do wonders for you with the regulations of physics.
There is no doubt that M600 hexacopter drone has impeccable strength with its wholesome 4500 mAh TB47S power supply. If you want to press more air travel time, you can use the uprated TB48S power supply.
The manufacturers state that the battery pack of six will get your drone 35 minutes of flight time. However, corresponding to public statistics, the battery pack will merely get you a half-an-hour of flight time given that the payload is the lightest. If the payload gets heavier, you will be seeking to land your drone in about 15 minutes.
Hence, more the weightless will be the flight time. However, you can charge all six battery packs at the same time. It requires 90 minutes to completely charge the power supply and all the batteries can be switched ON/OFF with a push of a button. In conclusion, on the battery front, M600 hexacopter drone stands average. And if one battery fails, the other five will make sure that the drone is still flying and operating. The intelligent battery system works in a way that it automatically shits the power where it is the most needed.
Matrice 600 Propellers: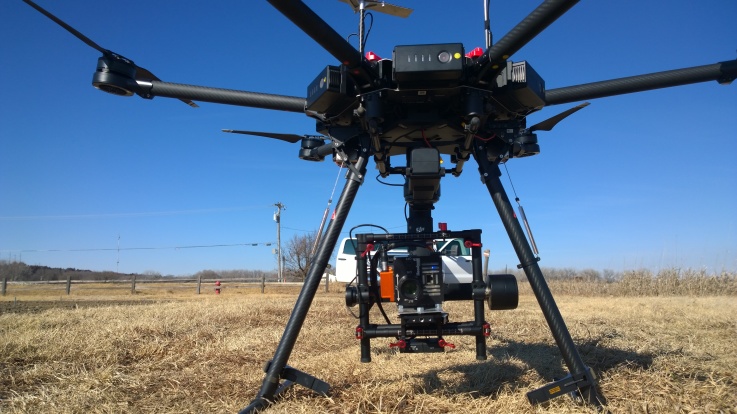 Matrice 600 hexacopter comes with two propeller options – the traditional foldable 2170R propellers and the 2195 propellers.
The traditional 2170R propellers are 21-inch carbon fiber items that can operate up to 2500 meters ASL. These propellers can cost up to $39 per set and for your hexacopter, you will require three pairs of them.
Additionally, the 2195 propellers are 21-inch carbon fiber items that you can use to operate your drone above 2500 meters ASL. Each set cost $59 and only professionals use them for high altitude shots.
Matrice 600 Gimbal Selection:
Matrice 600 hexacopter drone doesn't come with a gimbal; hence it provides the operators an opportunity to select their desired gimbal of choice for their drone. The Matrice 600 hexacopter is made compatible with DJIs complete Zenmuse gimbal range. This is the most impressive functionality of this drone as it offers a wide range of gimbal options to the operators. Matrice 600 officially facilitates six different types of gimbal setups for different cameras along with two Ronin-MX setups for attaching a heavier payload.
Ronin-MX is the most preferred gimbal as it is constructed of toughened aluminum, and can support any camera as it can change 360 levels or degrees. On the other hand, the Ronin-MX holds the capacity to be attached to the drone's global positioning system (GPS) along with the Lightbridge 2 system.
Matrice 600 Camera: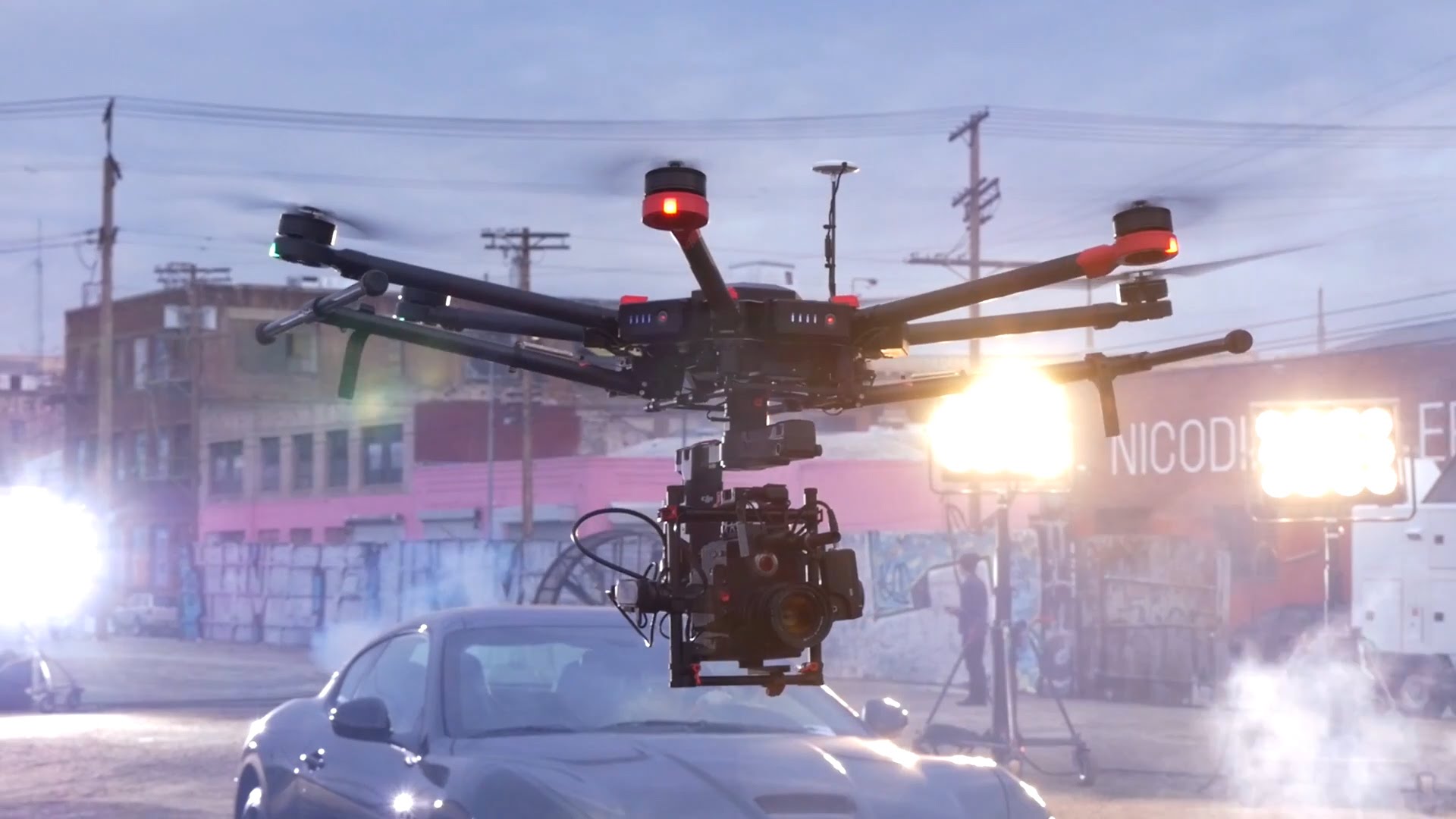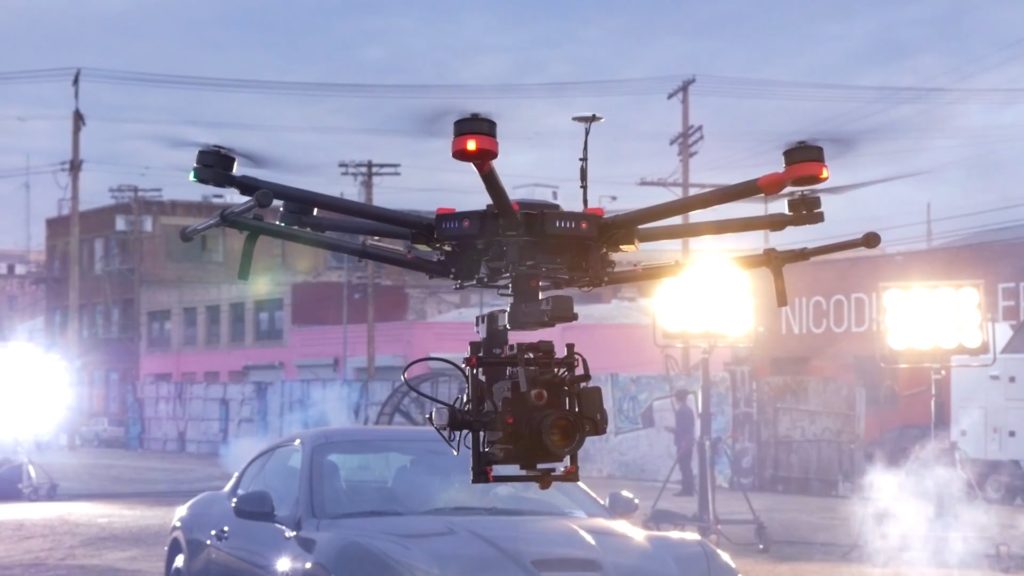 M600 hexacopter drones don't come with a camera, but similar to gimbals, the drone is compatible with a wide range of camera options. That is, M600 is compatible with the complete Zenmuse line of cameras including RED EPIC. Due to the drone's heavy lifting capabilities, the drone can carry a wide range of cameras to shoot with. With Zenmuse X5 and XT cameras, the drone can take a flight for about 30-35 minutes but if heavier cameras like RED EPIC are used, the flight time will be reduced to 15 minutes. Another best part about this drone is that doesn't matter how high it flies, it holds the camera so steady that you will not see any turbulence in the video footage. This is the main reason why DJI Matrice 600 (M600) hexacopter is used in filmmaking.
Matrice 600 Customizability:
When it comes to customization, there is no other drone that offers in-depth customization options like Matrice 600. You can customize almost everything in this drone. The best part, the operators can create their own customized mobile application for operating their drone as DIJ offers SDK support to the users. When it comes to customizing the drone, M600 features a multitude of expansion ports that offers control and flexibility. The onboard API SDK allows the operator to control and monitor the drone from any system that is connected to its flight controller.
The operator can use the API SDK for customizing the drone to support any particular application. You can create;
Informatics and Avionics Apps: accumulate data in real-time from the entire system
Autopilot Apps: tell the drone how and where to fly using the onboard visual sensors or GPS to navigate
Custom Flight Commands: using a single key press, you can adjust camera positioning, aerobatic maneuvers, return home flight paths, etc
The manufacturer states that the purpose of drone flying is only successful if the operator or the pilot felt completely in control of the drone and not vice-versa. This is the reason they have provided this drone with several multiple customization options.
In addition, the drone sports dual parallel API and CAN ports for connecting DJI devices like the D-RTK GNSS units, the guidance system, or any other third-party components. That is, these expansion bays allow the users to attach components, imaging devices, sensors, and payloads to the aircraft for ease of use.
The mounts are also customizable as you can place your desired components exactly where you want to optimize the weight balancing goals and functionality.
And as said earlier, the operators can pick the camera and gimbal of their choice for their drone.
Matrice 600 Payload: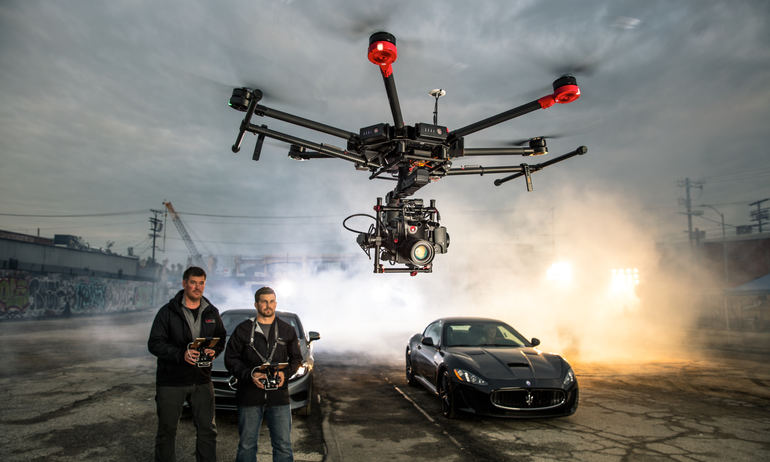 The large size has to come to the use and this is why M600 holds the capability to lift large payloads at a time. The maximum payload this drone can lift is up to 13 pounds while maintaining the redundancy and stability in the air. This is why this drone is the first preference of the filmmakers as it allows them to shoot aerial shots using heavy, high-quality cameras with ease.
DJI Matrice 600 (M600) Price:
As said earlier, this is not the drone meant for playing purpose. M600 is a professional drone built to cater the needs of the professional filmmakers. Hence, the price of the drone is also according to that. The Matrice 600 hexacopter drone costs $4999 plus additional accessories as cameras, gimbals, and other components are not included in the drone.
This drone is plainly a device designed for projects with big finances in professional contexts.
Conclusion
M600 hexacopter drone is designed to provide the operators the freedom to choose just what kind of accessories, gimbals, cameras, and other components they would like to use for the aerial footage they visualize.
The drone has the capacity to hold heavy camcorders while flying at a decent height. This is the first preference of the filmmakers for shooting aerial shots as it reduces the cost of using helicopters and aircraft. The drone offers stability and control in the air while carrying heavy components.
[asa2]B073JWYCFH[/asa2]