Syma X8G
Pros
Easy to use and control
With an 8M MP camera but can also work with external GoPros
12 minutes flighe time
Value for money
Cons
Slow charger which takes more than 3 hours
Propellers are not strong enough under collision
Summary
It is mainly used for recreational purposes where the user can have some hands-on experience in flying these unmanned aerial vehicles. The camera is decent enough to get you some crisp shots and videos. The flight time of 12 minutes will be more than sufficient for this purpose.
Overview:
Today we're going to take a look at Syma X8G, new model from X8 series. An affordable quadcopter, very easy to control. Comes with the basic useful feature, headless mode. Camera quality is way above average, 5 megapixels with a 1080p resolution. 100 meter range is not bad, at least an improvement from X8W model.It is a good product from a very reliable company, promises and delivers. Meant for beginners, easy to fly even when facing stronger wind. The HD 5 megapixel camera definitely compensates the investment. Let's take a look at what exactly does this drone has to offer.
| Name | Image | Price | Battery | Range |
| --- | --- | --- | --- | --- |
| Syma X8g 2.4g 4ch 6 Axis Drone | | Check Price | 12 mins | 100m |
| Cheerson CX20 Auto-Pathfinder FPV RC Quadcopter | | Check Price | 15 mins | 1500m |
| JJRC H8D 6-Axis 2.4Ghz Gyro RTF RC Quadcopter | | Check Price | 8 mins | 300m |
| MJX X101 RC Quadcopter with Gimbal 2.4 Ghz 6-axis Rc Helicopter Drone | | Check Price | 10 mins | ---- |
QUICK GLANCE for Syma X8G
Quick Speces
Flight time: 7 minutes
Flight range: about 100 metres
Camera: HD 5MP 1080p 30fps
Sensor:  barometer, out of range/low battery alarm
Size: 50 x 50 x 19 cm
Weight:1.54 pounds
Transmitter: dedicated physical transmitter
Battery type/size: 7.4V 2000mAh lipo battery
Battery replaceable: No,  inbuilt
Charge time: About 70 minutes
Flight time: 10 to 12 minutes
GPS positioning: N/A
microSD support: N/A
Distance: 100 metres
Wifi technology: 2.4G anti-interference technology
Special features: :Video/Photograph/Raise & Down/Forwards & Backwards/Left & Right Turning/Left & Right Flying/Hovering/360 Degree Rotating
Pros
The device is easy to set up and fly.
Syma X8 comes with an 8M MP camera but can also work with external GoPros.
The drone has really strong motors that contribute to the stable and organized flights
The build quality is also pretty impressive with a very reliable design.
The flight time of 12 minutes is above average for drones of this size.
The headless mode functions and the acrobatic stunts like 3D rolls are especially useful features for the quadcopter.
Cons
The drone provides an 8 MP camera, but it could do a lot better in this regard.
The charger appears to be very slow and takes more than 3 hours to get the 2000 mAh battery charged.
The propellers seem to be a little weak, as expected. In the case of a collision, these are the parts the drone would lose the first.
IN-DEPTH VIEW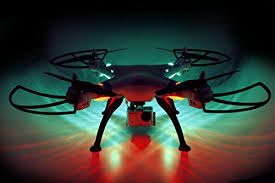 *  Packaging
The Syma X8 is 19.7 inches x 19.7 inches x 7.5 inches in dimensions and the whole package has a total weight of 3.45 pounds. This is, in fact, a lightweight drone and comes in a very compact state. The package includes the following:
Syma X8 quadcopter
One transmitter
One HD camera ( 8 MP )
One holding case for the camera
Eight pieces of rotating blades
Four protection frames
Four sets of landing gears
One USB cable for charging
One LiPo battery of capacity 2000 mAh
One memory card for storage
One USB card reader
One screwdriver
One user manual
The whole quadcopter packing has been done very efficiently and here is a sneak peek into unboxing the Syma X8 package
*  Design
When we talk about the design of the Syma X8, this product stands out rather well. It comes with a very well-designed and efficient body which contains an enclosed battery compartment, motors, and gears.
Moreover, there are also some enclosed LED lights that help in navigation, especially at night. The battery compartment has turned out to be very spacious and it can accommodate the 2000 mAh battery very easily. However, it should be handled with care such that the wires are not affected.
There is a 6 axis Gyro that comes with the drone along with a 3D lock system. This makes it more organized and more capable of using the power of the device. Besides, the blade protectors that come with the drone are made from high-quality plastic such that the blades do not undergo any wear and tear during the flight. This makes the blades possess anti-collision and anti-fall performance features.
The propellers provide the required strength and power to the drone and add to the excellent build quality of the copter. The landing gear should also be mentioned in this aspect. In spite of being slightly light and fragile, it prevents the drone from occasional casual clashes.
Talking about durability, the material of the drone seems to be strong enough to absorb some of the main shocks and crashes. So, in spite of its small size, this quadcopter is well suited to some rough flights. The LED lights are protected by the large transparent plastic casing. So, it turns out to be a very durable and reliable product.
*  Camera
The camera is indeed one of the most talked about features of this drone. It has an 8 Megapixels HD camera that does aid in aerial photography. It supports video recordings at HD 720p and 1080p. This ensures you rather good quality shots from mid-air. The camera, however, cannot work independently of the drone.
It has to be connected to the Syma X8 quadcopter in order to work well. This is because it does not have power or control functions unless connected to the drone. The 8 MP camera works pretty well for recreational purposes. But if you are into professional photography, you might need something better than what this device offers. If your idea is to fly for fun and want to get a few aerial shots in the process, this is your ideal drone in the price range.
*  Battery & Flight Time
As far as the battery of the drone is concerned, it is pretty good. The 2000 mAh battery is more than enough to support the drone. The battery works on a 7.4 V requirement, which means it can be charged via a USB cable. For a better understanding of how RC batteries work, we suggest that you also read our article about drone batteries.
On an average, most batteries for drones of this size come in capacities of around 700 mAh and the Syma X8 fairs really well in this regard. Given that the battery capacity here is decent, it usually translates to considerably better flight times. However, the big battery also ushers in a long charging time of around 200 minutes.
Now we come to the all-important flight time of the drone. First and foremost, you need to understand that the takeoff weight plays an important part in gauging the overall flight time. Here this drone scores well with the overall weight being low enough to facilitate a smooth takeoff.
The average flight time offered by this drone is around 12 minutes, whereas the standard flight time for most drones is about 10 minutes. Since the drone contains a powerful camera of 8 MP, the battery needs to be larger in order to bring in longer flight times. One thing which you should know about is that the drone can fly longer with the lesser payload. So it is up to you to make sure there is no extra weight on the drone.
*  Controller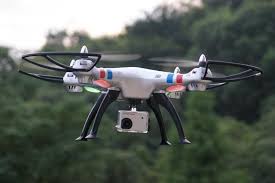 The Syma X8 controller is considered to be a standard transmitter. Although the design is a little traditional, the functioning of the controller is good. The best thing about it is that it is lightweight, which means you can easily manipulate it while the drone is in flight.
Here you will need to use 4x AA batteries to make full use of the controller. The controls are more or less simple: two joysticks, two fine-tuning and sideward switches, and power button and battery indicator. A minor issue with the controller is that it doesn't have any camera mode which means that if you want to check what the camera is doing then you will have to keep your eyes on the LEDs of the camera at all times.
Moreover, the controller offers you two different modes to enhance your experience. The first mode which is mode 1 is the standard one and the second mode is the high-speed mode. At the end, it is worth mentioning that this controller allows you to transmit signals up to a distance of 100 meters which roughly translates to 328 feet.
*  Flight Performance
For a drone of this size, the Syma X8 gives a fairly decent flight performance. It has a 6 axis flight control system which leads to a very organized and directional flight. This drone is suitable to be flown both indoor and outdoor and it can even work against medium winds when outdoors. This can also be attributed to the slightly heavier weight and high power of the motor. This drone is also capable of performing a few air stunts like a 360-degree eversion stunt.
Moreover, for nighttime flying, the LED lights will help you keep track of it. The Headless mode makes flying a lot easier especially when you want to concentrate on taking good pictures. Now let us look into some numbers for the flight performance. The drone can work conveniently well for as long as about 500 feet from the operator. The maximum flight time noticed on the drone is 12 minutes, without a camera. With a camera, the number reduces to around 9 minutes.However, there are ways to keep your drone in the air longer.
*  Value for Money & Guarantee
This drone is available for a pretty nominal price. In comparison with its price, it offers high-quality performance. The drone has good enough specifications with a camera that can capture some clear and crisp pictures from mid-air. The flight time is pretty decent, if not something extraordinary and it will give you a more or less stable flight owing to its powerful motors and heavyweight. So, this is indeed worth the money you spend.
However, there is one thing to be kept in mind here. If what you are looking for is a good quality camera that can capture the best aerial shots in HD quality, you have to look elsewhere. The Syma X8 is perfect for casual flights and hobbyists who want to fly a drone and take a few pictures in the meantime. This might not be the ideal product for professionals who want a high-performance camera and longer flight times.
Unique Features
Drones are getting more and more popular with each passing day and this is because more people are now aware of the features a drone has to offer. While some use a drone for recreational purposes, using it for a casual and occasional spin, practicing the flying skills, others tend to be more experienced and professional about it, engaging in serious aerial photography and videography with drone racing and the likes. The drone in question here, Syma X8, is one device meant for recreational purposes.
This is a rather powerful product that comes with a good and reliable build. It comes with an 8 MP camera that captures decent pictures from mid-air, but the impressive part about this drone is the long battery life of 12 minutes which is more than average. The Syma X8 offers some rather interesting features that can excite any enthusiast. Such as
Headless mode is a feature that most of the better-priced drones possess. This mode allows you to control the drone based on your direction and not the drone's current position. For instance, if the drone seems to have shifted because of some obstruction and changed its orientation, it will be difficult to control the device from the ground.
On the other hand, with the headless mode on, the drone can go either in the forward or backward directions, based on your position. That means the forward direction is no more the nose direction for the drone. This is all thanks to its Intelligent Orientation Control.
Air stunts – the drone is meant for hobbyists who have a knack of flying. Because of its compact structure, it can have acrobatic flights in the air. It is thus capable of making a few stunts like a 360-degree roll, continuous rolls, and the likes. The blades are strong and help the drone in its flight.
SIMILAR MODELS
1  Cheerson CX 20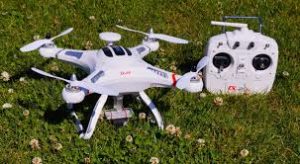 (
49 customer reviews
)
The closest competitor to the Syma X8 is the Cheerson CX 20. This quadcopter also offers a high-quality performance with features like Intelligent Orientation Control to back it up. When we talk about the flight time, this device can give us numbers around 15 minutes, which is pretty impressive. The operating range is significantly better than other drones here with a value of 1500 meters that makes flying a drone more interesting. It does not include a camera in the package but can be attached separately to the drone.
The body of the motor is made of plastic and the rotors are made from carbon fiber. This makes the drone a lightweight device and easy to fly around.
On an average, it reaches a maximum speed of 8 m/s which gives the users a lot more to hope for. But it makes up for it with some features like the Position Hold system, automatic landing, and return-to-home features. Everything considered this is a power-packed drone at this price.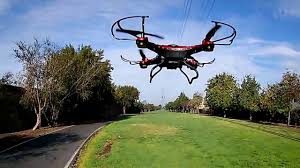 Price:
$70.89
(
24 customer reviews
)
(* = affiliate link / image source: Amazon partner program)
Another name we need to take note of here is the JJRC H8D. This smart looking drone has a very compact appearance with a set of strong motors and propellers. This drone is ideal for hobbyists who are looking to experiment with some small-scale drone flights. It offers a flight time of only 8 minutes leaving the users much to be desired for.
The camera is also not one of the best with a 2 MP camera that records videos at 720p. However, the drone can be controlled at a distance of 300 meters which is pretty impressive for a drone of this size and at this price. Moreover, the device is also lightweight making it easier to control, but not light enough that it flies away with the wind.
It also comes with interesting features like the Position hold, Altitude hold, Return to Home and the likes. The best part of the average camera is the facility for live viewing of whatever the drone sees, making it a drone suitable for First Person view.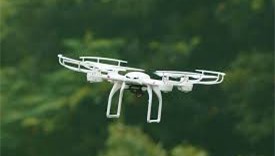 Price:
$49.99
(
54 customer reviews
)
(* = affiliate link / image source: Amazon partner program)
Another really cost-effective product in this genre is the MJX X101. It is a remote controlled drone that offers a flight time of 10 minutes which is decent. The camera, however, needs to be separately installed on the device for getting a taste of aerial photography.
4  MJX X101
It is an RTF drone that does not require too many installations and attachments to be done. With the Position Hold feature, you can keep the drone fixed at one spot in mid air while you take a bird's eye look around.
The manufacturer has also integrated a new Headless mode that makes sure that navigating the device is a lot easier. The drone offers some LED lights for easier visibility at night and it capable of making a few 3D rolls in mid-air. With a smaller battery of 1200 mAh, it does not take long to get charged for a flight.
FLYING EXPERIENCE (Tаking Control/How it works)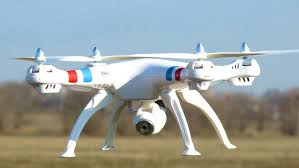 Price: $134.91
You save: $5.08 (4 %)
(
58 customer reviews
)
(* = affiliate link / image source: Amazon partner program)
Equipped with the latest 6 axis flight control system, X8G ensures a direction stabilized flight. Both indoor and outdoor, this drone is easy to maneuverer, in outdoor it is capable of flying on medium wind. Since it has a bit of power, and it is a large and heavier drone (50 x 50 x 19 cm), don't worry about it flying away with the wind. You safe. Syma X8G also features headless mode, in this mode, the pilot has no need to recognize the position of the quadcopter head, he just needs to control the aircraft according to with the direction of the remote controller. If you enjoy performing air stunts, the controller has a button, when clicked, the drone performs a 360º eversion stunt in air. Fun to take it to the park and amaze everyone with some aerial tricks!
Bright LED lights will able pilots to fly during night and blade protectors and a (somehow fragile) landing gear will keep your drone safe from casual crashes. Most important, X8G packages comes with a holding case for the camera. While it is not a gimbal or anywhere near, it is an affordable version of a mount, which will be absolutely useful to protect your camera.
Initial Setup for the Drone
The initial set up isn't too difficult, once you know how to do it and this is the first place where most people get confused by the included instructions. The three assembly steps are to attach the landing skids, the blade guards and the blades themselves.
Attaching the Landing Skids
Attaching the landing skids to the Syma X8G is pretty easy and is the first thing you are expected to do. Just flip the body of the drone upside down and you can see from the pair of screw holes near the base of each arm where they go. Use 2 of the screws with the wide heads for each one.
Attaching the blades on the Syma X8G could be the hardest part for most users. The drones mostly come with a spare set in the box, so initiall you will think you have to attach 2 blades to each arm! Once you realise this isn't the case it won't be so difficult.
First step is to remove the white plastic collar attached to the motor. Do this by rotating a quarter of a turn and then pushing out the little metal pin. Remove completely before putting the blade on and reattaching the white collar in the same way. Finally, push the decorative silver cap on.
Note when attaching the blades that the blades with an A need to go on the arms with an A and the blades with a B need to go on the arms with a B.
Attaching the Blade Guard
Some people fly without blade guards but if you're a beginner, I would definitely recommend attaching them. They're quite fragile but don't worry, they're very cheap to replace!
First thing is to remove the little black plastic insert at the end of the arm, then push the blade guard into the slot and secure with 2 of the small screws. Then repeat for the remaining 3 guards.
Conclusion
Drones are available in different forms, sizes and price ranges. It is important to know the purpose of using the drone before you actually get it. In the case of the Syma x8, it is mainly used for recreational purposes where the user can have some hands-on experience in flying these unmanned aerial vehicles. The camera is decent enough to get you some crisp shots and videos. The flight time of 12 minutes will be more than sufficient for this purpose.