It might have an unusual name and it might be small, but the Parrot Rolling Spider drone is a real draw-card – it's rated as one of the most loved and popular drones around on the market. But it makes sense – just look at it. It's got such fascinating features and people on seeing it, are intrigued to know more.
[rwp_box id="0″]
[asa2]B0714DDPCY[/asa2]
Dying to know more, right?
Let's first get the specs behind us before looking at all what this drone is all about

First of all, there is no FAA registration required for this drone. If a drone weighs between 250 grams (0.55 pounds) and 25 kilograms (55 pounds), it needs to be registered. The weight of our Spider is only 55 grams.
It is able to fly outdoors and indoors, with a speed of 18 km/h or 11 miles/hour.
Very stable.
It can do 90° and 180° turns and can perform 360° acrobatics both backwards and forwards – also to the right just by tapping twice on the control screen.
It's got a propeller circuit breaker should it crash.
It has removable wheels. The wheels can roll on the floor, the walls even across the ceiling.
You can take aerial shots and videos in the sky with your embedded little vertical camera which is connected to your smartphone.
Designed to Last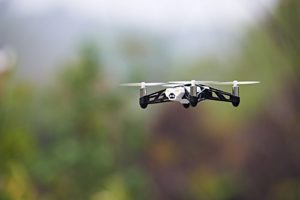 This little drone is made entirely from plastic, very similar to most of the other drones. But you can see with this drone that the designers kind of really considered design; maybe that's one of the reasons it is so popular. Look at the 2 LED lights on it that look like it's looking at you, ready to do your command. When you are charging your drone to your USB power-source, these will come on. It certainly is durable too; according to reviewers and users alike. Usually when it falls, it still stays intact. If there is going to be damage, it usually is the rotor blades. But these can easily be fixed by just putting them back on again – no hassle.  Should you actually damage the rotor to the point that you can't use them anymore; they are easily replaceable and cheap too, at just around $6. But look see, this mini-drone has got another great feature – it's got ultra-sonic sensors:
a 3-axis accelerometer
a 3-axis gyroscope
a pressure sensor in order to keep it stabilized and for better flight movement
Most fascinating probably are those two wheels, big wheels that make it look like a spider crawling around on the floor. It's just like playing with a remote-controlled car then. These wheels are kind of protective too in that they prevent the drone from bumping into things like the ceilings or walls when it's flying inside. Another 'like" for this drone is with the fabulous features and functions it has, it comes in as great for beginners. Regular drone pilots find it a bit of a "must-have".
Another fascinating feature is the Spider's camera
Because you do the controlling of your drone through your phone, you will be able to actually double up on your phone's camera to take your pictures and to record videos.
Unfortunately though, the video does not support any audio records, so you won't get any of that from your recorded files. However, with your recording system, you will get quality. The higher the quality of your smartphone camera, the better pictures you will get.


If you do want to record videos in high resolutions like 4K, being a photography/video enthusiast, you will find the inbuilt storage available on your phone useful. It's because the high resolution videos tend to be heavy and can use up plenty of GB storage space, like more than 8 GB for instance.

If you exclude the camera on the front of your drone, you can fit an in-built camera to the bottom of the drone. Then you can take drone-selfies.

What is great is that you free yourself from the hassles of transferring from the SD card to the computer to upload your files. It's not anything majorly fantastic the inbuilt camera with is resolution of only 0.3 megapixels This means you are not going to get the best of the best in quality, but nothing really to complain about.
Like a lot of the drones, the little Parrot Rolling Spider mini-drone seems to disappoint a bit as far as the battery is concerned.
The drone comes included with a rechargeable battery of 550 mAh, and this gives you around 8 to 9 minutes of flight.
Some say the reason there is such a short battery life even though it has the higher capacity, is the sensors. The sensors which also come included with the drone, do eat up the battery time. But it's these sensors which give your drone its good flight stability. Anyway, there are spare batteries available for sale by Parrot themselves. The price of the battery will cost you about $20.
When you are charging your drone, you can expect it to take around 90 minutes. You need to charge the battery properly though – it's important because you want to get the most out of your battery. 
It does not seem, from research, that there are any higher-capacity type batteries for you to find out about either. And rather don't do any modifications on your drone around the batteries – only if you don't mind the consequences if it doesn't all work out.
Like on all drones, there is the controller
Parrot Rolling Spider

There is no remote controller. Parrot has made things simple for users to just simply use an app on their phones in order to control their drones. And many users say it works fine. By having the app – FreeFlight 3, you get other features too than were you to use the traditional type controller. You can choose from different controller types for example and also choose different altitude limitations. Did you know you can limit altitudes? Yes, as well as rotation – via your in-app settings. Check the settings.  If you are new to drones, you might find this easier for learning. With the app, you will also find settings for take-off and landing as well. With these two functions you needn't worry about making a mistake if you are new to flying drones.

If you are going for the controller method, it does come with its limitations. The controller operates via 4.0 Bluetooth which means your range is lower than probably what you get from flying the drone via Wi-Fi. Using Bluetooth also can sometimes cause the controlling system to be sluggish when moving further away. Luckily this can be fixed with a firmware-update. You can perform this via your app itself. This app is applicable to both the iOS and Androids.

As far as the actual controls go, you can easily perform some backward flips and tricks with the flick of a few buttons. But what is really enjoyed by enthusiasts, is the Flypad mode wherein the accelerometer sensors are disabled and you are left with better control over your drone. This allows you to bypass the limitation of a stabilized drone. Now you can do some special little tricks like trying to navigate yourself through narrow spaces.
Let's help you to get up and flying with the Parrot Rolling Spider.  It certainly gets around and pretty fast, getting up to 18 km/hour and at a height of about 20 meters as well. Weighing in at only 55 grams, it's small enough to touch down on your hand – it's great for flying inside. The big wheels which are detachable allow the drone to bounce away from barriers such as the floor or ceiling.

It's unfortunate though that the Bluetooth connection can hamper control when the drone is going faster and at further distances. That's a bit of a downside actually. Another one you could say is that there is no on- and off-switch. This can be kind of irritating when you want to fly the drone. Then you've got to connect it to the PC/laptop and then unplug it to get the drone activated (and this is even if the battery still has some charge left in it).

But there's a plus as well. It's a brilliant little drone and capable enough of hovering just off the ground when it has lost connectivity, so it doesn't crash down on to the floor or ground.  Once you're close enough and get reconnected to it, you can start flying again. The professional drone users are recommended to take off the wheels to save on weight.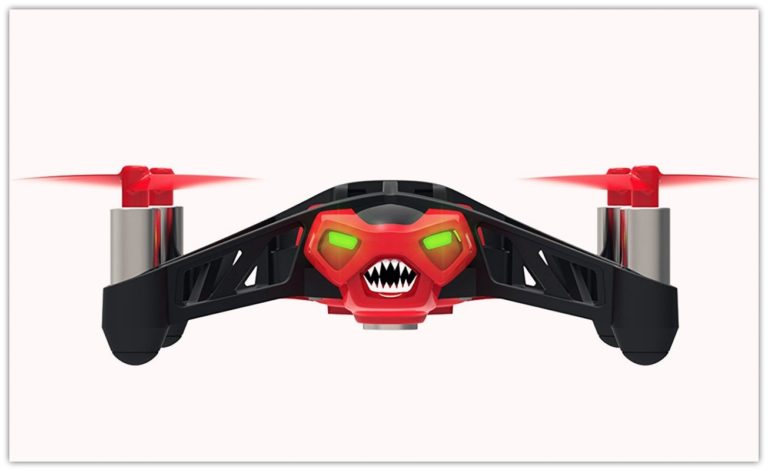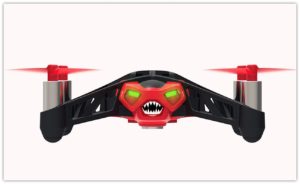 It's going for around $105  right now, not too high at all. And you really get something for what you paid for in the Parrot Rolling Spider. You also get a 12-month guarantee from parrot for the whole drone. Naturally, this doesn't apply when the damage was caused due to user error. Parrot is eager to keep the products updated all the time, so the apps that get updated will find that the controlling of the drone gets better.
Look at these models that are similar to the Parrot Rolling Spider drone:
[asa2]B00TI7QILG[/asa2]
[asa2]B0187DY0HA[/asa2]
Pros and Cons
Finally, one has to admit that the Parrot Rolling Spider mini-drone is generally an excellent drone with a couple of drawbacks, like most of the other drones. You can make your own decision by looking at what other people who have bought this drone have to say.  Look at the pros and cons listed below and you should then have quite a good idea if this is the drone for you.
Pros
Cons

Very effective stabilization
Good and innovative features
Good flight performance
Very good durability
Comes in at a fair price

Quite a low battery life
The controller range is limited
The battery takes longer generally to charge up
Is it still worth the buy a Parrot Rolling Spider?
Yes, if you are looking for a fun toy. It does get addictive. There is really only one question you have to ask yourself –what will you do when the novelty wears off? It's because this drone hasn't got games to keep your interest up as you would get with the Spider's big brother, the AR drone. You need to weigh up this little drone against other remote toys too – then you will know if it's the one for you. The biggest drawback is its short battery life. But as an entry drone, it's highly comparable, even better than other beginner drones when it comes to using the smartphone as the controls and the flight time.
With all that it's got going for it, the Parrot Rolling Spider invites you into its web of intrigue; it dares you to try it!
[asa2]B0714DDPCY[/asa2]