[rwp_box id="0″]
All of a sudden, as soon as Drone technology has launched into the market, the modes and methods of using technology have changed. It has developed the ways people handled capturing pictures, gathering information and exploring and monitoring even the God-forbidden areas. JXD 509G, however, is the most futuristic-looking drone available in the market right now. But are all the specifications in it make JXD 509G  the best buy?
So far, the JXD 509G drone was the first one to introduce altitude holder feature in it. This Quadcopter by Pioneer was also the first in its bracket to incorporate powerful and useful features like high budget drones, though at affordable rates.
Also, if you have an inclination towards FPV (real-time video transmission), with the complete package, JXD 509G is the right choice for you. Being said that, let us take a more detailed look of the gadget.
[asa2]B015KLJF4U[/asa2]
JXD 509G Review
Here is a detailed JXD 509G review which provides for an insight into the features of the drone and its relative information that one shall require.
Specifications
HD camera to capture unforgettable memories with 5.8 G real photo transmission
Fly up, fly down, fly left, right and sidewards, turn left and right and hiver features are available
An in-built and advanced function of shoot video and figure pass
Flight movement includes- hover, turn left, turn right, Roll and 3D
High-performance rechargeable batteries
Flight battery: 3.7V 600mAH Li- Po battery
Transmitter battery: 4* AA battery
High density air pressure sensor to keep up the height
6 axis gyro for stronger stability and easier control
9- 10 minutes of flight time
What's Inside the Box?
When you receive the box of JXD 509G drone, the first thing that you would notice is a very bulky and heavy rectangular box, packed with shock absorbing plastic wrap and styrofoam. Once you open it, you would see the box would contain the following in it-
One Drone
One set of JXD 509G manual
One phone clip for the transmitter
One full set (includes 4 pieces) of protective rings for the propellers
Two charging cables
Two special screwdrivers
One lithium battery that needs to be installed before the first usage
One full set (4 pieces) of propeller blades
One transmitter
Customers can choose between the available versions and opt either for a video monitor or a phone clip. In that case, the customer will receive one extra set of complementary propellers or a battery.
It is always advised by the makers of JXD 509G FPV drone that the customer should buy 3 to 4 extra batteries and propeller blades. Neither the batteries nor the propeller blades are expensive. So one should buy a few extra in order to fly for rather long hours.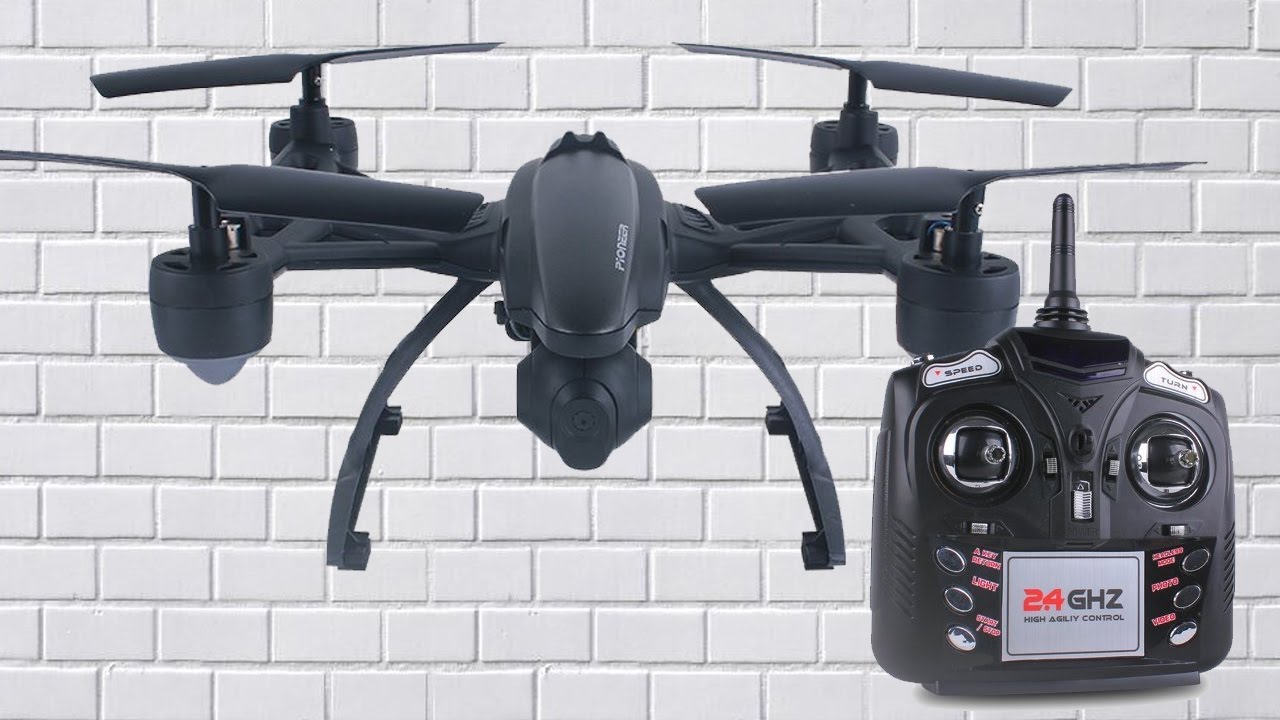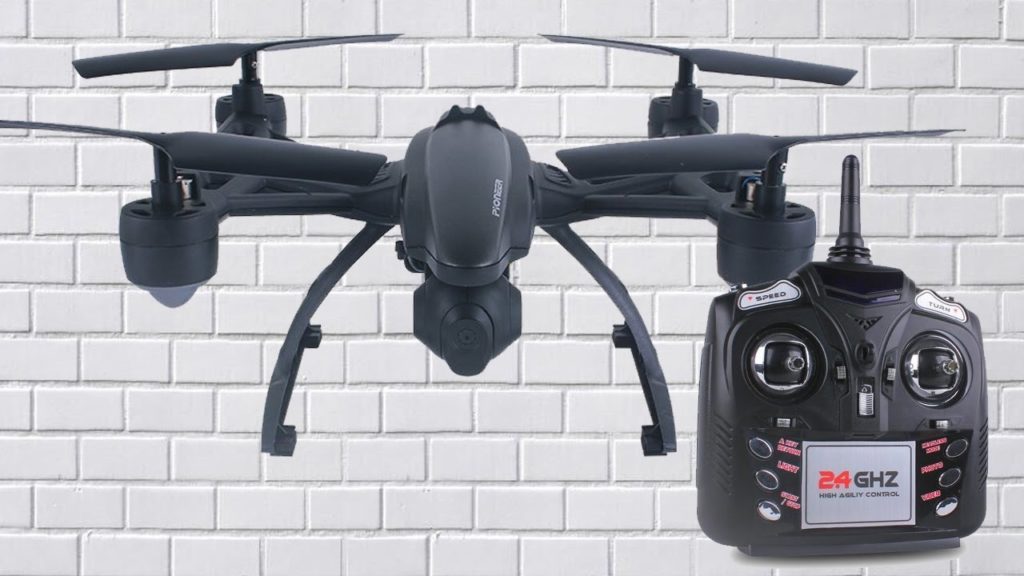 Design and Performance
JXD 509G comes with a sleek shape, combined with an elongated design. The gadget is also way less heavy when compared to the other drones from the same family. As we mentioned in the former sections, this gadget comes with one full set (includes 4 pieces) of protective rings for the propellers, as said in the JXD 509G manual. These rings save the drone against collisions and bumps caused by immediate landings. This is because from the very beginning this drone was designed to work with the air around it.
Also, if you check the propellers of this particular drone, you would find it a little asymmetrical. When compared with the same gadgets from the same category, most of those have perfectly aligned propellers which form a square type shape.
Coming to the better part, the drone undoubtedly consists of one solid body and guarantees durability. Also, there are no balance and stability issues with this drone. Plus, this JXD 509G is designed with an FVP screen and a hood on it to prevent damages caused by sunlight.
Advance Controller
This drone incorporates a 5.8 GHz controller along with a video monitor and phone clip choices. The video monitor is wonderfully synced with the camera providing the user with sharper and clearer images. Also, this wonderful JXD 509G FPV drone can be controlled using the pinching technique. Go through the JXD 509G manual for more details. As felt by most of the users, this controller is more like a remote control but does not affect the flight performance.
Battery
JXD 509G battery comes with a 3.7V 600mAH Li- Po battery that users can charge within one hour time. So when a user is transmitting a real time video, the JXD 509G battery life stays upto 10 minutes.
Propellers
The JXD 509G has been introduced to function well on high altitudes. This drone can sense and lock the altitude, making it stable while flying. The body of the drone has been designed with great aerodynamics, hence allowing it free to move in the air. The JXD 509G allows a full FPV over 80 meters. Also, when you disable the FPV, the flying range increases upto 120 meters. It has 6 axis gyros that allow agile and 360- degree movement. While filming videos at a better signal range, one can perform air tricks, barrel rolls and loops with this JXD 509G as well.
Camera
JXD 509G has an inbuilt 2-megapixel camera along with the 720mp resolution. The package comes with an LCD screen to display live video and a 4GB micro SD card. However, while recording videos, one will experience considering the amount of jello effect in it. Surprisingly, when the live video is transmitted to the FPV screen, gives a good quality with lesser jello effect. Once can tilt the camera up to 20- degrees and not more than that.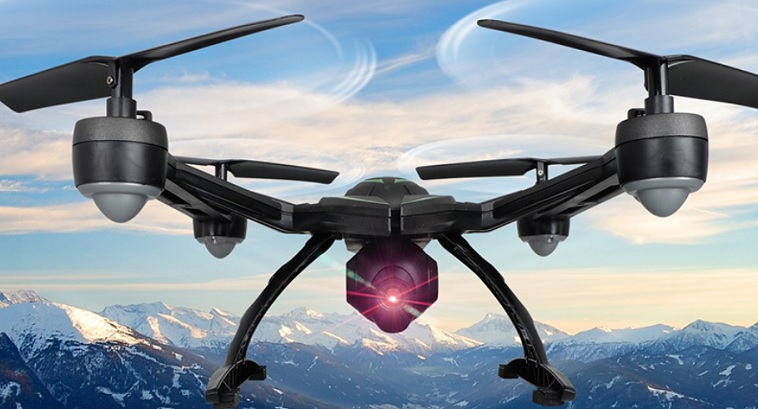 Customizability
JXD 509G come all installed in the package. One has to install the propeller blades and batteries once received.
Advance Price
The price of JXD 509G roughly varies between $90 to $100 across various online stores. Although it's not considered within the belt of expensive drones available in the market, considering the features and available pros, it's the best your money can buy.
Coming to the money back guarantees, this drone comes with a standard warranty. If found with fabrication faults, replace or refund of the drone are also done.
Pros and Cons
Pros
Easy movement of this drone ensures a smooth glide
The body is made of durable materials, giving it a solid finish
With guidance control sensors, this drone ensures stable flight throughout
A value for money purchase
Cons
The flight time could have been longer
As this drone is a bit smaller in size, it often gets turbulences and effects of the strong wind
Also, this drone has a lower control range
Finally, when drawing a conclusion of the JXD 509G review, we must say this is an excellent quadcopter within affordable range. With advanced design and performance, it will give the pilot a smooth flying experience. Also, being the most agile drone available in the market, it can capture videos and photos without being tilted forward.
With 3.7V 600mAH Li- Po JXD 509G battery and propellers to suit high altitudes, JXD 509G is juxtaposed with advanced technology, smoother performance and value for money.