[table id=16 /]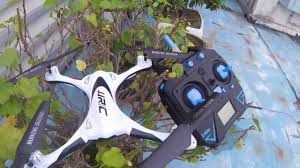 The H31 is sold in both white and green. It has a very similar appearance to the Yizhan Tarantula. It is a brushed, sporty quadcopter that is geared under each motor. If you do decide to leave the prop guards off, keep in mind that the gears are exposed and open to the elements. Sticks, leaves, hairs, and other small objects can get stuck in there and cause the motor to stop running. They can also damage the plastic gears. Installing the prop guards will cover the gears and stop anything from getting entangled.
The body is made of a very strong plastic that is made to be abused. It is capable of handling all kinds of impact from hitting walls to free falling. It will even keep flying if the props get bent or broken. Talk about durability. In low rate, this quad is perfect for training beginners due to its slow pitch and yaw. This mode is also ideal for low wind/indoor flight. But, if the wind starts to pick up, this mode definitely won't be enough to fight it. Medium rate is the perfect flight mode for an intermediate flyer just looking to fly around. The yaw is a very nice speed and it has an ideal pitch. It also does not draw enough current to overload the battery. The yaw is unnecessarily fast; it spins about as fast as a top. The pitch is quite extreme as well. If you fly full pitch forward when you are about halfway into the total flight time, there will be a noticeable voltage sag. The amount of power it draws is just a bit too much for the battery.
The LEDs on this model are red and green. There is also a red LED on the front that assists in identifying orientation. The lights always flash when the drone is on; they alternate between dim and full brightness. They are a bit hard to see outside in full daylight but at dusk they are very nice.
Pros
Cons

Waterproof
Super easy to fly
Stable
Great flips
Has headless and one key return modes
Can withstand a lot of abuse
Easy to setup
Super low price

Will sink if the props are shut off in water
Crazy yaw in high rate is hard to control
The range is less than advertised
Specification
Flight time: 8~10mins
Flight Range: 70m or about 230ft
Camera: N.A
Special features: LED flashes
Battery: 3.7V 400mAh Lipo Battery
Charge time: About 60mins
Transmitter: Flips are activated by clicking top right button. The flips on this drone are quite impressive, even with the prop guards on.
Model: H31
Motor Type: Brushed Motor
Conclusion
This drone is truly waterproof. If submerged in water for about 5 minutes, it will definitely come out powered on and users will be able to fly it without a problem immediately after pulling it out. The power switch and camera port are open and exposed right on the front of the craft but this cannot cause any problem for the drone. The drone is prone to filling with water and sinking, so do keep that in mind when dropping it in standing water. The best method to keep it afloat is to maintain power to the motors to keep them spinning.
[asa2]B01N103IG2[/asa2]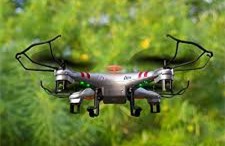 GP Toys H20 Aviax is one of the best mid-sized quad rotors. The power point of this drone starts with the advent of cheap MEMS gyros, smaller motors, smaller receivers and more powerful batteries. These new tiny gyros and receivers can fit on a small circuit board at a very low cost. Also, when you use smaller motors, you don't need expensive speed controllers. All of these factors brought the cost and size of quad rotors down to a point where the average consumer can finally afford one. However, it's hard to make a large quad rotor with a small motor. The solution seemed pretty simple – just gear the motor down – and the V222 quad was one of the first to use this technique, followed by the popular Syma X5C. The problem with gearing the motor down to make a larger aircraft is that you can end up with a lot of flight control issues if you don't do it correctly. Programming the flight controller and selecting the proper gear ratios are all very important and GP Toys did an amazing job.
The drone has a standard camera connection that you can plug a camera into. The transmitter also has a button that will take pictures and start and stop video recordings, so adding a camera is easy. The range was great at well over 200 feet and the bright orange body is easy to see from far away.
More Information About Syma X5C Drone
Features
A waterproof drone
Useful in any kind of weather
Comes with two batteries
Pros
Cons

Ready in the air with just 4AA batteries in the transmitter
A highly durable aircraft
Extremely strong plastic shell
All spare parts available

The aircraft came in an extremely small box for such a large aircraft
There is no port to reprogram the flight controller
Battery compartment is not waterproof and does fill up with water
Specification
Flight time: Approximately 8 minutes
Flight range: 200 feet
Camera: N. A
Special features:
Size: 7 inches 17.8 cm
Battery: LiPo 1S 650 mAh, 3.7 V 25c
Transmitter: 2.4 GHz
Conclusion
Despite the bright orange safety color of the canopy, the overall aircraft looks great. The solid outer shell looks very similar to a DJI phantom. The aircraft is smooth and sleek with a set of nonsymmetrical lines carved into the top of the canopy that reminds me of a prop from the movie Stargate. The lines are minimal, yet daring, and show a genuine desire to make the common canopy design look unique. Another feature that stands out is what looks like a small round antenna on the back of the aircraft. However, this round piece of plastic isn't actually an antenna. From what I can tell, it's just a taillight made to look like an antenna. It's made from a partially transparent piece of plastic and there is a small LED at the base to illuminate it. Its main purpose is to differentiate the back of the aircraft from the front while you're flying. It doesn't hurt that it makes the aircraft look more advanced by sporting a round GPS-looking device on the back, even if it is just for show.
There is also a set of vents carved into the plastic canopy, not for cooling, but to let water drain out. The H2O Aviax is made with a strong plastic shell, but the aircraft is not watertight. When you splash down, the aircraft will actually fill up with water, but the vents help the water drain out.
[asa2]B017124U8M[/asa2]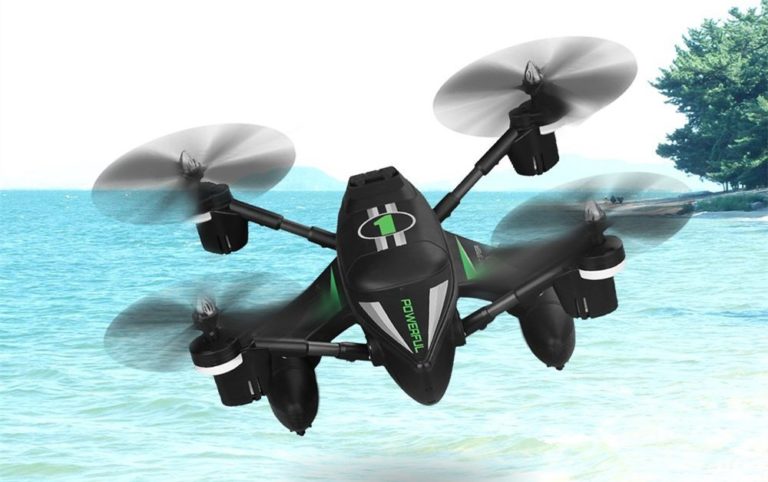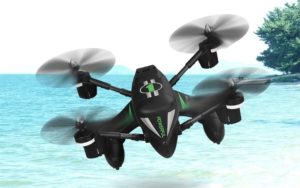 The Q353 Triphibian by Goolsky is an awesome waterproof quadcopter that's ready-to-fly right out of the box. It's uniquely made with a design in mind that allows it to support Air, Ground, and Water modes. Even if it's submerged or has flipped upside down in the water, it'll roll itself right way up easily. It also comes with a flashing LED light that allows for better visibility in low light settings. This is especially useful for when the drone is submerged in water. You'll be able to see where it is at all times. The orange color also helps with visibility when in the water, as well. This, paired with the flashing LED light, ensures that it's going to be very difficult to lose it in the water. The FAQ of the aircraft is stated below:
1. The aircraft fail to connect with transmitter.
First, battery fully charged, then power on the drone and the transmitter within 2 seconds.
2.  One or more motors don't work.
When binding, drone on flat surface, or motor damaged.
3.  Accessories missing
Check gift box package inside and outside carefully, or contact custom service.
4.  The aircraft is out of balance (can't fly, deviation, spinning on the ground).
Check the propellers is installed in the right way.
5.  During the charging, battery and charging cable melt.
USB charger only for DC computer USB port, never for AC circuit and remember never over-charging.
Features
Headless Mode, Air/Ground/Water Modes
Hovering, One Key Return
Uses a 6-axis gyro
Includes a flashing LED light
Uses a 2.4 GHz transmission system with 4 channels that have been improved for anti-interference purposes
Specification
Flight time: Between 6 to 7 minutes
Flight range: About 150m
Camera: N.A
Special features: Forward/backward, up/down, left/right, sideward flight, hovering, headless mode, one-key return, air/ground/water mode switchable.
Size: 36.5 * 36.5 * 12cm
Weight: 323g
Battery: 7.4V 1200mAh li-po battery (built-in)
Charge time: About 120 minutes
Controller: 2.4GHz mode 2
Channels: 4 Channels
Gyroscope: 6-Axis
Motor type: Brushed
Conclusion
The drone is built with a unique design to support air / ground / water mode 100% waterproof, even upside down in the water, it can easily roll up. It has a LED flash light that enables users to fly in the dark at night and easy to identify the head and tail. There is a 2.4Ghz technology adopted for anti-interference. It also has headless mode make your flight exciting and fun.
[asa2]B06XT2Y732[/asa2]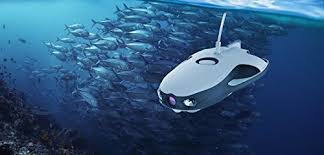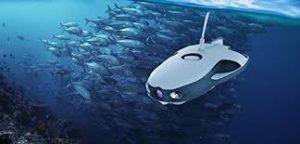 The PowerRay is a new, revolutionary water drone that can go to great depths, locate fish, and even cast the bait for anglers. What's even more interesting; this underwater robot can record everything happening down there, sending video back to a hand-held device. If you go for still photos, it can give you that one too. What makes anglers want to lay their hands on this drone is that it can do all the work, while you take a nap along the bank or beach. According to the PowerVision, this drone can detect fish as far as 40 meters away and can dive down to 30 Meters deep. Its Wi-Fi connection can send video, images, and data from below, to as far as 262 feet (80 meters) when something is nearby, as well as giving information about the terrain down there. Users can control the underwater robot to as far as 70 meters away. The drone can work both in deep cold waters and in medium temperature environments. When it comes to the controls, users of this PowerRay drone have even more to enjoy. Forget about the "precision remote bait drop" for attracting fish underwater, the powerful camera and the sonar detection, the best part about this drone comes in control. Users can rely on a hand-held unit for the controls and monitor what is unfolding beneath. Besides, anglers can also use their Smartphone, iOS or an Android app, which they can choose to receive alerts when the drone comes across something.
If you want to get the real experience of being in depth and seeing everything in the first person, PowerRay got you covered. With a pair of virtual-reality goggles, you can go down and back from your boat or the bank. The goggles are also capable of effecting controls, which you can manipulate by turning your head to the side that you want to get a view of, just a tilt of the head and you get a view of the terrain, fish, and beauty of the underwater world. What's more, as a user, you can get a clear view of the position of your drone. For the configuration, you can also select the travel mode that you want to set, as well as speed and the light settings using the electronic devices.
Just like any other appliance, the PowerRay drone comes with add-ons that add to its efficiency. The major and most important of all is the Sonar add-on. With this n board, the underwater robot can dive as far down as 98 feet (30 meters) and track fish as far as 131 feet (40 meters) further. The Sonar helps the device to achieve a pin- point precision accuracy of up to 3.9 inches (10 centimeters). What's more, anglers can also let the PowerRay into the water without having to connect it with the Sonar add-on, and still get an impressive performance. However, it is apparent that if you want something more than the obvious, the add-on is one thing you cannot leave behind. It means more adventure and more action altogether.
The PowerRay drone itself weighs 7.7 pounds, while the additional accessories add another 4.4 lbs. This offers a portable weight that will not sweat you out as you head down to the water. This underwater robot is made of the necessity for long hours of performance in mind. This is why both the PowerRay drone and the sonar add-on have long life battery each. The company says that these batteries can last up to four hours. This is sufficient time to take you through your fishing experience or give you enough portion of the adventure below the waves.
Features
LED blue hue lights
4K camera with high resolution
Sonar detection features
Prons
Cons

Can dive down to deep distances
Reliable and high performance features
Easy to use drone, simple features and controls
Long battery life
Lightweight

It is corded, which may limit its hands-free operation
It can be pulled away by big fish, which may require careful observation in the open sea.
Specification
Dive range: 98 feet (30 meters)
Weight: 7.7 pounds
Conclusion
The PowerRay drone is undeniably an exciting kit that anglers will be looking forward to adding to their fishing gear collection. This sturdy product will be the best in deep water fishing, both salty and fresh, as well as for everyday anglers and hobbyists. Furthermore, this drone can actually put food on your table, is simple and easy to use, and can perform to your expectation.
[asa2]B0746MJYYR[/asa2]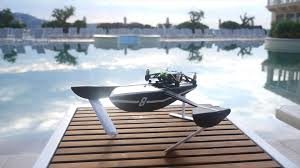 The Hydrofoil is a new drone from Parrot that's squarely designed to target the fun sector of the market. It comes in two variants, the NewZ and the Orak. The review unit was the Orak Hydrofoil drone, which features a stealthy-looking black hull. The small drone unit can be flown solo or placed into a support secured to the hull for on-water action. Out-of-the-box assembly takes only a few minutes. All you have to do is fix the foils to the hull and download the Free Flight 3 app. The end build is lightweight and fairly sturdy, although the protruding rear foils can sometimes shake loose if met with hard downward pressure. Battery wise, plugged into the mains you'll be fully powered up inside half an hour. Plugged into a laptop USB, however, it take three times as long – so try to opt for the former where possible. The Hydrofoil's battery life is short by drone standards. At full pelt I managed only about five minutes playtime on the water, and only a tad longer in flight mode. To start, the drone sits in the support unit. Once you open up the app in your tablet or phone, you'll auto connect via Bluetooth and the on-screen controls will pop up. If outdoors, bear in mind that the surface of water needs to be calm – paddling pools or ponds at a push, but certainly nothing tidal. There's no information on how the drone's internals might be affected by H O however. Taking to the water with a press of the "take off" instantly lifts the drone vertically 90 degrees and propels the hull. The on-screen speed and directional controls are intuitive, and within minutes I was having a ball making the drone do loops. On paper, the Hydrofoil isn't super-fast by drone standards. It features a maximum 10kmh speed on water, but it feels much faster and looks great. There is an on-board camera, but it's VGA-only and so doesn't offer an on-screen view. You'll have to wait to view your results.
Features
Five minute battery life
Multiple colour options
iOS and Android support
Pros
Cons

Impressive design
Decent app interface
Grin inducing tricks

App switching between flight and water modes is annoying
Battery life underwhelming
Specification
Flight time: About 5minutes
Charge time: 30mins
Conclusion
Aside from a battery life that could be improved, the actual flying time you get with the Hydrofoil is particularly enjoyable. You use the on-screen joystick-style pads to control height, speed and direction. One slight issue is that it does lag a little, so you need to ensure enough open space when taking the drone for a spin. In-air tricks are accessed in an on-screen menu. In general I found these were great; the quick 90- or 180-degree turn options worked a treat. However, the full 360-degree flip drained all my battery life.
[asa2]B0111O8VY0[/asa2]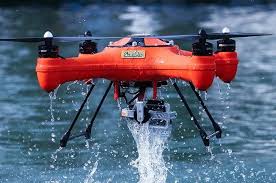 The Splash drone 3 auto 4k drone is an exceptional drone worked to fit in for all climate and furthermore for generally use. It is the most progressive Splash Drone waterproof drone at any point discharged. The advancement of this drone is because of years of experience and client criticism with an all-new flight PC, sensors and impetus framework to deliver a dependable, steady and flexible waterproof drone with Ultra HD 4K camera on load up. The drone can be flied easily and afterward arrive the Splash Drone with certainty on water, in rain and snow or simply back to earth. The Splash Drone 3 fuselage is made of solid 3mm strengthened ABS to guarantee a flawless waterproof seal. Every single outer part are consumption safe and intended for use in salt and crisp water conditions. New access bring forth with weight adjustment permits altimeter exactness without allowing the entrance of water. The effective new 620KV engines give solid execution, speed and lifting limit. An extraordinary covering framework guarantees most extreme protection from salt water erosion and power conveyance for take-off from water and in overwhelming precipitation. Upgraded 1242 carbon-fiber propellers are light and hardened to productively change the engines' energy into push. Another brisk fit outline empowers quick and secure connection of the propellers to the engines. The fresh out of the box new, completely waterproof 4K camera is settled and controlled by a dynamic two-hub (tilt and move) gimbal. Catch smooth recordings and sharp photographs both while flying and additionally submerged. The exceedingly delicate gimbal guarantees without shake film constantly, notwithstanding amid fast water arrivals, and permits the repositioning of the camera by remote control. The camera's outside glass focal point has an exceptional hydrophobic covering to guarantee an unmistakable, dry focal point.
Features
– Reinforced 3mm ABS Fuselage
– Floating design
– Corrosion-free materials throughout
– All weather use tested to MIL-STD 810 (rain and snow)
– Power and manoeuvrability to fly in winds and rain up to Beaufort Force 4 (18mph/28 kmh).
Specification
Camera: 4K camera
Special features: Smart Cruise, Payload Release Options, Tap to Fly
Conclusion
A completely new Flight Control computer, coupled with new sensors and a more powerful propulsion system, mean you can fly safely and smoothly and then land your Splash Drone 3 with confidence on water, in rain and snow or just back to earth. The Splash Drone's new flight software constantly check for errors and offers redundancy to improve flight safety and stability. The dual-mode GPS locks onto up to 24 satellites from the GPS and GLONASS systems for improved accuracy and speed of positioning. Advanced internal shielding of components and sensors allow for greater sensitivity and accuracy than ever. Even if you are beginner, flying the Splash Drone AUTO should be a stress-free experience. Link your mobile phone or GPS-enabled tablet to the included ground station and take control of the Splash Drone 3 auto with your fingertip! The Swell-pro FLY app enables several smart flight modes, which drastically reduces manual input from the pilot, making flying the Splash drone even easier.
[asa2]B071HQF33V[/asa2]