The popularity of unmanned aerial vehicles have begun to linger around us in unexciting ways, but the essentials of how drones work or how they can be used in the future are something that is reserved for the highly technical. This is the reason that makes the spirit of drone racing so exciting.
There is no doubt that drone racing is promptly becoming one of the hottest hobbies around the globe. With aerial photography, drone racings, and all other fun applications, have you ever thought of building your own drone? If you are new to drone racing and want to give it a try without the technical knowledge required to build your own drone racing kit, then you are at the right place. In the post, we will share some of the best ready to fly drone racing kits available in the market that you can avail without the worry and headache of learning to build one.
This is the review of 10 best drone racing kits that includes their specifications, specialties, and more. Each drone racing kit mentioned comes with the DIY functionality, that means you don't have to put much of your brain to it, you can assemble the drone following simple guidelines provided by the manufacturer.
It is important to find the best drone racing kit if you want to experience something good out of drone racing. Finding the best drone kits is not easy, but to your surprise, we have done the hard work for you. However, many people would think is it worth it building their own drone
[table id=50 /]
Is it worth it Building My Own Drone?
The best part about building your own drone is that it gives you the chance to learn a lot about unmanned aerial vehicles. You will gain enough knowledge to optimize your UAV so much so that you will be able to purchase and upgrade unique upgrades on your own. The drone kits we are going to present are for first-person-view and play, these are specially built for drone racing and hence do not expect them to perform functionalities like aerial photography and more. They can achieve what you want but as said earlier, their built and functionalities are racing prone, so you can't expect them to carry out other functionalities efficiently.
We must tell you that these drone kits are reasonably expensive which may leave you asking why to spend this much upfront. Well, we believe it makes sense in purchasing a quality drone kit to start with. And believe us; those cheap kits will fall apart after few uses. It is a waste of time and money.
So here are the best unmanned aerial vehicles kits along with their features and specifications that we believe will benefit with your drone racing ventures.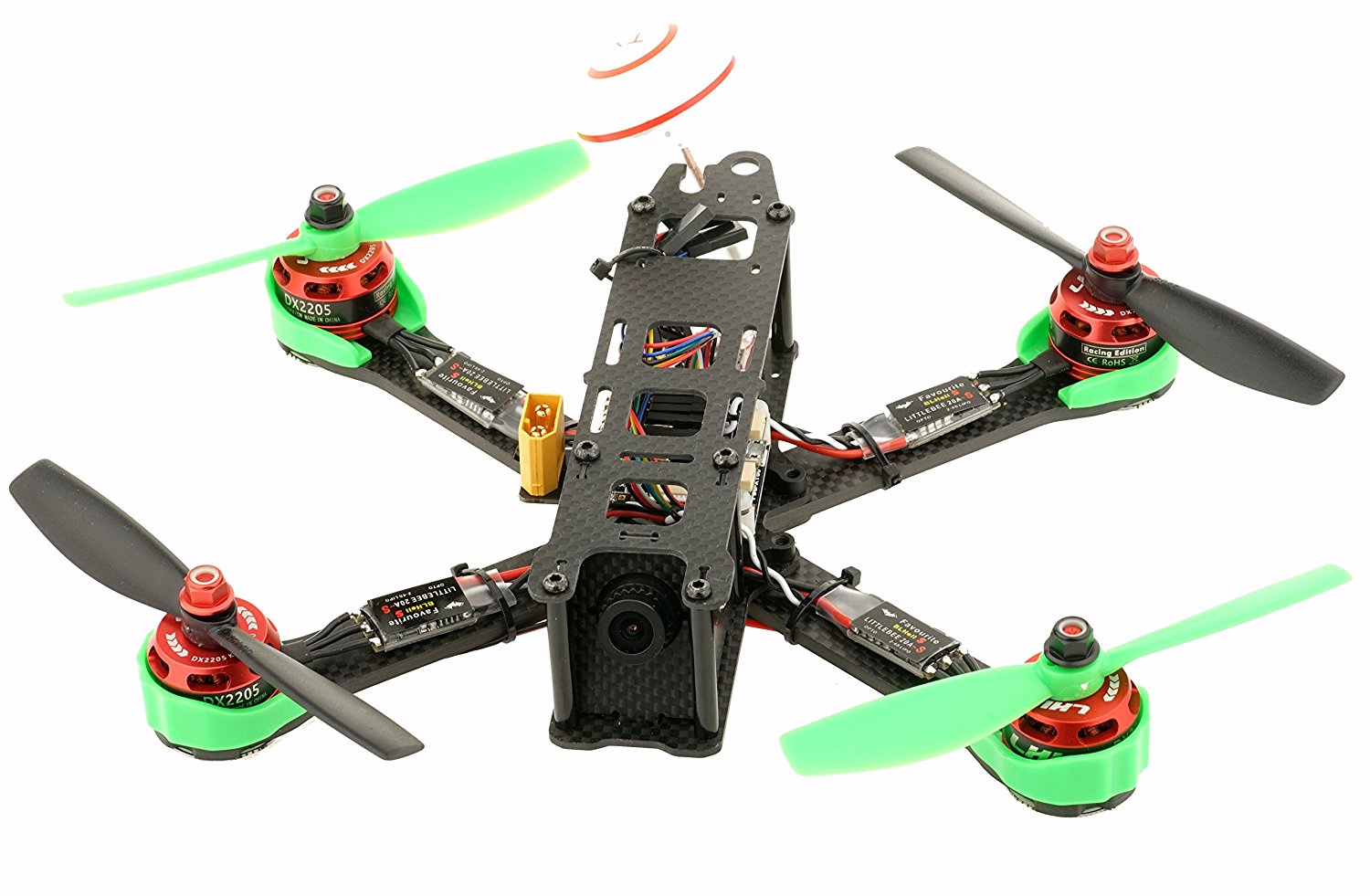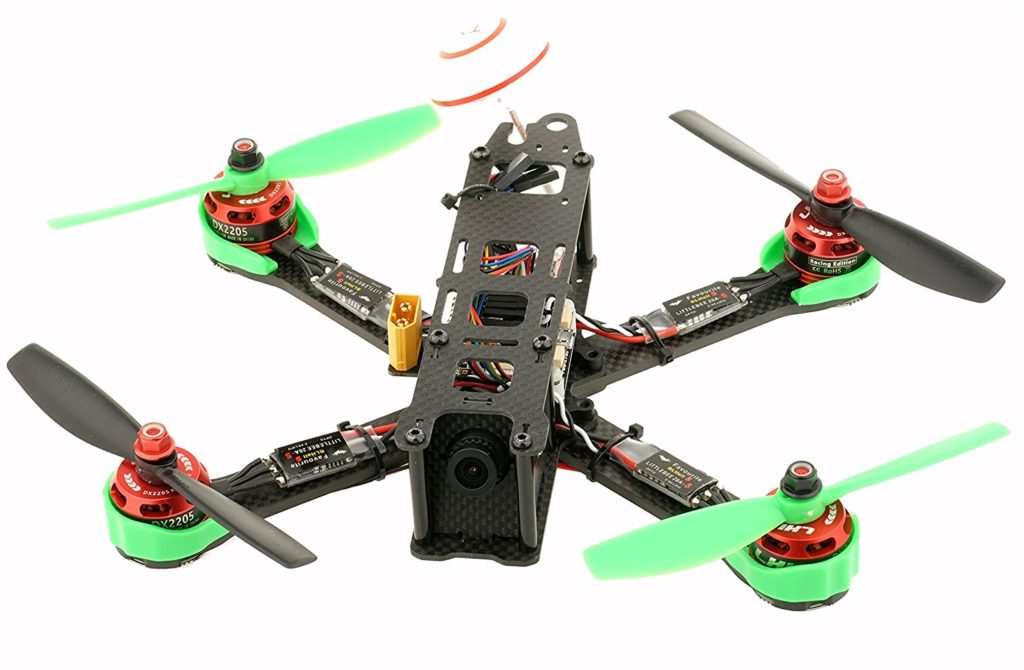 This quadcopter kit is one of the most popular mini-drone kits available on the market. This is the drone racing kit that you should go with if you are a beginner in drone racing. The best thing about this kit is its quadcopter frame; it is made from toughened plastic and can withstand any collision. This is currently the best drone racing kit under $200 that sports brushless DX2205 2300 kV motor, F3 flight controller board, and a Littlebee 20 A Mini ECS electronic speed controller. There is no need to purchase anything separately except the batteries and remote control, they are sold separately. It comes with all the hardware required to put together the drone and you will off to the races in no time as assembling the Kits and Components is not that hard. The only problem with this drone kit is that it doesn't come with an instruction manual, so if you are purchasing it may find it difficult to assemble it at first. But there are many recommended YouTube videos of this drone kit that you can watch to put the parts together correctly.
Another weak point of this drone kit is its 700TVL camera but it is feasible as it is a racing drone built for first-person view experience.
[asa2]B01L10S4YQ[/asa2]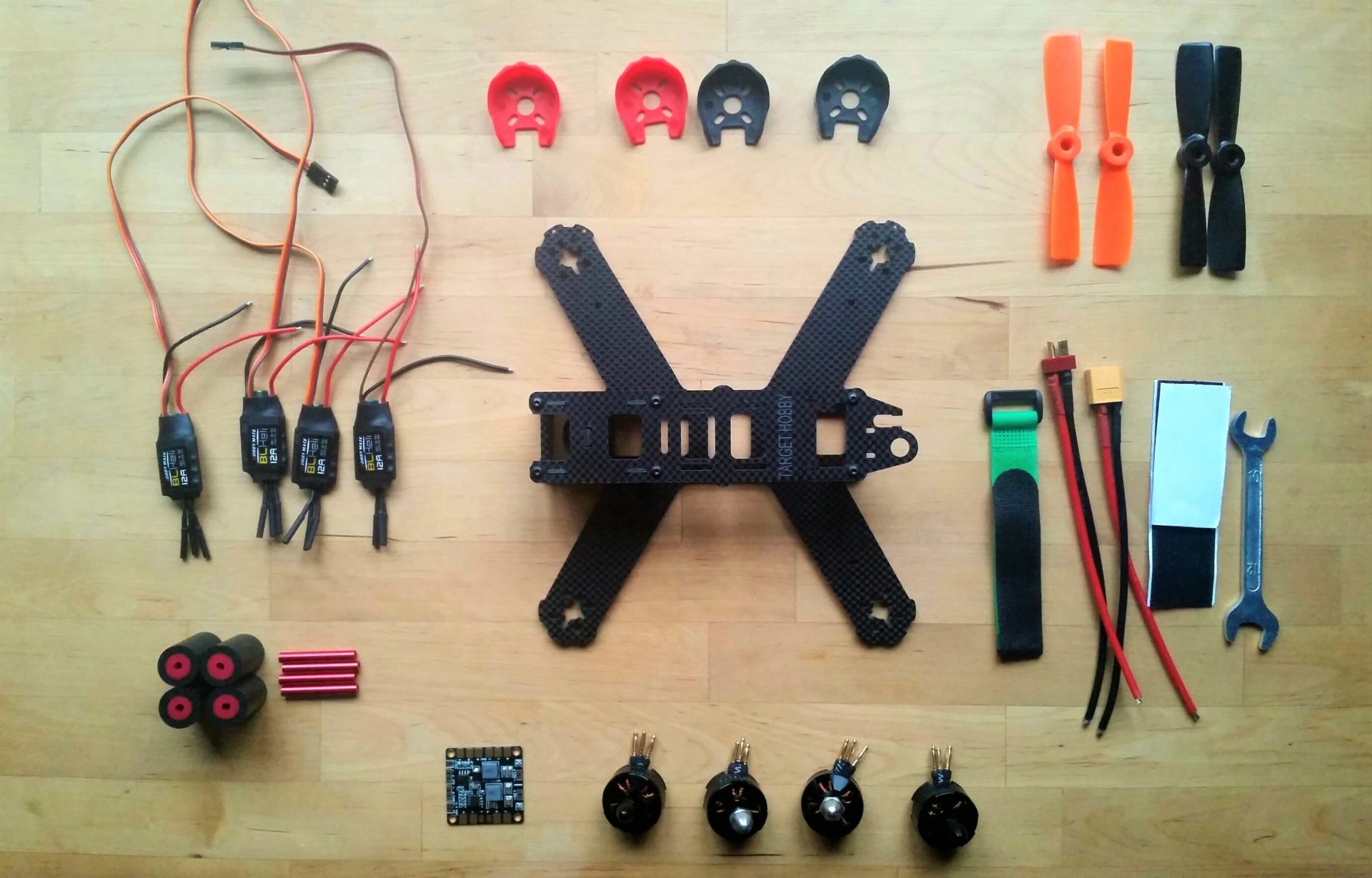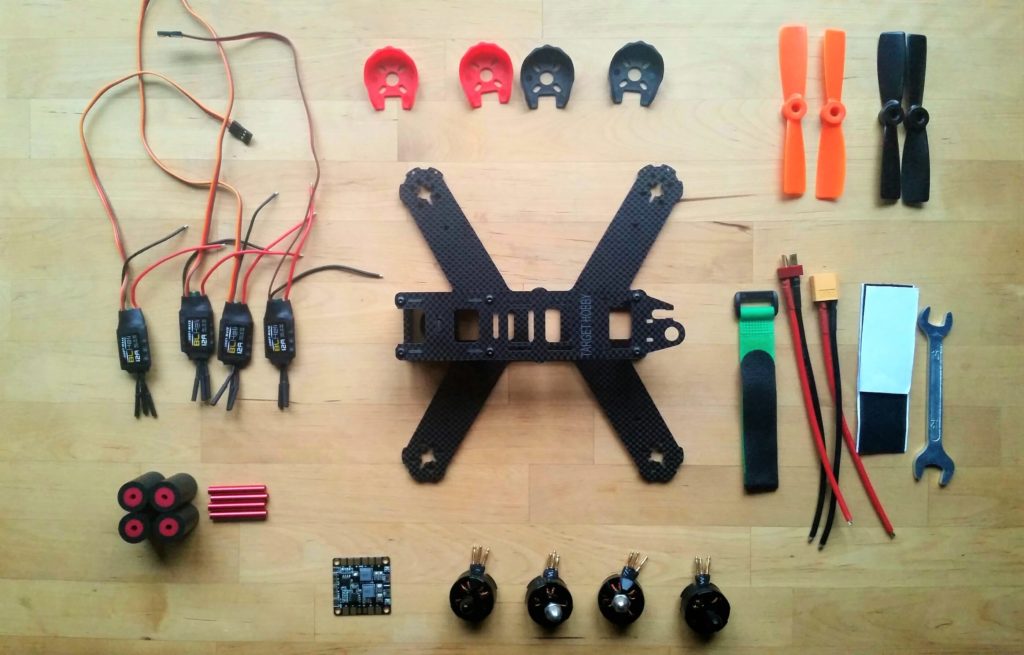 Moving on to the next product, QAV210 Quadcopter racing kit is one of the least expensive drone racing kits available. However, this drone racing kit lacks in some areas but the overall kit is adequate to get you started if you are new to drone racing and are on a budget. This is the simplest DIY drone kit available.
The kit boasts a 3 mm full 3K carbon fiber frame composed of multiple mounting holes. Also, there are bumps at the end of each arm to protect the fragile parts and components from damage during crash or accident. What makes this drone racing kit make it to this list is the use of BLheli 15A ESC electronic speed controller and Hobbymate's 2204 motor. These two are the most powerful components of this drone. The frame also includes a wrench, Gemfan props, motor protectors, and a battery belt.
However, the drone doesn't come up with a battery; it has to be bought separately. You are advised to avail 3s or 4s 1500mAh battery for this drone.
On the other hand, you are also required to pick up 3s lipo charger, receiver, and a flight controller.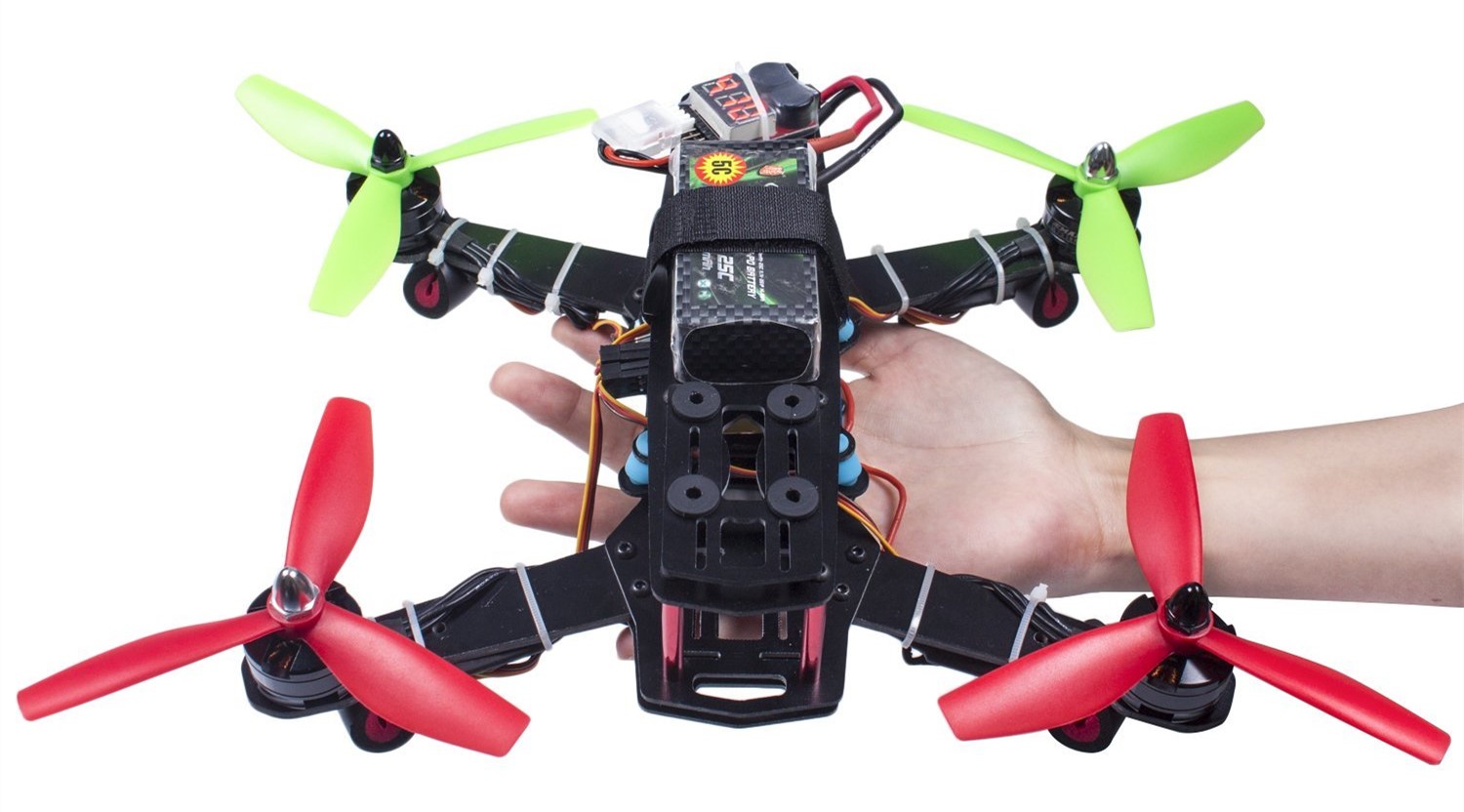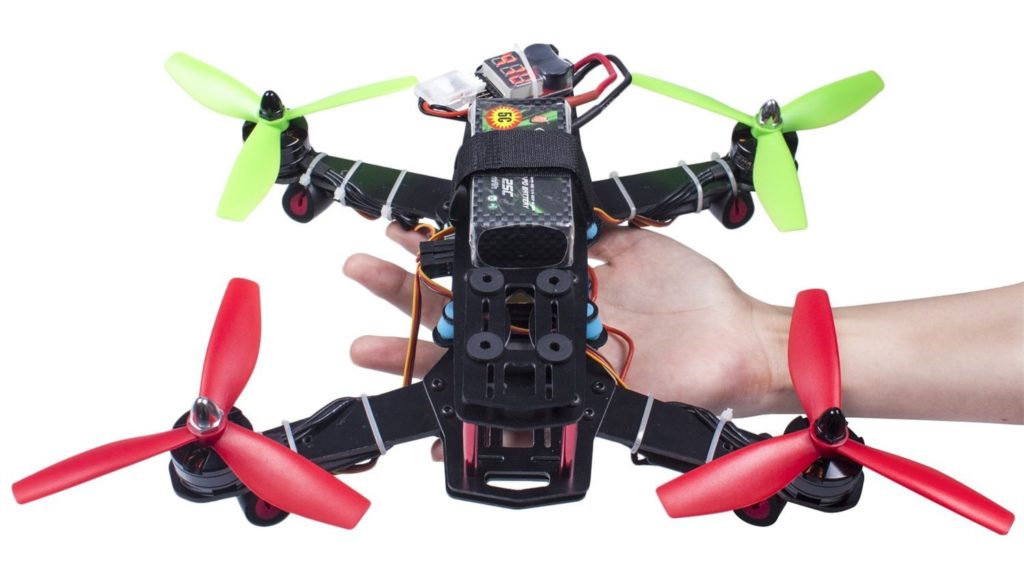 When it comes to the frame, no other drone kits can match the quality and build of the 250 FPV Quadcopter Drone Frame. If you are a beginner, a hobbyist or an enthusiast, then this is a recommended drone racing kit for you. There is no doubt that it is arguably the most comprehensive drone kits available in the market. However, it comes at a hefty price but all the Recommended Parts of this drone kit promises to last long.
This drone kit also doesn't come with an installation manual but the manufacturer, SunFounder posts official installation and assembly videos of its drone kits that you can easily avail. Apart from the frame, the kit includes Li-Po battery, CW propellers, velcro tape, Allen wrench, nylon zip ties, adapters for both power and cables, USB cable, balance charger, and four MT2204-2300KV CW Motors.
The quadcopter runs on the OpenPilote firmware and comes with an advanced 12A brushless electronic speed controller and whether if you are looking for a fast 3D flight in open wide areas or looking for tight controls in compact spaces, 250 FPV Quadcopter Drone will never disappoint you.
However, the biggest flaw of this racing drone is that the manufacturers haven't included a camera which can make your drone flying and racing experience boring. Also, you may have to spend extra bucks on a transmitter because there it is as well not included.
If you are looking for a racing drone with a pleasing design and looks then you should give a look at LHI FPV Mini Robocat Quadcopter Race Copter. However, we recommend this drone kit for those who have experience in handling drones and possess the basic knowledge of soldering and electronics. This kit includes four quality MT2204 2300KV Motors, a Robocat Carbon Fiber frame, four 6030 CF Propeller Prop, and four Simonk 12A ESC electronic speed controllers.
As said earlier, we won't recommend this drone racing kit to the beginners due to its complex assembly and installation procedures. This drone requires to be built from the very beginning; you have to assemble every part and component in order to make it fly.
Another reason why it isn't recommended to the beginners is its small and compact size. Its small size makes it difficult for the users to wire everything and even the experienced may struggle to wire the components if he/she lacks precision.
This you will need to buy separately includes a receiver, transmitter, a flight controller board, of course, a soldering machine! If you successfully put together all the components, the end result is very attractive.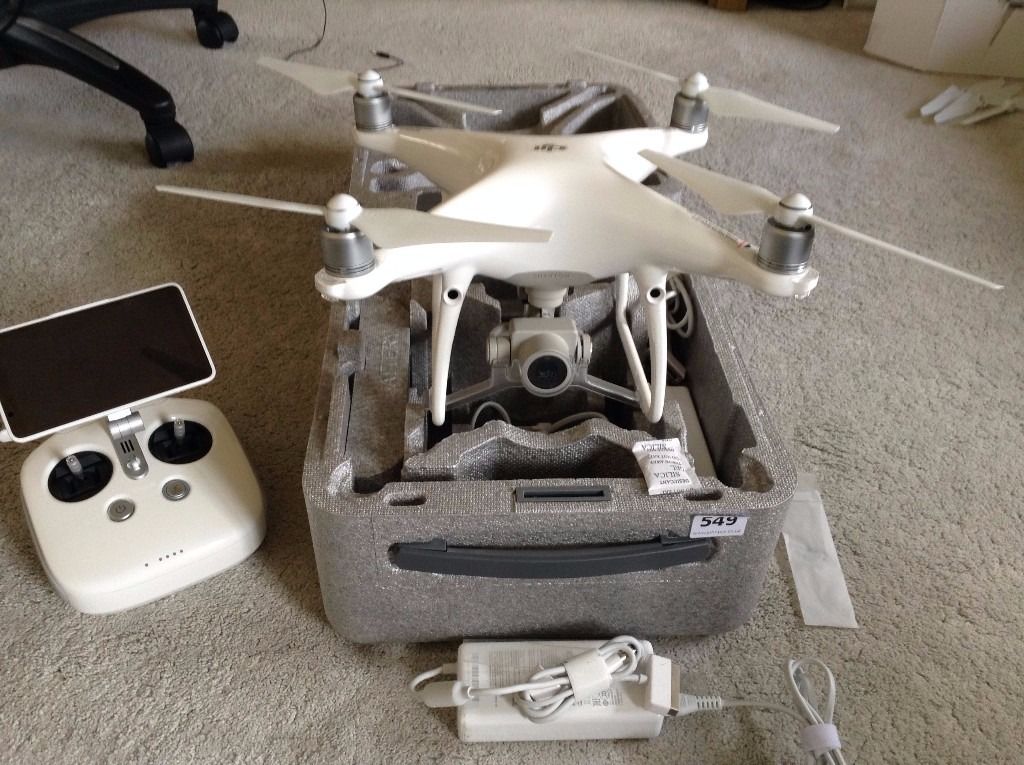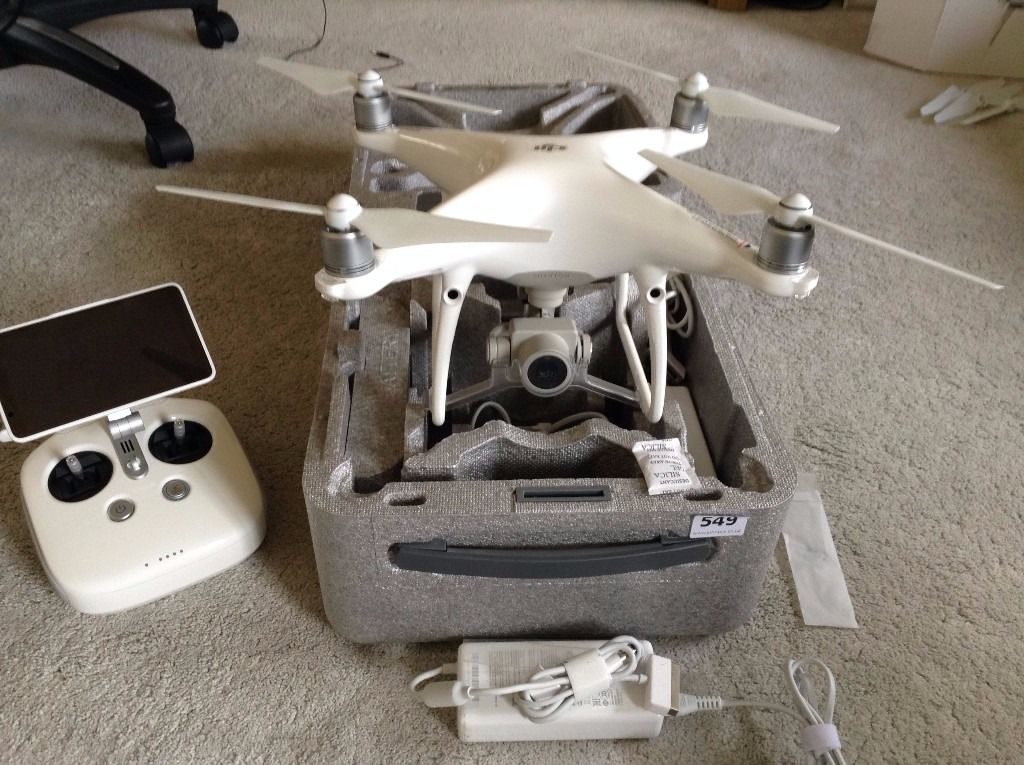 If you are loaded and money is not an issue, then DJI Phantom 4 Pro Plus Quadcopter Kit isn't the worst choice for a beginner like you! The racing drone comes ready to fly, that means you don't get the pleasure to put together all the components and experience something unique. But think about the fact that you will be up in the air racing with your counterparts in no time. DJI is a prime drone manufacturer, so you don't have to worry about the quality of the product. The best thing about this drone kit is that it comes with a 20 mp camera along with a 4K professional camera gimbal.
The complete package also includes a Phantom 4 Plus with the display as well as a bundle of 3 batteries. The kit includes a USB 3.0 SD card reader, carry backpack, 100W battery charger for the controller and the flight battery, 16GB + 64GB SD cards, Phantom 4 Pro Plus remote controller with integrated touch display, and three DJI 5870mAh batteries.
This is the kit you should buy if you want to take drone racing to the next level and if this drone kit fails to give you an experience of a lifetime, then we don't know what will.
[asa2]B01N35K9FL[/asa2]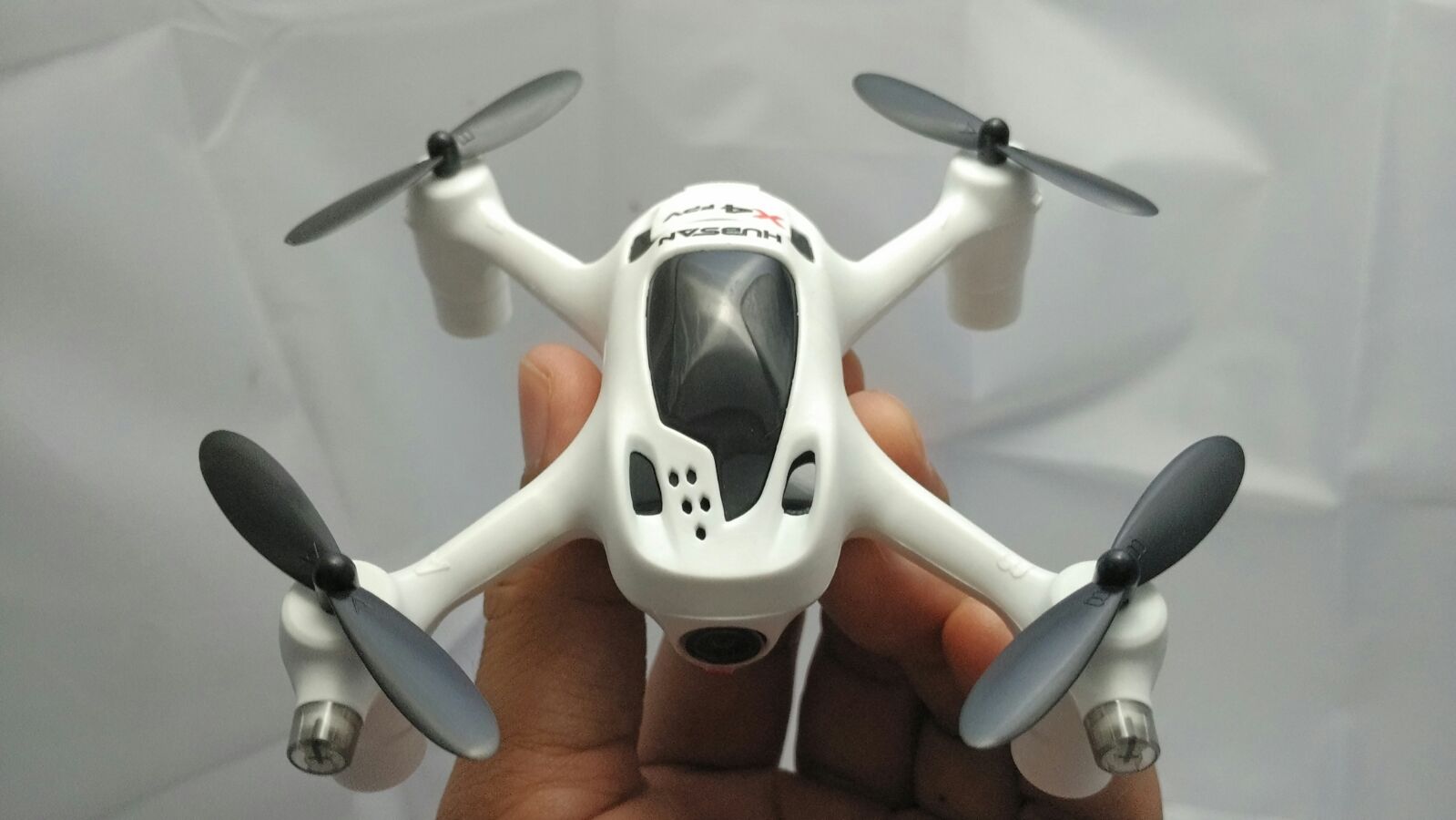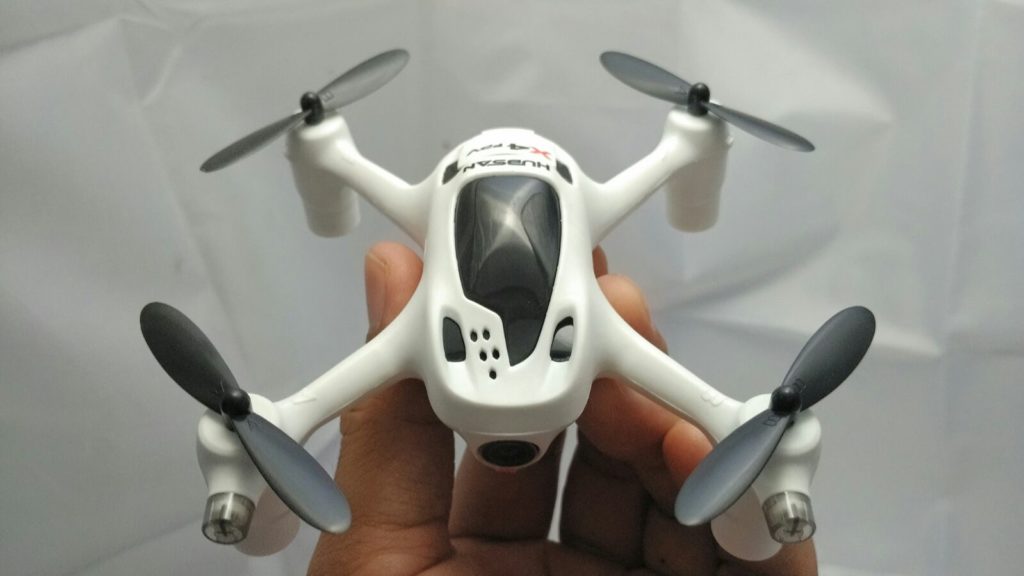 If you are on a tight budget and are looking for a less expensive drone then you may find Hubsan FPV X4 H107D quadcopter a bit intriguing. If you are just starting and are new to drone racing, we recommend you go with this drone racing kit. This drone is the most affordable way to get into first person view drone racing. The best thing about this kit is that it comes flight ready; you don't have to completely assemble all the parts and components with your bare hands except for few.
The drone kit sports an FPV camera mounted on the front of the drone. On the other hand, the drone is composed of 6-axis flight control system that allows the aircraft to stay rigid and stable both in the indoors and outdoors. The drone also features long-lasting frame and blade guards although they are made of toughened plastic.
And instead of an FPV goggle, you will be watching your drone take flight through the transmitter screen. Please note that this drone is not considered a serious racing drone due to its compact size and poor battery backup. The drone kit includes a 4V 380mAh Li-Po, a 0.3MP 480p camera, a Remote controller, USB cable, and a Spanner
[asa2]B017WVGMT2[/asa2]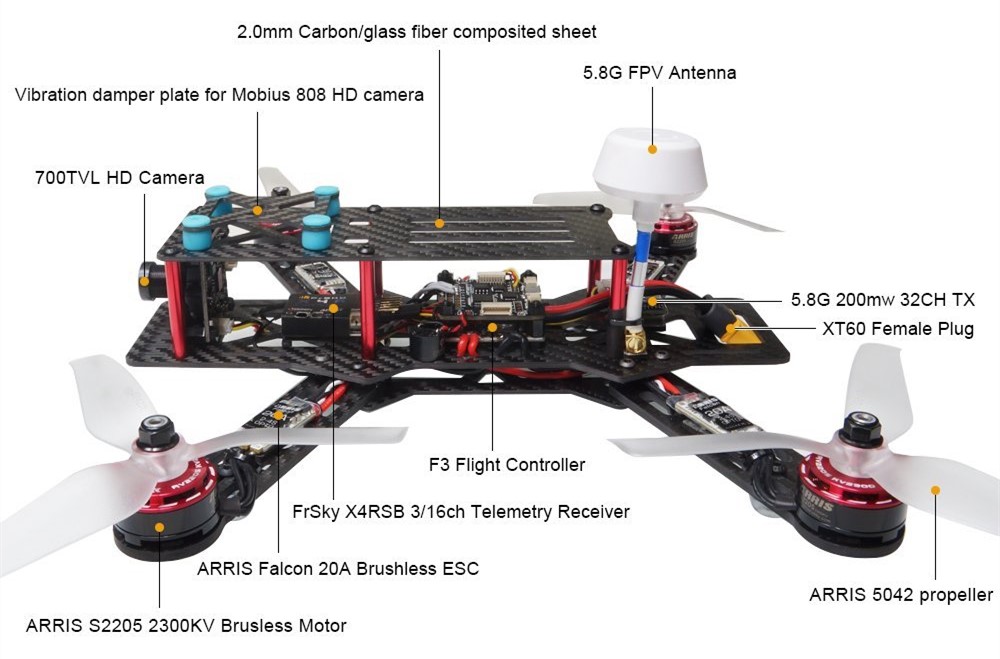 If you are a pro and want to enhance your drone flying skills then Arris FPV250 BNF drone kit is specially made for you. This drone kit is built for the pure experience of drone racing and hence will cost you accordingly. This is one of the expensive racing drone kits available in the market that you can avail. The best feature of this drone kit is its 700TVL camera that offers zero delays / no latency. When it comes to speed, there is no match for this drone. And even if it collides at high speed, its body will easily absorb the collision. Its fiberglass frame is forged to take bad hits and collisions, making the drone strong and durable.
The drone can reach the highest speed of 20 mph which is considered excellent considering it is a drone. Despite being advanced, this drone kit uses standard connectors making it compatible for the operators to modify and adjust the settings as per their racing requirements.
Setting up this drone is very easy, you just have to install the propellers and it is ready to take flight. This drone racing kit also includes four ARRIS S2205 2300KV Brushless Motors, four ARRIS Falcon 20A BLheli Brushless ESC, an F3 flight controller, an FPV transmitter antenna, and a Power distribution board.
[asa2]B00TDHAZQ0[/asa2]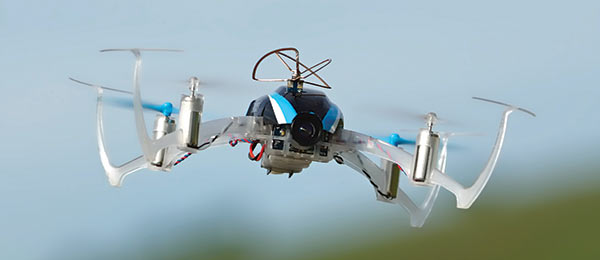 This racing drone will not get you the top speeds but will surely give an experience. If you are looking for a more balanced and stability-based drone then consider Blade Nano QX FPV. It is a perfect starting drone for a trainee racer that packs an innovative Sensor Assisted Flight Envelope (SAFE) technology that allows the operator make easy flights without crashing. It is a compact and lightweight drone kit that sports amazing propeller guards. Design-wise and look-wise, this drone is awesome and unlike other drone kits, you don't have to assemble all the components and parts from the scratch. The drone kit comes pre-assembled, but you have to install components like the propellers, batteries and few more.
The drone kit is small and affordable and also includes racing FPV goggles. But for the racing experience, we recommend you to use a transmitter because flying and racing with the drone using FPV goggles is a bit more challenging.
The drone kit includes a 3.7V 150mAh Li-Po battery, a 4-Channel DSMX Transmitter, a Flight Battery, and a V4 Video Headset (Teleporter) with Head Tracking. The built-in prop guards ensure that the propellers avoid the damage from bumping into the ceiling and walls.
[asa2]B00P6P7AR0[/asa2]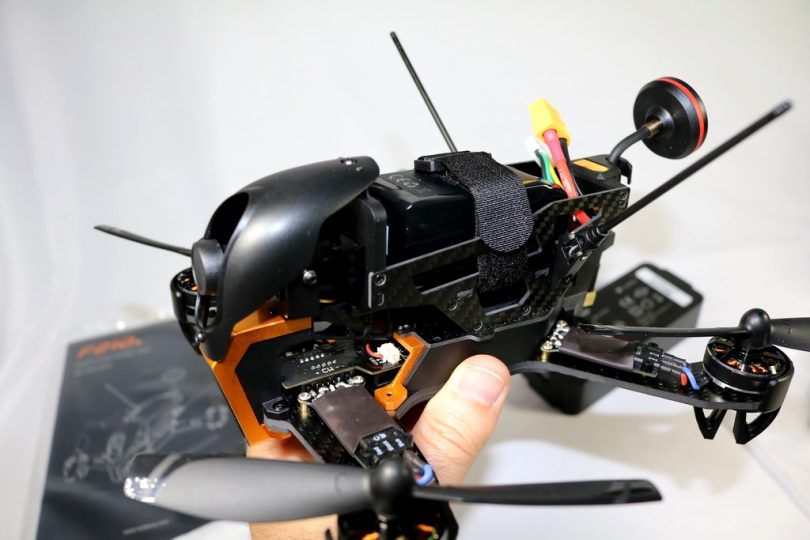 This is the drone racing kit meant for the professional drone racers. This is admittedly one of the bulkiest and strangest-looking racing quadcopter available in the market. But don't go for the appearance because this drone can beat the best around. As the features increase the cost increases and this drone kit is filled with features. For starters, it boasts a special 700TVL night vision camera and a dependable Devo 7 transmitter. The camera offers 120° wide angle viewing range and allows the user to fly the drone during nighttime as well.
This drone kit is driven by four robust 2500kv brushless motors which is probably the most powerful from our list. Its 14V 1300mAh Li-Po 4S battery makes the drone reach its highest speed within seconds. The drone is incredibly fast and is only meant for racing purpose. However, one of the flaws of this drone kit is that it is difficult to operate and you will struggle to assemble the parts.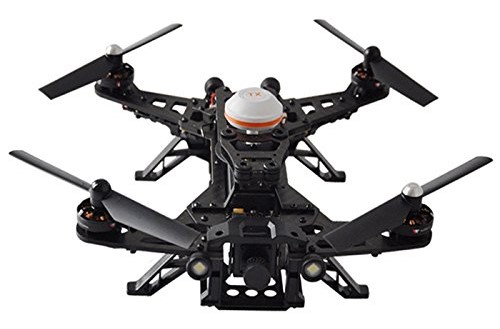 It is one of the toughest racing drones available in the market. Every component of the drone is forged with carbon fiber that is tough and lightweight allowing the drone to reach the speed up to 25 mph. This not a drone racing kit for the hobbyists and beginners as it sports sensitive yet accurate controls. The drone kit includes a Devo 7 transmitter, an 11V 2200mAh Li-Po 3S battery and an 800TVL 1080p camera. It is expensive but offers RTF convenience and state of the art FPV experience.
Conclusion
It is necessary that you invest in a drone racing kit after thorough researching. If you are a beginner, then the few mentioned drone kits are perfect. But if you are experienced you may want to look further apart from the mentioned ones.