DJI Spark is the first mini quadcopter released by the company and probably the best mini-drone at the moment. The drone is smaller than a soda can, making it the most lightweight and compact UAV from the popular drone manufacturer. The fact that makes this drone more intriguing is despite its tiny size, we are far more surprised with how almost anyone could operate it, thanks to several new DJI spark accessories and features.
Spark is considered to be the most approachable unmanned aerial vehicle for the mainstream users. The drone shoots HD video, sports a 2-axis gimbal stabilizer on the camera, and has in-built software that alleviates shake and shutter roll. These DJI spark accessories make it possible for the drone to function as required and despite all the accessories and parts, the drone can attain the top speed of 31 mph within seconds with the maximum flight time of 16 minutes.
DJI has been on the market for quite some time and has always delivered something unique and fancy. The drone is packed with the smartest sensors and tech and the starting price of the kit is around $399. The best thing about this drone is that it folds so small that you can easily carry it in your backpack.
DJI has described Spark as a lifestyle accessory that you can carry around anywhere you want. The drone only weighs 300 grams and you can launch it from your hand. The latest tech used in this drone is the Gesture Control. That is, the moment it launches from your hand; it automatically switches to the Gesture Mode, where you can control the drone using hand gestures. Well, isn't that interesting. Thus, it becomes necessary for you if you are a DJI Spark owner to have the right set of DJI Spark accessories because a simple damage can ruin your drone flying experience. Battery, case, props & more are just as important as the drone itself because these are the components that make drone flying easier and compatible.
In this post, we discuss the must-have DJI Spark accessories and other optional upgrades that are worth considering investing in for a better drone flying experience.
Spark Accessories You Should Have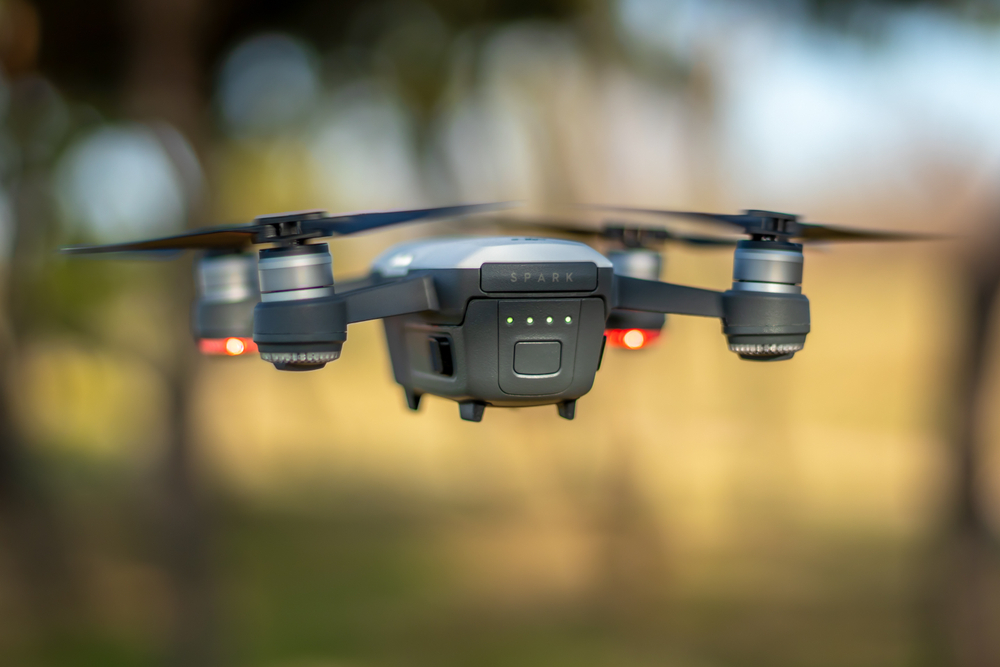 DJI Spark is the smallest quadcopter designed for drone hobbyists and enthusiasts. As said earlier, it is as small as a can of soda hence; it is vulnerable to get damaged easily due to its small size. Due to its lightweight, the drone operator can lose control over the drone when there is wind. Therefore, the whole body including the propellers must be protected. However, the drone is designed to take decent hits but why take any chances.
The biggest down factor of this model is that its limbs don't fold into its body like Mavic Pro. So the chances of the propellers and the limbs surviving a hit are very low.
So if you own a DJI Spark quadcopter, first and foremost, you should know how to protect your drone get the most out from it.
As you may know that Spark comes in two options:
The Spark Fly More Combo
And the Spark Standalone.
The Spark Standalone variant is just the drone, a battery, propeller guards, and a charger. And you will have to operate it using your smartphone or using your hand gestures.
If you want the full-fledged flying experience, then flying it with a smartphone will not do the trick as it will severely limit the flying range. That is, the flying range will depend on your smartphone's WiFi signal, which is not going to be more than 25-45 meters.
If you have just purchased DJI Spark of the Standalone variant, it is a good idea to add these necessary accessories to enhance the drone flying experience.
If you want a high octane flying experience, then stop using your Smartphone and WiFi signal. DJI Spark remote controller can easily increase your drone's range from the measly 35 meters to a whopping 2 kilometers. (This range is achievable in ideal conditions only, the realistic rage around 1.5 kilometers)
Smartphones are great options for flying the drone if you are not going to fly it too far. But if you have played games on your smartphone then you would know how difficult the controls are with the touchscreen. With a remote controller, you get the tangible feel of the control sticks for easy flying. The controls are far more precise as compared to touchscreen and drone flying just becomes far more pleasing and enjoyable.
The remote controller manufactured by the company is really portable since the hand grips fold in and the antennas fold down – you just need to fold out the grips and extend the antennas, and you are ready to take flight. Moreover, the hand grips are designed in a way that it has slots in them allowing you to slide your phone into.
On the other hand, you can pair your smartphone with the remote controller that enables you to stream live HD video on the screen. You can explore all the intelligent flight features from the DJI Go app and experience the extended range and tactile feel of the controller.
Extra Batteries and Charging Hub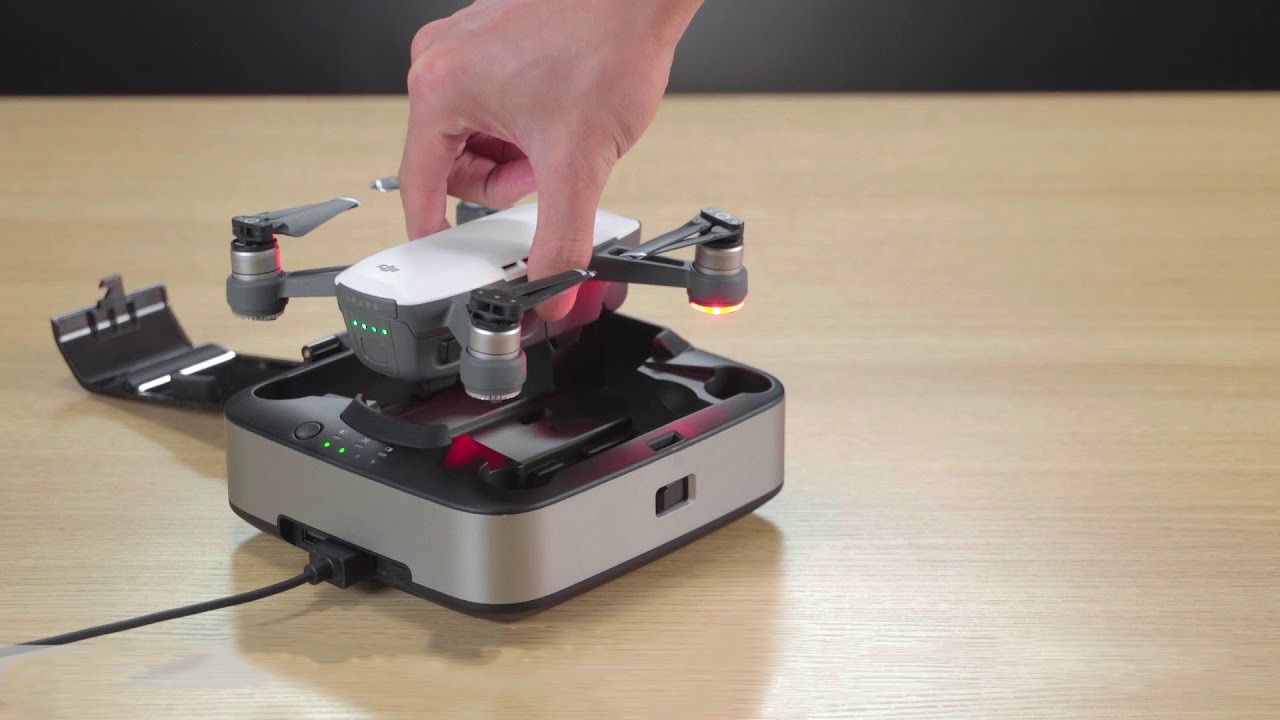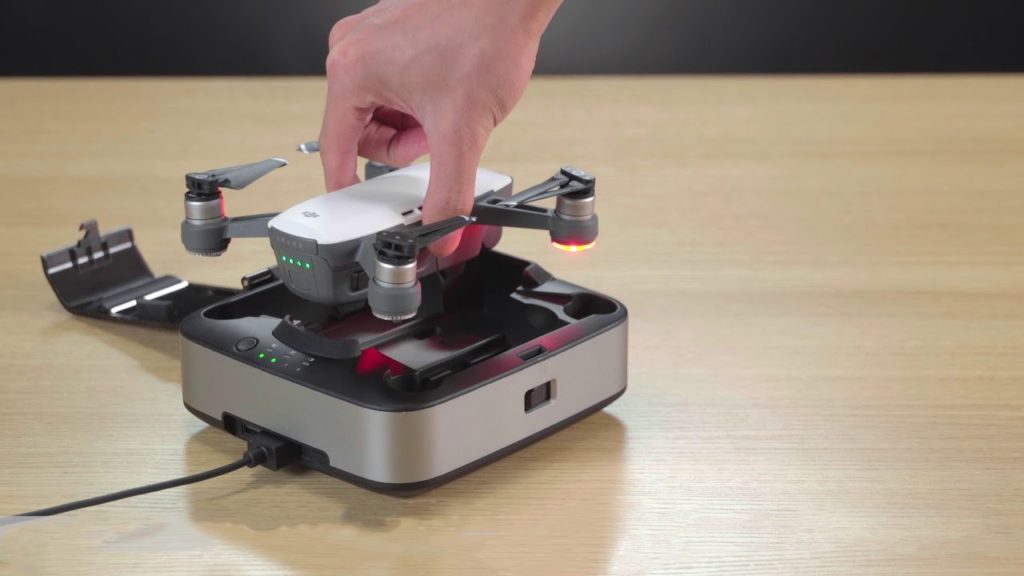 If you have purchased the Standalone Spark, it must have come with just one battery. DJI advertises Spark with the total flight time of 15 minutes, but in real conditions, you can expect the flight time to be no longer than 10-12 minutes. Well, this is very little time to fly a drone. However, the flight time will depend on what your needs are. Nevertheless, it is inconvenient to charge a drone after every 10 minutes for at least an hour just to stay in the air.
This is why you should pack extra batteries with you so that the fun never stops. You can purchase the Spark Fly More Combo that comes with two batteries or you can buy as many batteries you like separately for the never-ending fun. Well, the usage will depend on for what purpose you are flying the drone. If it is for leisure, two batteries are enough, but if you want to shoot aerial footage, then you might need an extra set of batteries.
Next, charging hub is also an essential part of the drone flying experience as it helps in charging the batteries. The DJI charging hub can charge up to three batteries at a time, but you have to keep in mind if you have more than three batteries, you will need another set of charging hub.
It is advised to always go with DJI branded batteries and charging hubs because they are more compatible with the drone. However, they are little too expensive but given that how fussy LiPo batteries can get, it is better to spend little extra and be on the safer side. Investing in local batteries will only lead to you ending up losing more.
When your drone crashes, propellers are the first things that are exposed to damage. Propellers are lightweight, fragile and due to they rotate at a very high speed, even a small collision can break them up.
Spark quadcopter comes with four propellers but you can always keep some spares in your backpack because there is nothing worse than not being able to fly the drone just because the propeller gave out.
Propellers are cheap and easily available so there is no harm in keeping few extras because you never know when you are going to need them. And the best thing about it is you can use any propeller of any grade and brand, but you should always go with the genuine parts because of their compatibility.
DJI Spark propellers are folding propellers that can be easily folded when not in use, making the drone easier to store, carry and less prone to damage. Keeping extra propellers will allow you to carry out your drone flying expedition even in the event of any damage.
Top 8 DJI Spark Drone Accessories You May Need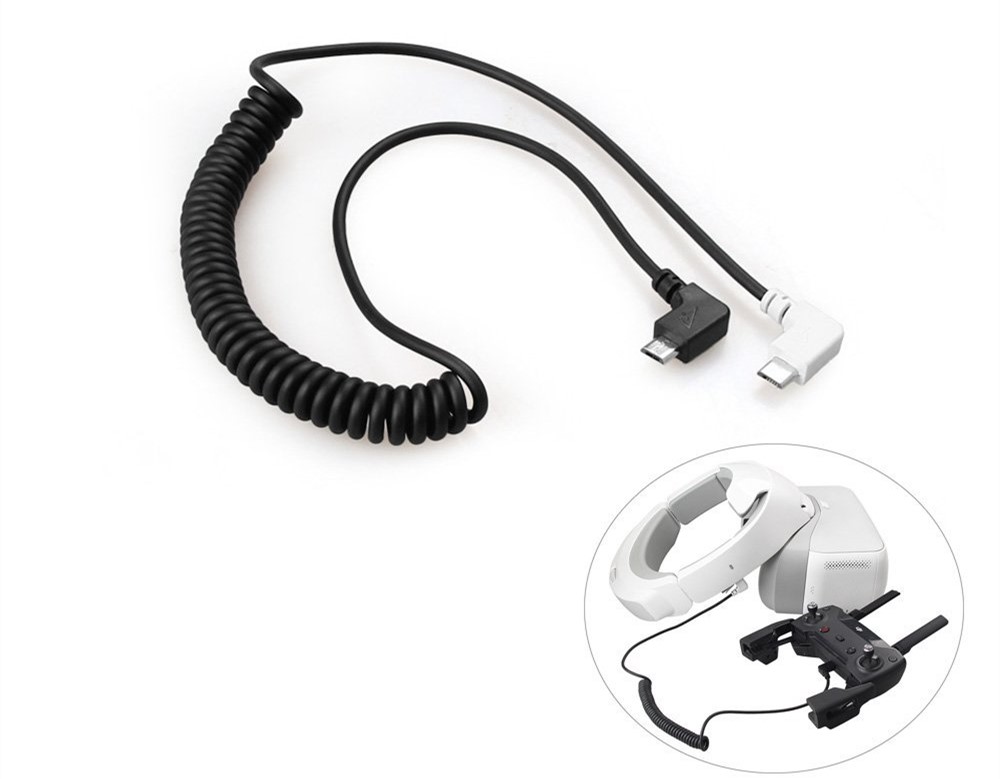 If you are using Spark with the remote controller then OTG cable is the single most important improvement that you can perform. DJI has not mentioned this thing in the instructional videos or the manuals but you have to determine the importance of the OTG cable.
Normally, the smartphone connects to the remote controller via WiFi network and then the remote controller hooks up to the Spark. This indicates that there are two wireless connections at a time. Two connections at once might lead to you experiencing some disturbance while flying the drone. Or in case if you are in a dense area with lots of radio disturbances, then your device can lag in every aspect. This will take out all the fun from drone flying.
The DJI remote controller comes with a micro USB port that is generally used for charging. But when not charging, you can use this port to connect your smartphone instead of using a WiFi signal. This will enable faster and uninterrupted communication between the remote controller and the smartphone.
The functionality of OTG cable is to convert a normal USB plug into a USB-C plus or a Micro USB that goes into your smartphone.
It is advised to prefer the right-angle plug over the straight connector as the straight connector will stick out of the remote controller and will bother you while you are operating the drone. Right-angle connector, on the other hand, will fit more snugly into the remote controller and can be easily slid into the grips.
All you have to do is plug the OTG into the remote controller and plug in the smartphone's USB cable from the controller into the smartphone.
[asa2]B07716ZH86[/asa2]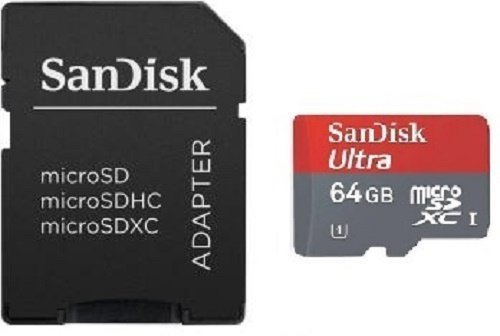 This is probably one of the essential accessories you should have if you fly drones. Drones are not just for flying, they can do more than that say, record videos, and footage.
We are sure that you won't be using your Spark just to fly it around. You will be using its high-quality camera to shoot stuff. As advertised, Spark camera shoots HD quality videos and stuff and the drone doesn't come with an inbuilt memory storage card or hard drive that can store all the data you record.
But it does come with a slot for memory card. You can insert a decent memory card into your drone and start recording your favorite views.
Please note that not all MicroSD cards are created equal, some have slow write speed while others have considerably faster write speeds. Higher the write speed, smoother will be the video quality.
Choosing the right SD card is important because low-quality memory card will lead to messy and choppy video as it can't keep up with the speed of Spark.
Spark is compatible with up to 64 GB of memory space. You can start with a 32 GB card and expand it later or you can simply keep some spares so that you can swap them on the go.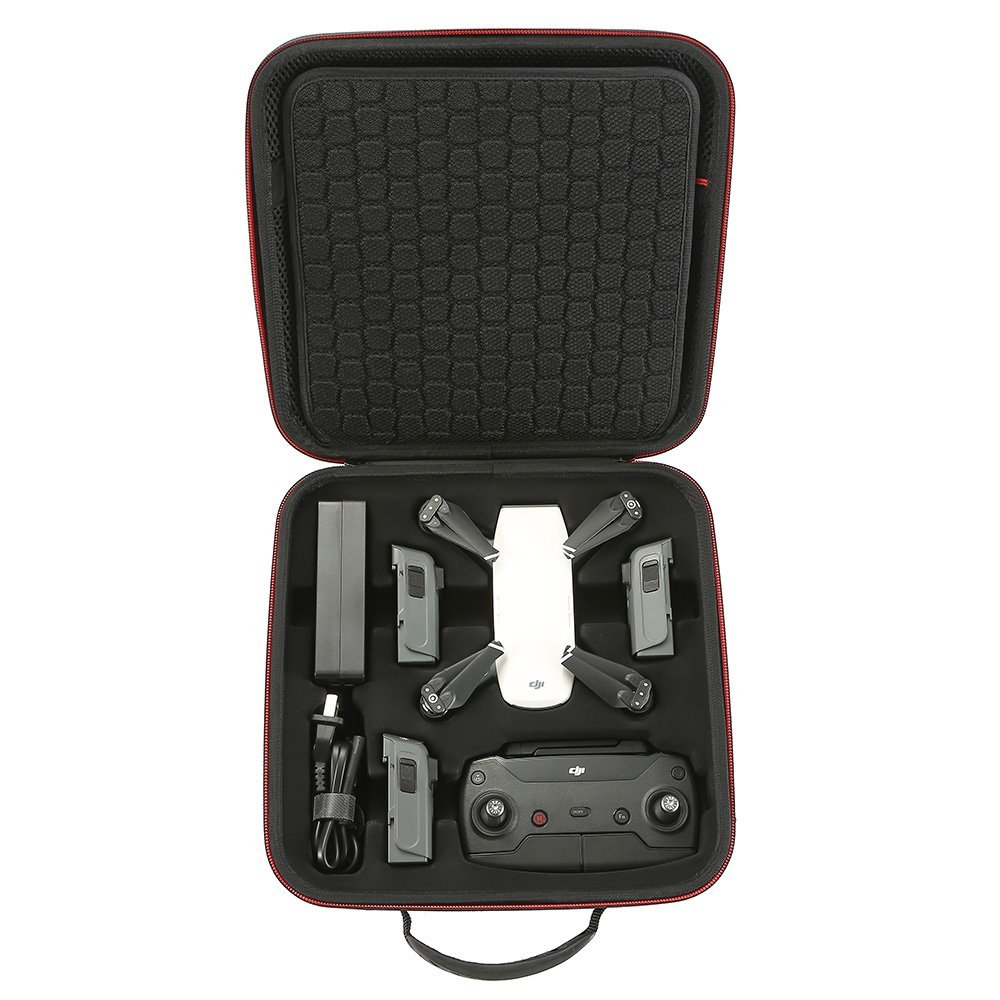 This is also an important accessory if you own a DJI Spark quadcopter. Because of its small size, the drone is prone to get damaged easily if not carried out properly. However, Spark does come with a neat folding foam pack but only the drone can fit inside the case.
If you have an extra set of propellers, memory cards, remote controller, cables, etc, then carrying them separately will give you a cerebral pain.
Thus, it is an intelligent move to invest in a good-quality, reasonable carrying case that can house all the accessories and components including the drone. They are very cheap and you can avail them in multiple design options. There are different types of drone cases available and pick one according to your need.
On the other hand, it is not necessary that you have to go with the branded cases; there are other case manufacturers who make drone cases specifically for DJI Spark. So there is a lot of variety to choose from.
>> Read more about DJI Spark Drone
The biggest flaw of DJI Spark Mini quadcopter is its range. As compared to the company's other models, Spark has low range. So if you want to extend your drone's rage as much as possible, you can always avail the help of Range Extenders.
They work on the same principle as the WiFi range extenders. There are few videos and tutorials that demonstrate range extenders actually do increase the range of the drone. You can purchase a range extender for merely $10 or less. But you need to know that a range extender can only increase the range for up to 100 feet.
These are the essentials or you can say the necessary DJI Spark accessories every Spark owner must have. However, there are few more accessories that you can avail but are not necessary. They are:
DJI Spark Stick Protector
Gimbal Cover
DJI Spark Propeller Clip
>> Read more about DJI Spark Mini Drone
Best Accessories for the DJI Spark
Now that know what the required accessories for your mini-drone are, let us discuss the best accessories with their specifications.
As you know that a charging hub is important for charging the batteries of your drone, the charging hub manufactured by DJI is recommended to avail.
Specifications of DJI Spark Battery Charging Hub
The maximum number of Spark batteries that can be charged at once is 3
Its Can charge three Spark batteries within 90 minutes
Boasts intelligent current-limiting feature to ensure that the battery life is prolonged
Compatible with 1480 mAh and 11.4 V MB1 LiPo batteries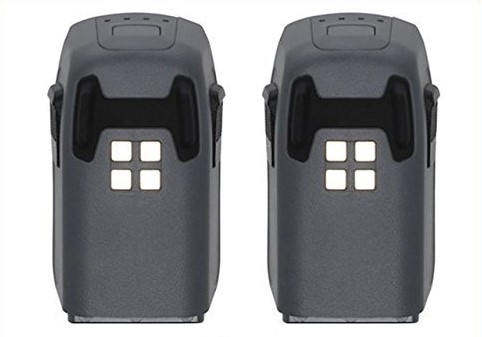 The Spark batteries can power the drone for about 16 minutes per charge.
Specifications of DJI Spark Batteries
16 minutes of battery life
12 intelligent protection functions in the battery ensure safe flight
When the environment is ideal, the drone can reach the speed of 31mph
[asa2]B073FT983F[/asa2]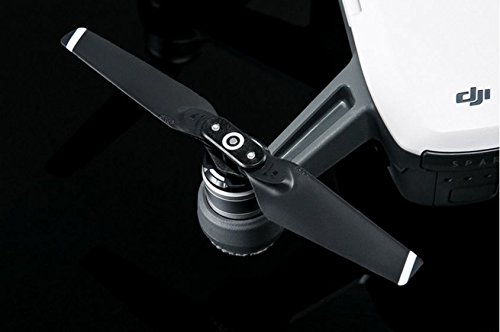 It is always good to keep some spares with you when you are flying.
Specifications of DJI Spark Propellers
The durable and foldable design ensures easy assembling
The push-like function allows you to detach and attach quickly
Made from carbon fiber
[asa2]B073JRWYKK[/asa2]
If you want to fly at a higher range, then Spark remote controller can help you control the drone for up to 1.5 kilometers.
Specifications of DJI Spark Remote Controller
Transmission range of up to 2 kilometers
Sports Mode allows the drone to fly at the maximum speed of 31-50 mph
Easily connects with the smartphone for wireless video display
5 hours of battery life
Compatible with range extender
[asa2]B071FLRZV4[/asa2]
Conclusion
DJI Spark is an excellent mini-drone with all the functionalities but it works better with the accessories mentioned above. Make sure you have all the required accessories if you are operating drones as it can make quite a difference when it comes to ultimate drone flying experience. There are additional accessories and upgrades that we haven't mentioned in this post as they seem unnecessary. The above-mentioned accessories are the must have if you are a Spark Mini-drone owner.