[table id=17 /]
1  Syma X20
[asa2]B06WGVP9FG[/asa2]
The X20 featured is the base version of the X20 range and comes with no camera. There is also a camera version which is called the X21 and a WiFi FPV version — the X21W. Apart from the camera, everything else is the same for all 3 models. Unlike micro drones, the X20 does not feature any detachable battery or parts. The battery is built-in and so are the prop guards. Only the propellers are removable. This approach makes for a very clean and seamless design. With its battery, the X20 provides a flight time of about 5 minutes — enough for some indoor flying fun. Charging time with the supplied micro USB cable takes approximately 50 minutes.
The body has a nice pancake-like design with some neat finishing touches. The power button sits on top with a nice chrome colored finishing. Prop guards are built-in and cannot be removed without opening up the body. There are orientation lights at both the front and back which do an excellent job in orientation — red lights for the front and green for the rear. Unlike other small toy drones that have really tiny lights, the lights on the X20 are located inside and illuminate a large portion of the body, giving users a good idea where the front and back are.
Unlike bigger Symas, the X20 features a smaller pebble-shaped transmitter (radio controller) with plenty of minimalist touches. One interesting feature on the transmitter are its control sticks or should I say sliders. Syma has chosen not to use conventional transmitter control sticks and might be the first to use sliders for toy drones.
The control sliders appear like very short and stubby control sticks at first but once you start using them, you realize they don't tilt or rock like an ordinary control stick. Instead, they can slide about 10mm in all directions.
Pros
Cons

– Affordable
– Smooth flight performance
– Good transmitter design
– Great looks

– Limited flight features
– Built-in battery
– Built-in prop guards
Specification
FLIGHT TIME: About 5 minutes
FLIGHT RANGE: 69mm
CAMERA: n/a
SPECIAL FEATURES: includes headless mode and one-key take off/landing
SIZE: 10.5 × 10.5  × 2.5
WEIGHT: 23g (with battery)
BATTERY: 3.7V 180mAh 1S Li Po
CHARGE TIME: About 50 minutes
TRANSMITTER: 4 AAA (not included)
Conclusion
Overall, the Syma X20 is a very well-designed micro quadcopter aimed at beginners and avid indoor fliers. Its highly integrated design means there are less things to worry about. The only downside with this integrated approach is that the battery is not removable and prop guards cannot be replaced without first opening the body. The X20 also features a well-designed transmitter that sport sliders instead of conventional control sticks. Although unconventional, the sliders work quite well. The transmitter also features a wide pebble design that makes it very comfortable to hold when flying the X20.
For anyone looking for an inexpensive micro drone to fly indoors, the X20 is an excellent choice. Buyers who are looking for more advanced features such as a WiFi FPV camera can go for the X21W or X21 which features a HD 720P camera.
2  Holy Stone HS170
[asa2]B0157IHJMQ[/asa2]
The Holy Stone mini drone, HS170 Predator Mini RC Helicopter Drone 2.4Ghz 6-Axis Gyro 4 Channels Quadcopter is a great start for customers who always wanted to give this drone hype a try. According to the Predator's user manual, this drone is not suitable for children under 14 years old and should always be operated in the presence of an adult. Weight, size, and transmission range are all in accordance with FAA's drone regulations, so you won't have to register this drone in order to fly it.
The Holy Stone Predator Mini drone is suitable for both indoor and outdoor situations. Its windproof and shockproof design ensure the best flying experience regardless of setting. Keeping the drone in the air is easy due to the 2.4 GHz Remote control that sports out the digital proportional radio control system.
After installing the batteries into the remote control, the drone started to light up like a Christmas tree. It's so silent that we've actually managed to pilot it inside a busy office without anyone noticing that it was there.
The drone responds to the controls quite well, and thanks to the headless mode, moving around the environment is pretty easy even for someone who never flew a drone. In fact, the controls are so smooth and responsive that it feels like operating an RC car.
The tricky part was to pilot the drone back to "home base" for recharging. As the well begins to run dry, the HS170 becomes harder and harder to control.
Pros
Cons

Easy to use
Great for beginners
Excellent controls response time
Decent flight time
No FAA registration is required
Can perform stunts

Doesn't have a camera
The motor assembly can easily break
Poor battery life
No inscriptions on the remote control
High recharge time
Specification
FLIGHT TIME:  About 6-8min
FLIGHT RANGE: 60-80m
CAMERA: Not Included
SPECIAL FEATURES:
SIZE: 10.6 inches
WEIGHT: 14.4 ounces
BATTERY: 350 mAh
CHARGE TIME: 60min
Conclusion
The Holy Stone HS170 being equipped with a 6-axis gyro stabilization system, the HS170 performed a couple of 360 degrees spins and some evasions. The little drone can stand quite a being, albeit it looks so fragile. Its chassis is made out of grade-A polycarbonate material, ensuring that the drone is both resistant and aerodynamic.
3  Eachine E012 Nano
[asa2]B075D6XTBH[/asa2]
The Eachine E012 NANO drone is a very special and a little bit complexly built drone. It is quite differ in controlling to many other drones that users might have possibly come across. The basic things however is that if there is a need for users to link the battery, you first need to take the battery out, insert the port, then put the battery in. Turn on the quadcopter. Turn on the remote. Push the throttle up, and pull it down. When you hear a "beep", which means it matches code successfully. Please note that you need to turn on the quadcopter before you turn on the remote. When you do not play the quadcopter, remember to turn off the control and quadcopter, in case of you turn off by accident and hurt yourself. The accessory battery, USB charging cable, manual are attached to the bottom of inside packing, please check carefully. If there is anything missing in the package, we will send the missing parts to you without hesitation. One or more motors don't work. If it's your first time flying make sure you practice in a field far away from people, cars, trees and other obstacles. Please read your drone manual carefully. The drone fail to connect with transmitter. Before binding, make sure battery is full. For the battery life, it depends on how long the customer charge the battery and how the customer operate the drone,usually is 5 mins.
As for the included led night lights, it is built with a white led in front and a red led in the back, two green led on both sides. This helps users not to lose the drone in the darkness.
Features
 With Headless Mode, no need to adjust the position of aircraft before flying.
 With One key to return function makes it easily to find the way home.
 2.4GHz Technology Adopted for Anti-Interference.
 4 Channel which can do ascend, descend, forward, backward, left sideward fly, right sideward fly and rolling 360°.
 6-axis gyro which can have more stable flying and be easy to control.
 It have 3-level flight speed to switch that can make more fun with the flying.
 It can realize 3D tumbling 360°rolling in four directions with 4 LED lights.
 The quadcopter fuselage is made of high strength and resistant engineering plastics, lightweight and durable resistance.
Specification
FLIGHT TIME: About 5 minutes
FLIGHT RANGE: 30 meters
SPECIAL FEATURES: Up/down, Forward/backward,Turn left/right, Sideward flight, LED Light, Headless Mode, One Key Automatic Return
SIZE: 6.5X6.5X2.6cm
WEIGHT: 15g (with battery) and 10g (without battery)
BATTERY: 3.7V (200mAh) (included)
CHARGE TIME: About 40 minutes
TRANSMITTER: 2 x 1.5V AA battery (not included)
Conclusion
The Eachine E012 Nano drone is beautifully built with 360°Roll-Over. This is a 360° flip to all direction that users has chosen, for them to experience cool flying play. The package that come s with the drone include: 1x Quadcopter, 1x Transmitter, 1x USB charging cable, 1x manual. The blade of this drone has a good protective effect, flight safety, it is designed in a way that it will not hurt people. In a situation whereby the user is staring the function of one-key returning without other operations the aircraft will automatically come back to such person. It is suitable for the beginner and avoid lost drone.
4  Realacc H36 Mini
[asa2]B06W5T132Q[/asa2]
This micro drone is fun and easy to operate. Flight times averaged around 4-5 minutes with the stock 150mAh battery pack. The little micro has the look of a futuristic flying car. It hovers very smooth and with normal flying you can get a 4-6 min flights out of the small 1S lipo. This little quad shares the same the flight controls of a bigger quad or helicopter as to how it is controlled. I was doing circuits all around my living room, over the fan and trough kitchen minutes after opening the box.
It tracked straight and true right out of the box. If it is out of trim there is a left to right and front to back trim button on the transmitter. Stable when you want a slow solid hover and right into fast forward flight with the push on the cyclic stick. Don't let its micro size fool you. With confidence you will be spinning and flipping in no time! I was impressed how quick it would flip and roll. Once ready to perform a flip or roll simply push the right top button once and then push the right stick in the direction you want it to flip or roll. With its small size it is also fun to try different types of take offs like kicking it into the air like a hacky sack or throwing it like a Frisbee and flying away.
The REALACC H36 comes in a small box with the H36 quad and its specs printed sides of the box. When you open the box you find the H36 and it's transmitter packed in their own formed plastic inserts to prevent shifting during transportation. The box also serves as a great travel case for the H36. The 1S lipo is already installed into the quad copter. In the box you will also find a bag containing a 1 cell USB lipo battery charger, 4 extra propellers and the manual
Features
Stable and smooth flying
Can flip and roll 360 degrees
Lightweight at 3.5 ounces
Protective guard around propellers
Inexpensive
Great durability for beginners
Blue and red LED lights
2.4G frequency
Includes 3.7V battery
Pros
Cons

– Fully Assembled
– Inexpensive

– Transmitter may be too small for some hands
Specification
FLIGHT TIME: 5 minutes
WEIGHT: 3.5 ounces
BATTERY: 1 cell 3.7V 150mAh Lipo
CHARGER: cell USB Lipo charger
CHARGE TIME: 30-50 minutes
TRANSMITTER: Mode 2 mini transmitter
Conclusion
The REALACC H36 Mini is built in a way that it can Flip, roll, and zoom around any room of your house with the incredibly fun and agile REALACC H36. Its light weight makes it unbelievably durable too, so you can fly aggressively without worrying about costly repairs if you are just learning to fly. The REALACC H36 is a really fun micro quad copter that anyone can learn to fly basically anywhere. The H36 weighs a little more than 3 ounces and is small enough to fly in spaces like a bedroom. If you have never flown a quad copter before the H36 is just right for you. It gives any beginner stability control to allow it to virtually fly by itself. They have also put protective guards around the 4 propellers to protect the pilot, pets and other hints from getting cut or scratched. Once you've mastered the basics, you can switch to a more aggressive flight mode with higher rates for faster flying speeds and more maneuverability.
5  Virhuck Volar-360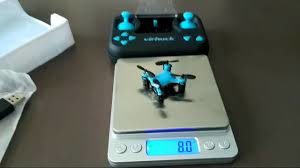 Virhuck's volar-360 drone is a must have item for RC fans, adults beginners and even children over age 8 to fly with ease. A blue finish with multicolor LED lights is specifically designed to spark the interests of any Sci-fi fans and drone enthusiasts. It is one of the easiest to Control drones because it comes with an excellent remote control transmitter, a 4.5-channel radio and 6-axis gyro, you can control Virchuk's nano drone to fly steadily and stably. Meanwhile, you can get full movement from left/ right, ascend/descend, to forward/ backward within 5-8 mins of flight time on just one single charge. The headless more is easy to operate and is designed for the beginners, and you will be surprised with the 3D rotation and 360 degree eversion mode. Designed with a variety of flight modes, you are guaranteed to have a great time with the Virhuck volar-360. You can go for a 3D flipping stunt, a 360 degree eversion, a one key return mode.
Features
Blue finish with multicolor LED lights
Excellent remote control transmitter
A 4.5-channel radio
6-axis gyro
3D rotation and 360 degree eversion mode
Specification
FLIGHT TIME: up to 5-8 mins flight time
FLIGHT RANGE: 100 meters
SPECIAL FEATURES: 2.4 GHz 4.5 CH 6 AXIS GYRO System Multicolor LED Lights Headless/One Key Return Mode Quadcopter
WEIGHT: 1.48oz (42g)
BATTERY: 3.7V 80 mAh
CHARGE TIME: 20 mins charging
6  Qcopter Mini Quadcopter
[asa2]B0184WZ5DC[/asa2]
The Qcopter is about a 400 size if you include the rather widely-spaced prop guards. It comes in a couple of colors including a very shiny green finish. It has big bright LED lights, which seem to be ideal for night flying There are colored LEDs all around the fuselage, making for a visually striking quad. The kids will certainly love it. The shell has the same rounded look that DJI introduced with the Phantom, which is becoming so common that it's irritating. Still that's just a pet peeve and doesn't say anything about the actual quad. One of the main selling points of the Qcopter is that it has double the typical flight time of quadcopters in this price range. Many owners have noted that the picture quality from the included camera isn't very good and suffers from excessive graininess. Luckily, you can save even more weight by detaching it completely. The main body shell is aerodynamic and wind resistant. The blades are also made of a very flexible material. There isn't actually much to say about the included transmitter. It seems functional enough and has a small LCD screen that will show you the strength of the signal, power level, trim levels, and camera status. It also has buttons for headless mode, one button return, and automated flipping.
It seems to fly pretty well, but we expect that from the typical 6-axis quadcopter these days. Build quality also seems pretty good; no one has complained about manufacturing faults or anything even remotely serious. All in all, the Qcopter has a lot going for it, but not a lot to make it stand out. The excessive amount of LED lighting is rather uncommon and so is the extended flight time for this price class. In terms of value the Qcopter is priced very well actually. Especially if you take the (admittedly crappy) camera into account and the extra battery that also included.
Quad altitude hovering feature and stable drone design of Quadcopters Gyrocopters Provides Flight Stability; Quad has 360-Eversion Feature for Flips and RTF Function; Easy Handling Drone Offers the Best Quality Drones for Kids and Beginners; Brilliant Metallic Colored Drones and LED Lights; Custom Paint Drones with Awesome Colorful LED lights on Flying Drone Enhances Night Illumination
Features
7V 1100mAh battery
30 minutes flight time.
Superiorly made materials and stabilization system
Perform well on high altitudes and 100 meters or 300 feet control distance.
Operated using phone to enjoy real time viewing right from your controller.
Each box contains a crash replacement kit
Takes vivid aerial.
Equipped with an optimized High Definition Wi-Fi FPV Camera instead of the usual 720P
Specification
FLIGHT TIME: 15 minutes
FLIGHT RANGE: 200 minutes
CAMERA: 2 MP HD camera
SPECIAL FEATURES:
SIZE: 400
WEIGHT: 1.8 pounds
BATTERY: 1100 mAh
CHARGE TIME: 160 minutes
Conclusion
The QCopter Mini Quadcopter is a great, inexpensive option that can bridge the gap between nano copters and move you solidly into something bigger. The Qcopter can be flown indoors and outdoors, it has a good set of features and looks pretty nice. The bright color accents on the radio is also a plus.
7  Hasakee H1 FPV RC Drone
[asa2]B073FCZJ4P[/asa2]
The building design of the Hasakee H1 FPV RC drone is especially very durable and made of ABS plastic. With that being said, it comes with propeller guards which provides an additional layer of protection for the propellers. If you are flying it for the first time, I always recommend using propeller guards. You will thank me later when you accidental crash the drone only to find out that it sustains little to no damage. The camera is located in lower front of the drone body that delivers images and videos to your smartphone at 720p high-definition. Accompanied by powerful LED lights located on each motor arms to provide visual positioning that is essential for both daytime and nighttime flying. Overall, the design and build quality are well done. The Hasakee H1 isn't like most of the drone due to its uniqueness. Aesthetically speaking, it only weighs 50 grams and with a body dimension of 12 x 12 x 6.5 cm. Even more so, it is a lightweight drone that fits nicely in your palm. I liked how the Hasakee H1 FPV RC drone is designed with a spherical body. The appearance resembles very much like a bumblebee, which is pretty damn adorable. Furthermore, the black and yellow color scheme makes it a very eye-catching toy quadcopter, like HS150 Bolt Bee and TDR Phoenix . In the distance, it looks like a bee flying in the sky. With 6-axis Gyro, it offers superior stability for a smooth flight and responsive to the controls. As entering the world of drones shouldn't be that entirely difficult, the HASAKEE H1 drone is also equipped with 3 different speed modes and orientation sensors.
Features
Gravity Sensor
Made of ABS plastic
comes with propeller guard
delivers images and videos to smartphone at 720p high-definition
Pros
Cons

Affordable
Strong propulsion force
720p HD Camera
Gravity Sensor feature
Beginner-friendly features
Easy to control
Responsive

Flight time is very short
Long recharging time
Quality of camera isn't that great
Limited control range
Camera requires wi-fi to stream images and videos to your smartphone
Specification
FLIGHT TIME: 7 minutes.
FLIGHT RANGE: 100 meter
CAMERA: 0.3 megapixels camera
SPECIAL FEATURE: Gravity Sensor
WEIGHT: 50 grams
BATTERY: 3.7V 450mAh LiPo battery
CHARGE TIME: Approximately 60mins
Conclusion
The latest 6-axis stabilization technology allows the ease of re-positioning the drone. Another advantage from this provides sharp maneuverability that helps prevent accidental crashes by utilizing throttle speed. Moreover, the HASAKEE H1 drone has good propulsion force that means it can withstand moderate wind. Which is decent at its size and clearly designed for outdoor activity. In terms of variability flying, the speed modes make it easier for beginners to become professional less than few days. It is perfect for hobbyists or even a gift for a child since it can fly at low speed and has an easy learning curve. Although, while the HASAKEE H1 drone can be soared at high speed, it sounds like an actual bumblebee when activated.