[vc_row][vc_column][vc_column_text]
Best Budget Drones in the Market Right Now!
[/vc_column_text][/vc_column][/vc_row][vc_row content_placement="middle" el_class="td-ss-row"][vc_column width="2/3″][vc_column_text]Drones have become a signature of the present times; these devices are indeed shaping the world. With all the business opportunities for drone pilots, it is a perfect time to start with drones. The problem is the price tag, right? Wrong, there are great budget drones for beginners, and this post will be all about the topic.
DRONES SORTED BY PRICE
Read also these following linked reviews are grouped with maximum prices to make it easier to stick to your budget to find your Best cheap drone:

1. Drones Under $1000                               2. Drones Under $500

3. Drones Under $300                              4. Drones Under $200

5. Drones Under $100                                   6. Drones Under $50
Like I was saying, one of the great myths about drones is that all the models available are super expensive devices, but I'll be debunking this with real proof and evidence that drones are here to stay, and available for all wallet sizes.
Since the first commercial drones appeared, the market has been evolving due to the many industries these devices have taken, and actually improved. This has propelled the economy around drones and the result is that during the last 8 years, the technology required to build these gadgets has gotten more affordable.
This is the main driver for drones to be less and less expensive these days. In fact, you can get a drone these days for less than 10 USD. However, let me tell you something, not all cheap options are good ones, since in many, many cases, you'll be getting a cheap quality device as well.
This is the reason why I want to talk about some top-notch devices today, which are also less than 100 USD. These will not only support my debunking of the myth of expensive drones, but also, will give you some great options for you to take advantage of. Who knows, perhaps you end up making the call of the best drone for you just after reading this post.
Some of the best cheap drones for beginners in the market right now
Here are a few options of the top 5 best budget drones, which you'll be glad to know that have amazing features and will discuss each one of these below. These drones are not in any order, also, know that the price tag of these ones is less than 100 USD at the time of the writing of this post, which could change in the future without any responsibility of the author of this article.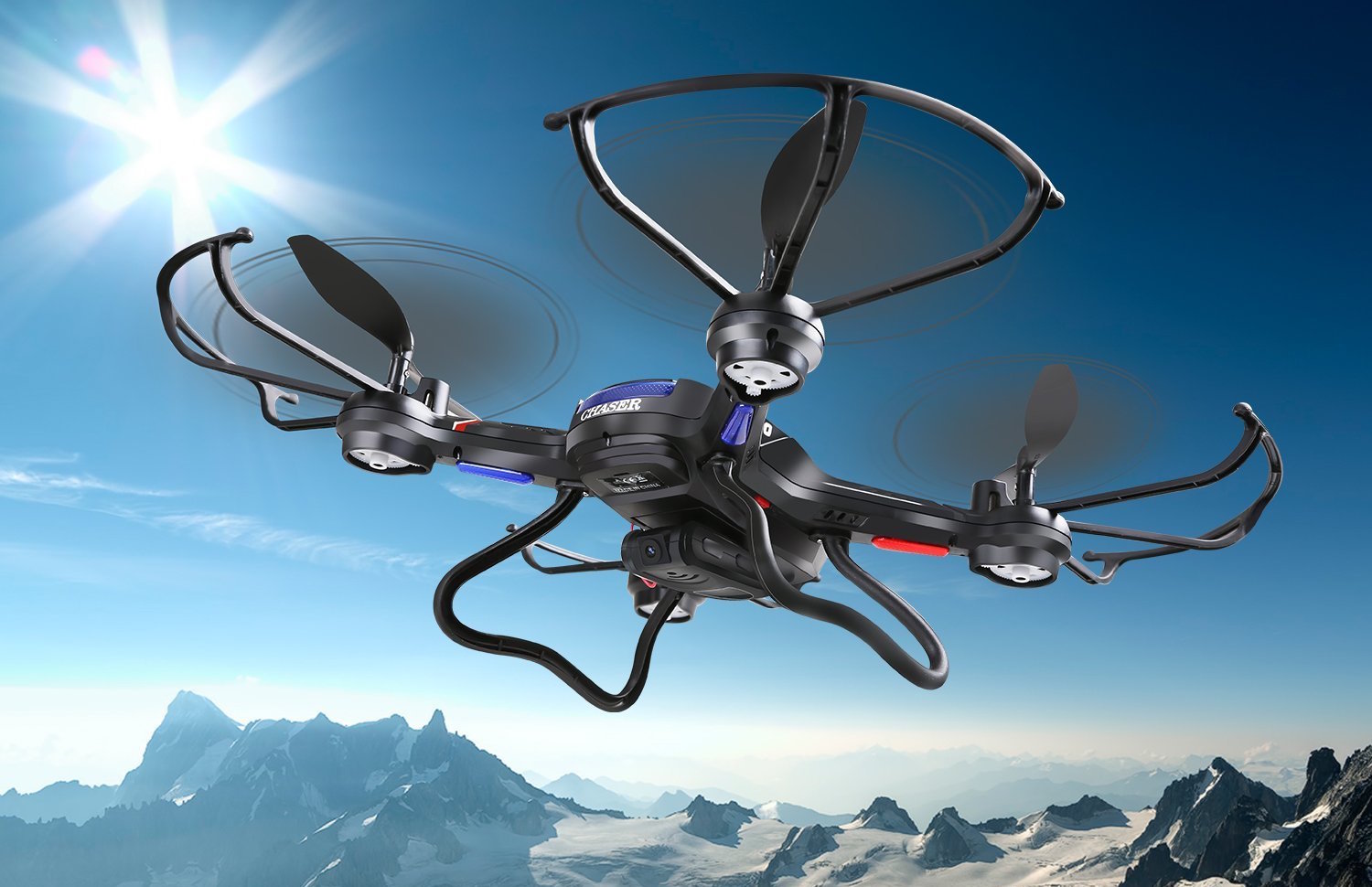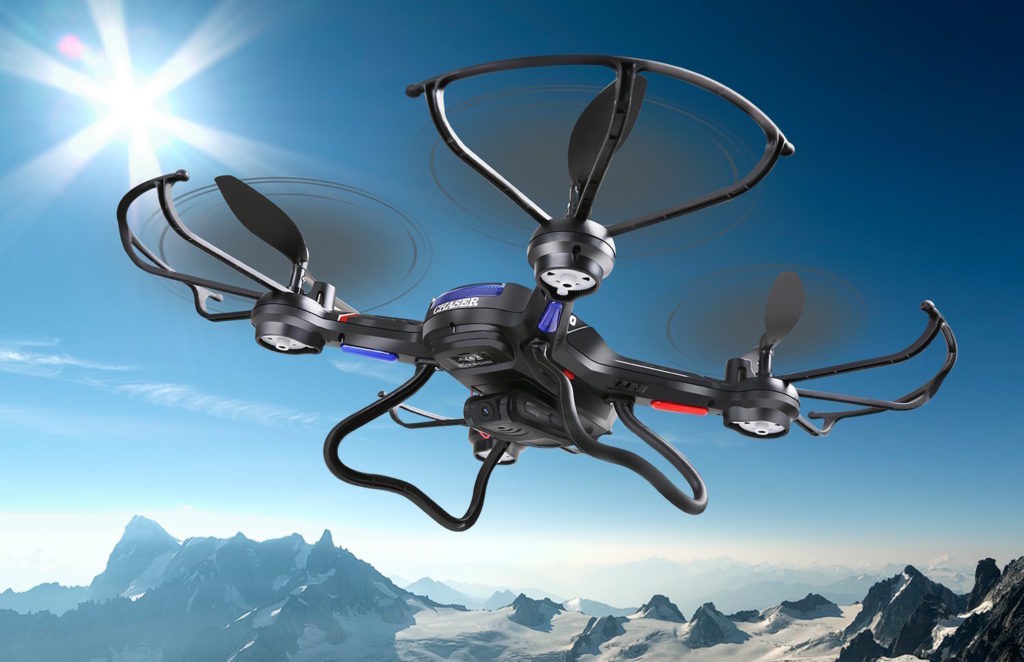 his is in my opinion the best cheap drone on this list. For the price, this model has everything a new drone pilot needs to start with the right foot.
Be aware that an upgrade of this version is the Holy Stone F181W model, which comes with a WiFi camera attached to it.  The F181C model also has a built-in camera, but without the WiFi capability, which is useful to live-stream video from the drone to your mobile device.
The reason why the F181W version is not mentioned on this post, is because right now the price is higher than 100 USD, but I wanted to mention it in case you're willing to spend a bit more.
The F181 from Holy Stone comes with a 6-axis gyro to bring superb stability to the drone, you can actually throw it away (don't do it unless you know what you're doing) and start operating it right in the air, and the gyro will stabilize the drone no matter what position the quad is in.
The camera for both models is an HD one, a 720p to bring a decent quality image and footage to your eyes. Like I mentioned before, the camera is a built in one, and the drone will not work with any other camera.
The flight time of this drone is 7 – 9 minutes and will require 80 minutes to recharge the battery. The flight range is of 100 meters or 328 feet.
Other than the WiFi camera, both versions share the same features, and the performance is the same for both models. Also, Holy Stone has included a few spare parts for your inside the box, so this is premium feature of this model as well. Really a great device for any beginner.
[asa2]B00SAUAP5C[/asa2]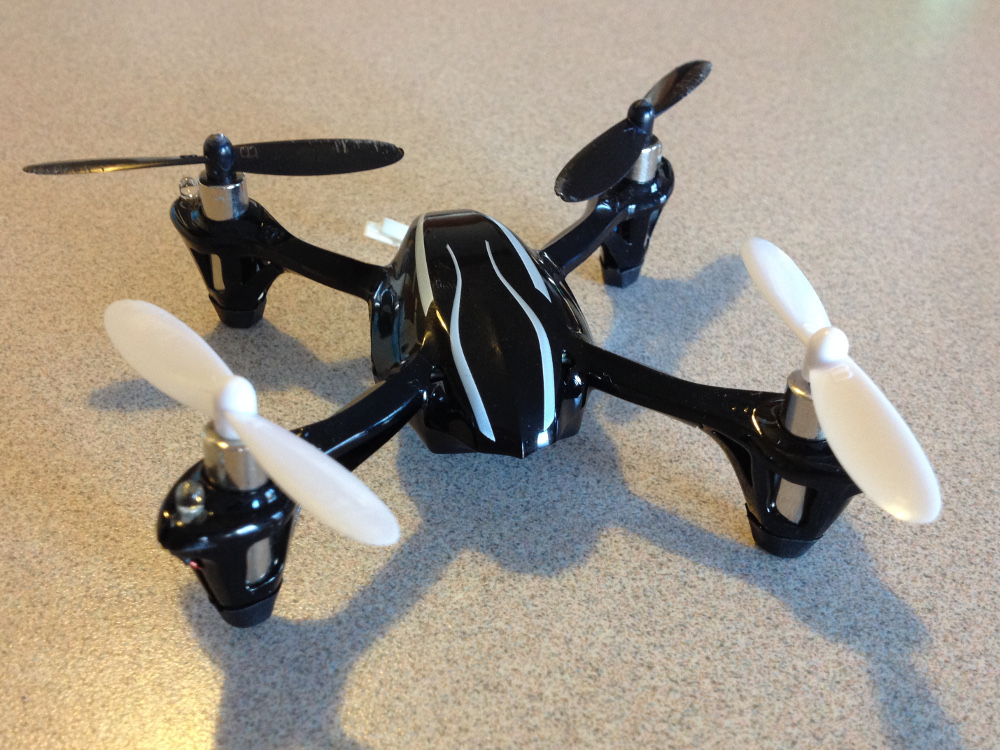 Hubsan X4 H1107L is one of the first commercial and high-quality drones that appeared in the market. This is an all-time favorite for many quadcopter enthusiasts.
The 6-axis gyro is also available on this model, which will bring the stability required. Also, the rolls, the 360 flips, and all maneuvers you want to perform with a drone, are possible thanks to this built in gyro technology.
For those pilots who have some skills flying, you'll be glad to know this drone comes with different speed modes to test your skills. This is really desirable in a drone for beginners because it allows you to have fun with one device, even after you've mastered it.
The flight time is 6 – 8 minutes and will require 30 – 45 minutes to recharge the battery. The operational range is 328 feet or 100 meters.
[asa2]B00LCLKAE2[/asa2]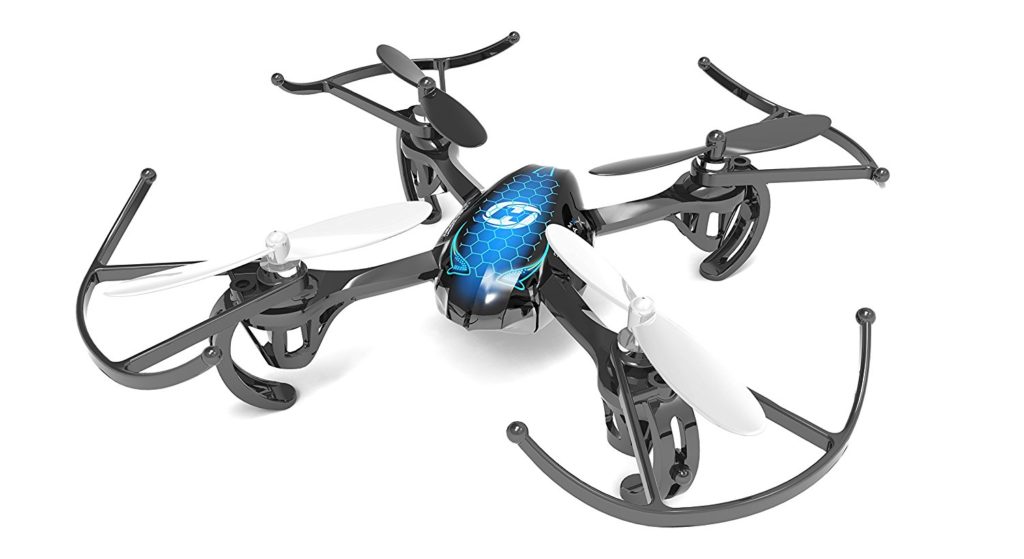 This is one of the most wanted drones in the market right now (actually, almost every Holy Stone). The HS170 model is perfect as well for beginners. This model does not come with a camera, but has lots of the features you want in the perfect drone for beginners.
You can find the 6-axis gyro technology as well on this one. The flips and rolls are a reality for this drone. The stability is assured as well and you'll find a great choice for a drone here.
The one thing I want you to know is that Holy Stone brand is making great efforts to introduce high quality drones at great prices into the market. Just do a deeper search online and you'll be able to find more good references about the Holy Stone drones.
For the flight range, you have 30 – 50 meters of distance to operate the drone during 6 – 8 minutes, and after that, you'll require 60 – 80 minutes to recharge the battery.
[asa2]B0157IHJMQ[/asa2]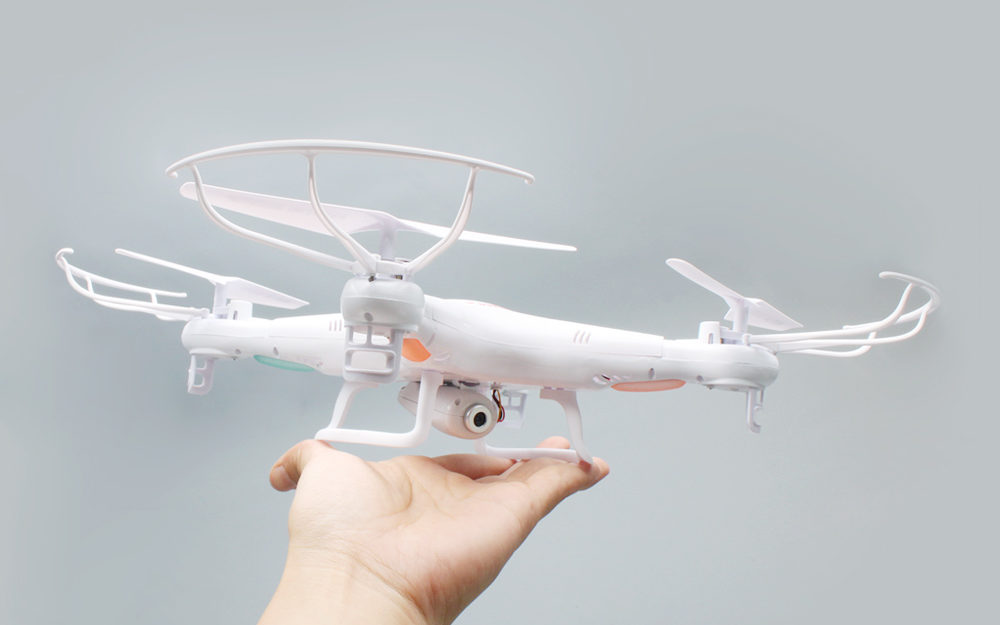 Syma X5C is another big player in the world of RC aviation gadgets. You can find not just drones but also some great RC helicopters with Syma. The one thing that makes this a great brand is they were some of the first ones in developing successful cheap but high-quality drone models, incorporating many of the features of high-end drones into their models.
The X5C model is one of their first drones launched, but also, an all-time favorite for everyone. You can find more Syma drones at great prices and good quality, but this is the one that I recommend and like the most.
Like the others, a 6-axis gyro technology is incorporated to the drone, which provides the ability to do all sorts of maneuvering, flips, and rolls. Also, the stability of the drone is not at question here.
If you prefer the models with a camera, this is a great choice as well, since a built in HD (720p) camera is available with this device. One thing to know about these cameras is that many of them do not record audio, which could be perceived as a downside, but actually is not, since the wind noise does not allow to hear anything, even in the most advanced models.
5 to 7 minutes of flight will bring you the battery for this model, and in order to recharge it, you'll require 100 minutes. You can fly as far as 30 meters away from the transmitter, after that, control is not assured.
[asa2]B00MNG37C2[/asa2]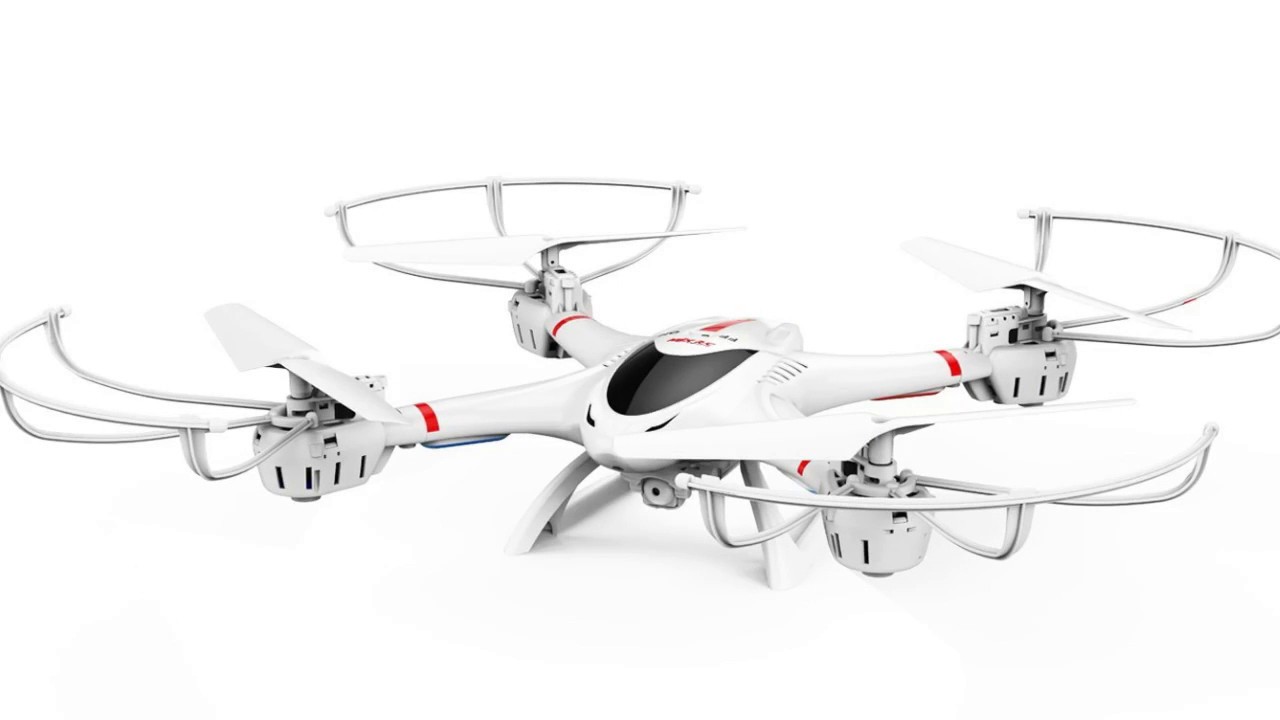 MJX is another brand making great efforts to provide high quality devices at great prices. The X400W is great proof of this, and one of the most famous and wanted drones for beginners of all time.
This as well comes with a 6-axis gyro to make this one a very stable drone. As you may imagine, the stunts, flips, rolls, and all those acrobatics you expect in a drone are possible with this model.
The camera is an HD one as well, and built in. Great comments about this drone from customers around the world. In this case, if you notice in the nomenclature of the device, there is a "W" after the 400 number, which means that a WiFi camera is available as well, so you can experience the FPV mode right on your mobile device.
You'll get 8 minutes of operation and require 120 to recharge the battery. The distance is 328 feet, so a pretty decent flight range if you ask me.
[asa2]B016BMBRUM[/asa2]
Final thoughts about these best budget drones
These are some of the best cheap drones for beginners that I have seen, reviewed, and tried. They are definitely beyond the average and come with lots of the features of those items that can be purchased for the thousands of dollars.
Just so you know, these are not just recommended by me, but by hundreds and is some cases thousands of people who took the chance with them and found a great experience.
In the cases of those with a built-in camera, all of these are HD, which will give you a pretty decent image quality. However, if you're thing is professional aerial photography or any application that requires high quality footage, then none of these is a good choice, since they don't come with a gimbal.
In that case, you must invest in a higher-end device so you can attach a gimbal and a higher quality camera to it.
As for the acrobatics, all of these drones have a 6-axis gyro in them, which is the technology responsible for stability and control. The other important aspect is flight time, which at first may seem very little, but in reality, that is enough time right now for the beginner pilots.
In the case of the flight time, I recommend you purchasing extra batteries if your drone does not come with some, these are not that expensive and you'll enjoy with your drone while the previous battery gets charged. Also, most manufacturers recommend waiting 10 minutes between flights, to keep the drone in optimal conditions.
That's it for today's post. Hope you enjoy your time with any of these models.
Till the next one!
[/vc_column_text][/vc_column][vc_column width="1/3″ el_class="td-ss-row"][vc_wp_search][vc_column_text]
[/vc_column_text][/vc_column][/vc_row][vc_row][vc_column][vc_column_text]
[/vc_column_text][/vc_column][/vc_row][vc_row][vc_column][vc_column_text]
[/vc_column_text][/vc_column][/vc_row][vc_row][vc_column][vc_column_text]
[/vc_column_text][/vc_column][/vc_row][vc_row][vc_column][vc_column_text]
[/vc_column_text][/vc_column][/vc_row][vc_row][vc_column][vc_column_text]
[/vc_column_text][/vc_column][/vc_row]