The best word to describe mini and microdrones is fun. Most of you might think that these UAVs are best used as kid's toys but they are perfect choices for capturing events from an aerial point of view e.g. games competitions, home parties, weddings etc. Are you looking forward to having fun with toy drones? Keep reading to learn the best models, their uses, and some of the most frequently asked questions on the subject.
Common uses of mini and microdrones
We cannot talk about modern technology without mentioning drones. These unmanned aerial vehicles have taken off the new era and blown the minds of many tech-savvy individuals with their spectacular capabilities. The application of micro and mini drones are increasingly popular. They are ideal for hobbyists who love nature. They are also used in military surveillance in placed deemed to be risky. Moreover, they are good at capturing a bird's eye view on different objects on the ground from above. The good side of the nano drones is that they can reach the tightest locations, whether they are safe or not, and monitor those areas 24/7. Nano drones are of great help in science and research whereby they are used to examine certain processes e.g. archeological excavation, volcanic eruptions, and so on.
Mini drones not only provide continuous surveillance but also add fun to life. With the dynamic features and varied sizes, these devices are awesome and full of surprises. They are the best devices to introduce any beginner to the amazing world of drones. After mastering these small flying machines, you can move on to using professional drones. The agile tiny robots can fly just about anywhere and bring enjoyment to both kids and the adults. While they are not as enviable as the bigger aircrafts, we cannot overlook some of their greatest features as will be discuss herein.
[table id=25 /]
The best mini and microdrones with reviews
You now understand what mini/microdrones are and their uses. It's time to learn the best ones on the market. Here, we want to make your shopping decision incredibly simple. Given the sheer number of mini and nano drones on the market, it is possible to get overwhelmed. Below, we have rounded up ten drones which are a perfect fit for both drone beginners and pros.
Summed up thoughts
As you can see, the average flight time of mini and nano drones is 5 to 8 minutes. We recommend you to get extra batteries and propellers. Some micro models come with interchangeable batteries which need to be switched between flights. Since drone crashed are inevitable, you need extra propellers too. Most models come with spare parts while others provide crash packs with all you need after a crash.
These are some of the cutest and interesting toys for your young ones. You could also be new to this hobby. Don't worry because these tiny flying robots will help you to master hovering, landing, controlling the pitch, yaw, and roll in the most inexpensive way. After mastering the techniques, feel free to upgrade to medium-sized drones.
We will keep updating you on prices and newer models released on Amazon. Don't forget to check out the different designs and colors to help you decide which mini or nano drone suits your personal taste.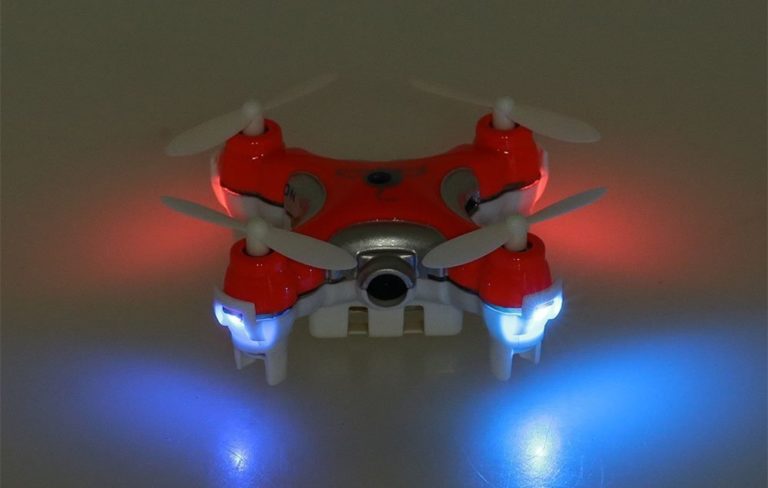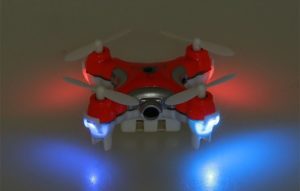 This is a ready-to-fly micro drone with the ability to capture videos and aerial images. It has spectacular orange and white color patterns and a one-of-a-kind transmitter.
Features and Specs
5-8 minutes flight time
3MP camera
7V 120mAh LiPo battery with 15-20 charging time
Low voltage alarm
30 meters transmission range
3 flight speed modes
Battery protection
LED light
6-axis gyro stabilization
4GHz transmission frequency (4-channel)
Price
Get Cheerson CX-10 RC microdrone at $22.98 on Amazon.
The good
The bad

It flips nice and tight. It can launch from the hand and perform side fights
The low voltage alarm alerts you when to land when the battery runs low
The battery protection ensures the safety of the battery in case of a crash

The transmitter doesn't come with batteries. You have to buy 2 AAA batteries
Conclusion
Given the strong materials used in the construction, anyone can fly the Cheerson CX-10C microdrone. The 6-axis gyro system offers stable flights and allows you to throw the quadcopter in the air to start flying.  Given the 3 control modes, the nano-drone is suitable for beginners, intermediate pilots, and the experts.
[asa2]B015XBQ2SY[/asa2]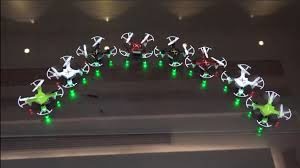 Syma X12 is another awesome micro drone available in green color with a wonderful performance. Here is a brief overview of what it brings to the table.
Features and Specs
6-axis flight control mechanism
Continuous 360⁰ barrel rolls
7 ounces
4 LEDs for better orientation
6-8 minute flight time
7V 100mAh LiPo battery with 30 minutes charging time
4ghz Radio control with 4 channels
Low voltage alarm
USB cable for connecting to outlet block or PC
Price
Syma X12 current cost is $22.98
The good
The bad

The speed of the transmitter is 100 times greater than typical remote controllers
Perfect for learning
Crash-proof features (propeller guards) protect indoor properties

Must be supplied with 4 AA batteries for the transmitter
Conclusion
Do you need a nano drone with impeccable stability and easy control for both low and high speeds? The Syma X 12 micro drone should be your perfect fit. You will have the greatest fun with this micro drone initiating flips using a button on the controller's right side. The average rating of the nano-drone is 3.5/5.
[asa2]B00N28DXR4[/asa2]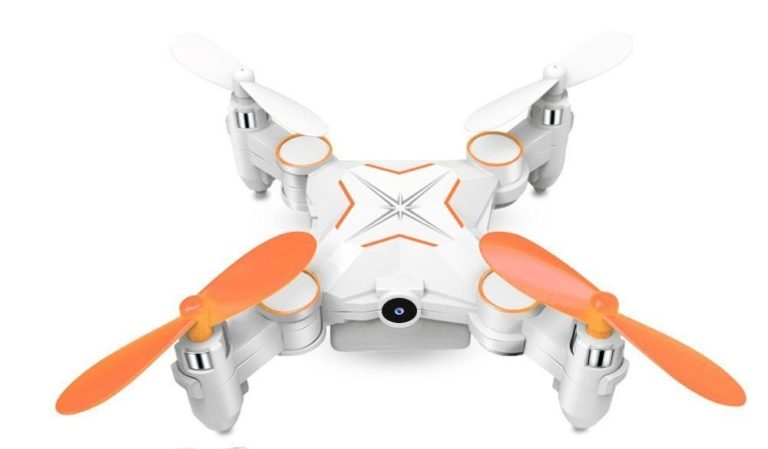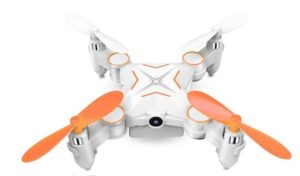 It is one of the newest models by Syma. Its small design makes it easier to fit into a carrying case for portability and convenience. Check out the exquisite features and affordable price of the Rabing Mini Drone.
Features and Specs
7 to 10 minutes flight time
720P Camera with FPV
White color
4 GHz radio control
Price
This drone comes at a price that suits almost any budget. It is worth $39.99.
The good
The bad

Extreme portability
Real-time footage transmission by linking the camera to the drone WIFI
The 2.4 GHz transmission frequency transmits longer and harder
Conclusion
What we love the most is the foldable nature of this mini-drone. You can travel with it whenever you go and take dazzling footages with the HD camera.
[asa2]B01N1V6PKB[/asa2]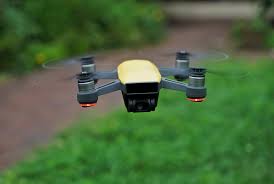 The DJI Spark mini-drone presents a wide spectrum of outstanding features that give the simplest yet the most exciting experience.
Features and Specs
3D obstacle sensing mechanism
A gimbal-mounted camera that tilts up and down
GPS system
Compatible with FVP goggles
Red and green and LED lights
2- axis stabilization systems
Electronic shutter speed
4 GHz radio transmission frequency
100 meters operation range
LiPo 3S battery with 11.4 V
16 minutes flight time
50km/h maximum speed
Weighs 300g
Price
DJI Spark is fairly priced at $399, keeping in mind the fantastic features which are not found in most mini-drones. With all the top-notch technologies in place, this mini-drone will convince you to get it instantly.
The good
The bad

Beautiful overall design
The light silicone landing gear protects the drone against rough landing
Advanced collision avoidance for extra protection
Facilitates automates shots
Easy control with a smartphone app

Lacks high frame rate support
Conclusion
We recommend this mini quadcopter to anyone who is transitioning from a beginner to intermediate level. The improved flight stability is just perfect for learners. It is not only great for taking selfies but also drone racing. The wonderful features like FVP goggles compatibility make DJI Spark a fantastic racing quadcopter.
[asa2]B072C36ZVK[/asa2]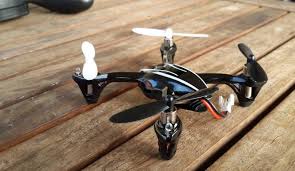 Hubsan is best known for producing some of the best mini quadcopters with X4 H107 being highly recommended for beginners. It provides great value for money and its spare parts are available in most drone sources.
Features and Specs
2MP HD Camera (X4 H107C)
4-channel 2.4 GHz transmission frequency
6-axis gyro
400 mAh 25 LiPO battery
Price
The Hubsan 4X costs $25 only.
The good
The bad

High-quality one-piece main frame
Available in gift-wrap
Ready to Fly
High capacity battery

The controller doesn't come with batteries. You have to buy them.
Conclusion
You cannot go wrong with Hubsan X4 H107C as a beginner. But you will need to buy an extra crash pack in case it crashes.
[asa2]B01GCXG3NG[/asa2]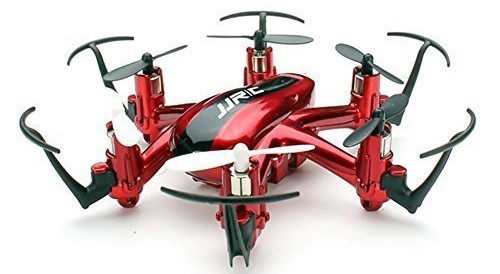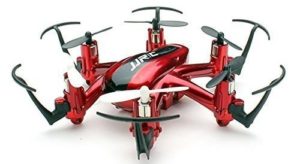 The original JJRC H20 is an awesome hexacopter with cool features and a better price.
Features and Specs
4-channel 2.4GHz transmission frequency
6-axis gyro stabilization
4 LED lights
One Key Return function
360⁰ rolls and sideward flying tricks
30 meters transmission range
7V 150mAh LiPo battery
7 minutes flight time
Price
At a price of $20.51, the JJRC H20 nano hexacopter is worth going for.
The good
The bad

The nano drone can be charged using a USB cable which connects to a PC
The best micro Hexacopter by JJRC

Requires 3AA batteries for the transmitter
[asa2]B013HVZBXO[/asa2]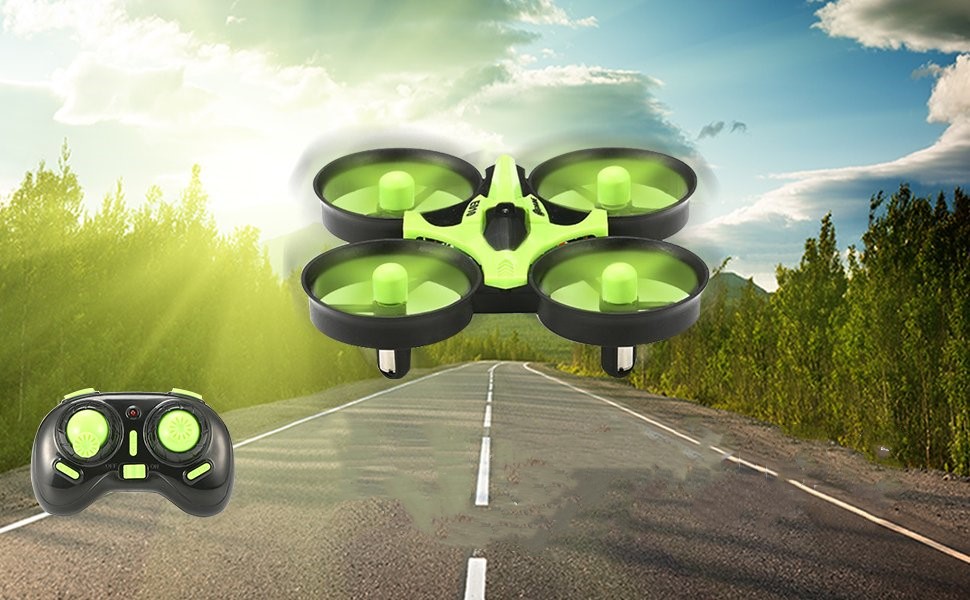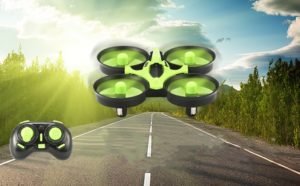 The Eachine E010 Mini drone is a wonderful beginner drone, designed for both indoor and outdoor activities. The propeller ducts are some of the features that make this drone extremely durable as you can bounce off the walls and continue with the flight.
Features and Specs
360° roll-over button
One-key return feature for auto-location
Available in E012HW camera version
7V 150MAH battery with 45 minutes charging time
5 minutes flying time
Price
Eachine E010 UFO goes for $22.99. It would make a wonderful gift for your loved one.
The good
The bad

It comes with a USB cable to charge and connect to a PC
You can perform flight tricks e.g. 360° roll-over
Conclusion
We recommend this mini-drone for outdoor activities. Just make sure you have extra batteries for the flight plus 3 AA for the transmitter.
[asa2]B01KHV5O1G[/asa2]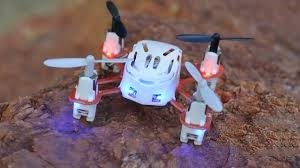 A nano quadcopter with multiple color options provides greater flexibility in terms of personal preferences. That's what you get from the lightweight Estes Proto X.
Features and Specs
7V 100mAh LiPo battery
LED lights
One-piece PCB frame
4 GHz radio transmission with 4 channels
6-axis gyro stabilization
Available in green, red, black, yellow, white, and purple colors
Price
$29.99 is what it takes to own the Estes Proto X Quadcopter.
The good
The bad

Multiple color choices
Lightweight

The extra cost of 2 AA batteries for the transmitter
Conclusion
This drone comes with a 6-axis gyro system which pairs well with Auto Upright System and automatically adjusts itself to the right flight direction after launching the drone. The drone is just perfect for indoor flights due to its lightweight nature.
[asa2]B00MG6XWS8[/asa2]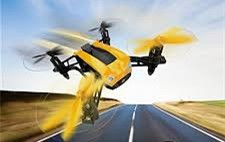 This is a great mini-drone for racing. It has impressive wind resistance and flies at 50km/h on speed headless mode. Let's take a look at its main features.
Features and Specs
RTF quadcopter
6-axis gyro system
Wind resistance
Headless mode
2 modular batteries to double the flight time (3.7V 600mAh LiPo)
7 minutes maximum flight time
Amazing 3D rolling and flips
The camera version comes with a 720P and WiFi enabled camera
Price
It comes at $45.99, with bonus battery included.
The good
Speed modes that suit any experience level
The headless mode is most suitable for beginners
High speed- 50km/h
Reasonable price
Conclusion
The Holystone HS150 is an affordable beginner drone particularly for racing due to its high-speed action. It offers superior durability and you can fly it right out of the box.
[asa2]B074FSSZLM[/asa2]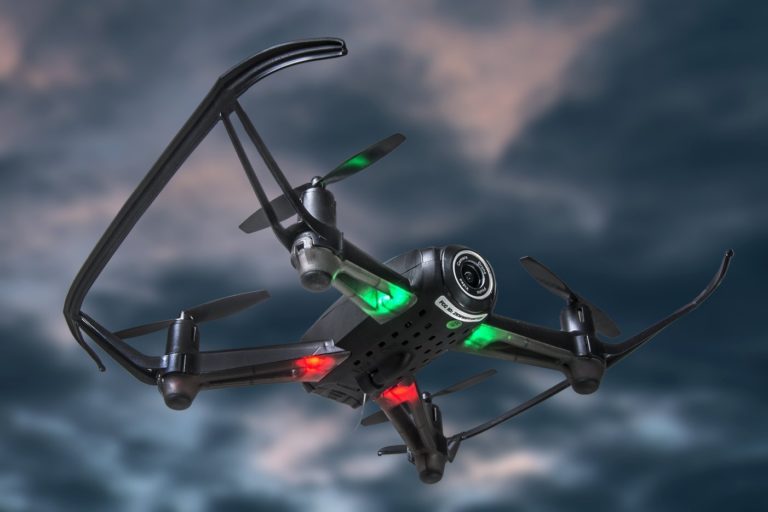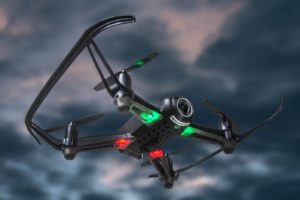 Another beginner-friendly camera drone that's highly durable is the Altair AA108 with excellent performance. Flying indoors with the drone is quite easy. What's more, the drone provides a 120⁰ wide-angle HD camera for capturing dazzling images and videos which you can check right through your phone. This mini-drone is good for aerial photography and recreation purposes. In other words, it is designed for drone enthusiasts.
Features and Specs  
3 different skill levels for beginner, intermediate, and expert pilots
Altitude hold technology
Two safety alarms
4 V Li-Po battery with 50 minutes charging time
10 minutes flight time
Emergency stop button
Great safety features
Landing and takeoff button
100 meters operation range
Price
The impressive features of the Altair 108 come in a small package that costs $112.80.
The good
The bad

Spectacular features
Custom flight routes for beginners
Straightforward launching and landing
4 extra propellers
High-quality factory-built camera with FVP capabilities

The memory card is not included in the card reader
Conclusion
Whether you purchase the Altair 108 for your child or for learning, it gives the most stable and easy flights ever. It is still a great camera drone for the skilled pilots.
[asa2]B0751GHH8N[/asa2]
Benefits of mini and microdrones
They are the most affordable quadcopters on the market
Can be operated just anywhere- indoors and outdoors
They are the best drone to get accustomed to flight control and aerial adventures
They are the perfect gifts for tech-savvy individuals
They don't require registration with FAA since they are less than 0.55 pounds
FAQS about micro and mini drones
What's the difference between micro/nano and mini drones?
Size is a major category that is used to describe drones. It might be a little confusing if you are a beginner. To shed some light on you, microdrones are also known as nano drones. They are the tiniest drones you will ever see. They are getting smaller and smaller courtesy of technological advancement. For instance, a certain manufacturer of a 1.7 sq. inch drone is looking for ways to make it even smaller! A good example is the Cheerson CX-10 mentioned above. Nano drones are perfect for indoor adventures. The other thing is that they come at incredibly affordable prices. There is this drone you can get at $15 only!
Mini drones are a bit larger than micro drones. They also come with more features, such as the DJI Spark, and at relatively high prices. Most of them have cameras (with FPV at times), longer battery lives, and stunt modes. Like the nano drones, they are more suited for learning but also provide more flexibility in terms of flying skills since they are faster and bigger.
Even though the micro and mini drones have almost the same features, their main difference is size. They are the easiest to fly. They are quite popular in the tourism industry due to their portability.
Is Cheerson CX-10 the same as Skeye?
Cheerson has a headless structure that facilitates easier maneuver. The pilot needs not to set the flight direction when starting off. It is one of the most affordable drones and ideal for novices. Skeye microdrone, on the other side, is the smallest quadcopter in the entire world. It weighs 11.9g only, making it easy to control. It can perform some aerobatic flips in the middle of a flight thanks to its ergonomic controller. The newest Skeye model comes with altitude mode that allows steady hovering at certain altitudes.
Micro vs. mini-drone- which is better?
Check out the reviews of your best choices before you buy one. We have already given you the reviews and prices for you to compare. Just make sure you are not buying one for suspicious activities like spying on someone.
Do their batteries last longer?
The battery depends on the model. Most nano drones have a 3.7v battery with a flight time of between 5 and 8 minutes. Comparatively, their battery lifespan is shorter than that of average-sized drones.
Do micro drones have cameras?
The newest models come with cameras even though they may not have the most professional lenses. a tiny drone cannot accommodate a bulky lens while it flies.
Can mini drones accommodate GoPro cameras?
Yes. The GoPro camera may be mounted on certain mini-drones to improve their intelligence and quality of images. GoPro cameras have flexible designs which augur well with mini-drones.
Is it possible to fly a mini-drone at night?
A mini-drone can be operated at night but certain conditions have to be met to avoid disrupting the footage. The front lights should be switched off and obstructions e.g. power lines evaded.
Which mini-drone provides the longest flight time?
From our top ten reviews, the DJI Spark which uses 11.4 v LiPo 3S batteries, has the highest flight time (16 minutes max). Another great choice is the Syma X11 with a maximum flight time of 8 minutes
What determines the speed of mini/microdrones
The speed of flight is determined by the payload, altitude, wind, and prevailing temperatures.
What's the difficulty level of fixing a mini-drone?
This depends on your level of experience. If you are a beginner, we cannot encourage you to fix a mini-drone on your own. Seek professional help if you don't want to end up destroying it instead of fixing. The tinier the drone is, the harder it is to fix.
Hopefully, our list of the best mini/micro drone has made your work easier as you search for a quadcopter. Your local suppliers might be running out of the drones. We, therefore, advise you to check online marketplaces like eBay and Amazon. You will wait a couple of days for shipping. Good luck finding the best deals.