An advanced version of Ominus FPV is the Dromida Vista FPV that comes as a ready to fly a quadcopter with exceptional capabilities to both shoots for the videos at 720p and transfer it to the Android or mobile device for live feed through Wi-Fi. If you are a keen videographer, who wants to record some hardcore action on the drone, this drone is a perfect piece to go for.
Made of 2.4 GHz technology and an advanced 3+3 airframe stabilization system, this drone is a powerful quadcopter that eases the shooting of video with much stability and speed. The use of technology brings about clarity and vision in the operation of the drone. With a crash-resistant durable plastic airframe, this amazing drone is easily one of the choices to be made for racers, adventurists and speed travelers.
While some features of the Dromida Vista FPV are outstanding, it is the deliverable shoot time or the flight time which comes off as a setback to this rather brilliant drone. One of the ominous models to give a tough competition to some excellent drones – Dromida Vista FPV is easily Dromida's best foot forward for the adventurist videographers.
Dromida Vista Reviews
[asa2]B014MRAXO4[/asa2]
It is an excellent drone with inspiring design. Have a look at its features and insider details to get complete the honest and the best reviews of the product.
Dromida Vista Specifications
Fully assembled drone
Advanced 3+3 stabilization system
Crash-resistant Durable plastic airframe
ESCs and motor gear factor installed
High intensity LED for tracking and orientation
720p camera with micro recording
3-axis gyro
3 accelerometers
7V 850mAh battery
Flight Time: 12-15 minutes
Weight: 4.8 ounces
Flash charger for faster recoup
4GHz technology
Four flight modes
Wi-Fi Connectivity
SLT for transmission
What's Inside the Box?
The drone comes as a fully assembled drone for the customers to begin flying. However, there are certain accessories which need to be fixed. The box contains the following items:
MR100 SLT radio system transmitter
4 AAA alkaline batteries
Set of blades
Screwdriver
4GB micro SD card
Instruction manual
7V 850mAH battery
Digital trims for settings
drone
Dromida Vista Design and Performance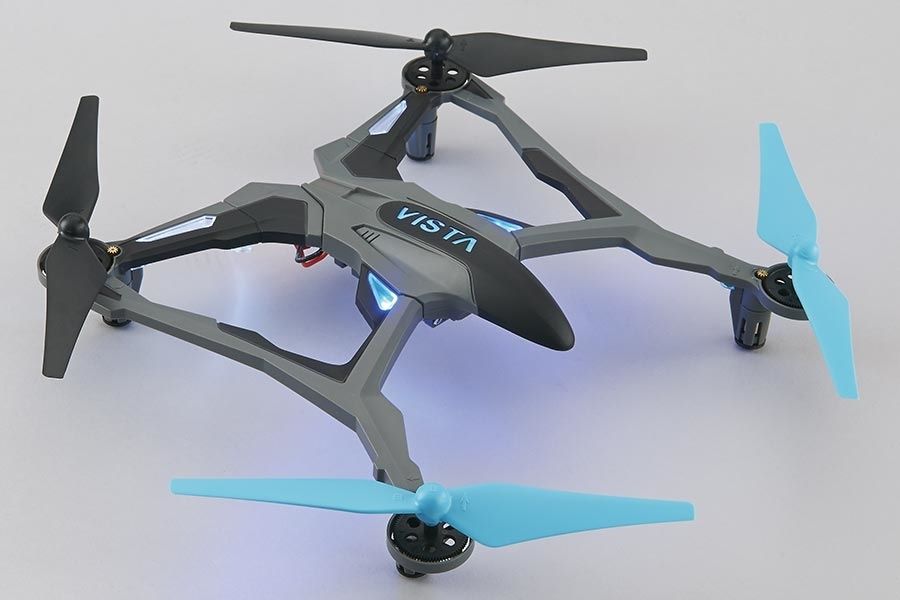 It is a quadcopter with a flight battery, smartphone holder, pre-bound controller and an excellent transmission system that allows displaying live feed while shooting. It is light, smart and has a brilliant outlook that is not very common to drones. The wings are all connected before attaching it finally to the body which makes the drone stable for shooting excellent quality videos.
The outer body of the drone is made of a crash resistant durable plastic frame that does not let the harsh thumps on the craft affect the machine. Therefore allows for worry-free shoot anywhere in the mountains, roads, ranges, etc without any chance of getting it damaged.
This Dromida drone has a flight time of 12-15 minutes while supporting it on a battery of just 850mAh. This comes as a shortfall as the performance is highly affected due to less air time.
Dromida Vista Controller
The Dromida drone comes with a pre-bound controller which is nothing short of a miracle to handle. The features like auto flip allow the drone to get flipped with the push of a button and shoot with much precision. The controller of this amazing drone is easy to hold the controller with good connectivity to the drone. It enhances the experience of operation as the instant result is marvelous.
Dromida Vista Battery
It operates on a 3.7V 850mAh battery. While the drone is made to be one of the high performing actions shooters with shock-absorbing technology the battery actually makes the whole experience fall short on time. The flight time is 12-15 minutes which is really less for shooting a quality video. One may need to keep a couple of batteries ready to use the drone for a long time with rapid battery changes.
Dromida Vista Propellers
It has four high-quality propellers to give a strong flight to the drone. These are really sturdy, quirk and unique in their appearance. As soon as the machine starts the power of the propellers pulls the drone with a stable swift force that is exceptional. These are made from crash resistant, and shock-absorbing durable plastic covering that renders them the power to perform even after a few crashes.
Dromida Vista Camera
One of the most exciting things about Dromida Vista FPV is that it comes with its own pre-built camera FPV camera from the tactic. It's a 720p camera which records HD videos and 1mp photos while the drone is in the air. All of the footage can be viewed on display with the help of Wi-Fi. The video and pictures recorded by the camera are commendable in comparison to similar features on other drones.  There is an option to attach your own camera or phone on the drone to record high-quality videos and pictures.
Dromida Vista Customizability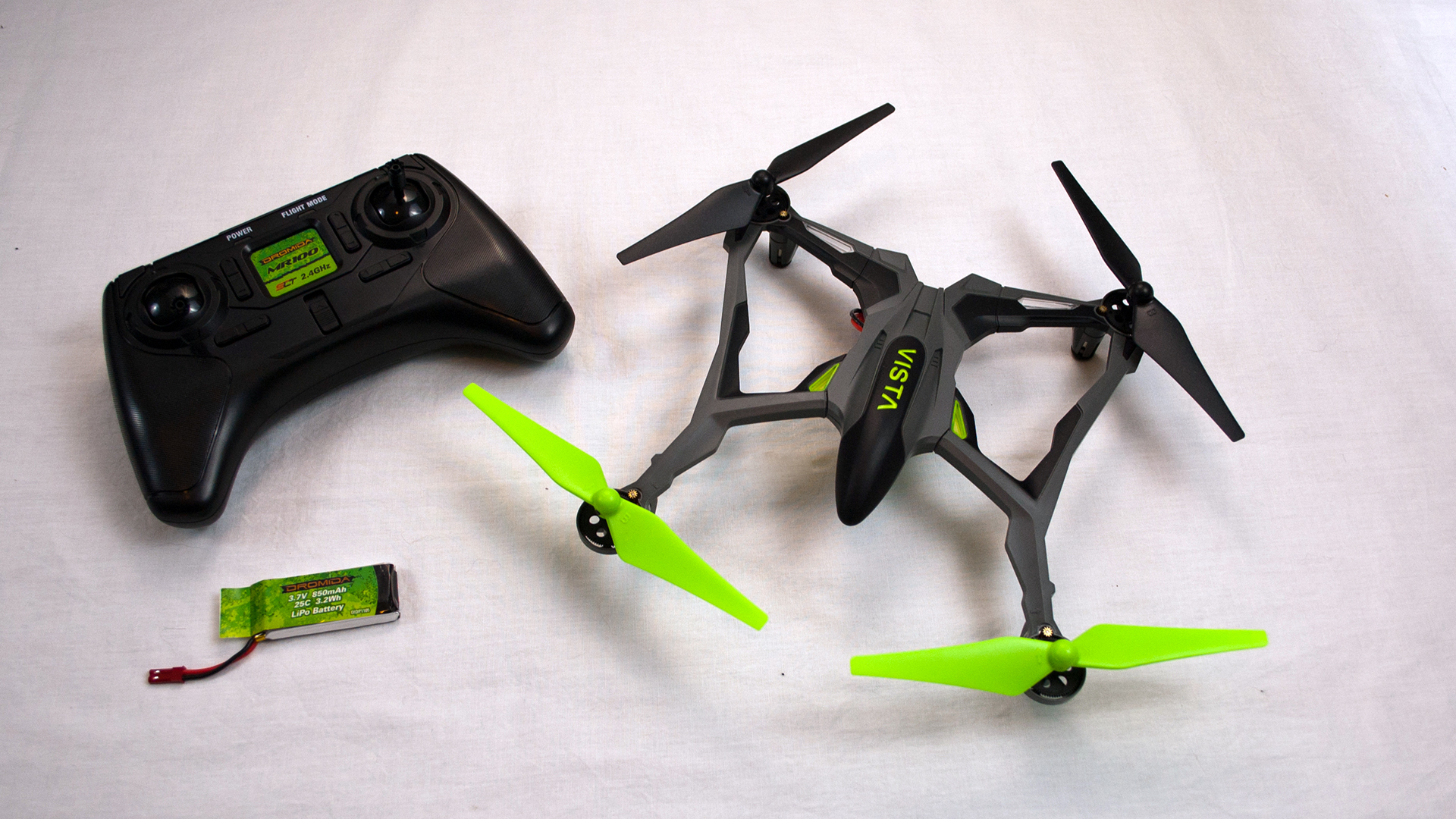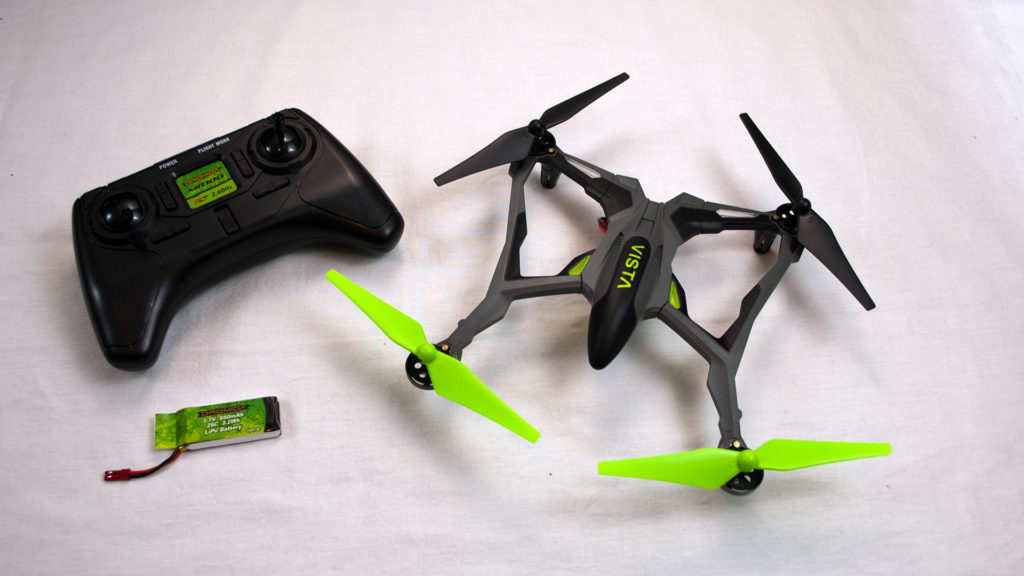 The best part about this drone is that it is really easy to customize with your own accessories. The screwdriver that comes in handy allows unlocking the propellers, wings and a lot of other parts which you can replace with an advanced version of the accessory. However, keep in mind the weight of the wings as the machine is able to pull only a limited amount of weight.
Dromida Vista Price
You can get  great deal to buy from Amazon. It is available at $69 inclusive of all the accessories except the camera. The version with the camera comes at a price of $139.
Dromida Vista Pros and Cons
Pros
Stable and powerful drone
Sturdy
Crash-resistant
Cons
Low flight time
Too light for strong flights
Dromida Vista FPV Final Guide
Dromida Vista FPV is a brilliant ready-to-fly drone that comes with its own set of batteries and a sturdy body that is crash resistant. The inbuilt camera gives a live coverage of the aerial shots in good clarity. It is an advanced version of Ominus and thus perfectly suited for the racers, adventure enthusiasts and videographers.