If you are a professional photographer or a droning-enthusiast planning to take a plunge into aerial photography, then DJI Inspire 1 Pro is the perfect choice for you. It is an ultra-sleek drone with a camera that is meant to bring out the best in you. The drone is easy to fly and capturing the best aspects of the sky couldn't have been a better experience if not for this drone.
About DJI
DJI is a brand solely dedicated to releasing the best technology in terms of aerial photography in the market. With its motto of bringing ideas to life, DJI has developed various drones and accessories to enable "imaginators" to unleash their creativity. Headquartered in China's Silicon Valley, Shenzhen, DJI knows no bounds when it comes to marvellous innovation. And this innovation is powered by in-depth Research and Development done by DJI. Today, the presence of DJI can be felt across the globe.
At DJI, they consider people their biggest asset. Well, why not? It is the talent pool that DJI has harboured that ensures that every new technology introduced is faster, safer, and more efficient than its previous version. One such latest introduction to the drone market by DJI is its DJI Inspire 1 Pro.
[asa2]B01698J7AU[/asa2]
DJI Inspire 1 Pro Review
DJI Inspire 1 Pro is a feature-packed photography drone. Whether you are planning to capture the dire terrains or make a beautiful film, this smallest professional photography drone will assist you in doing both with great efficiency.
DJI Inspire 1 Pro Specifications
Max Speed: 18 m/s
Max Flight Time: 15 Minutes approx.
Weight: 2870g without Zenmuse X5, 3400g with Zenmuse X5
Wind Speed Resistance: 10 m/s
Diagonal Distance: 559 m
Rotors: Carbon Fibre, Z-Blade Series
Indoor Hovering: Enabled
Max height above sea level: 4500-metre, 120-metre above take-off point
Operating Temperature: 14-degree to 104-degree F
Dedicated App: DJI Go App
Battery
Name: Intelligent Flight Battery
Type: 4500 mAh 6S Lithium Polymer High Power Battery
Power: 22.2 V
Operating Temperature: 14-104 degree Fahrenheit
Flight Time: 15 minutes (can be extended to 18 minutes by TB48 Battery)
Remote Controller
Operating frequency: 2.4 GHz and 5.8 GHz
Max Transmitting Distance: 5 Kilometre (unobstructed, without interference)
Smartphone or Tablet Holder: Yes
Battery: 6000mAh 2S Li-Po
Zenmuse X5 Camera
Material: High-Grade Magnesium and Aluminium Alloys
Size: 17.3×13.0 mm
Still Shots: 16 MP HD CMOS
Burst Shooting: Yes, 7 fps
Video resolution: 4k @ 30fps (1920x1080p @ 60 fps)
Format: MP4/ MOV (JPEG)
3-Axis Gimbal: Present
Aspect Ratio: 4:3
Storage: Micro SD Card 64 GB ( Class-10 or UHS-1)
Shutter speed: 1/ 8000 of a second
Compatible with DJI Go App: Yes
Read along to know how the above features power this drone to become a legendary camera drone to give you the aerial photography experience like never before.
Built and Design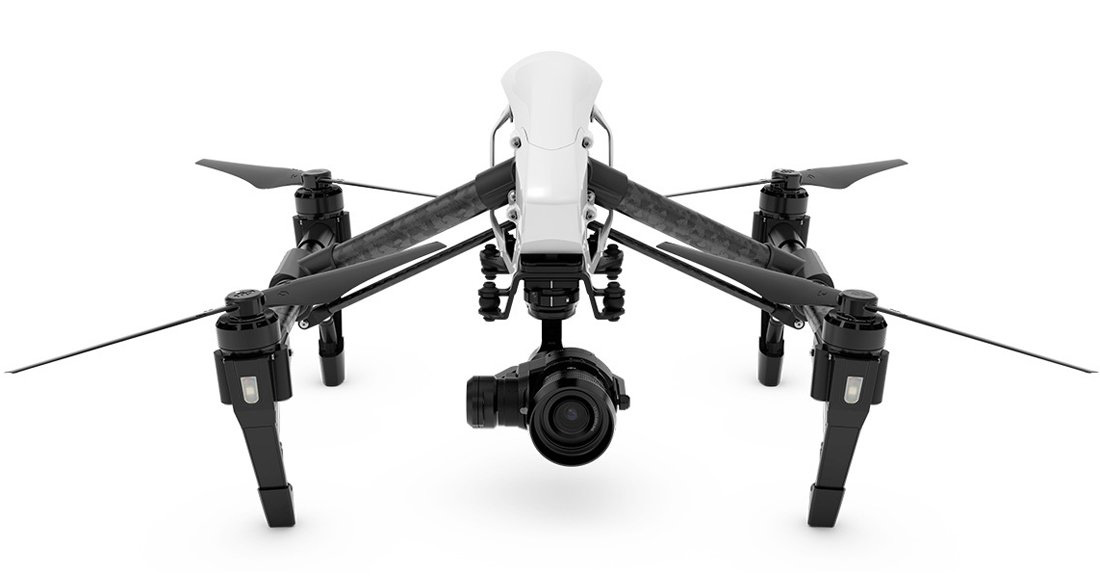 Helping you move beyond what your eyes can see by letting you capture everything from bird-eye view, DJI Inspire 1 Pro is the ultimate innovation for those who dare to create. This drone is a sturdy machine as strong carbon fibre compounds are used to build the drone. The Z-blade technology is used to ensure long-lasting rotors, providing an optimum flying experience and enhanced manoeuvrability. The quick release and mounting technology used in the drone for mounting the rotors keeps them secure. The newer and stronger motors are used to help the drone fight against all weather conditions even when using the heavier Zenmuse X5 Camera.
The DJI Inspire 1 Pro is a sleek and stylish drone available in white and DJI Inspire 1 Pro Black Edition. You will receive the drone in Ready-to-fly condition, saving you the time and efforts involved in assembling it. Plus, the weight is optimised to enable the drone to take easy flights, making this drone one of the smallest professional photography drones for beginners out there!
Power and Performance
Speaking of the power, DJI Inspire 1 Pro is energised by powerful 4500 mAh 6S Li-Po battery. This High Power Intelligent Flight Battery enables the drone to stay afloat for up to 15 minutes.
The flight this drone takes it extremely quick and agile with the incredible speed of 18 m/s. The drone is all set to take on the skies as its altitude ceiling lies 4500 metres above the sea level.
The propulsion system is designed with the utmost care for durability and performance which allows the drone to counter the wind speed of 10 m/s. The obstacle detection sensors paired with safety-auto fly modes help in keeping the drone protected from dreaded crashes.
The drone is extremely useful in search and rescue operations as it helps to detect where help is required and is powerful enough to carry relief material.
Zenmuse X5 Camera
DJI Inspire Pro X5 is what professionals popularly refer to this device. All thanks to the smallest professional camera out there, DJI Inspire Pro has earned a big name.
Zenmuse is a technology innovated by DJI to empower its drone with superior picture and video quality. You can download the DJI Go app into your cell phone and mount it upon the DJI remote controller to customise the shutter-speed and focus. Use the controls to click pictures with a 16 MP still Camera and record ultra-clear 4K videos @ 30 fps, perfect for professional filmmaking. With the shutter-speed of 1/8000 of a second, the camera will give you precise pictures. The burst mode will enable you to capture 7 HD frames at one go. Plus, the 3-axis Gimbal ensures stable photography.
You can choose between different lens options for the camera and get complete wireless control of the focus and aperture.
Remote Controller
The DJI remote controller is designed to give you complete control of the drone. The joystick design of the controller is easy to use and the intuitive control is fascinating. The controller is designed to mount a smartphone or camera on top so that you can get the Real-time Streaming of everything your camera sees. You can control the camera from up to 5 kilometres away, which is a great distance which will enable you to capture the toughest of terrains. It works on the frequency of 2.4GHz and 5.8GHz without any interference and obstruction.
DJI Go App
The DJI Inspire 1 Go app is designed to help you to receive additional benefits of the drone along with First Person View. You can use the FPV to line-up the perfect shot. The app will enable you to customise the camera sensitivity, shutter speed, brightness and more. The app enables you to store all the footage and stills at the same place. All you have to do is tap on the screen to download what you want.
The pre-designed templates in the app help you create astonishing films which you can share on SkyPixel, a dedicated platform for the aerial photographers across the world.
Intelligent Flight Modes Offered by DJI Go App
Point of Interest: You can select one person or an object and command the drone to follow it. This is a great way to capture yourself while mountain biking or river rafting.
Follow Me Mode: This ensures that the drone follows the controller.
Waypoint Navigation: Set a route in advance to make the drone follow it. This is how you can cover the points you wanted to without losing the limited flight time.
Course lock technology: Through this flight mode, you can set the drone afloat in its current course so that you can focus on the photography.
Home Lock: This enables you to fix the controls to be relative to the point of take-off. This is how you can pull-back the drone whenever you feel like towards the home point and push forward to move it farther irrespective of the direction.
DJI Inspire 1 VS Phantom 4 Pro
Both are signature products by DJI which took the market by storm soon after they were launched. The fact that there is a huge price gap between the two, DJI Inspire 1 Pro costs approximately $3,400, whereas, you need to pay somewhere around $1,500 for Phantom 4 Pro. While both the drones promise 4K video quality, the camera of Inspire 1 Pro is more like a full-fledged DSLR as compared to the entry-level picture quality offered by Phantom 4 Pro. Well, this had to be true because DJI advertises its Inspire 1 Pro drone as a Professional Quality drone and Phantom 4 Pro as a Consumer Drone on the other hand.
Is it worth the Price?
As mentioned above, Inspire 1 Pro costs around $3,400 which falls in the higher price bracket. Then again, with the Hollywood quality videos and pictures it enables you to capture with utmost ease, it is certainly worth the money spent.
Flying is no sport for the frail hearted but drone flying is for everyone! So, don't let the winds deter your wish to film new horizons and get yourself a DJI Inspire 1 Pro and get flying!